Kitta...The Cat (Article Dedicated to Cat Lovers)
By Ronald Saby DSouza

Bellevision Media Network



Udupi, 20 April 2016: I was inspired by Philip Mudarth's Face Book posting to write this article on our cat Kitta. Below was the picture he posted. Philip wrote - I filmed this cat and pigeon "tease" in Mauritius. I think they behave same everywhere.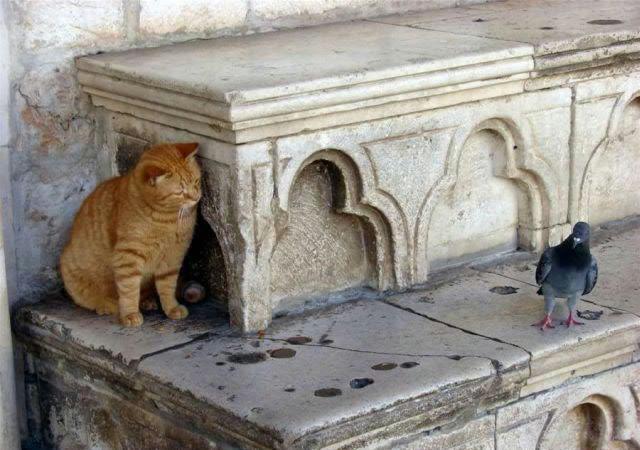 Celina Anand -What happened next ( smile emoticon )
Philip DSouza - flight, of the meeker but fitter

I wish this did not happen!!!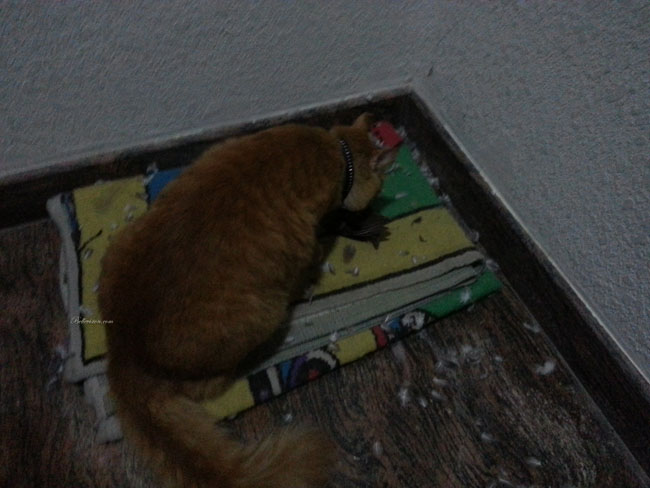 He (Kitta) walked into our house around four years back on a summer day…and we did not chase him away. He slept leaning main door of our house in order to get some cooling from the lean gap of the door. Within a day he was allowed to enter the home. Immediately he walked upstairs and straight jumped on to bed and got himself almost buried inside the comforter. We realized he was home bread (looks like small part of his ear tip was removed for the tests and DNA type?) and lived in a similar house like ours. Kids call him 'Peaches' and I call him Kitta!! When I call him Kitta…he gives a strange loving response…'Kiyaav' and other times it is a 'Miyav'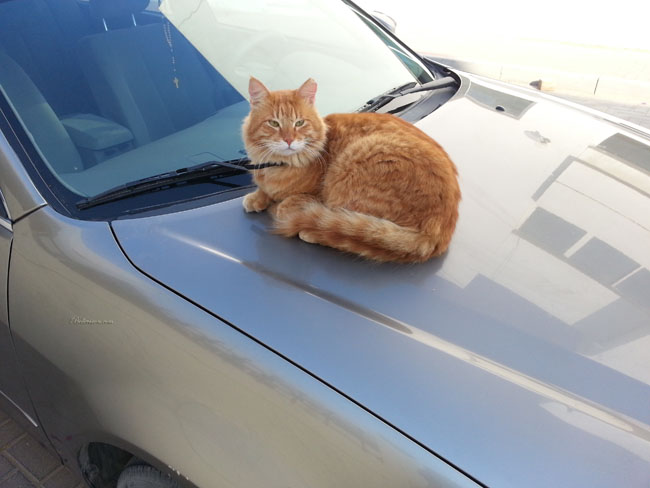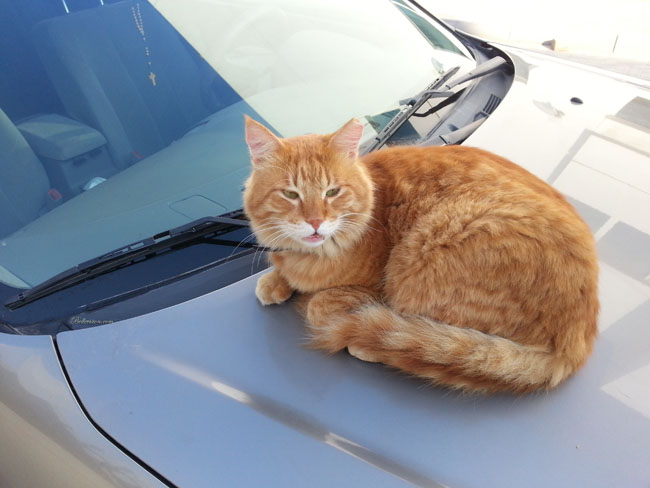 We got cat food for him and slowly we realized he does not eat anything other than fish flavored cat feed. We started feeding him twice a day…morning and evening. As scheduled time of his food nears he goes restless and goes to his food storage area and will block feet movement of every one at home. Even when we are on holiday, we make arrangements for food and water for him twice a day.
Once he eats his food, he sips some water from the bowl and he goes around the house, neighborhoods and until the main road. He is very careful with the moving vehicles. He would never make it to the other side of the road, restricting all his activity towards the home side of the road. He accompanies me every day while throwing the garbage, stops on the side of the road and loves to be carried home on his way back.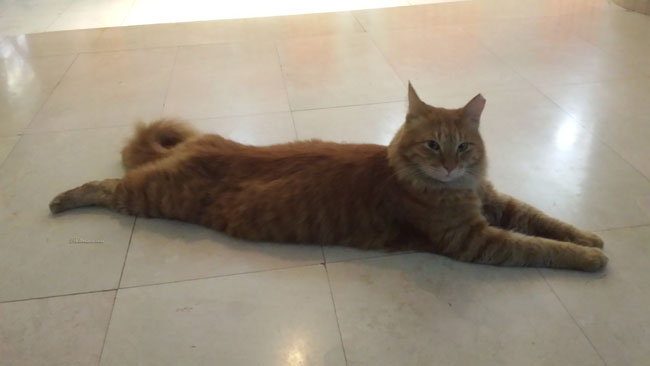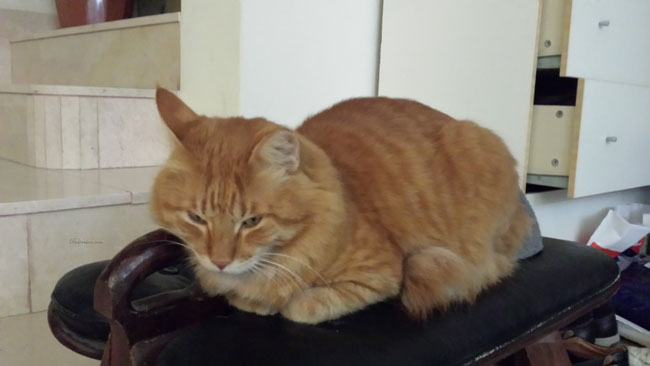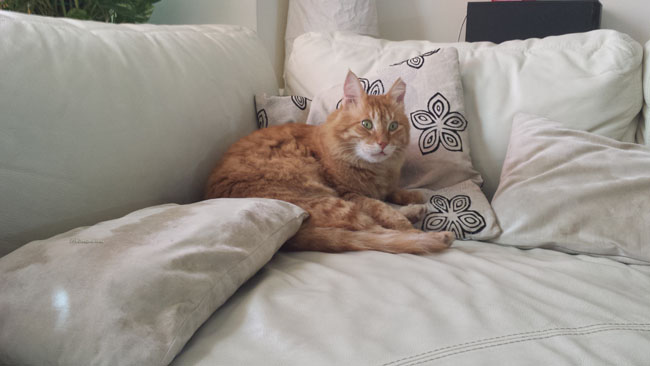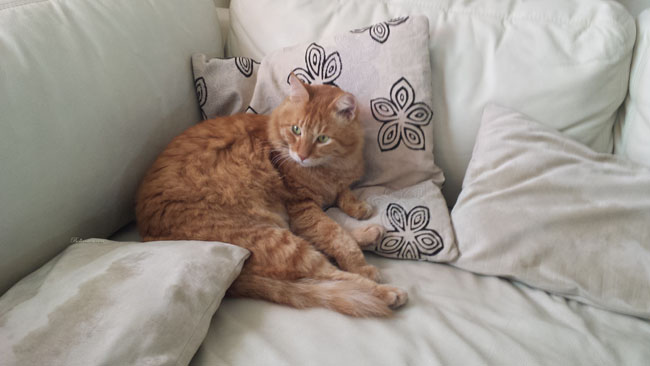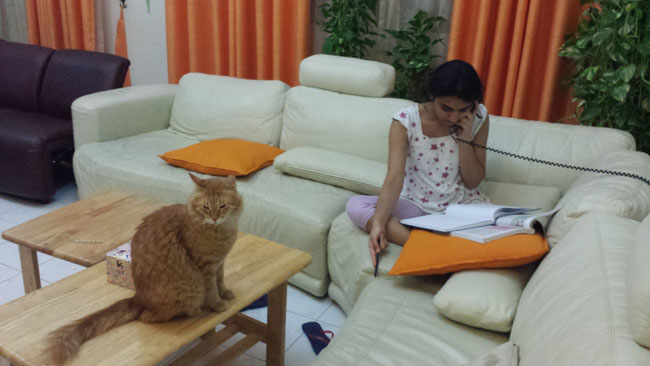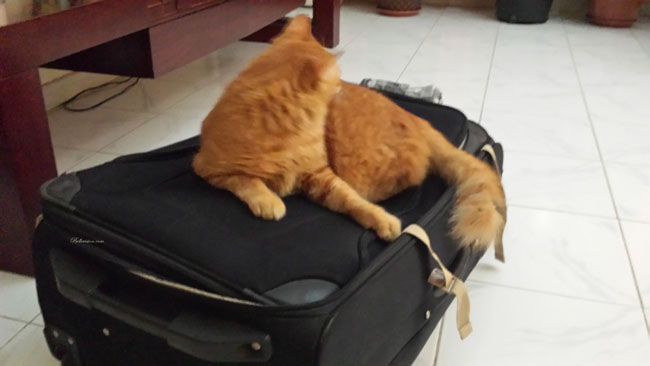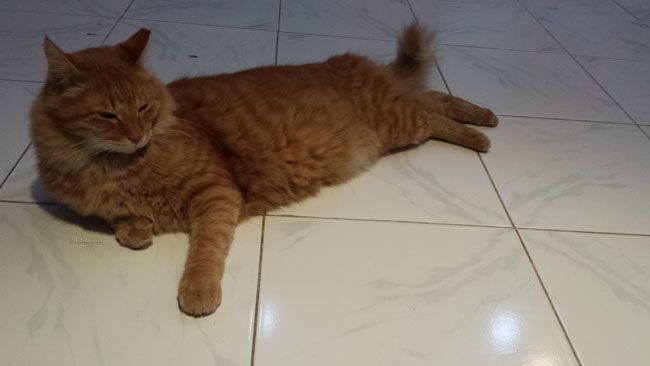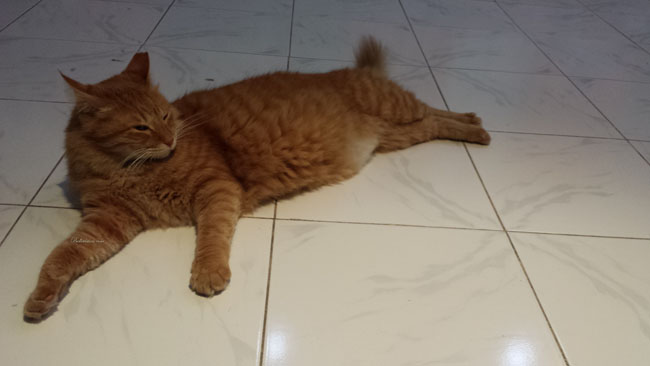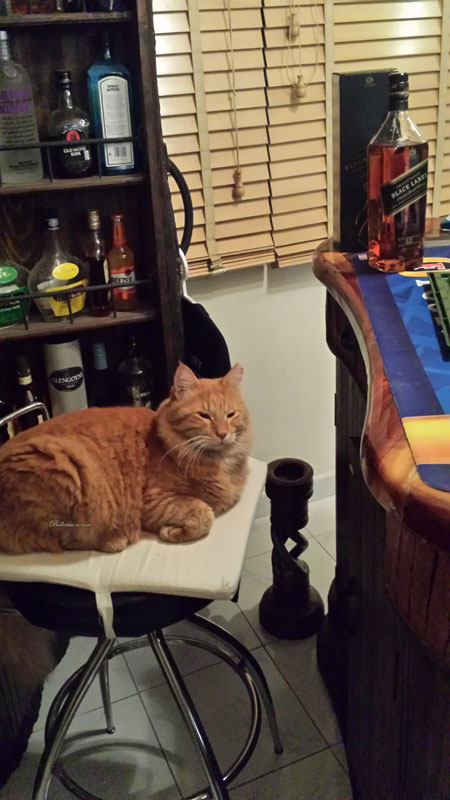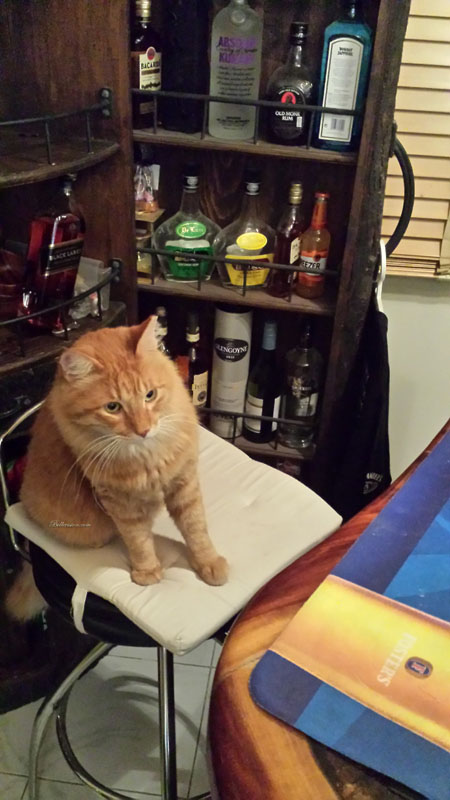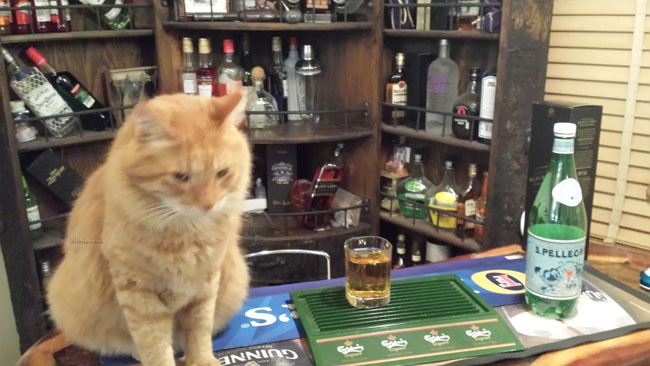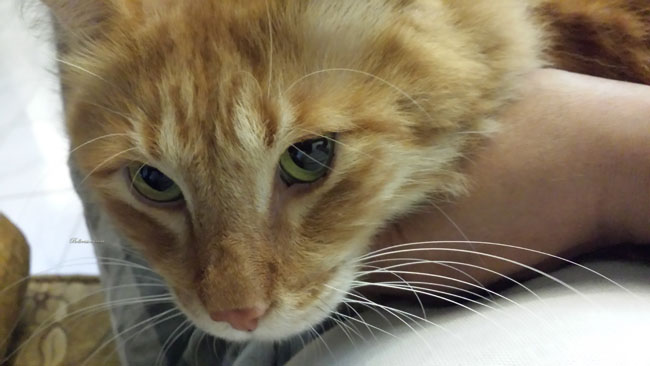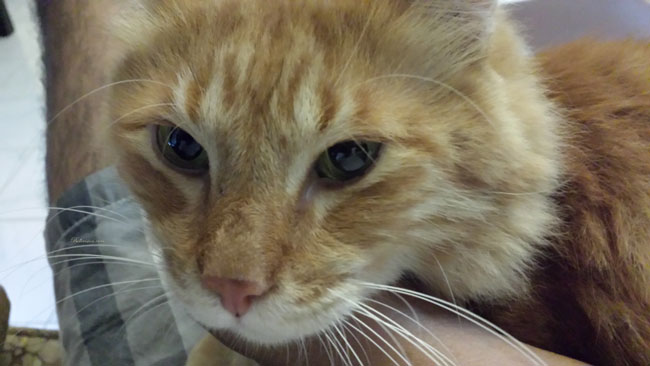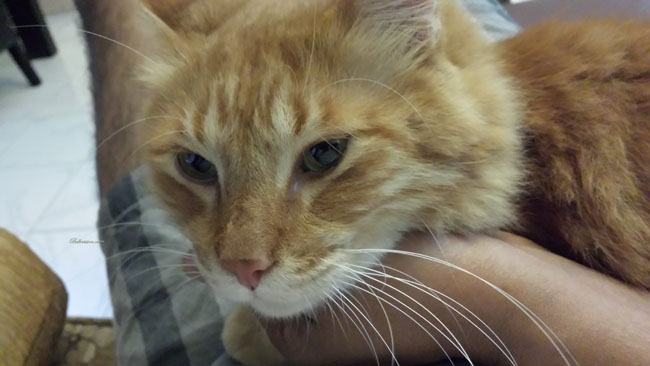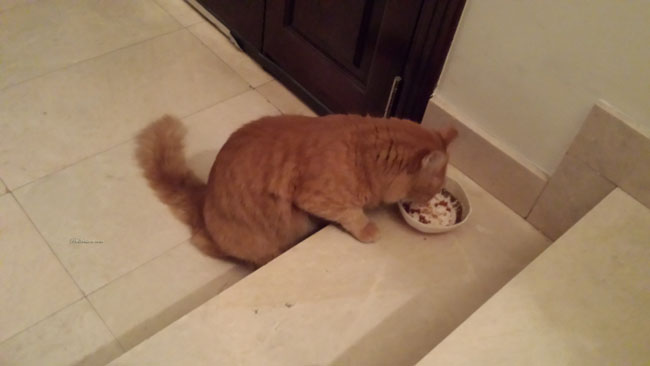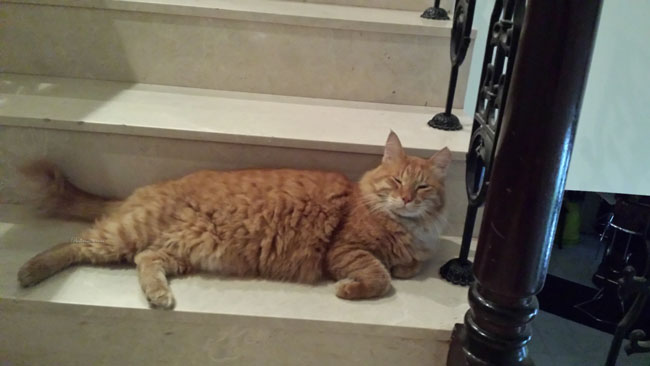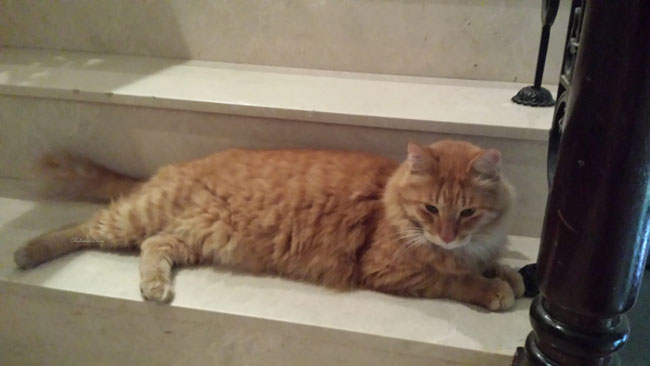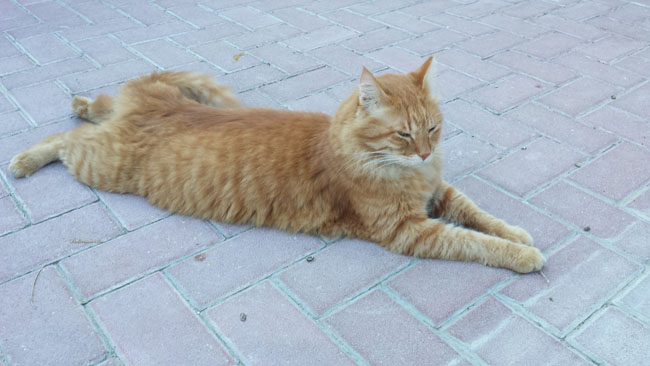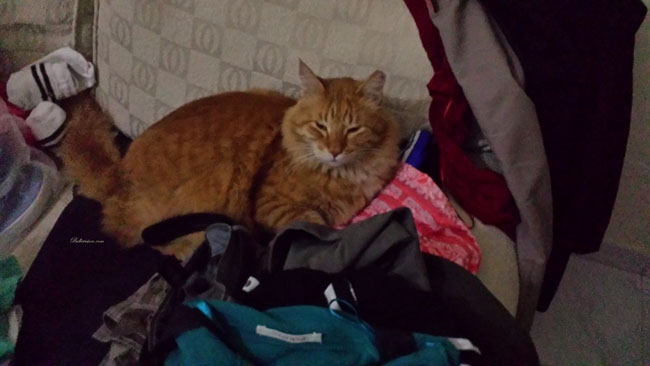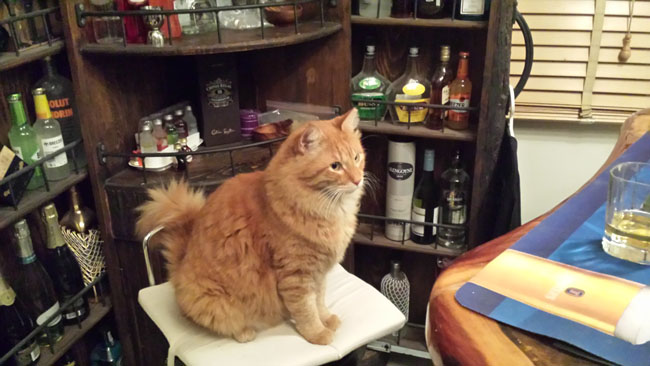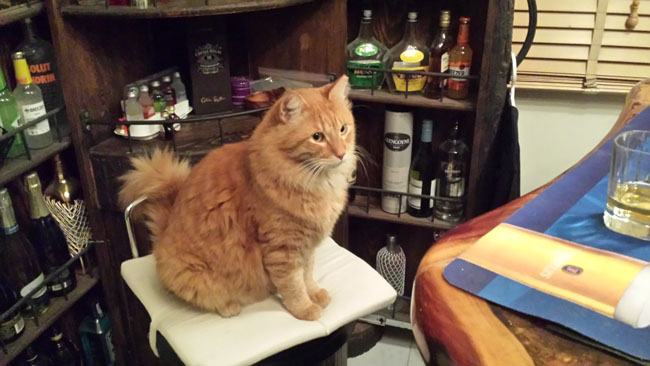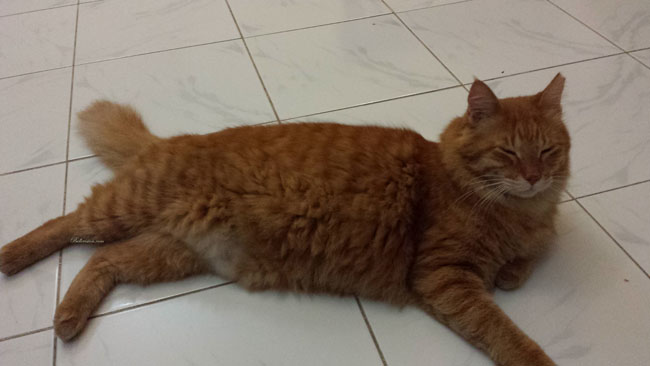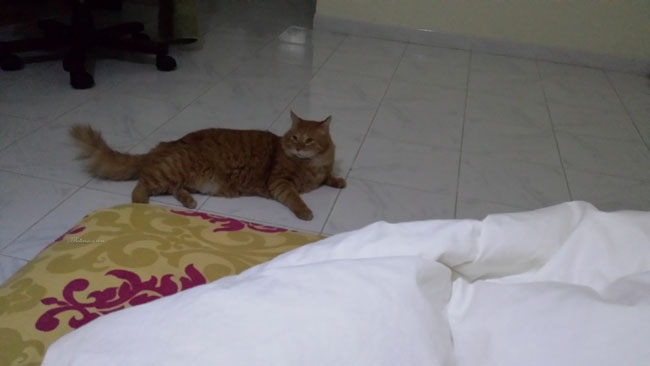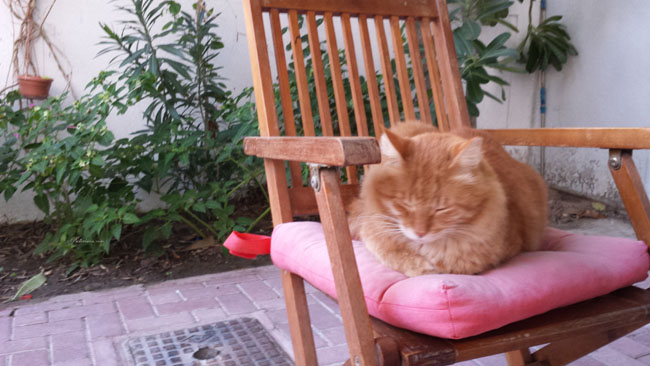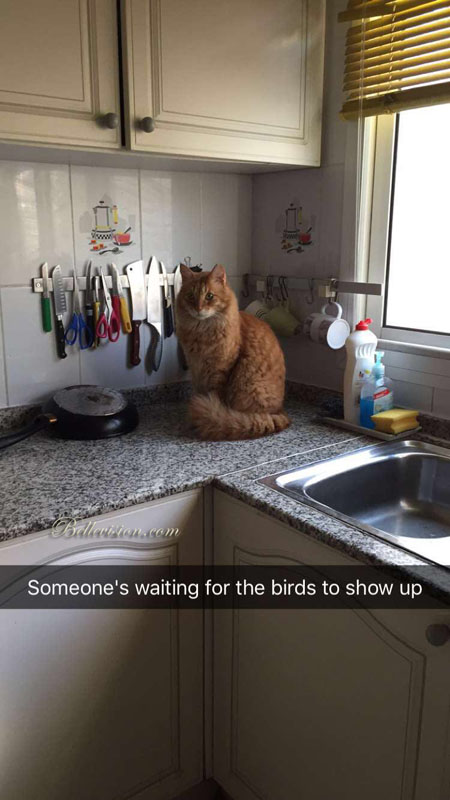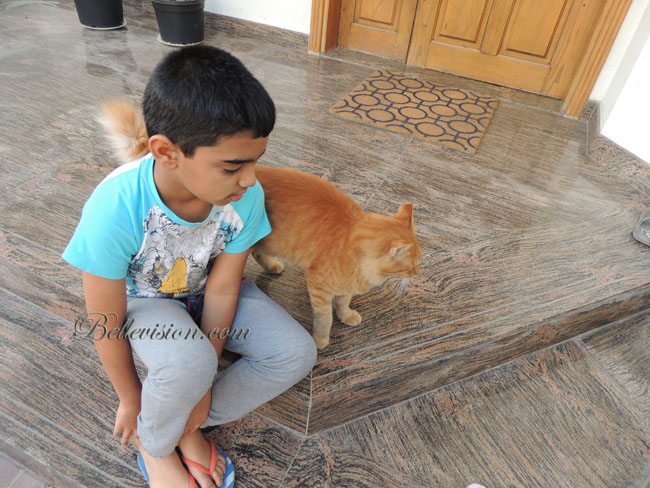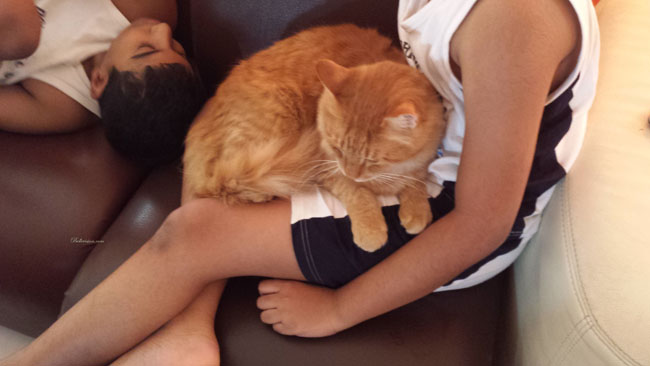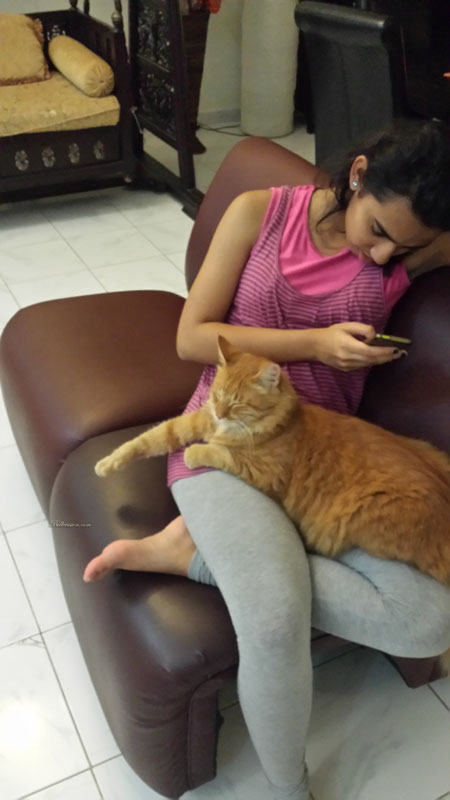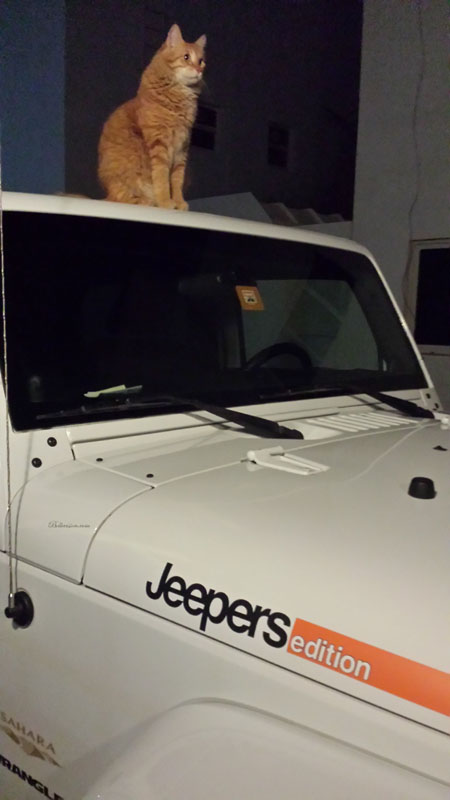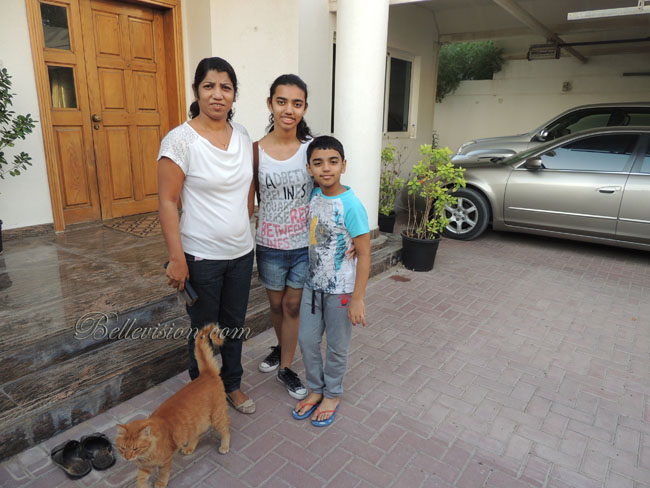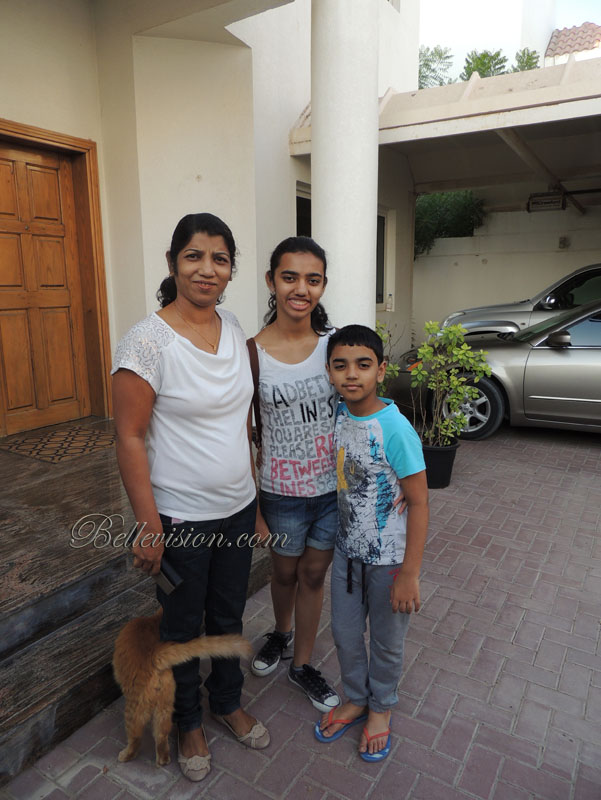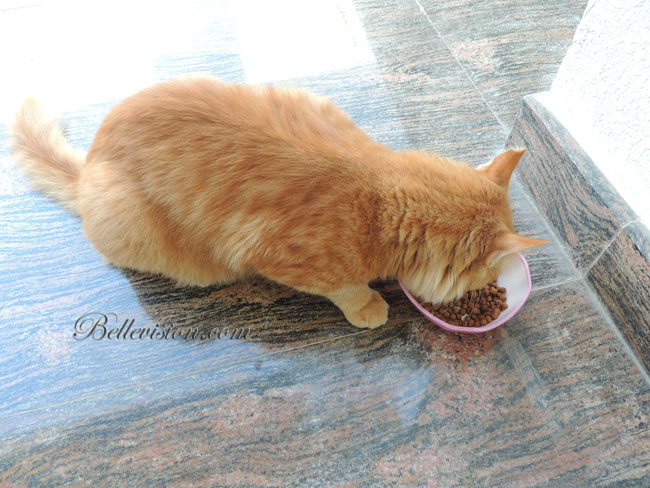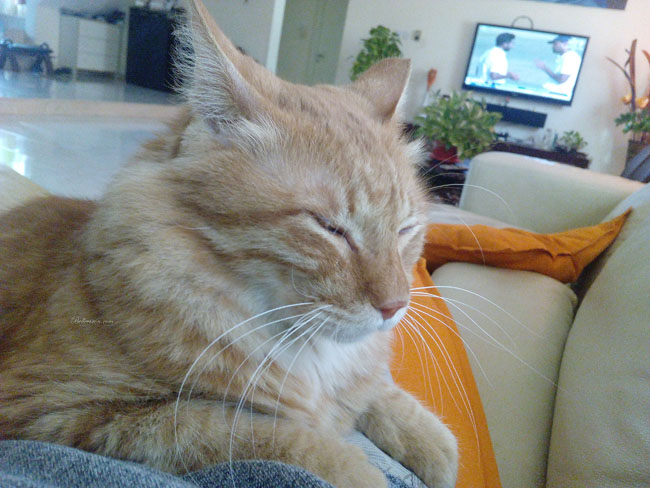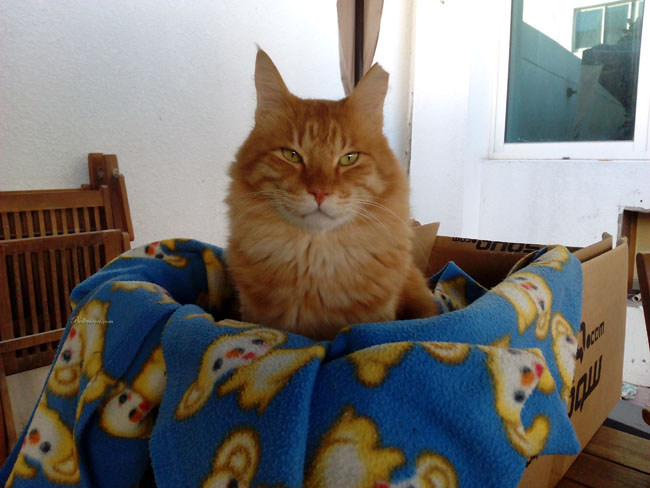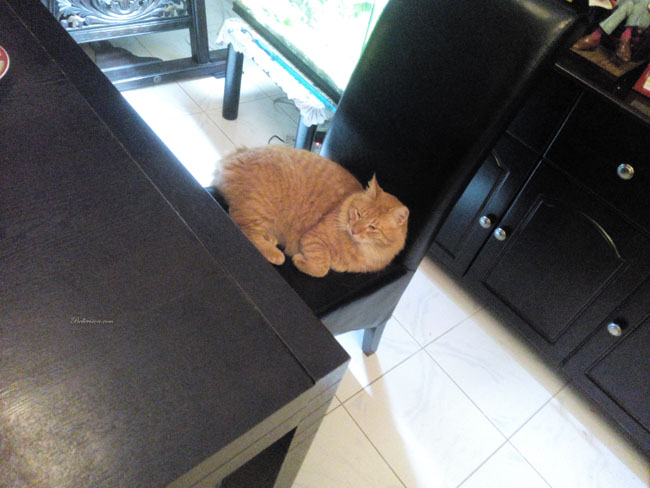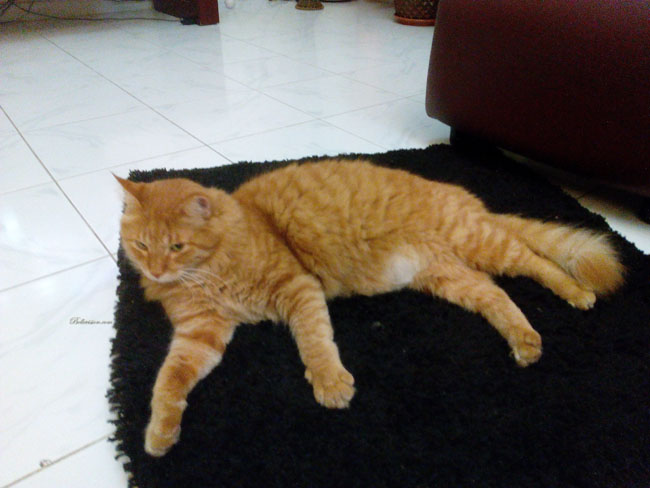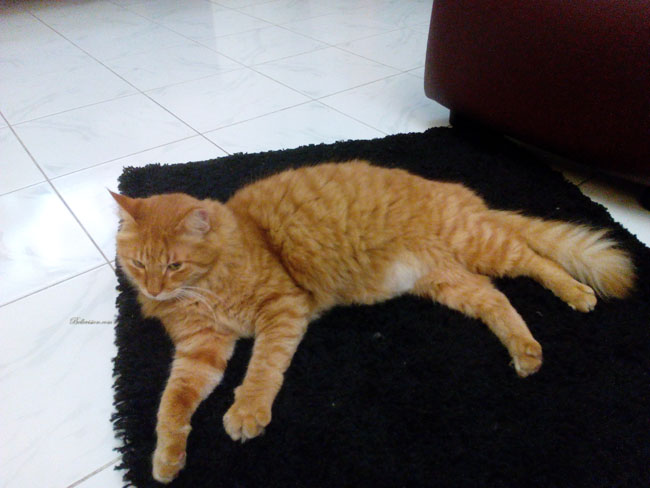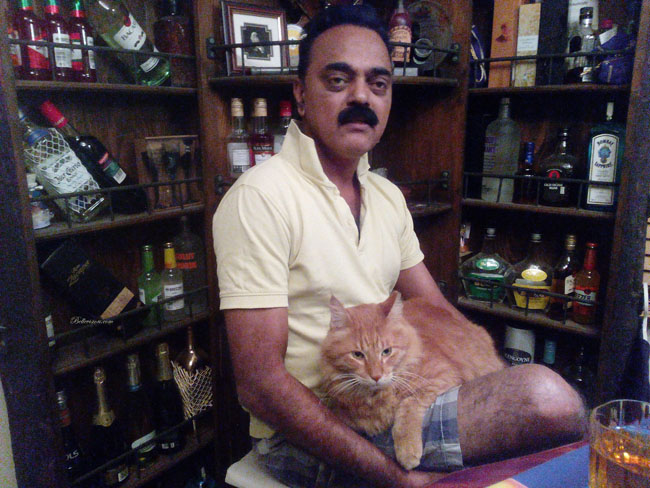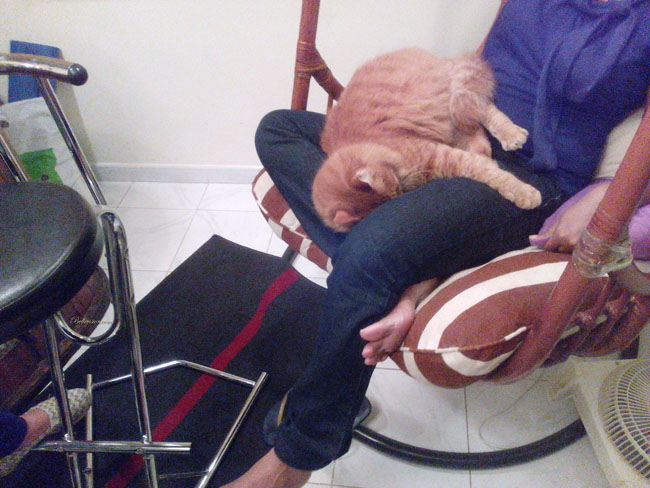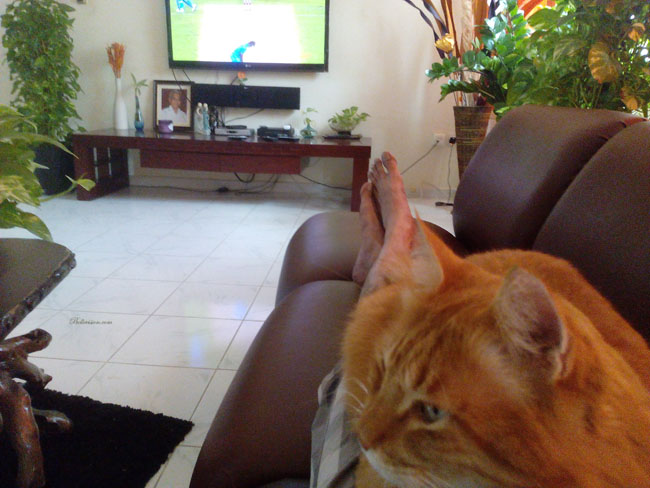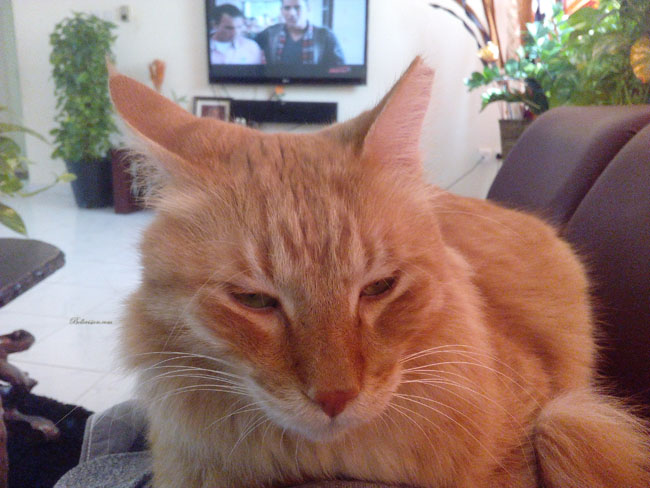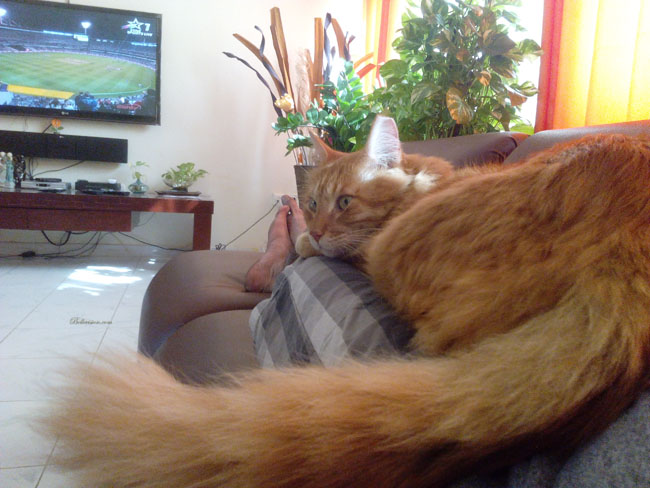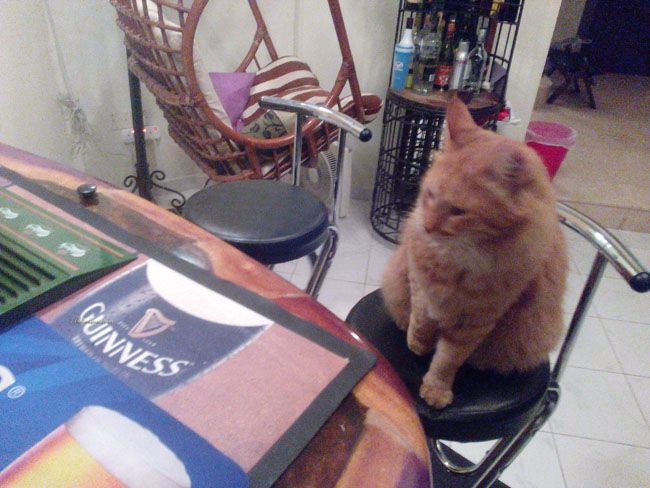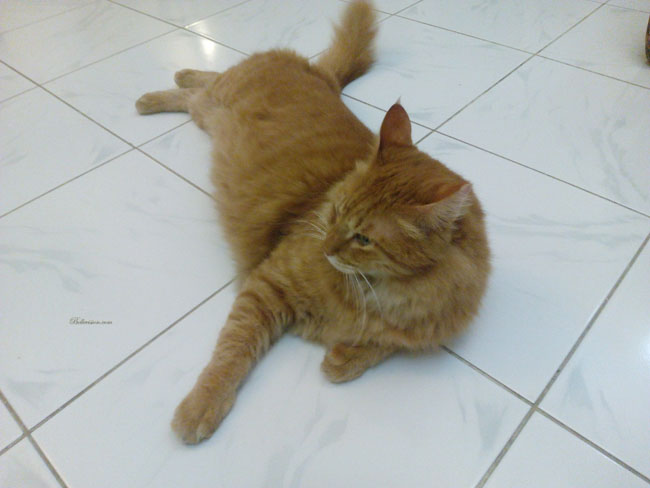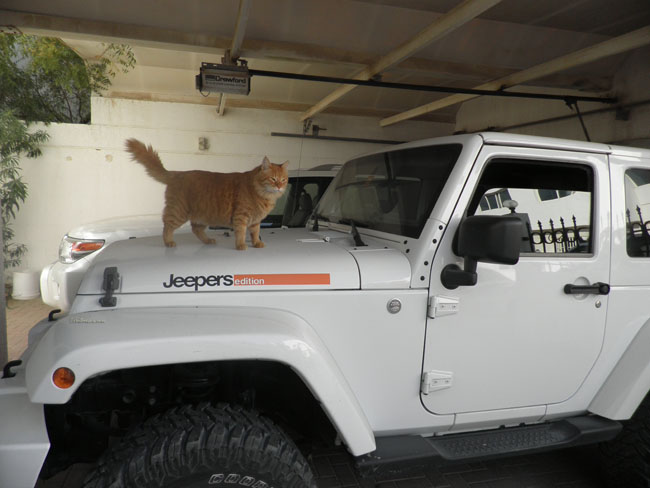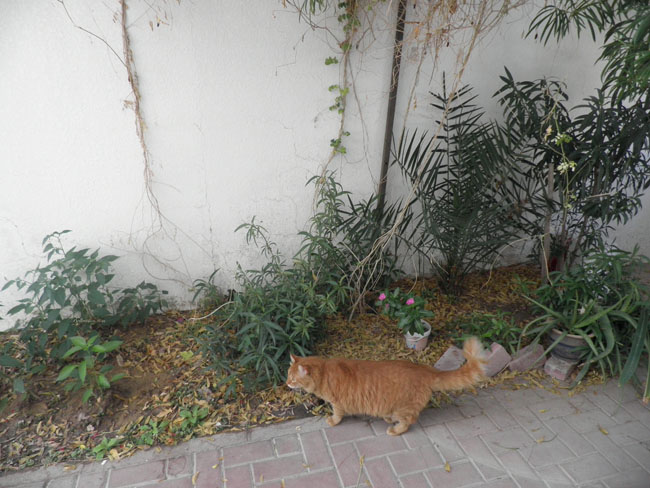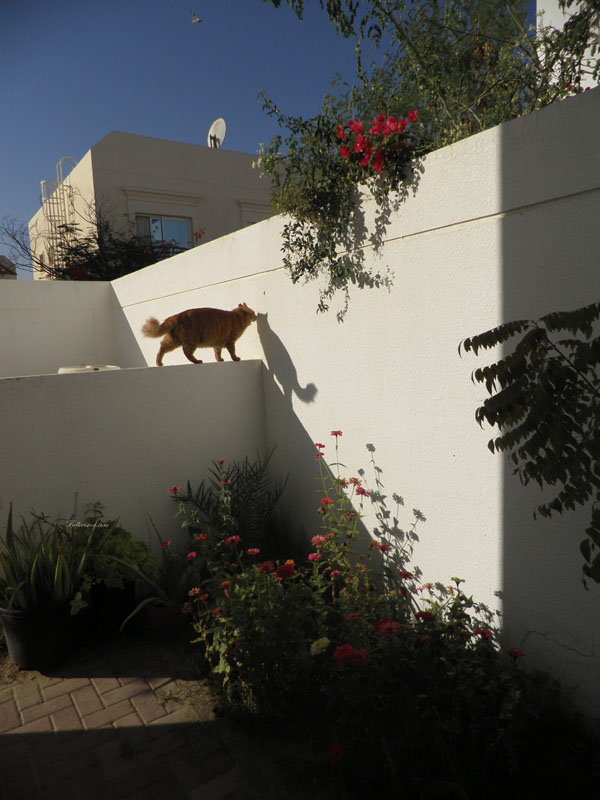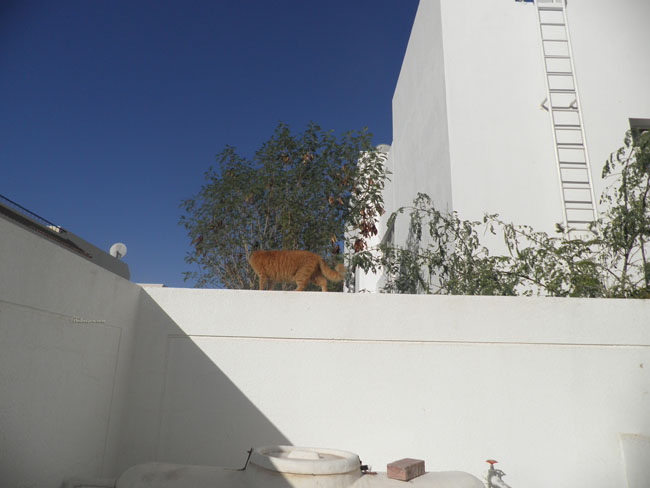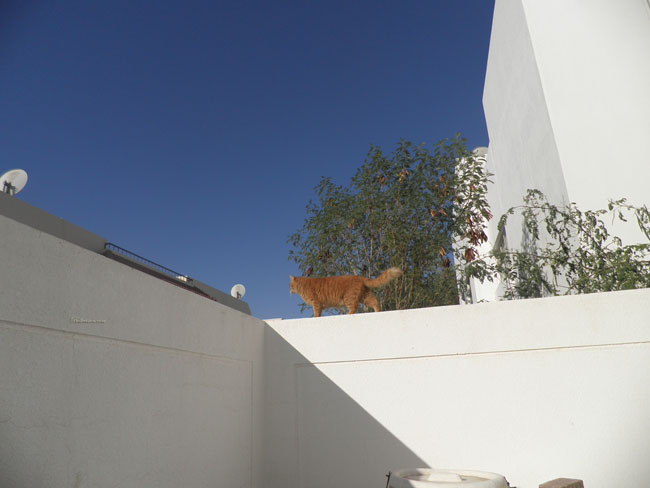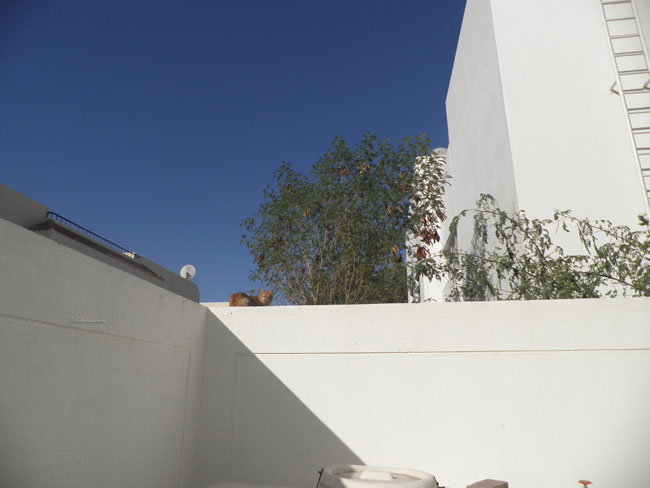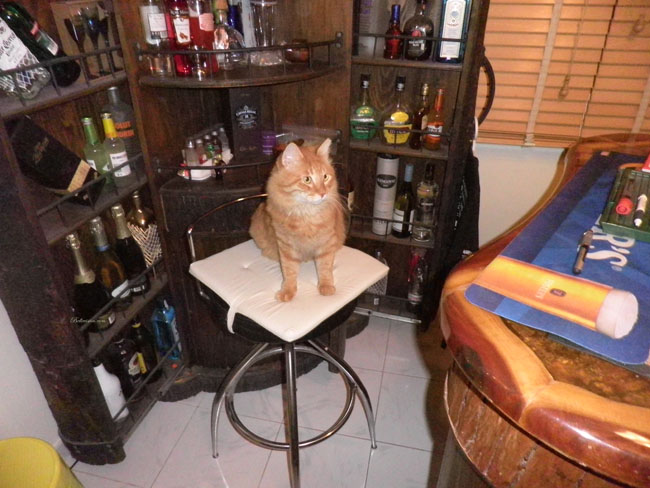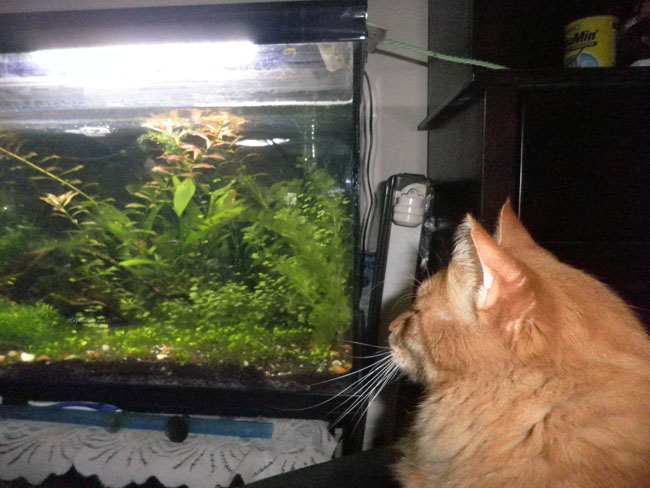 Whenever a new vehicle is parked in front our house for a little longer time, he goes on top of it and establishes his supremacy. He loves to get into the car, behaves well on short rides. We do not take him far for the fear of losing him.
After his dinner he goes to the neighborhood to spend time with his girl friends. Kitta has marked his territory and will never allow any other cat into the compound of his house except for his white friend at night time; I could not capture the picture as he makes it impossible to click such picture. CC camera footage below is not clear though! He normally spends his night in his designated box couch. Strangely in the night if he is inside the house he wants to go out and wants to be in if he is outside. Hence for everyone's good sleep he remains on his bed on the gazebo outside. Day time he will remain home and gives a company to all at home especially evenings and night time until bed. He craves for human body warmth. As you pamper him and touch around neck, he makes a strange gur… gur… kind of noise filled with lot of affection and emotion. Last but not least…he loves to give company as the evening bar opens.
He enjoys playing with lizards, crawling and flying insects and killing them. Birds are his favorite hunt.
Like any other cat, he spends 70% of his time napping! As he wakes up from long sleep he does stretching exercise forward, backward and standing tall! Cats choose us and we do not own them. They come to us only when they desire unlike dogs. May be time spent with a cat is not wasted, with the same tone I must admit those who play with cats must expect to be scratched.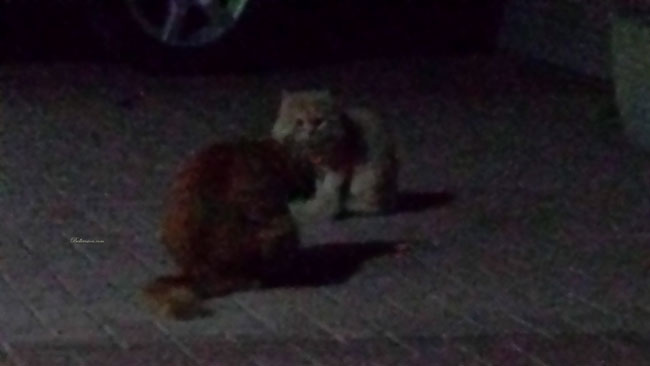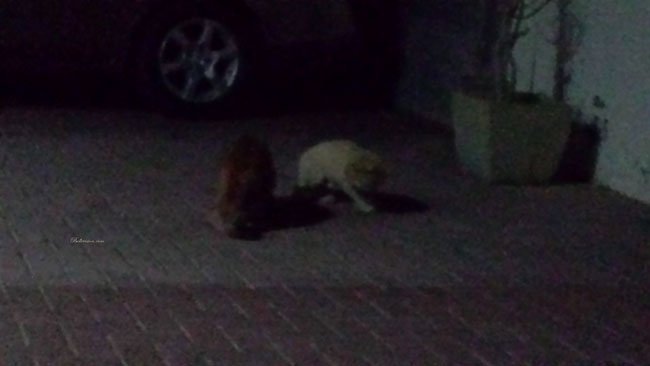 All the birds around the home are watchful about him. We realize that he is getting old. Like a monkey grows old he will never forget to jump, so also our kitta!
I used to love dogs until I discovered cats –Nafisa Joseph (Model)
Artists like cats, soldiers like dogs (Author-The naked eye)
Regard cats as one of the great joys in world. I see them as a gift of highest order (Thrisha McGagh –Animal communicator)
Cats have it all! Admiration, an endless sleep, and company only when they need it (Rod McKuen, poet, Stanyan Street & other sorrows)
A dog jumps into your lap it is because he is fond of you, but if a cat does the same thing because your laps are warmer. (AN Whitehead, Mathematician & philosopher)

Watch Video