M'lore: JKS to organize Global Conclave for Konkani Language Planning at Kalaangann on Aug 24
Bellevision Media Network


Mangalore, 30 Jul 2014: Jagotik Konknni Songhotton (JKS) will be organizing Global Conclave for Konkani Language Planning at Kalaangann, Makale, Shaktinagar, here on Sunday August 24.

This Global Conclave will be historic, as it proposes to lay down the roadmap for Konkani's progress and future, at the global, national, regional and local level.

Goa MLA Vishnu Wagh will inaugurate the Global Conclave here on Sunday morning.

Goan legislative assembly former speaker Tomazinho Cardozo will preside the programme.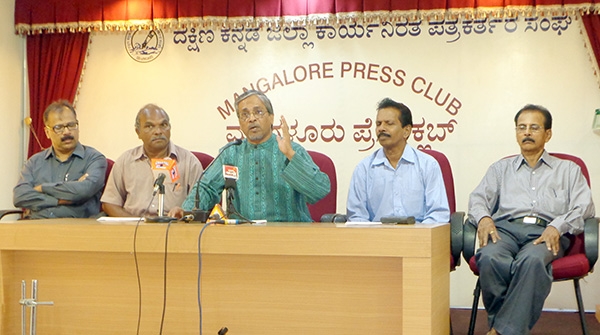 Aligarh Muslim University Professor of Sociolinguistics Dr S Imtiaz Hasnain will present the Concept Paper.

Bangalore-based columnist Vasant Shetty will speak on the Importance of Language planning in the context of Globalization.

Goa University Associate Professor Dr Andre Rafael Fernandes will speak on the Need for Language Planning for Konkani.

AMUCT president Dr Norbert Lobo will moderate the discussions.
JKS general secretary Eric Ozario will present the Plan of Action.

Konkani Manyata Divas will be celebrated at the concluding ceremony, presided by Karnataka Konkani Sahitya Academy president Roy Castelino.

Around 200 delegates from around the world, belonging to every region, , dialect and script of Konkani will participate. Even interested individuals are welcome.

JKS general secretary Eric Ozario, vice president K K Utharan – Kerala, executive Committee members Vasant Bandekar – Karwar, K Vishwanathan – Kerala and Louis J Pinto – Mangalore were present at the present meet.