Udupi: Mangalore Vasity Inter-Collegiate Weightlifting Competitions inaugurated at Tenkanidiyoor
By Jayaprakash Kini

Bellevision Media Network


Udupi, 9 Feb 2014: The Mangalore varsity level inter-collegiate men's and women's weightlifting competitions were held at Government First Grade College and post graduation centre, Tenkanidiyoor, near here on Saturday February 8.


Udupi MLA Pramod Madwaraj after inaugurating the competitions here on Saturday morning, said that sports is helpful for the all round development of students, said MLA Pramod. Meanwhile, he urged the state administration to extend financial support to the students involved in bodybuilding and weightlifting.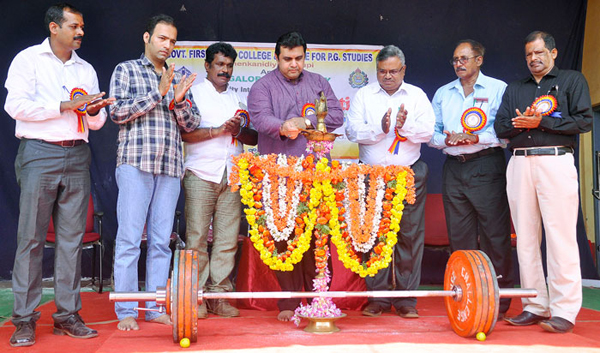 The young entrepreneur Amrut Shenoy and Tenkanidiyoor gram panchayat vice president Prakhyat Shetty were the chief guests present.


Mangalore University physical education director Dr Nagalingappa, Mangalore University physical education teachers Association president Chandrashekar Hegde were also present on the occasion.


Mangalore University joint director Professor G Yoganand presided the programme.


Government College physical education director Ramachandra Patkar welcomed the gathering. Dr Duggappa Kajekar proposed vote of thanks. Dr Niketan compered the programme.


Over 100 weightlifters from different colleges under Mangalore University are participating in the competitions.