Moodbidri: Alva's Vishwa Nudisiri Virasat -2013 off to a Spectacular Beginning
By Ashritha D'Souza

Bellevision Media Network


Moodbidri, 20 Dec 2013: Alva's Vishwa Nudisiri Virasat - 2013, four-day national and international cultural extravaganza organized by Alva's Education Foundation ® began with grandeur at Sundari Anand Alva campus, Vidhyagiri, here on Thursday December 19.

Earlier, Nadoja Bomma Gowda flagged-off the grand procession depicting the splendor of coastal district's folk art at Chowta's palace.

Over 110 folk groups with over 5,000 folk artistes participated in the grand procession that concluded at the venue.
Alvas Educatin Foundation ® chairman Dr M Mohan Alva in his introduction address said, 'My wish is to make our culture reach far and wide. I have been planning for Alva's Vishwa Nudisiri Virasat - 2013 from a long time by inviting the former presidents and the plan has worked without any roadblock. Through Nudisiri programmes, we strive to showcase our cultural splendor, our discipline and attachment to our culture. This has motivated us to keep on organizing this event in the future too,' said Dr Alva.

Shree Kshetra Dharmasthala Dharmadhikari Dr Veerendra Heggade inaugurated the event.
Dr Heggade said, 'I am very happy to be part of this ceremony and all the guests here on stage are great personalities. Dr M Mohan Alva is doing a very good job. He has sacrificed a lot for this programme.

We always pray to God for a peaceful life. After the World War II, UNESCO was formed to restore peace in the world. They composed a song which was released to the whole world so that everyone could understand its meaning and stop fighting. A person should not think of only making money in his life. His mind should be filled with thoughts of religion, culture and so on,' said Dr Heggade.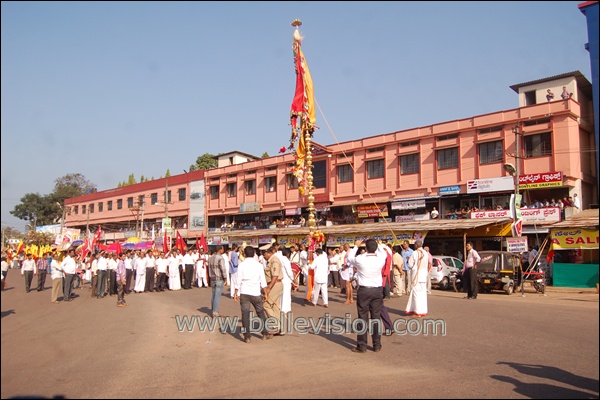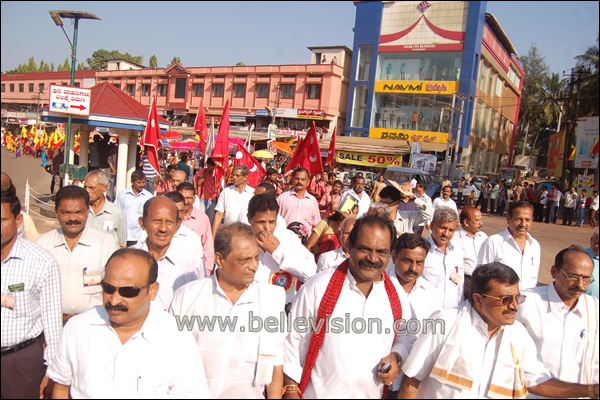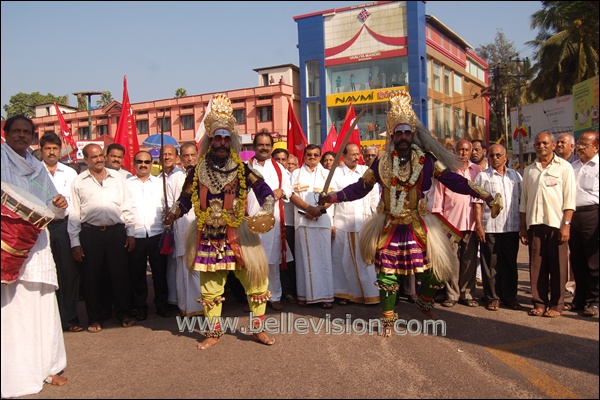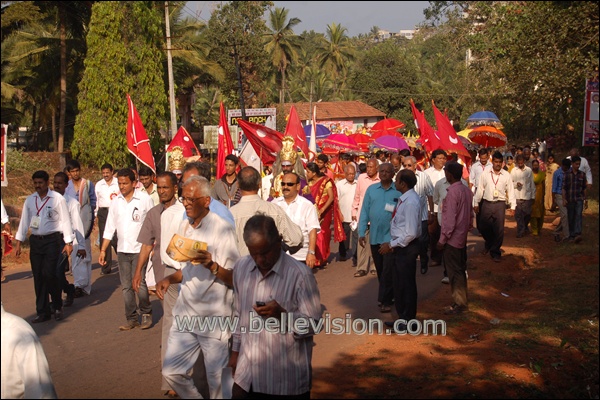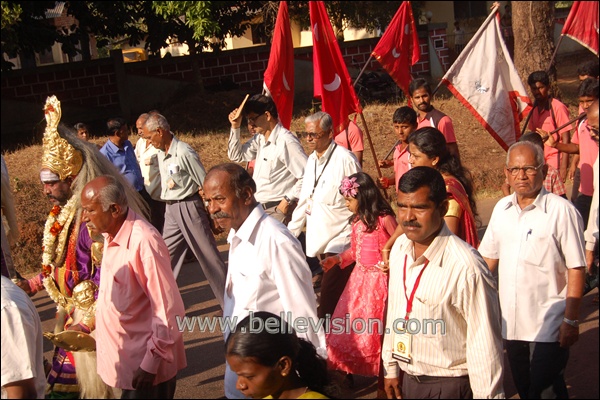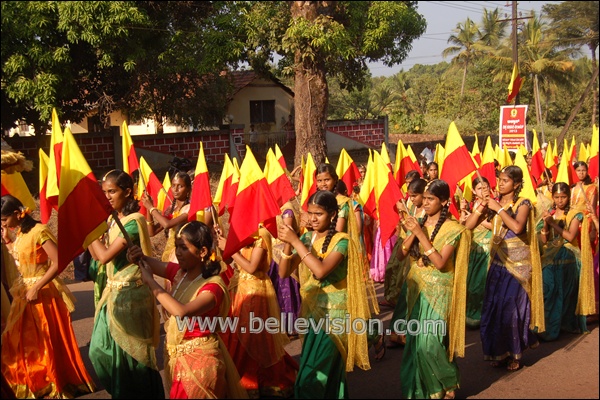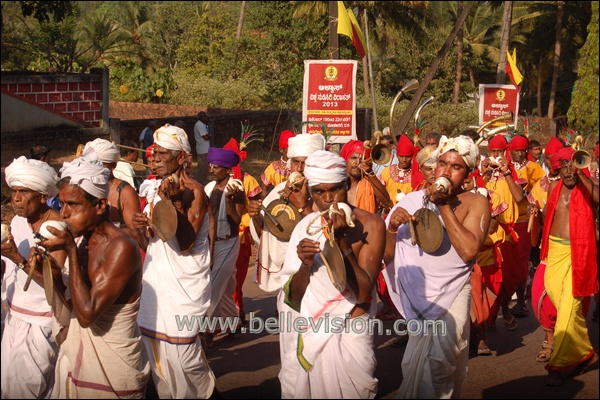 Dr Heggade further said, 'Alva's College in Moodbidri will be filled with awards, as the college has been exhibiting so many talents. I have urged the state government to make cultural activities compulsory in the curriculums of schools and colleges. I want all schools to organize cultural programmes,' said Dr Heggade.

'People should not bring religion into culture. May Kannada live forever,' Dr Veerendra Heggade conveyed best wishes.
The former chairmen of Alva's Nudisiri Virasat: Dr Baraguru Ramachandrappa, Dr S L Bhyrappa, Dr Chandrashekar Kambara, Vaidehi, and Dr K S Nissar Ahmed were honoured on the same occasion.

Well-known litterateur, researcher, poet, and retired vice-chancellor of Hampi Kannada University and Karnataka State Open University (KSOU) Dr B A Vivek Rai presided Alvas Vishwa Nudisiri Virasat – 2013.

Dr Vivek was conferred with Alvas Vishwa Nudisiri Virasat – 2013 Award during the programme.
Dr Vivek in his acknowledgement address said, 'I was born in Punacha of Puttur taluk. After completing my school, PU and BSc in Puttur, I did my MA in Kannada and PhD in Mysore University. I have done research in the field of language and culture, written books, poems, novels, etc and bagged a number of awards.

My parents taught me Tulu and it is my world. Since first standard I started learning Kannada and I am still learning. Kannada is still attracting me to new things. Because of caste, creed and race our Kannada has shattered. Through our Vishwa Nudisiri Sammelana our political parties, religious organisations and social organisations should strive to promote Kannada,' said Dr Vivek.

Dr Vivek further said, 'In Karnataka a huge amount of agricultural land is being sold to builders. The government should stop this and give the land back to the farmers. Farmers should be provided with benefits and given sufficient water, power and transportation. Multi-national companies must be stopped from stealing land from farmers. The ultra mega power plant project at Niddodi should be scrapped. Because of such companies well water is turning saline, crops are dying due to drought, people are falling sick and many more things are happening. The government should take action against the owners of the company, said Dr Vivek.

'People are migrating from Karnataka to different states in search of jobs. People who are staying in other states are spreading our culture and they are doing a very good job,' stressed Dr Vivek. He emphasized that people who are staying near the borders are fighting for our culture and trying to save it, emphasized Dr Vivek.

'In the past 9 years, students and people from different states have been taking part in 'Alva's Nudisiri' and this is a proud moment for everyone. To spread Kannada to other countires, we have to first lay down a strong foundation for Kannada in Karnataka. Kannada must be taught in every school and college. Wikipedia is one of the world's best directory and Wikipedia is available in Kannada since 2003. There are more than 15,000 articles in Kannada Wikipedia,' said Dr Vivek.

The state ministers B Ramanath Rai, Vinay Kumar Sorake, U T Khadar and K Abhayachandra Jain, former minister K Amarnath Shetty, MP Nalin Kumar Kateel, MP Jayaprakash Hegde, Mangalore south MLA J R Lobo, Mangalore north MLA Moideen Bava, Sullia MLA S Angara, Karkal MLA Sunil Kumar, Udupi MLA Pramod Madwaraj and Kannada Sahithya Parishat president Pundalika Halambi and others were present.