Fr. Mark Valder a revolutionary priest bags Raknno Platinum Jubilee Award
By Ancy DSouza Paladka

Bellevision Media Network


Fr. Mark Valder a revolutionary priest bags Raknno Platinum Jubilee Award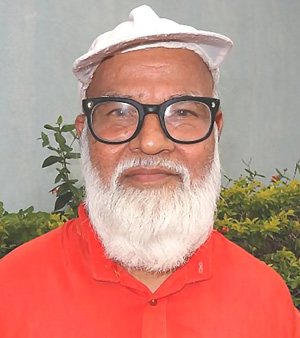 Name : Fr. Mark Valder. M.A.
MotherTongue : Konkani
Education : B.A., M.A., Diploma in Journalism
Date of Birth : 22 October 1936
Birth Place : Ekkar Village in Permude Church near Bajpe
Father : Banjamin Louis Valder
Mother : Carmine Vas
Siblings : 13 (7 brothers, 6 Sisters. One brother expired during childhood.
Among children he is fourth. One priest and two are nuns)
Address : Mount Rosary Charitable Institution
Alangar, Moodbidri - 574 227
D.K., Karnataka, India
Mobile: 9008820651
Background: Fr. Mark Valder born to an agriculturist who was a tenant. In those days tenants were oppressed by the land lords. He used to see the humiliation undergone during those days by the tenants. His father never dared to sit in a chair in front of the land lord even after he became a priest. This background made him to fight for the injustice caused to the tenants when government implemented land reform act. This of his humble beginning also made him to fight against superstition beliefs in the later stages.
Early Education: His early education was held in St. Francis School, Permude. There he studied till 5th. Because of the poverty he had to discontinue his education and take up the new job in the family to graze the buffalos. Later he also did half a day tailoring studies. His life got new twist when 6th standard was introduced in St. Joseph's School, Bajpe. As the new school was in need of students he got the opportunity to continue his studies. He completed SSLC in the same school in 1957. His high school education was sponsored by Mr. Leo Lobo, his Aunt's son (Brothers sister - AKAI). Then he joined St. Josephs Seminary, Bajpe for priesthood education. His first year seminary studies were sponsored by his relative Mr. Baptist D'Cunha. His later education was sponsored by Miss Clare Camer a lady from America.
A budding Writer: He started his writing in Kannada language. During his seminary studies Br. Mark translated moral stories from English to Kannada. While doing his theology he was appointed manager for Prakashalaya. During this time number of booklets regarding faith and bible education written by him and others were published. During this time he worked for almost two years to prepare a thick bound book on the life of Jesus in Kannada with the name "Bhagavan Yesu Krista". The then Bishop Raymond D'Mello gave him the imprimatur and encouraged him to publish the book. As the then Kodialbail press manager did not show the interest in printing the book, he printed it in "Udaya" press belonging to Janasanga. Prakashalaya published 5000 copies this book with 312 pages in the year 1964. The book sold like a hot cake.
Second Vatican Council was held between 1962 and 1965. Br. Mark was in full zeal and zest to implement the revolutionary renovation and revival of the church. Thus he used to write Konkani articles in Poinari, Mithr, Raknno weeklies and other Konkani periodicals. He also wrote in some Kannada periodicals. On the occasion of his ordination he wanted to publish the collection of these articles. As he did not get the imprimatur he could not publish the book. But the then editor of Raknno Mons Alexander published all these collections in a serial manner in Raknno from 1967 October onwards.
Young Priest: He was ordained on 2-2-1966 by Bishop Basil D'Souza. He was sent as Asst. Parish Priest to St. Peters Church, Barkur. During this time once again he wrote a book in Kannada to give sex and moral education youngsters. The name of the book is "Prema maththu Jeevana". Salak Prakashan published the book. During this time he also fought very strongly against the superstition beliefs. He challenged publicly to someone to make black magic ("Maatta") against him and he himself will bear whatever cost of it.
He also completed his B.A. in Psychology during this time as an external student in the year 1968. Then he did a one month course in Ooty regarding bible translation organised by Bible Society of India. In 1969 he joined Mysore University to do post graduation in "Kannada Literature". He completed M.A. in the year 1971.
He was later transferred to Our Lady of Health (Saud Mai) church Shirva in 1971. After working for one year he was transferred as the Asst. Editor of Raknno Konkani Weekly and Asst. Parish Priest of Bendur Church. During this time he completed one year journalism course from Mysore University. He also did a Media Diploma Course from Xavier Institute Bombay in the year 1973.
Raknno Editor: In 1973 July he was appointed as the Managing Editor of Raknno. During this time he wrote number of articles, News analysis, News, Criticism for Raknno and other periodicals. During this time he also edited and published number of literature of well known Konkani literary giants like V.J.P Saldanha, Jo.Sa. Alvares, A.T. Lobo, Jerry Kulshekar, Edwin J. F. D'Souza (Vasu Valencia) and others. Most of these were published in a serial manner in Raknno Weekly.
In the year 1974 Land Reform Act was implemented in Karnataka. During this time he encouraged Mr. Shirtady William Pinto to write articles, books in this regard. He edited those articles/books and published and circulated them. More than 25,000 copies of the booklets were sold.
When Raknno celebrated its 35th anniversary he published a literary book with the name "Amar Konknni" that contained the information about Konkani Language, Literature, Culture with articles from well known writers of Kannada, Roman and Devnagiri scripts. When Raknno completed 40 years he also brought out a thick special issue, full of quality literature.
During his time he encouraged number of Doctors to write medical articles in Raknno. He edited and compiled all these articles and published a book with the name "Bori Bholaiki". Another well known edited book by Fr. Mark Valder is "Aichea Kalar Suvarta Prasar". It contained articles from him and others.
He started Raknno Family to strengthen the financial status of Raknno and also encouraged more and more writers to write.
Encouragements to Budding Writers: Fr. Mark Valder was instrumental in encouraging budding Konkani writers and poets. He conducted several workshops ranging from three days to one week to train budding writers. More than 50 new writers who got training from such workshops have now become well known literary people, journalist, poets etc.
Contribution for Konkani Movement: In 1974 he worked with other Konkani leaders and writers to form a Konkani Bhasha Mandal Karnataka. He motivated Raknno staff, Konkani writers to take active part when All India Konkani Sahitya Parishad were held in Mangalore, Bangalore, Manipal and Kochi. In the year 1975 along with C. F. D'Costa, B. V. Baliga, Damodar Prabhu, Dolphy Cascia and other leaders he visited number of city's to create awareness to strengthen the Konkani Movement. He was the bridge between Sarasvats and Konkani Catholics in during the literary movements. "I want to see everyone working together for the noble cause" is what he says.
Awards and Recognistions: Some of his awards and recognitions include

a) Advisory committee member of Sahitya Akademy.
b) Mangalore All India Radio Programme Broadcasting advisory committee member.
c) Syllabus committee member of Central Administrative Exams. Worked as moderator for exams for two years.
d) Honorary Lecturer for Konkani Studies in St. Aloysius College for the subject Journalism and Literature.
e) Journalism Award from Karnataka Konkani Sahitya Akademy.
f) "Konkani Mhan Mhonis" Award from Mandd Sobhann.
g) "Madhav Manjunath Konkani Seva Puraskar" from Goa Konkani Akademy.
h) Participated in six days conference in Rome organised by Union Of International Catholic Journalist Assoication.
i) Worked as Parish Priest for three and half months in USA (New York and Los Angeles).
Back to Parish Pastoral Work: After serving as Raknno Editor for thirteen years (1973 - 1985) Fr. Mark Valder served the parishes like Ammembal, Moodbidri, Tannirbhavi, Siddakatte and Gantalkatte. At present during his old age he serves at Mount Rosary Charitable institutions, Alangar, Moodbidri.