Bangalore's airport may be named after Kempegowda
New Delhi, 16 Jul 2013 (PTI): The Bengaluru international airport may be named after the city's founder Kempegowda, if a Civil Aviation Ministry proposal is approved by the government tomorrow.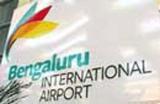 The issue is likely to be taken up by the Cabinet at its meeting tomorrow, official sources said here.
The private-led consortium run airport is likely to be renamed Bengaluru Nadaprabhu Kempegowda International Airport after the founder whose 503rd birth anniversary was observed in April.
The Civil Aviation Ministry had last year approved the proposal of the state government following efforts by then External Affairs Minister S M Krishna.
Serious differences had emerged among various organisations over naming of this airport with demands for names like Tipu Sultan (who was born in Devanahalli), social reformer Basaveshwara and former Mysore Dewan Sir M Visvesvaraya, also being raised.