ICC Women's World Cup – A Brief History!!!
By Francis Saldanha

Bellevision Media Network


03 Febraury 2013: The ICC Women's World Cup is the pinnacle of every women cricketer's careers. As international cricketers, this is the ultimate prize for any aspiring cricketer on earth. The ICC Women's World Cup is the ultimate! No doubt about it.
First women's cricket World Cup 1973 which came two years before the men's version was born and held in England, and won by the hosts in a one sided final against Australia. The brainchild of Sir Jack Hayward, the 60-over's tournament comprised Australia, New Zealand, Jamaica, Trinidad & Tobago, England, Young England and an International XI, and the cup was awarded to the team at the head of the points table after the round-robin. England defeated Australia by 92 runs at Edgbaston. The victory was given a royal seal of approval and the trophy was presented by Princess Anne.

Since then there have been a further eight tournaments with Australia winning five of them (1978, 1982, 1988, 1997 and 2005), England winning twice (1993 and 2009) and New Zealand (2000) triumphing once.

Australia got their revenge against England in the 1978 world cup in India, completing a comprehensive eight wicket win with more than 18 over's to spare in the final. This time the competition was played in a 50-over format and was contested by only four teams, India, England, New Zealand and Australia after West Indies and Holland had to withdraw because of financial difficulties.
The same four teams that ran out in 1978 plus an international XI contested the third World Cup 1982 in New Zealand, and the format reverted to 60 over's. Australia took the honours once more when they faced England in a repeat of the 1978 final. The result went the same way when in the penultimate over Australia reached their target with three wickets to spare. More than 3000 spectators watched the match at Christchurch, and the game was also televised.

Yet again the old firm of England and Australia met in the final, but Australia extended their advantage, scooping the title in 1988-89 world cup in Australia, for the third time in a row. The match was held at the MCG, where England eked out a painfully slow 127 from 60 over's. Australia's batswomen responded in equally slow, yet ominously deliberate, fashion, losing only two wickets in reaching their target with 15 over's to spare. Ireland reached the third-place play-off.

A giant leap for women's cricket at last, a different finalist New Zealand in 1993 world cup. They took on England, the hosts, for the trophy after winning all seven of their qualifying matches and conceding only 1.6 runs an over. Australia failed to qualify for the final for the first time, but England marched there, thanks in no small part to Carole Hodges' match-winning century against the old enemy in the qualifiers.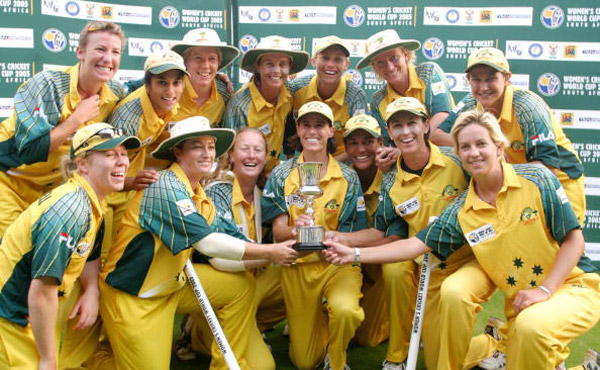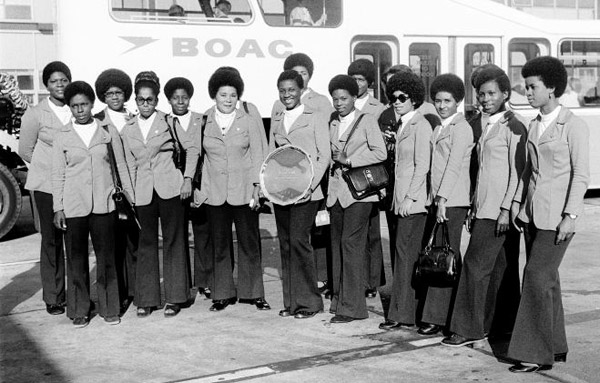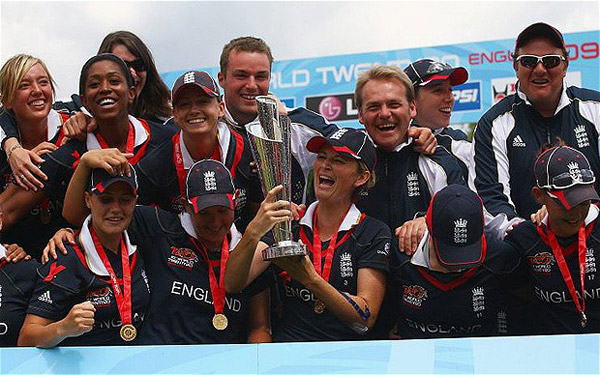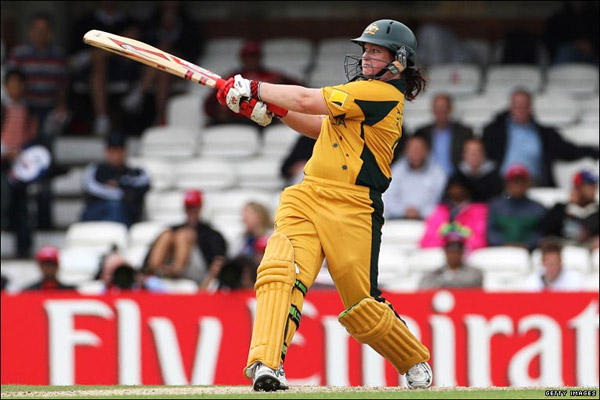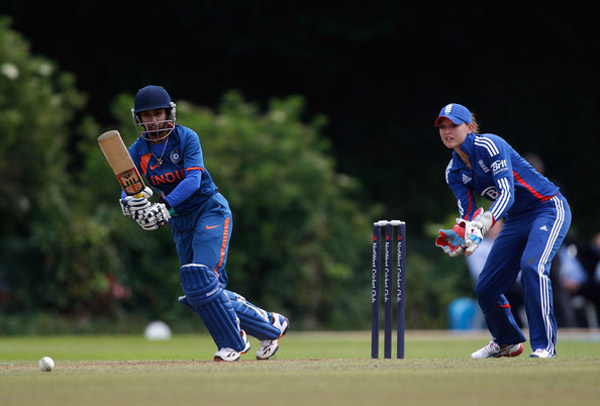 England proceeded to win their second trophy in front of 4,500 at Lord's spectacular all-round performance from Jo Chamberlain, the heroine of the hour with a spanking 38, a run-out, wicket and a catch. Denmark managed to win one match in what was an otherwise disappointing first World Cup, while Holland also won only one match.
The sixth World Cup returned to India in 1997 and the 50-over format made a comeback as one-day cricket was standardized worldwide; it is a format which has endured. Playing in front of vast crowds, Australia picked up their fourth world cup when they overhauled New Zealand with three over's to spare in a thrilling final at Eden Gardens. Belinda Clark played a captain's knock with 52 as opener.
New Zealand, the hosts, pulled off a shock four-run win over the favorites Australia in a nail-biting contest at Lincoln in year 2000 world cup After scoring only 184 New Zealand seemed to have blown their chances, but off spinner Clare Nicholson turned events in their favour when she bowled Belinda Clark for 91 with Australia on 150 for 7. They lost two more wickets and started the final over needing five runs, but Charmaine Mason fell on the first ball of the over. Finally, the World Cup trophy had a new name on it.
South Africa followed up the men's World Cup with the women's event two years later and the result was strikingly similar, Australia winning their fifth title after beating India in a one-sided final in the year 2005.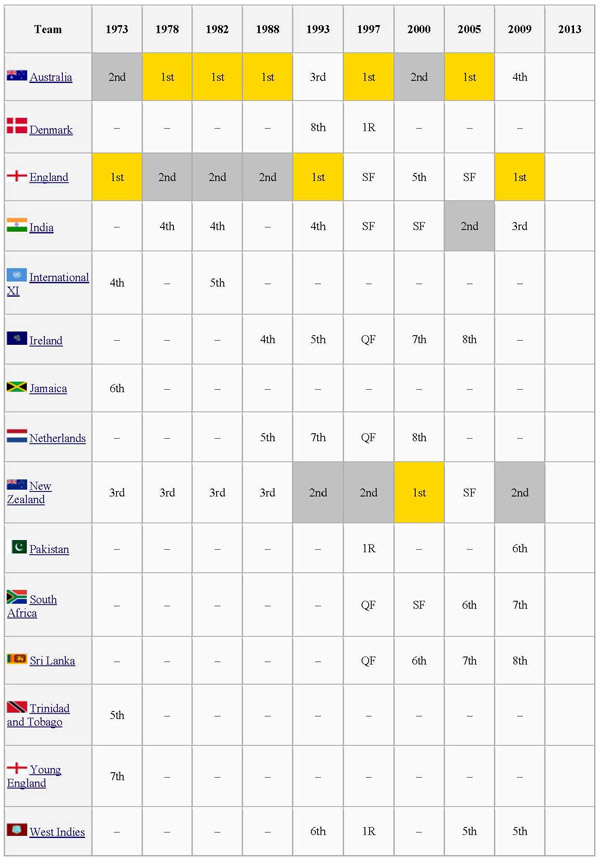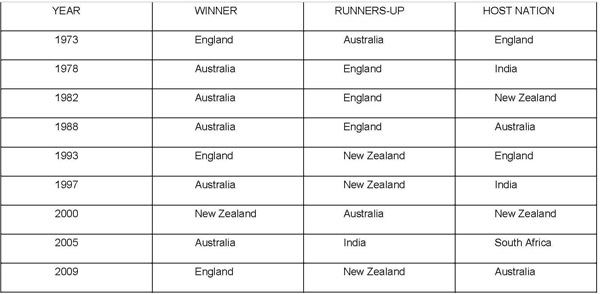 The tournament has grown in stature after women's cricket merged with International Cricket Council (ICC) in 2005. It was staged under the aegis of the ICC for the first time in 2009. Australia lost their openers early but was revived by Karen Rolton's unbeaten century that took them to 215. The target was competitive but India was overwhelmed by the occasion and fell 98 runs short. However the collapse was in contrast to India's performance earlier in the tournament. A washout on the first day followed three successive wins before they came up short against New Zealand. They met the same side in the semi-final but this time they were ready for the challenge; the young Indian captain Mithali Raj scored an unbeaten 91 to lead her team to its first World Cup final. Sky TV broadcast the semis and final in Pretoria.
The tournament has been staged twice each in England (1973 and 1993), India (1978 and 1997), New Zealand (1982 and 2000) and Australia (1988 and 2009) as well as South Africa (2005).