Udupi: Unending and unsolved problem of sea erosion in the coastal region
By Snehalatha, Udupi

Bellevision Media Network


Udupi, 07 July 2012: Like many other environmental problems covering the coastal region and as we know Sea Erosion is a yearly head-ache for those residing near the sea. This topic is much talked about and discussed and a lot of money has been invested but no permanent solution in sight as yet. However, every year when rain comes and goes and eats half of the sea bank, its habitants, resources and same problems props up again and again without any solution found and fixed.
This is a very common problem around sea shores of Udupi District such as Kaup, Mullur, Udyavara, Padukere and Kodi & Maravanthe of Kundapore district. This is not a recent occurrence but going on since last 20 years and the sea erosion eats away 25 – 50 meters of habitats of fishermen living nearby and it has now become a big problem for them every year.
Dakshina Kannada has 140 km long sea shore and out of this approximately 30 km experience sea erosion and every year estimated 10 km of sea shore is badly effected by sea erosion, eating away property, houses, coconut trees and other resources of fishermen and people residing on the long sea shore.
That means no action is taken as yet?? No money spent?? Action is taken, money is spent but problem still persists. So what happened to the 130 plus crores allocated to build a permanent boundary to these areas? The Udupi District and now DK District have been allocated sizable funds in crores to solve this problem.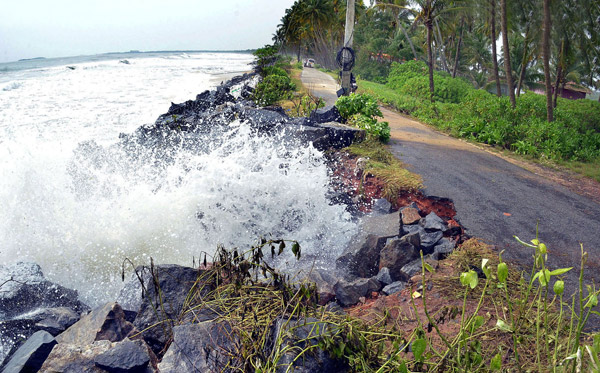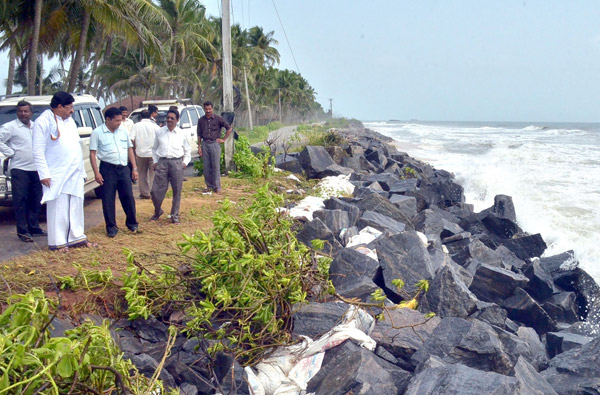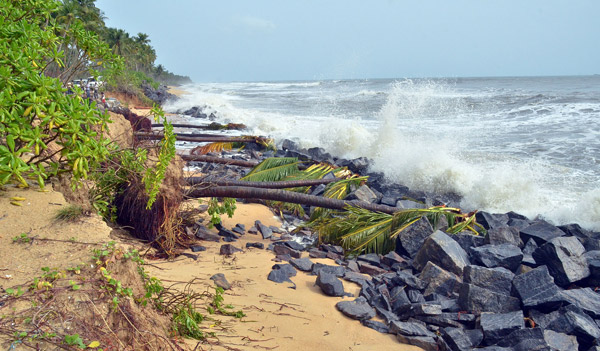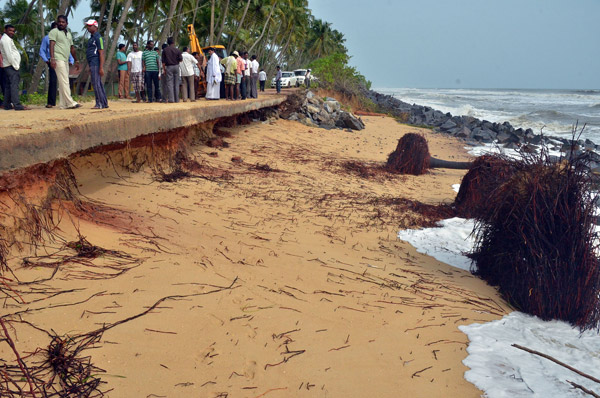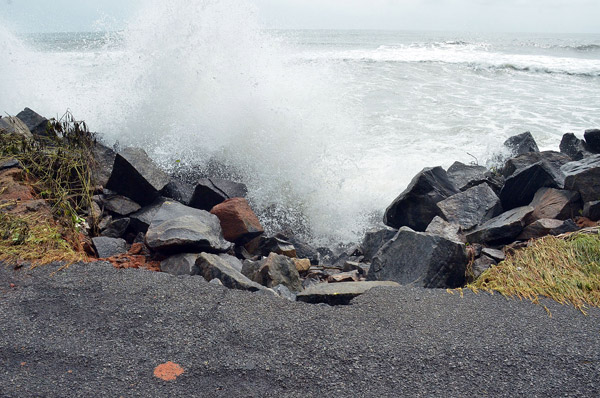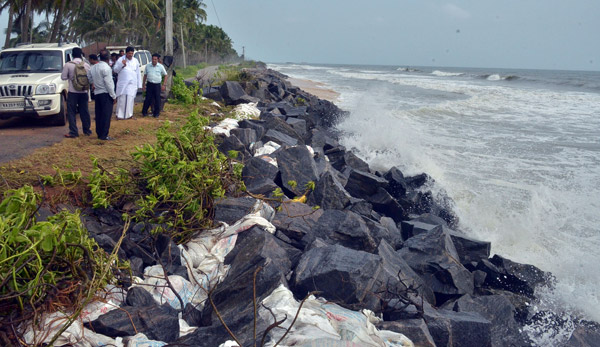 The contract is given to contractors by the administration and huge stones have been brought and fortification has been done using boulders at the sea boarder to stop the erosion. But the huge and turbulence waves hit the shore in such a force, all the stones have been washed away and crores of money (if it all spent??) gone along with that. However, contractor is happy that every year he gets his money and does his duty to please the administration and not to fix the problem permanently. So what does the administration do? Nothing, they have been known this problem for years and no proper plan is implemented in place of this this very un-scientific, improper building of boundary by stones. As usual they blame the previous government. Our Administration, our MLAs are not bothered or simply do not understand the problem of the people. So where the rest of the money is is gone?? Is all crores have been spent just to place these boulders?? Is any one answerable to this question??
An appeal has been made to the District administration for a temporary wall should be built at least if not permanent to fix this problem but the answer is shocking!!! Not a single paisa is available or released by the State Government was the answer by District Administrator and showed his helplessness. So what happened to the crores of money budgeted and presented by Gowda or so to say BJP Government? Looks like budget only on papers and money in their pockets!!!!!
The most worrying factor at the moment is in Kaup. The sea has encroached almost 25 meters already and approx. 100 meter length is threated by sea erosion. Several coconut trees already been washed away by waves to the sea. In Padukone the entire fishing road is covered with the sea water and the mud is given away beneath the road and there is a fear of breaking of the road. If proper action was taken earlier this situation would not have occurred today.