Ankudru Vented Dam Nearing Completion
Report and Pictures by Eugene Moodubelle

Bellevision Media Network


Moodubelle, 13 May 2010: The work on the Ankudru Vented Dam that had started in the month of March 2010 is going on briskly and is expected to be completed by the end of May 2010 which would be a great boon to the people of Moodubelle, Kattingeri, Pamboor, Mattar and even Shirva as the dam would provide irrigation and drinking water facilities to the people of these villages and facilitate the communication between Moodubelle and Padubelle.
The foundation stone for the Ankudru Vented Dam was laid on 6th February 2010 and the work on blocking the water in order to prepare the site for the dam was started during the first week of March 2010. The site for the dam was inspected by the Superintendent Engineer of Mysore Circle, Mr. Ranganathan on 26th March 2010. Concrete work of the dam commenced from 29th March 2010.
Due to the continuous work undertaken by the contractor of the project, Mr. Vijayanand Shetty, 12 pillars out of 16 have already been erected. The remaining four pillars will be completed within the next four days, one pillar on each day. Due to the death of a labourer working on the project due to drowning in the last month, the work was delayed for few days. However, presently the work is proceeding on laid out plan.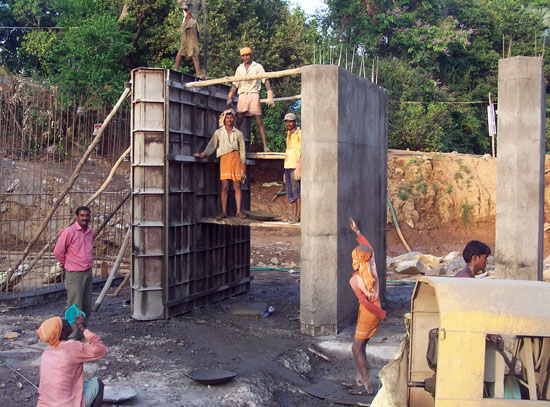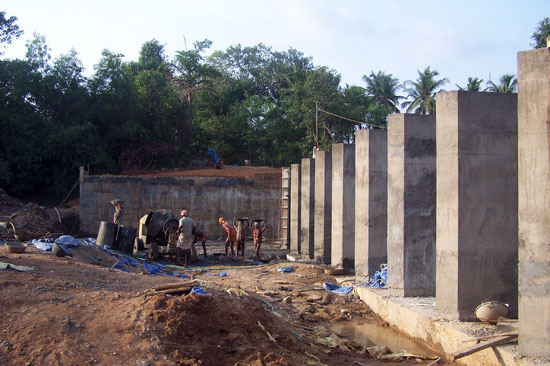 According to Mr. Gerald Fernandes, member of the Udupi Zilla Panchayat and one of the chief promoters of the project, the height of each of the pillars has been increased from the proposed 2.5 meters to 3.5 meters. This project costing around 81 lakhs of rupees will provide irrigation and drinking water to an area covering around 2,500 acres. While other vented dams are chiefly meant for water conservation, the Ankudru Vented Dam is being built as a multi-purpose dam conserving not only water but also providing transport facility to smaller vehicles such as rickshaws, cars and tempos across the river. The top surface of the dam will be 9 feet wide that would facilitate the movement of vehicles.
According to Mr. Vijayanand Shetty, the contractor of the project, the Minor Irrigation Department has stipulated March 2011 as the period by which the Ankudru Vented Dam has to be completed. However, Mr. Vijayanand says that by the end of May 2010, the project would be complete, nearly ten months in advance of the period stipulated by the Minor Irrigation Department. Mr. Gerald Fernandes says that there is a possibility of inaugurating the Ankudru Vented Dam by the end of May 2010.