Dakshina Kannada ZP all set to harvest rainwater
The Hindu


Mangalore, 19 April 2012: The Dakshina Kannada Zilla Panchayat is all set to harvest rainwater at its main building at Kottara this season.
The panchayat has almost completed work on the facilities to store 1.20 lakh litres of rainwater from the 2,465-sq metre roof of the building.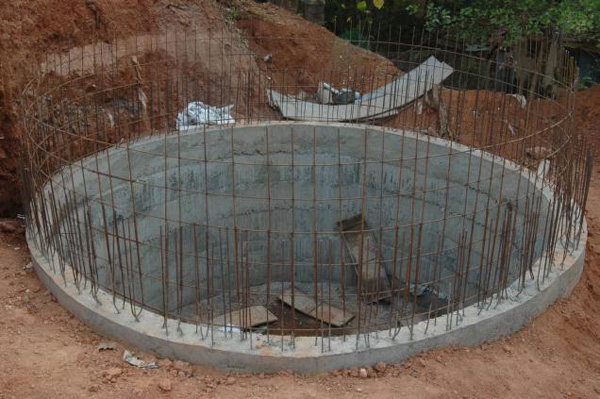 Executive engineer of the panchayat S.L. Sathyanarayana told The Hindu that pipelines and filters to harvest rainwater from the roof had been fixed.
Work on two underground tanks to store rainwater was nearing completion, Mr. Sathyanarayana said.
Once they were ready, the panchayat would be ready to harvest rainwater.
While one tank could store water up to one lakh litres, the other could harvest up to 20,000 litres, he said.
Mr. Sathyanarayana said that the employees at the panchayat building used 10,000 litres of water daily. At this rate, the panchayat needed three lakh litres of water a month.
In reality, three lakh litres of water was not required as there would be at least four Sundays in a month.
Sources in the administrative section of the panchayat said that there were 10 departments (with sub-offices) with around 400 employees. In addition, there would be 200 visitors daily.
Hence, the harvested rainwater would come in handy during summer.
Mr. Sathyanarayana said that 1.20 lakh litres of rainwater was enough for 12 days. Water stored during this monsoon would be judiciously utilised next summer. It would supplement the water supplied by the Mangalore City Corporation.
The panchayat would construct two more underground storage tanks, each having a capacity to store up to 75,000 litres during 2012-13.
There would be four storage tanks which could hold rainwater up to three lakh litres, he said.
Three lakh litres of water was enough to meet the demand in April and May, he added.
Mr. Sathyanarayana said that the total cost of the project had been estimated at Rs. 20 lakh.
Rainwater harvesting was one of the components under the National Rural Drinking Water Project.
During 2012-13, the panchayat would build roof water harvesting facilities in government buildings if the authorities came forward. But the facilities should be maintained by the departments concerned.
Authorities in charge of primary health centre buildings, government schools, gram panchayats, and other government buildings could come forward to make use of this benefit, he said.