Nandini milk price expected to go up by ?3 a litre from August 1
Bellevision Media Network


Bengaluru, 23 July 2023: The consumer price of Nandini brand milk being sold by the Karnataka Milk Federation (KMF) is set to go up by ? 3 a litre from August 1, as the government has given its consent for the rise at a meeting on Friday, according to KMF president Bheema Naik.
A formal notification regarding the increase in sale prices would be issued after a clearance from the State Cabinet, he said, adding that the decision was aimed to strengthen the co-operative dairy sector that is reeling under distress.
The meeting on Friday was attended by representatives of KMF, presidents and directors of district milk co-operatives and senior officials and convened by Chief Minister Siddaramaiah.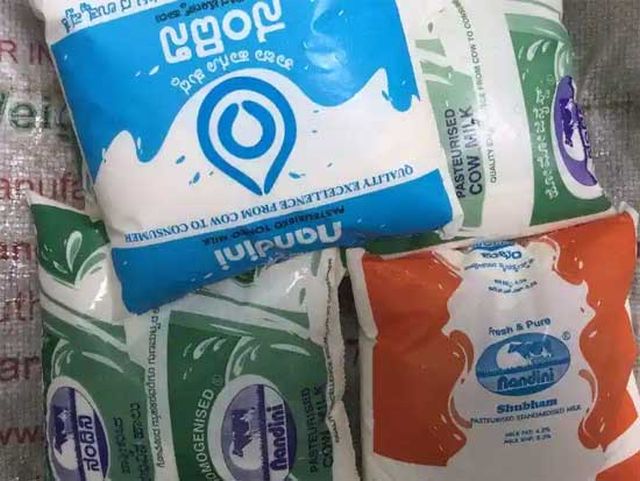 The KMF president said, "The district milk co-operatives and KMF had sought an increase of ? 5 a litre on selling price of milk. The Chief Minister has permitted an increase of ? 3 a litre and instructed that the full financial benefit of the hike in selling prices should be passed on to milk farmers."
He said the KMF had also sought an increase in prices of milk products and milk powder. The government is expected to take a call in this regard in the coming days, he said.
Co-operation Minister K.N. Rajanna, who was also present in the meeting, said increase in milk prices was inevitable to protect the interest of milk farmers.
It may be noted that the consumer prices of milk had been last increased in November 2022 when a hike of ? 3 per litre had been effected by the KMF. However, the then Chief Minister Basavaraj Bommai had intervened and pegged the hike at ? 2 a litre.
Despite the hike in November 2022, the selling price of KMF's milk in Karnataka is much cheaper when compared with that of other private companies. While the KMF milk's price starts from ? 39 a litre, private firms are selling their milk in the range of ? 48 to ? 52 a litre.
Recently, the district milk unions had reduced the procurement prices of milk by ? 2.85 paise per unit. While the milk unions maintained that prices had been reduced as the summer months during which the milk production would be hit was over, the farmers had expressed concern that the milk production had become financially unviable due to low procurement prices.