Mangaluru: Mandovi Motors to host 'Aatida Koota' traditional rainy seasonal food festiva
Bellevision Media Network


Mangaluru, 21 July 2023: Mandovi Motors Pvt Ltd will be hosting a traditional variety rainy seasonal food festival 'Aatida Koota' on July 23 from 10 am to 7 pm.
Entry will be free. Mondovi Motors has a requested all Mangalureans to visit Aatida Koota and enjoy the traditional food available in the mela.
The programme will be inaugurated at 10 am from Dayananda G Kattalsar, former president of Tulu Sahithya Academy, B P Dinesh Kumar (KSPS) deputy commissioner of police (Crime & Traffic) Mangaluru.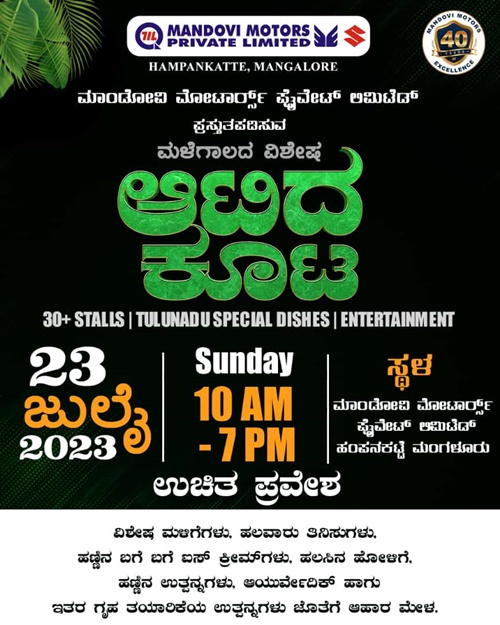 The programme will be followed by cultural activities musical karoke programme by Sangeeth Bahaar team. From 2 pm onwards, special Aati programme will be organized from Yuvavahini Mangaluru unit.
At 4 pm, Yakshagana Talamaddale will be presented by Siri Bhagilu Venkappayya Samskruthika Prathistana, Kasargod. In this Yakshagana talamaddale, Ramakrishna Mayya and Group will be in Himmela and K Govinda Bhat Soorikumer, Dr Prabhakar Joshi, Jabbar Sumo Sampaje, and Many more famous artists of Dakshina kannada will be in Mummula. Aaatida Koota will have many more attractions along with games, followed by 30+ stalls for exhibition and sales of seasonal food items, home made products, handicraft products, fresh fruit juices, variety of ice creams, nurseries, jackfruit holige etc.
About Mandovi Motors Pvt Ltd
Mandovi Motors Pvt Ltd are the first dealers in Karnataka for Maruti Suzuki car sales and service. They started their operations in 1984 in Bengaluru, 1986 in Mysuru and 1989 in Mangaluru. From the last 40 years, Mandovi Motors, has won many awards given by Maruti Suzuki India Ltd.
Mandovi network spreads across Karnataka in 8 districts and 15 taluks with 22 Arena showrooms, 4 Nexa showrooms, 6 True Value showrooms, 8 Maruti Suzuki Driving Schools, and 40 workshops. Mandovi was started by founder the late Aroor Sripathi Rao. The company is now headed by chairman Aroor Kishor Rao, Aroor Ashok Rao, and Aroor Sanjay Rao.
From many years, Mandovi has been organising many cultural activities in and around Dakshina Kannada. For the first time, it is organizing 'Aatida Koota' in Mandovi Motors premises itself. Mandovi Motors DGM, Shashidhar Karanth has requested all Mangalureans to visit the traditional event along with a family and friends, explore and recall the memories of Aati season fest.
For more information, call 7259014044.