New York: Human Rights Hero Award 2023 to Herold D'souza
Bellevision Media Network


New York, 15 July 2023: Crusader Harold Henry D'Souza was nominated for the "HUMAN RIGHTS HERO AWARD 2023" at United Nations Headquarters, New York on July 6th, 2023 on the 17th Annual International Human Rights Youth Summit 6-8 July 2023.
This year's Summit celebrates the 75th anniversary of the Universal Declaration of Human Rights and featured international inspirational 'Survivor-Advocate' Harold D'Souza – 'Human Rights Hero Award 2023', panel discussions, workshops, and presentations from international delegates. The title of this year's Summit was: IMAGINE: EQUALITY, DIGINITY, UNITY - Youth making it a Reality.
Prasad from India spoke to the press; 'Hearty congratulations dear Harold. Harold truly is a hero. Harold your honesty, sincerity, and dedication towards reaching out to people who are being fooled by some miscreants is fascinating and appreciable. Best wishes to Harold D'Souza his Eyes Open International team. May the lord give Harold more strength to continue doing this pious work'.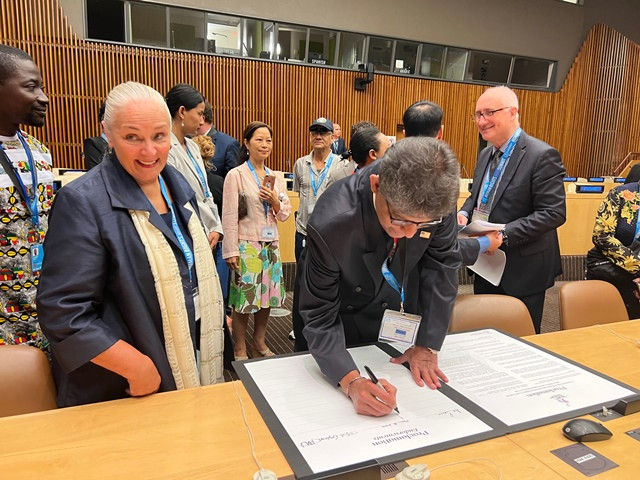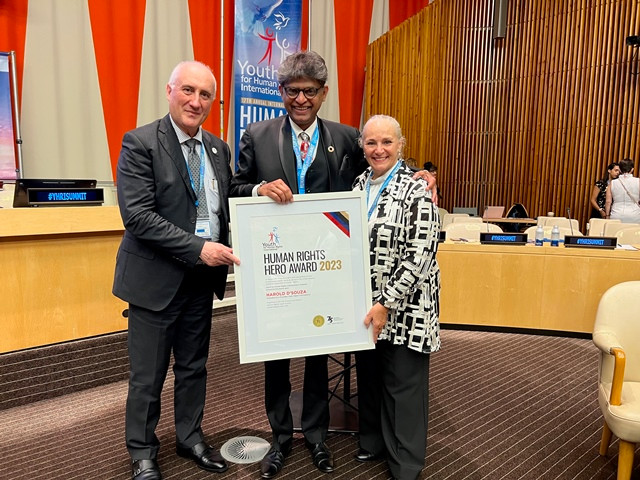 Collaborative to End Human Trafficking from United States shared; 'Congratulations to Harold D'Souza! Your accomplishment inspires us all!!'. Harold D'Souza serves on the 'Survivor Advisory Council' at Collaborative to End Human Trafficking.
Sadanand Mankikar from Toronto, Canada said; 'Hearty congratulations Harold. What a wonderful news!! Many more accolades to come. All the very best Harold'.
his prestigious event was attended by top delegates from 46 Countries.
Human Rights Hero Award 2023 recipient Harold D'Souza spoke at United Nations; 'Every child born on this 'Planet' should be taught the 30 articles of 'Human Rights'. Article 4 states: 'No Slavery', article 13 states: 'Freedom to Move', and article 17 states: 'The Right to Your Own Things'. Immigrants victims in the United States are nicknamed 'ILLEGAL'. Every delegate sitting in the audience are my true "HEROS'. I thank Dr. Mary Shuttleworth President, Youth for Human Rights International for recognizing, respecting, and rewarding 'Survivors'.
Harold D'Souza original a native of Bajpe, Mangaluru, Karnataka, India is the proud son of Henry D'Souza. Harold's real life 'HERO' is his loving father who started his career sleeping at railway platform in 1957 at Dabhoi, Gujarat, India then working as Train Conductor.
Today Harold Henry D'Souza a resident of Cincinnati, Ohio, USA is a worldwide role model to victims, survivors, vulnerable populations and community members to live a life with happiness, peace and freedom.
Harold D'Souza flipped the script of his life from slavery to stardom, hurt to happiness, fear to freedom, poverty to prosperity, hurt to happiness, failure to fame, pain to pleasure, and from being zero to 'Human Rights Hero Award 2023'.