Titular Feast of Our Lady of Miracles Celebrated at the Milagres Cathedral
By Richard DSouza

Bellevision Media Network


Udupi, 10 july 2023: The Titular Feast of Our Lady of Miracles celebrated with gaiety and devotion at Milagres Cathedral, Kallianpur of Udupi diocese near here on Sunday, July 9, 2023.
On 9th July, at 10 am in the morning, it was truly a thrill to ears, and awakening to heart as the gigantic Bells of Milagres Cathedral were chiming to invite the faithful to join them at 10.am to rejoice and raise their prayers to Almighty Lord through Patroness Mother Miracles….. As the announced time, approaching close, the artistic and spacious Cathedral was full to its capacity, though it was raining heavily thoughout the previous night and in the morning…..!
Traditionally one of the best Choirs of the Diocese, a galaxy of talented old and new singers and musicians, especially in these days, trained by one the top composers and musicians of undivided diocese, Rector Very Rev Fr. Valerian Mendonca, was ready to take charge of the proceedings with well planned liturgy by assistant Vicar Rev Fr. Joy R Andrade, for the day. In a brief introduction, Parish Pastoral Council Vice President Melwyn Sequeira outlined the significance of this feast and theme –' Let us be a responsible one like Our Mother Mary'. Mother Mary's concern and persuasion prompted Jesus to perform the first miracle in Cana in Galilee, who was a responsible person in her life.
The Solemn Eucharistic celebrations con-celebrated by Rev Fr. Denis D'Sa, Parish Priest of St Ann Church, Thottam and PRO of Udupi diocese along with Very Rev Fr. Valerian Mendonca, Rector of the Milagres Cathedral, Very Rev Fr. Roshan D'Souza, Chancellor of Udupi diocese and Diocesan Judicial Vicar, Rev Fr. Fredrick Mascarenhas former Principal of Milagres College, Rev Fr. Xavier Pinto former Vicar of Milagres Kallianpur, deanery priests, guests priests and others. The Solemn High festive mass led by Rev Fr. Denis D'Sa also Alumni of Milagres College and the host of priests climbed to the well decorated beautifully high altar of God to concelebrate the Holy Eucharist.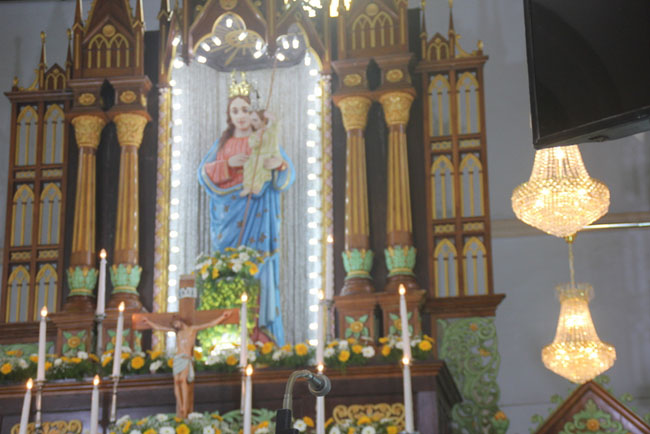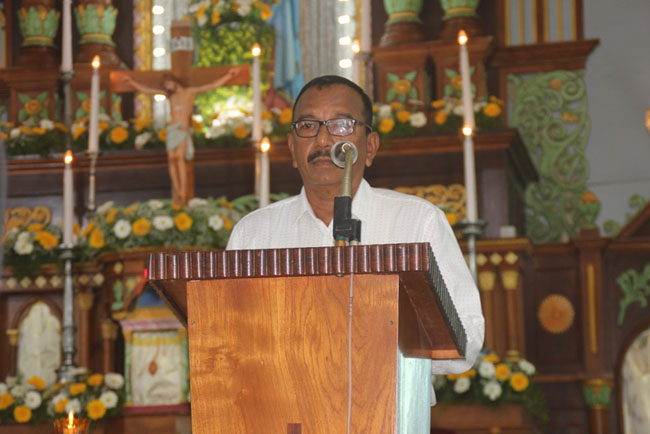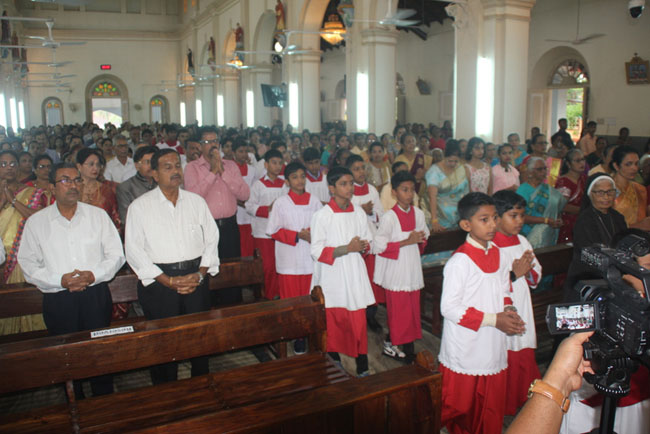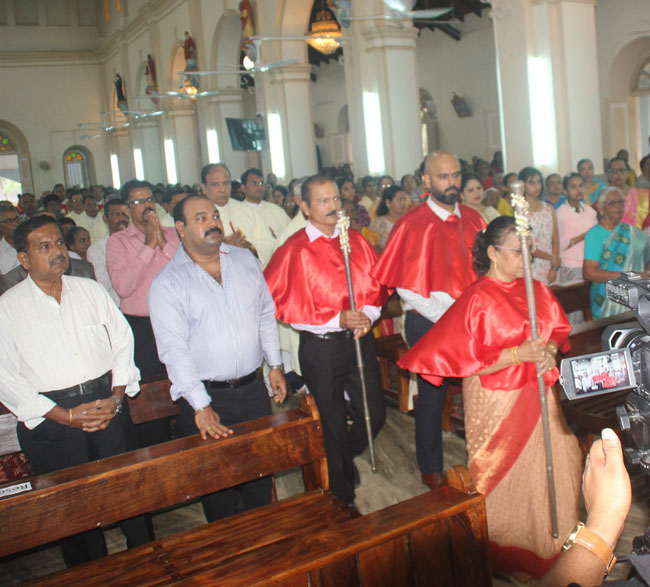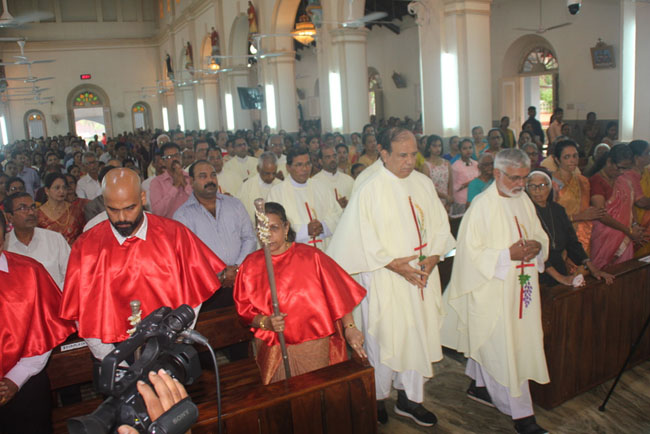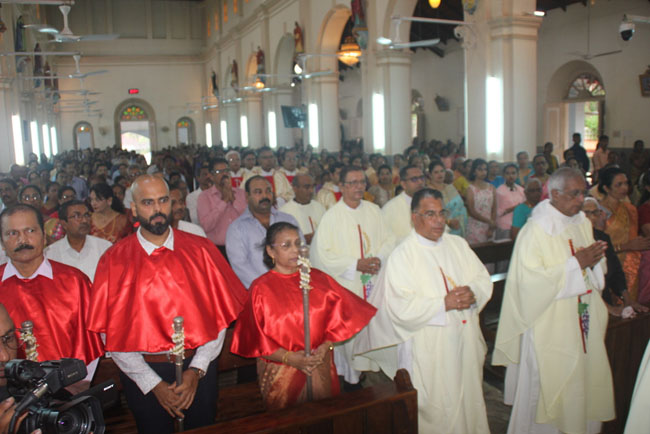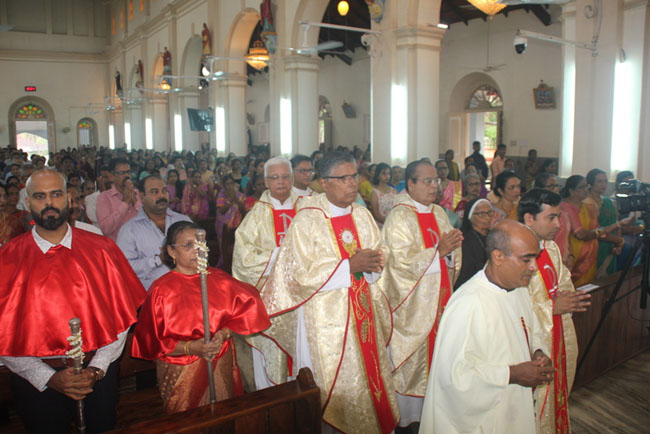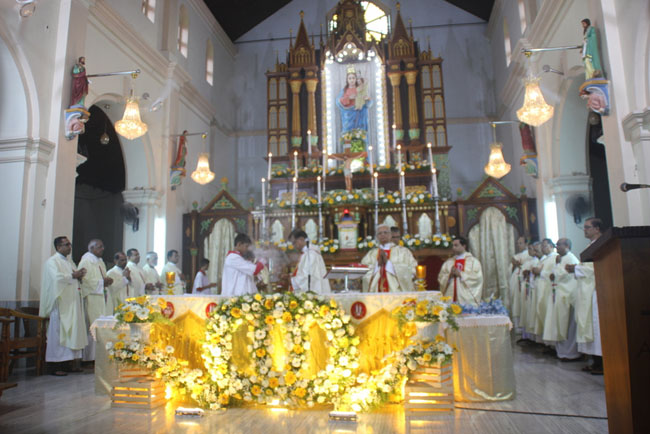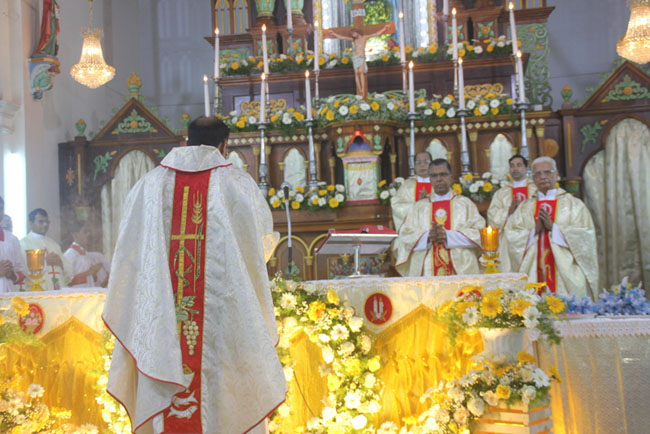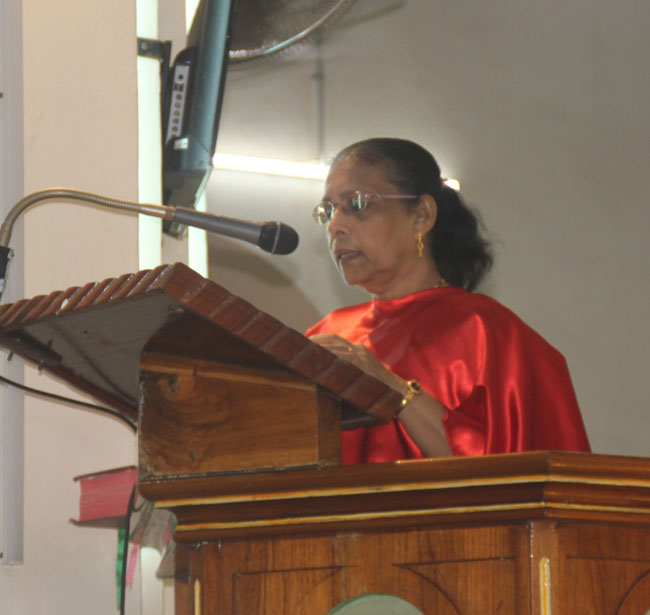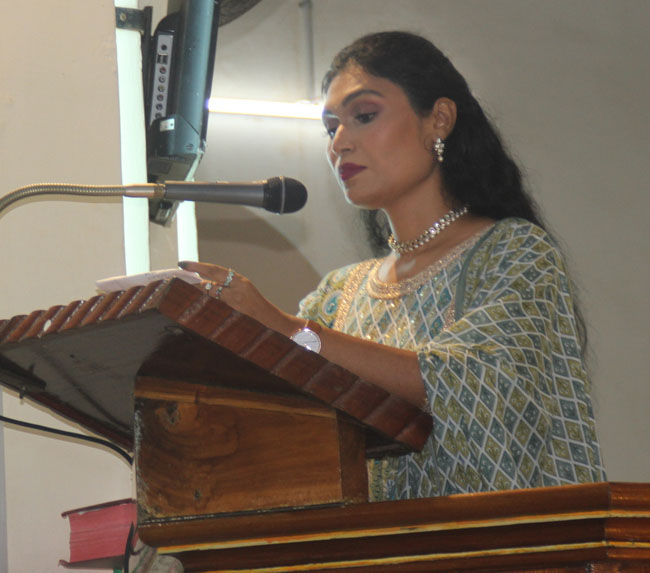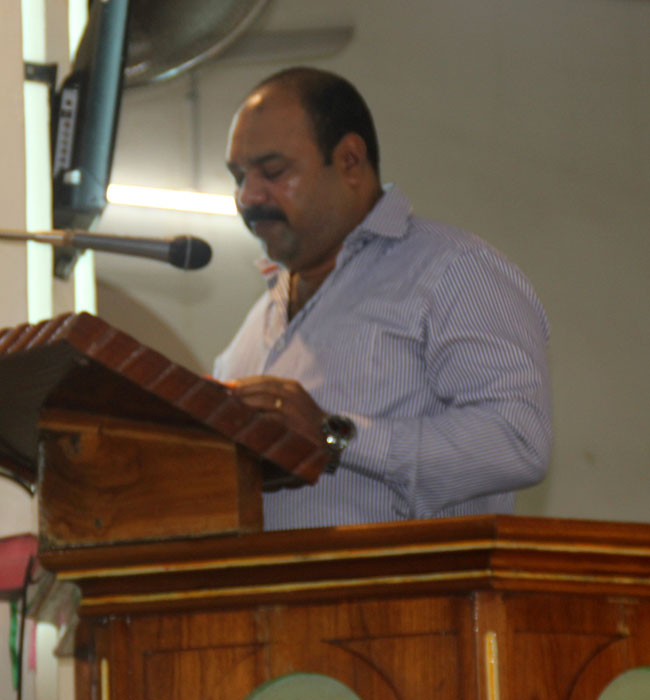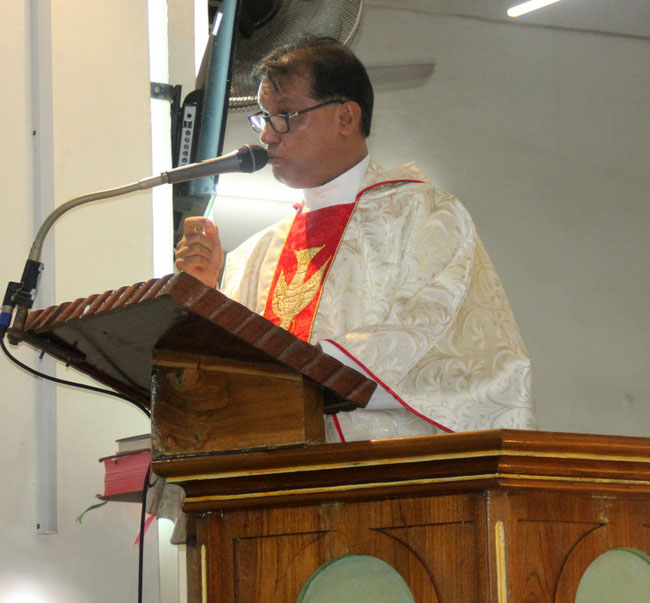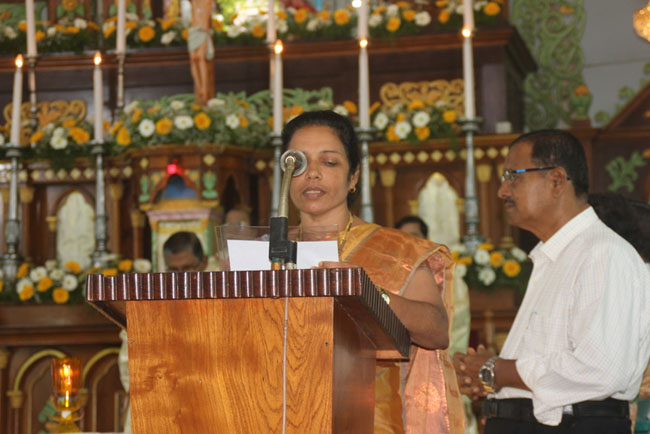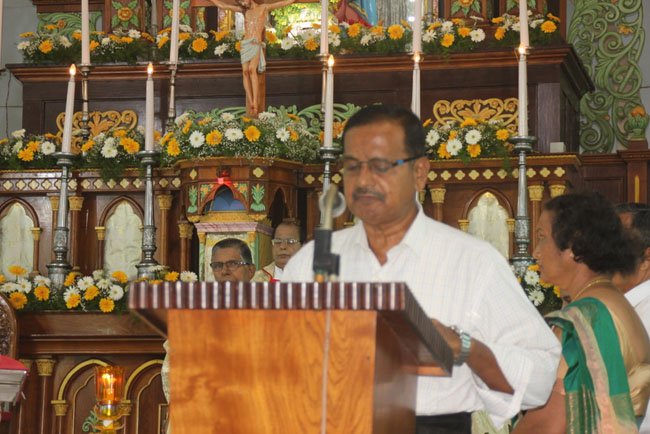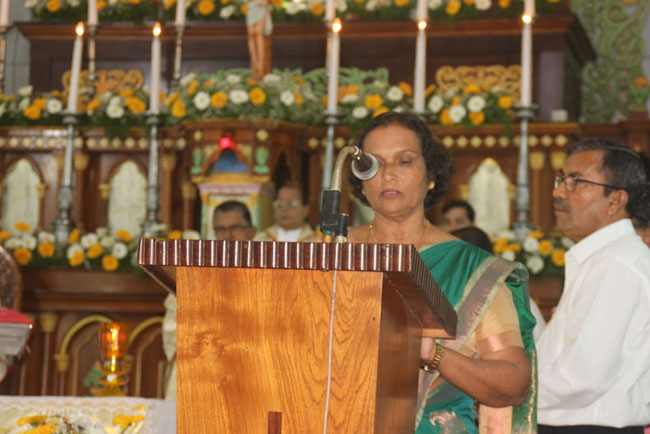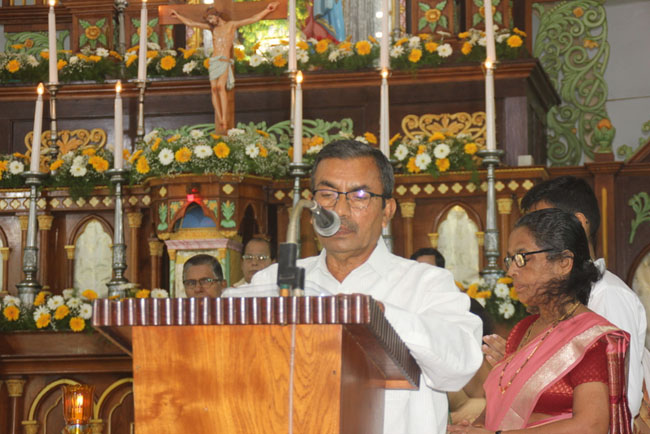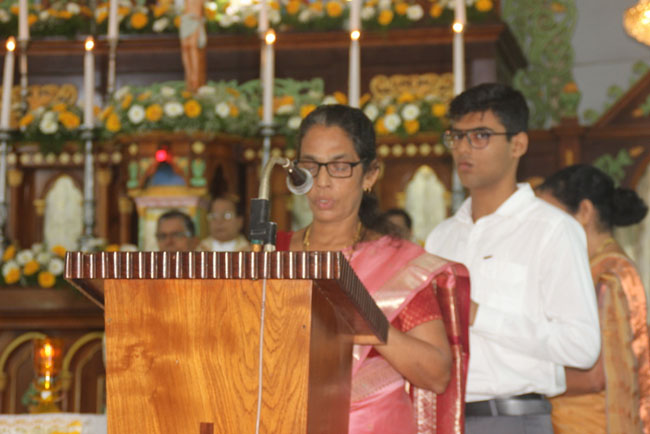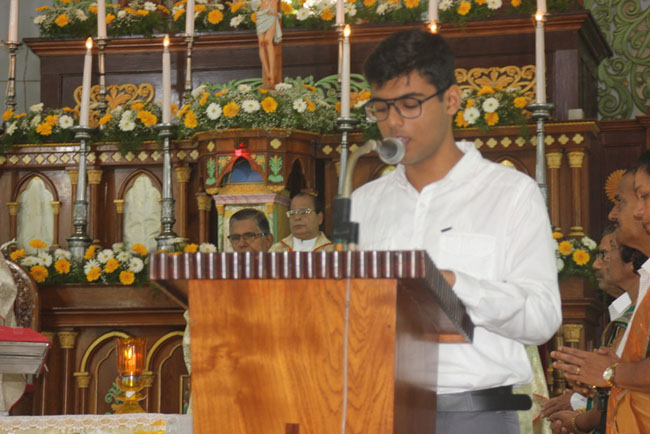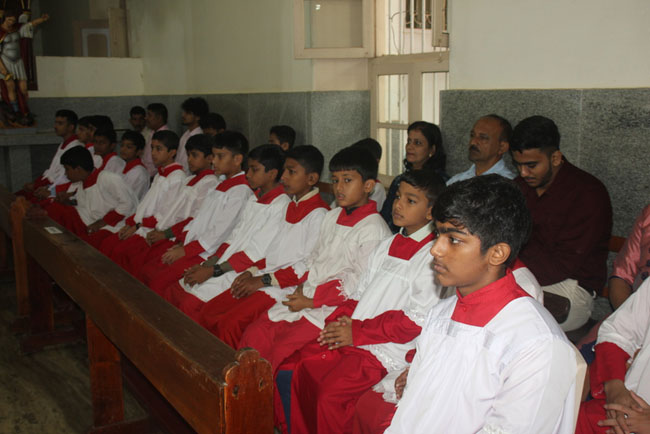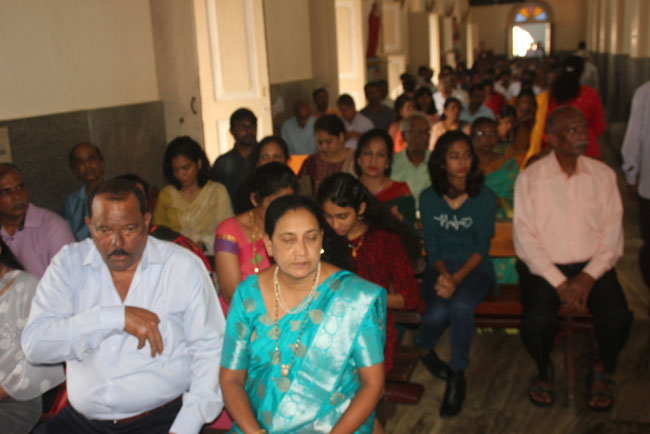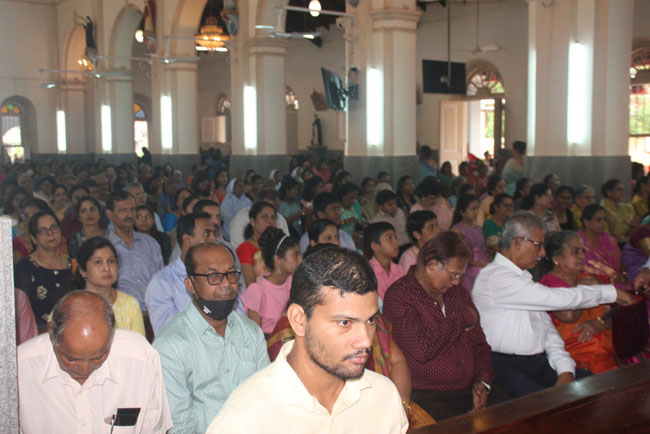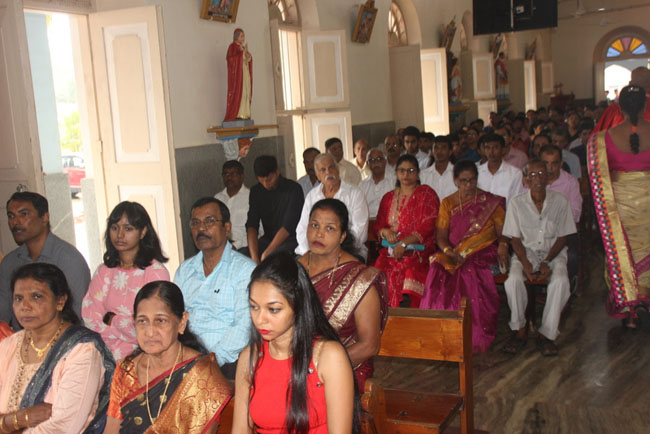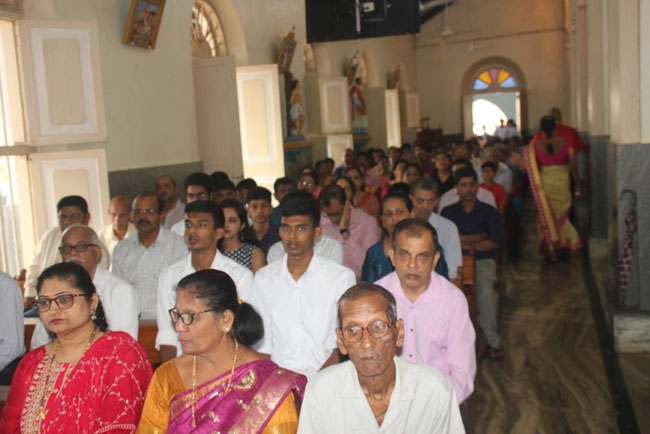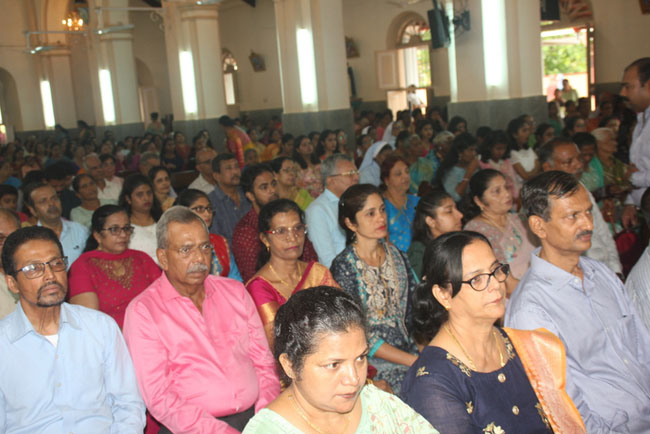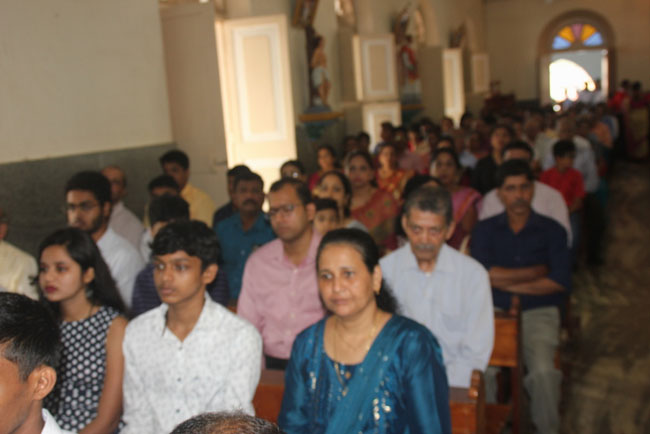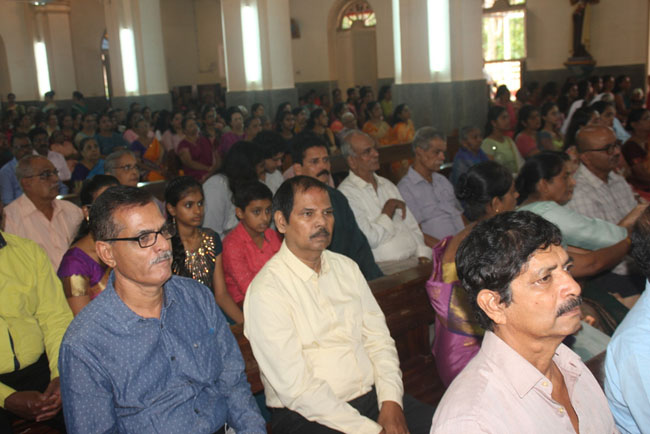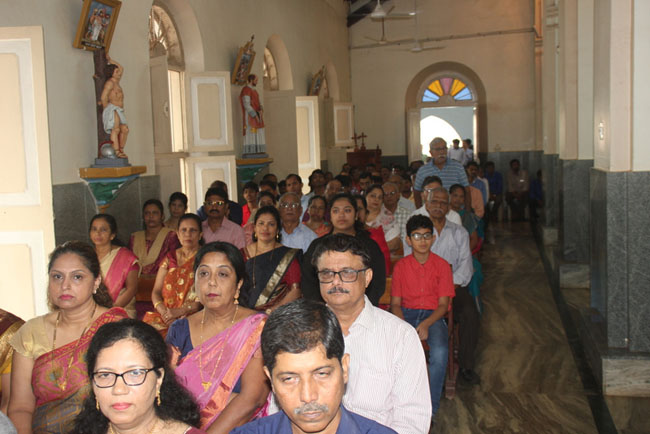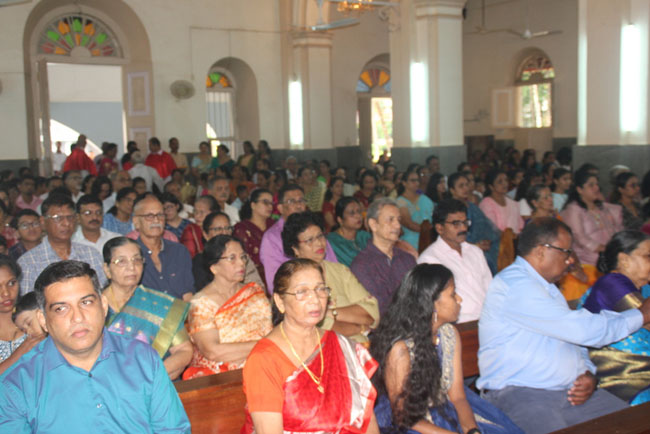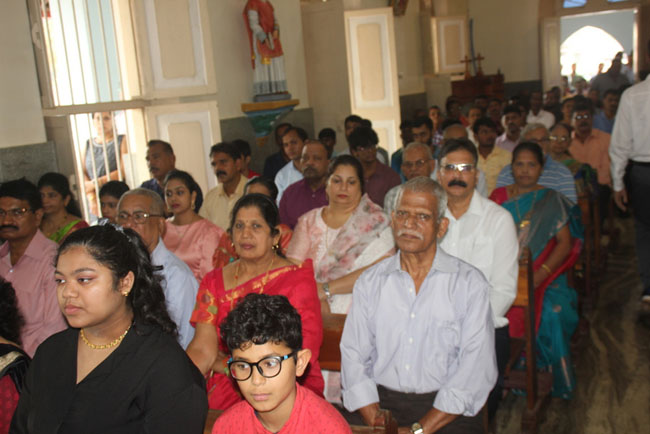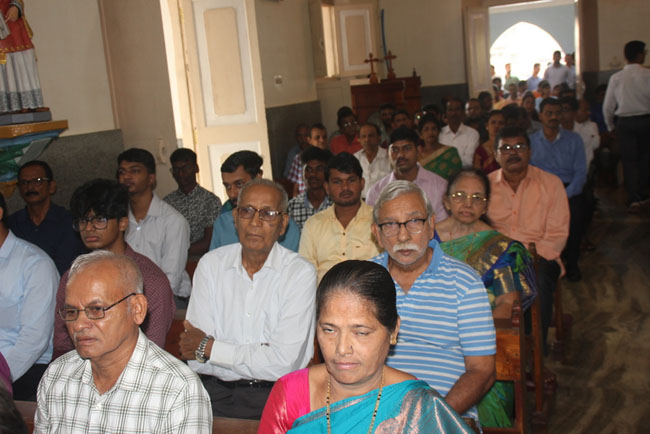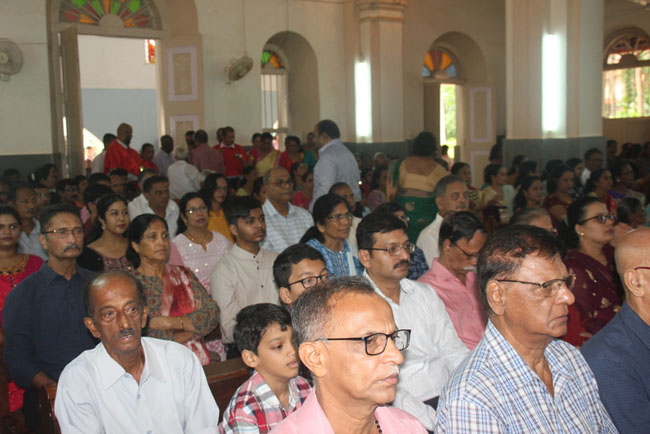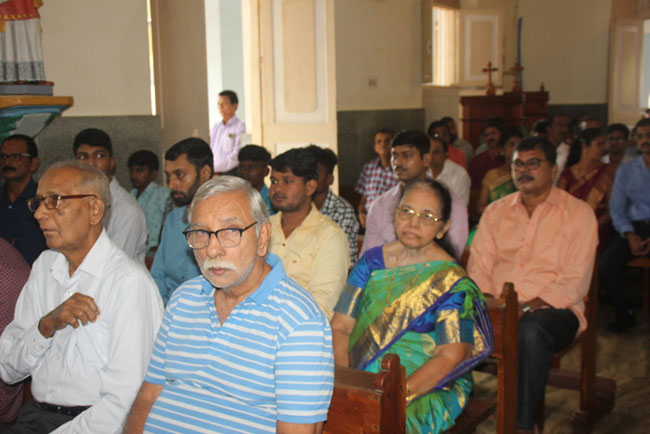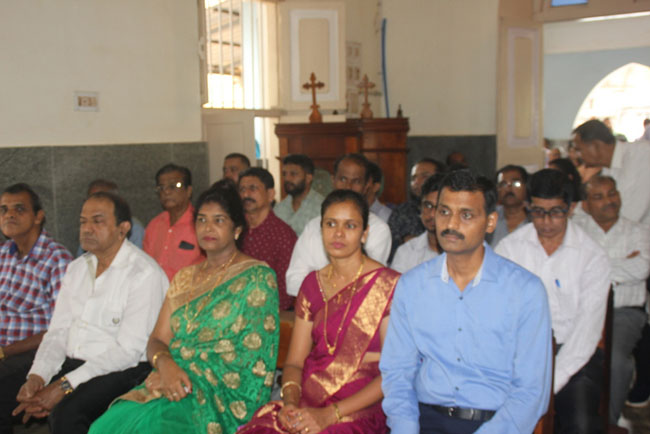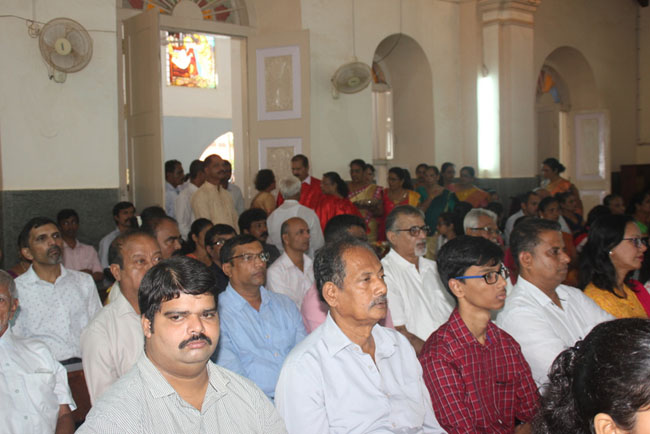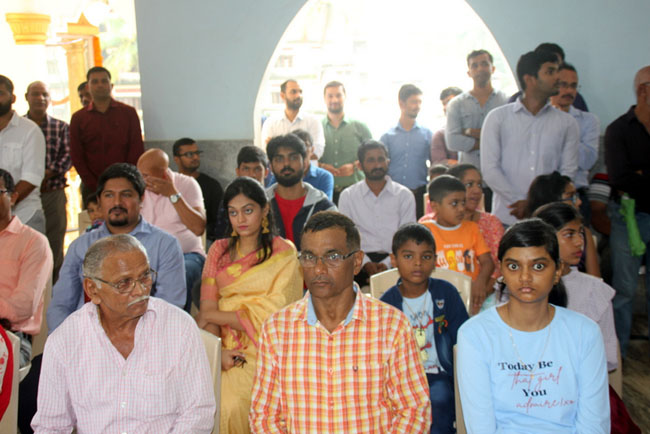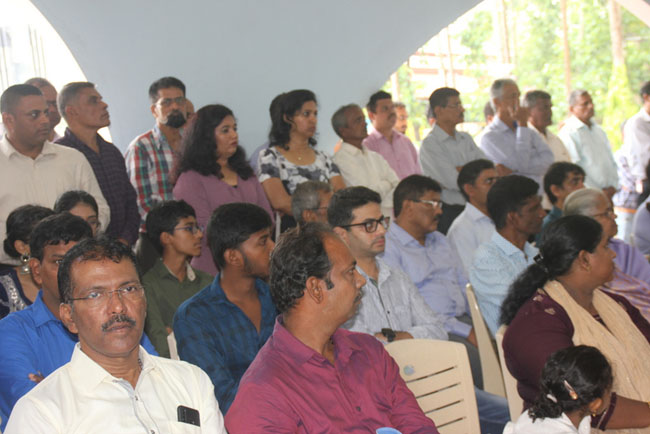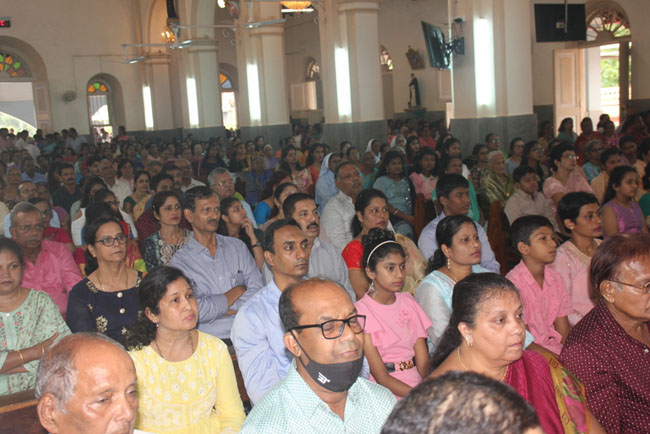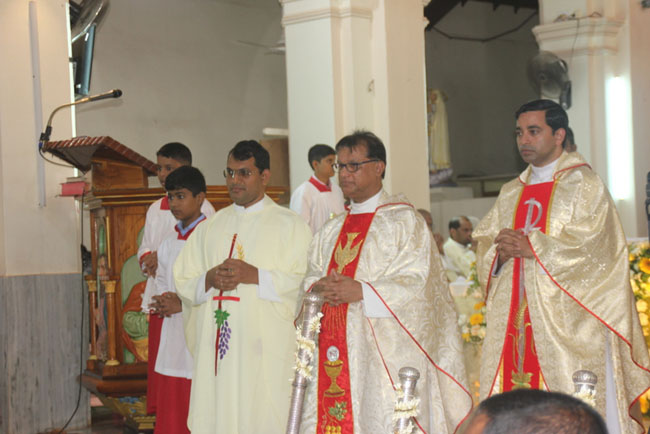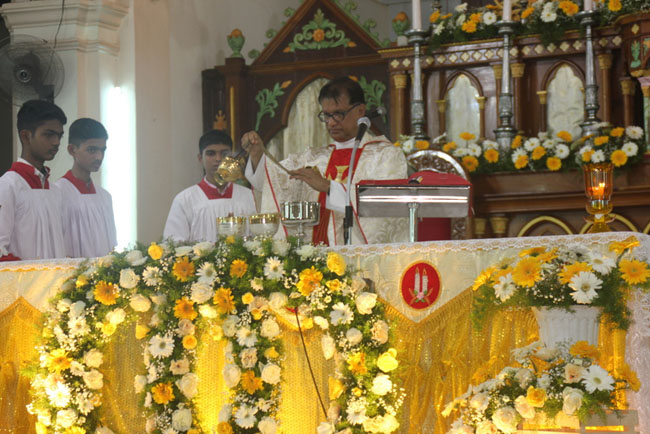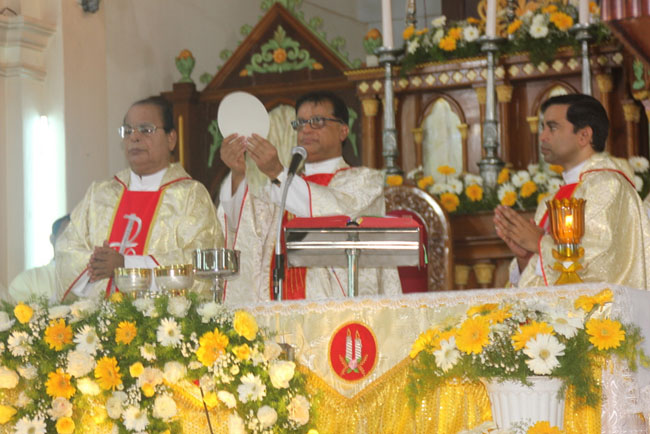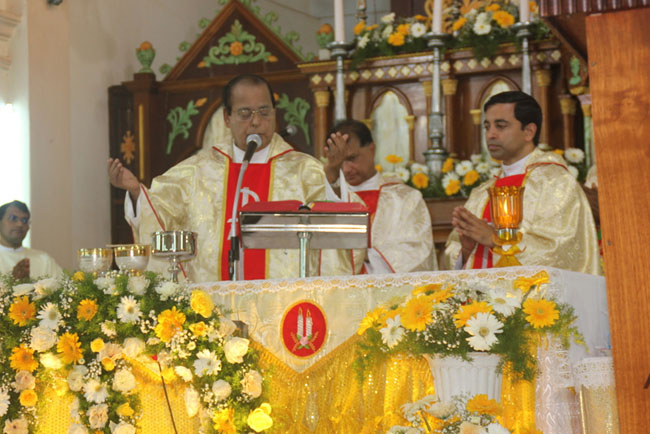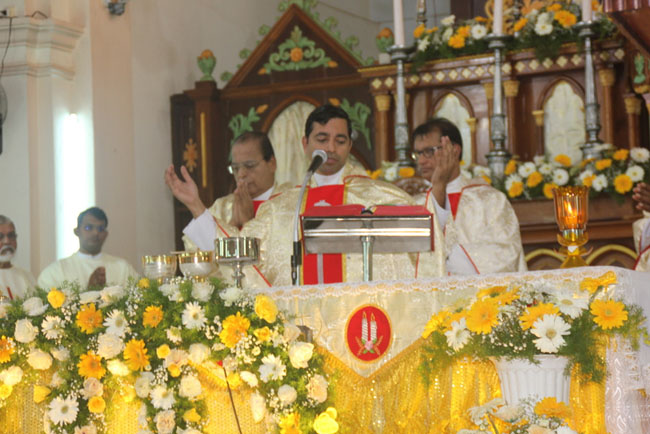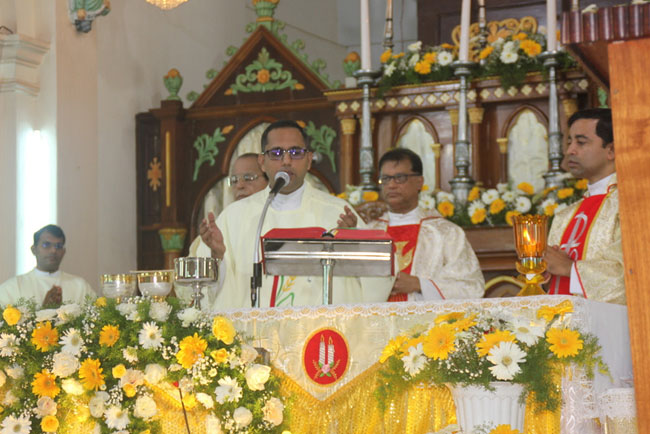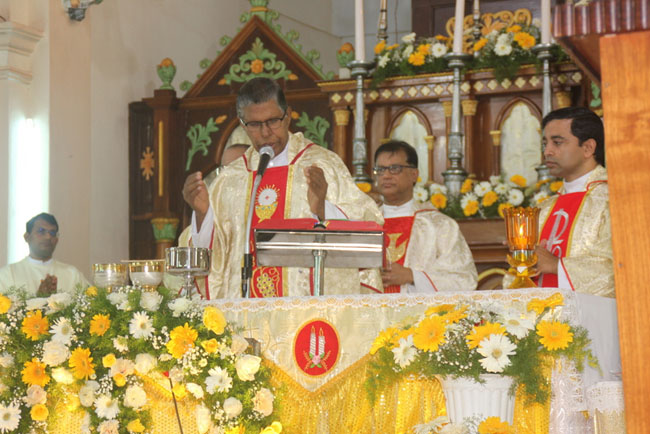 While breaking the word of God, in his hard hitting homily, Fr. Denis D'Sa pointed out that the theme of the feast is "Let us be responsible like Mother Mary in our lives". On this feast, we as Catholics commemorate when Our Mother Mary dedicated herself as a responsible person in her life to God entirely. Parents should teach the children to subordinate the material dimensions to interior and spiritual ones. Parents have a grave responsibility to give good examples to their children. By knowing how to acknowledge their own failings to their children, parents will be better able to guide and correct them. Let us live in responsible citizens' like Our Mother Miracles. As per present circumstances in the country, the much needed homily of Fr. D'Sa, wow! The daring and the words of our public relation officer of the diocese has been appreciated by me and the large congregation who attended the festive mass which is rare to listen to such outstanding homilies.
There was a time, not long ago, after the winding up of ploughing, sowing and related work…. Normally in those days our predominantly agro-based catholic communities used to sigh of relief and relax, within homes after a hectic June month…… Titular Feast of Mother Miracles on 9th July, every year was an opportunity in these surroundings to come together as there were some close and distant relatives normally used to be there in Kallianpur for almost all families in the half of Vicariate.
In those days, festal Holy Mass used to be during wee hours 7.00 or 8.00 am, in the Church, only those guests who were reached on the previous evening had the privilege of participating in the grand Mass. However, it was a practice not to miss the Festal Lunch with families, extended one, friends etc. After the Thanksgiving Holy Mass, the Rector of the Cathedral Very Rev Valerian Mendonca, acknowledged the gracious presence of large but less priests due to Sunday and expressed gratitude for making it to be part of the celebration. Pirjent Family – A J D'Silva who were generous to sponsor the event for the record 78 years were recognized and as a mark of respect presented with a decorated Candle, along with many others who volunteered their help and contribution by main celebrant of mass Fr. Denis D'Sa. Rector Fr. Valerian Mendonca conveyed festive greetings and gave gratitude to all concerned.
Fr. Denis D'Sa also conveyed the festival greetings and gave a call to live in the spirit of responsibility in our society like Mother of Miracles as these virtues profoundly lived and demonstrated by the Patron of the diocese and Cathedral Mother Mary…. he reminded.
One of the few Feasts which never lost its historical significance for generations together is Titular Feast of Mother Miracles, though almost all churches have Patrons' Feast day in June to August, few such celebrations – Feast of John the Baptist, 23rd June, Feast of Peter & Paul on 29th June, St Thomas, 3rd July, Feast of Anthony, 13th June, Sts Joachim and Ann on 26th July………. As every patron of the respective parish was close to their parishioners. Normally the copper smith and those working as artisans in Ghat and Mysore used to descend to native on a long rainy holiday…
In these days of busy schedules, these feasts rightly give an opportunity to come together and renew family bonds as we witnessed people exchanging greetings long after the religious service in the Cathedral. Large number of devotees offered lighting the candles in front of Our Lady of Miracles Statue.