University level workshop organized in the Milagres College, Kallianpur on 'Gender Studies'
By Prof Archibald Furtado

Bellevision Media Network


Udupi/Kallianpur, 10 June 2023: The Milagres College, Department of English in association with its IQAC and Association of English Teachers, Mangalore University - AET, organised a one day University level workshop on Gender Studies, with a special reference to University NEP Syllabus Optional English BA IV Semester, on Friday 9th June, 2023.
Dr Rajendra Chenni, former professor of English, Kuvempu University, Shimoga and the Director, Manasa Centre for Cultural studies, Shimoga inaugurated the workshop. Addressing the gathering he said every University has a duty to design a syllabus for students and present the same to the society which in turn should generate knowledge. He also applauded the efforts of the Milagres College to organise the workshop and the Association of English Teachers of Mangalore University for their collaboration.
Dr Vincent Alva the Principal welcomed the gathering and thanked all the resource persons for making it possible to come over to Milagres and share their expertise in the workshop.
Dr Parinitha, Chairperson, Department of English and Board of Studies in English, Mangalore University, Dr Victor Vaz, President (AET) Mr Sojan George, Secretary - AET, Dr jayaram Shettigar, IQAC coordinator, MCK, Mrs Chandrika and Mr Caesar Gonsalves from the Department of English - MCK were present.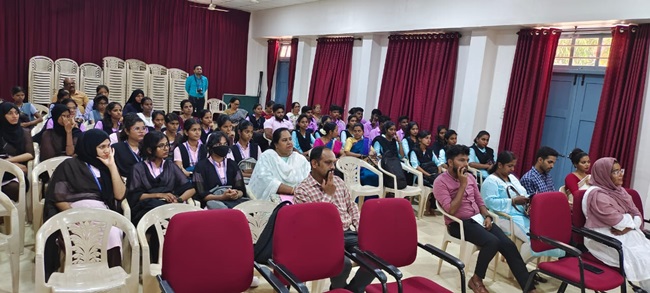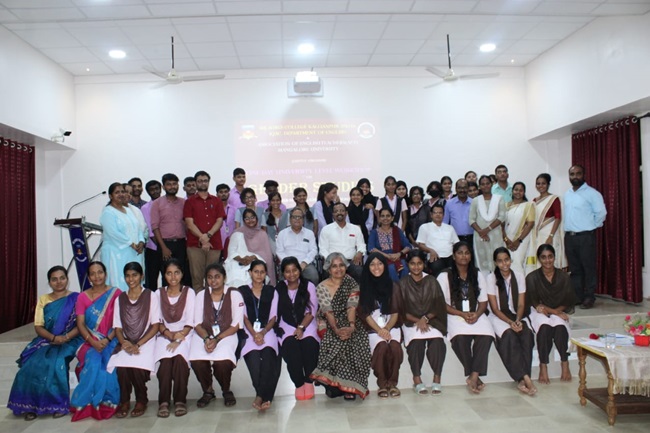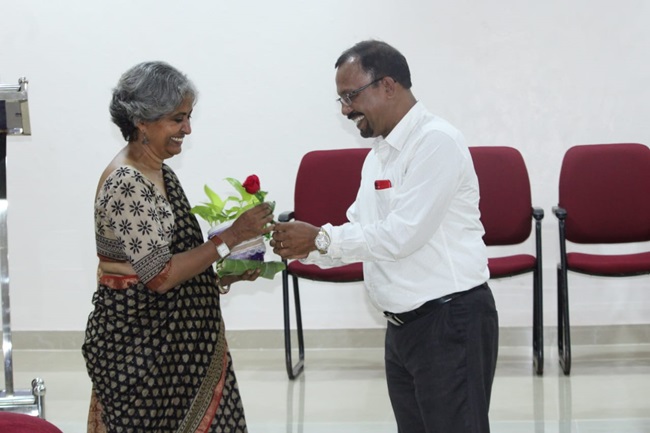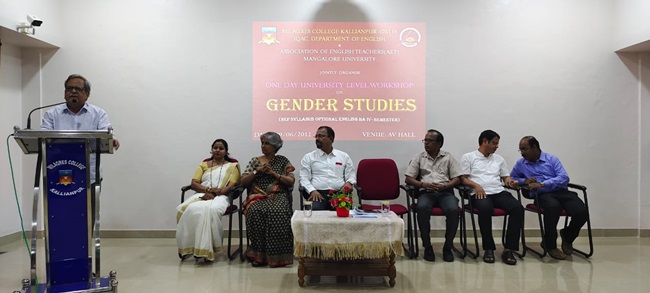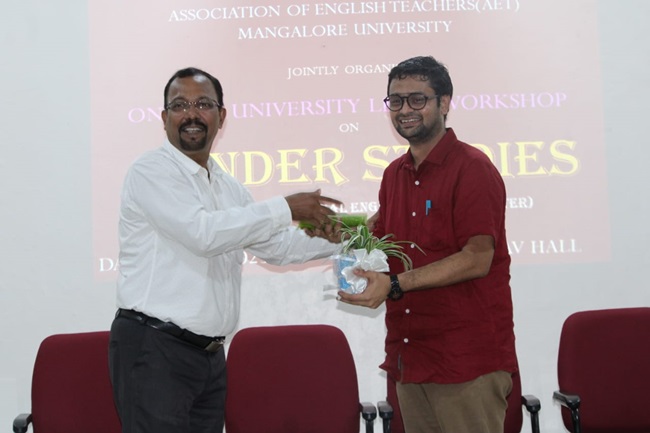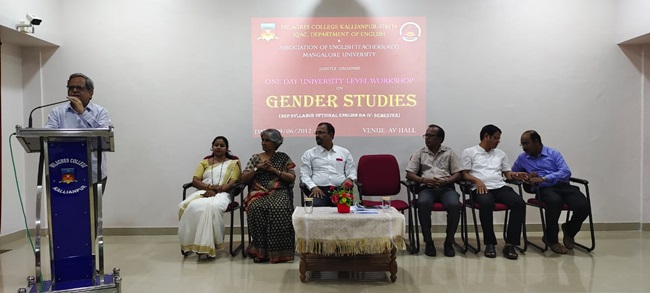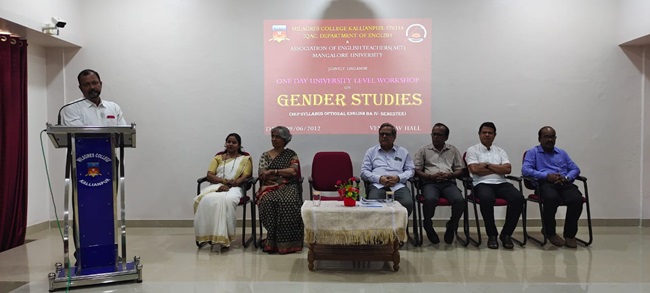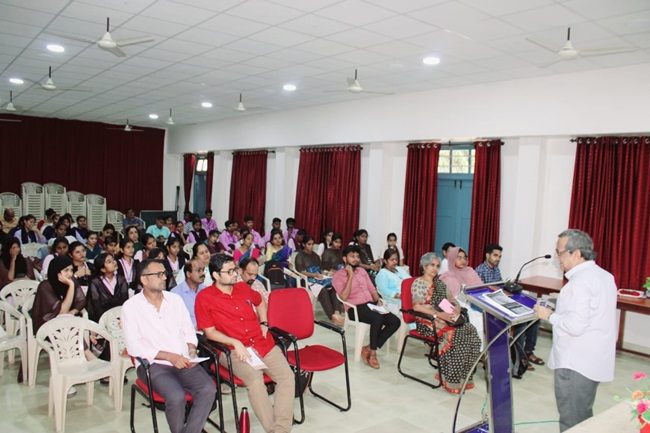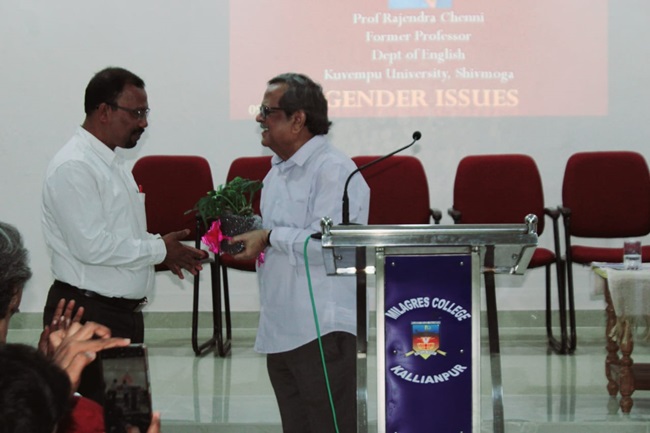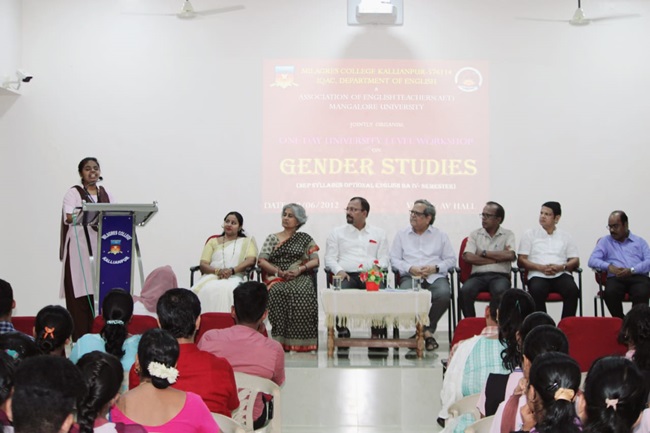 Ms Ranjitha from first year BA, Milagres College proposed vote of thanks. Ms Pratima, Asst. Professor, Department of English, Milagres College Kallianpur, compered the program.
First Technical Session was addressed by Dr Rajendra Chenni on 'Gender Issues' and the participants actively involved in understanding them in the followed questions – answers session. Next session on 'Kumbalangi Nights', a movie and debunking Gendered stereotypes through Cinematic lens was well narrated by Ms Zaibunnisa, Faculty Dept of English Mangalore University.
Two sessions were held in the afternoon – Dr Parinita, Chairperson Dept of English, and BOS English, Mangalore University spoke on Gender and performance and Dr Goutham Jyotsna GJ , Lecturer in English, Besant Women's College, Mangalore on, The other side of 'the truth' the self that hovers in between : A critical reading of a few chapters from Revati's Autobiography.
Well attended a day long workshop was come to an end with valedictory programme presided by the President of AET Dr Victor Vaz E. which had evaluation of the whole day programme and recognising the contribution of the resource persons and others by Dr Vincent Alva, Principal of host, Milagres College, Kallianpur.