Science Association of Milagres College, Kallianpur, organizes Fr. G L D'Cruz Memorial Science Semin
By Prof. Archibald Furtado

Bellevision Media Network


Udupi/Kallianpur, 08 June 2023: On Thursday, 8th June, 2023, the Science Association of the Milagres College, Kallianpur, Udupi had a wonderful inaugural ceremony of the University level 'Very Rev. Fr Gregory L D'Cruz Memorial Competitions at 10.00 am in the College Audio-Visual Auditorium.
Once the College Choir comprising B.Sc. students led the prayer to invoke Almighty Lords blessings was followed by the keynote address by Dr Surekha Bhat HOD, Dept of Mathematics and Dean of Science, who briefed the background of such competitions which has a history of continuous 18 odd years, as every year new topics are added – Models, Quiz, Collage, Poems and Fiction writing, Rangoli etc to ignite the young brains and minds to involve into creative, research activities….!
A formal Inauguration of the competition, by lightning the lamp, led by Dr Gerald Pinto, the former Principal and professor of Physics, in his speech, applauded the efforts of the 'Science Association' for keeping the tradition of organising events in memory of Fr D'Cruz since 2005 and contributing to the growth of science and students. He congratulated the department for innovative competitions.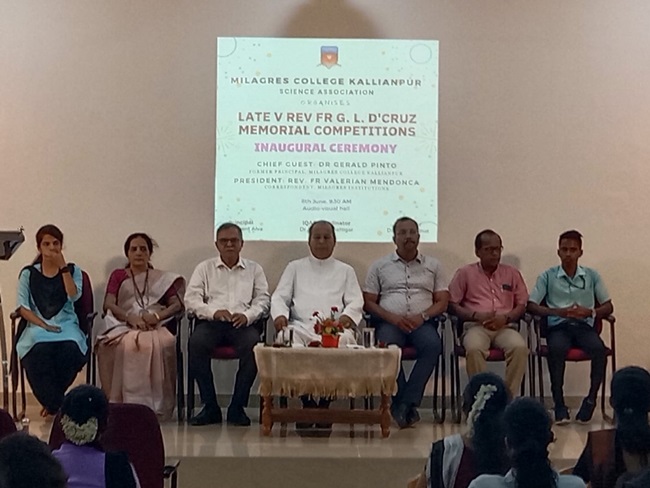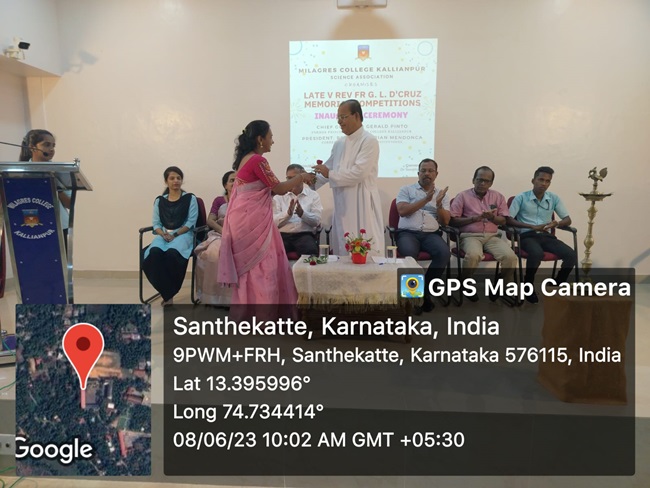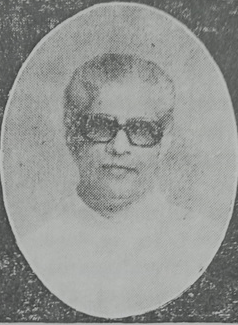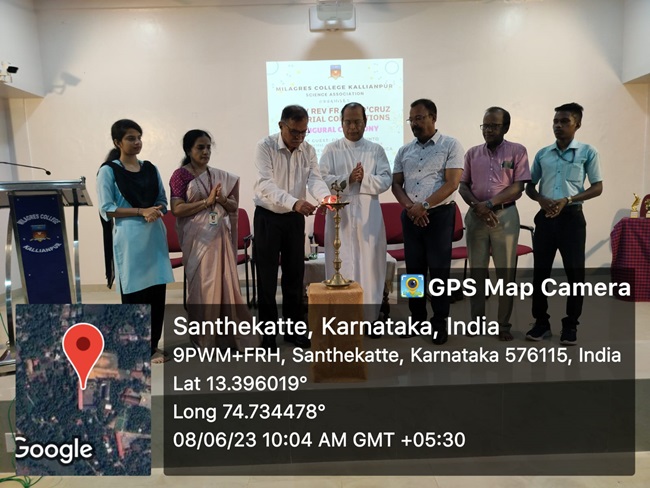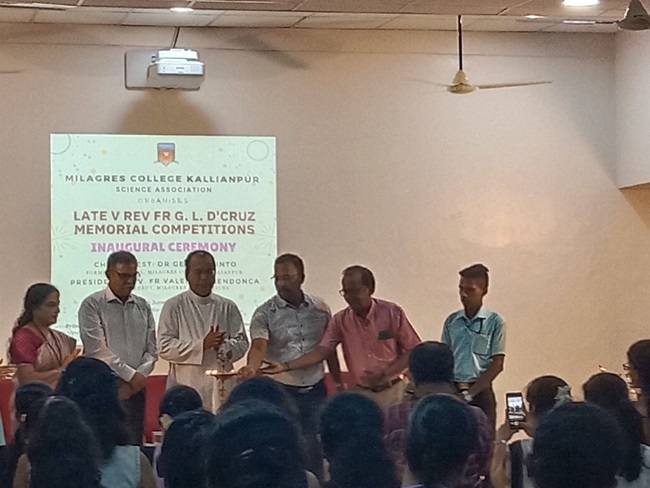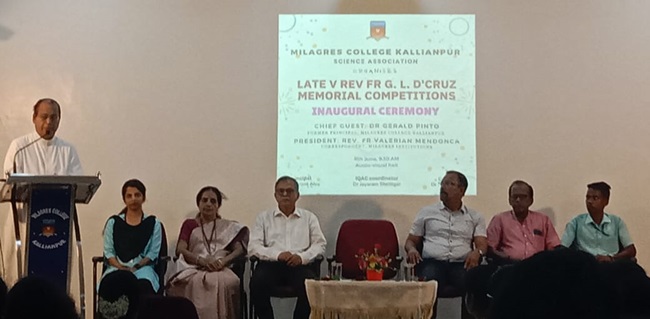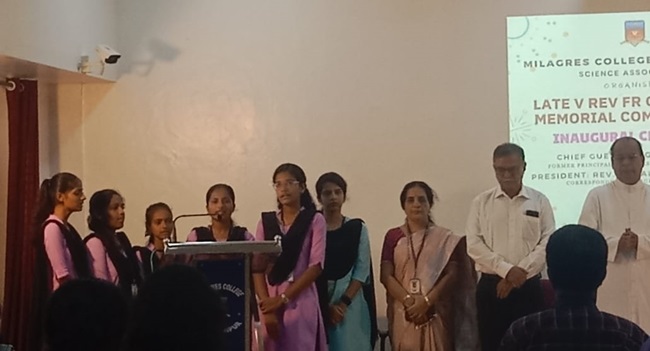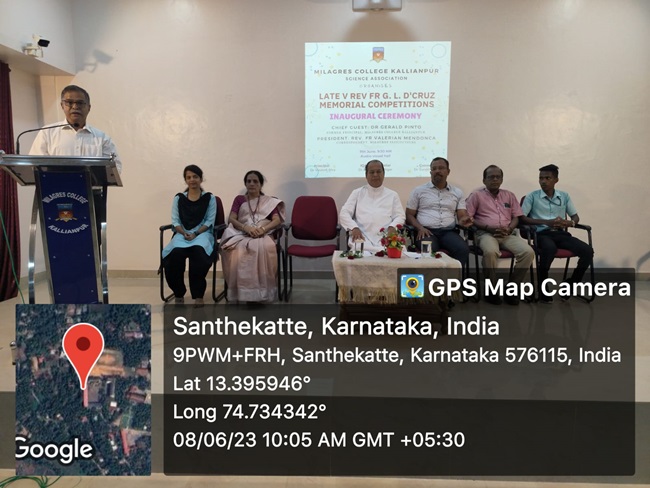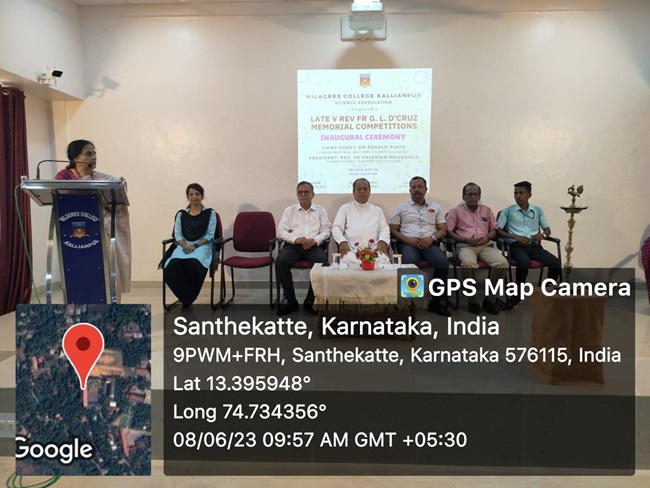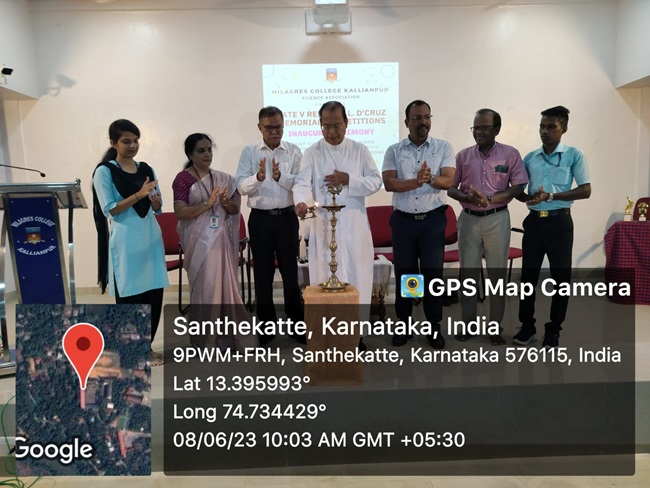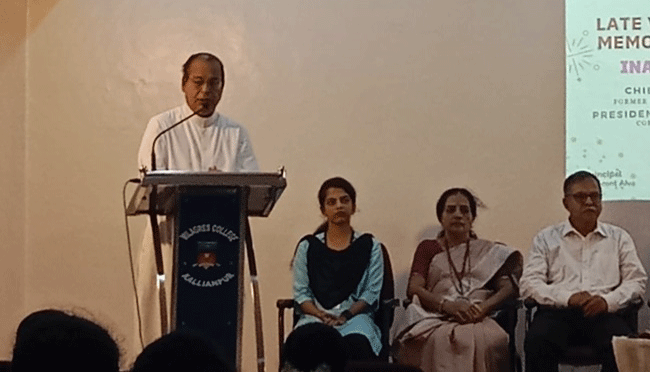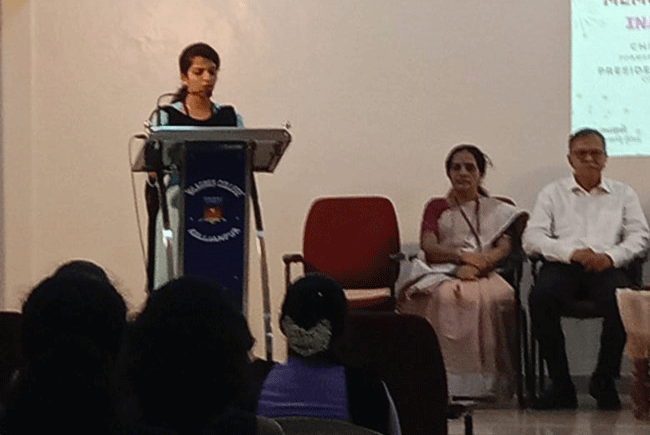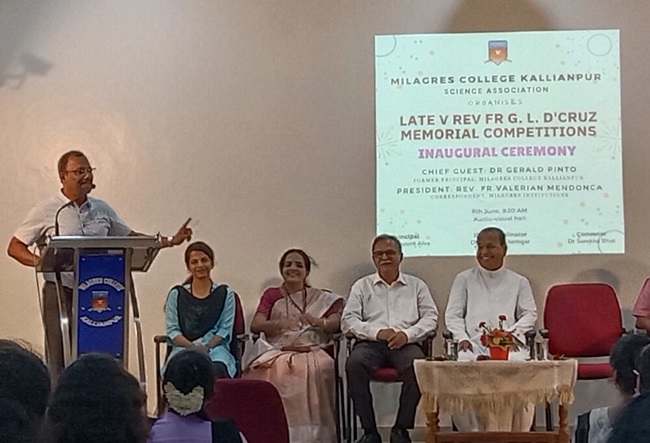 Very Rev. Fr Valerian Mendonca, the correspondent of Milagres Institutions in his presidential remarks spoke on the vision of Fr D'Cruz in founding B.Sc. Courses in 1981 in the Milagres College and his contributions to the society at large and the maker of modern Kallianpur, an educational hub. He recalled couple of unique incidents of those years to give a glimpse of a great man of God and his people and his passionate love and concern for poor students in Kallianpur. After his death on 18th June, 2005 the College gave and giving a token of respect to his vision and values by organising these inter college seminars and competitions every year.
Dr Vincent Alva, the Principal spoke on the career opportunities available for the Science students and called upon them to grow in additional knowledge in their respective subjects. He also extended a warm and homely welcome and thanked all the participants for coming all the way to Milagres Campus and as the host assured all, a day full of happiness, joy and learning.
IQAC Coordinator Dr Jayaram Shettigar, Vice Principal Prof Sophia Dias and the faculty of the Science department, Office bearers of the Science Association and others were present. The students of Science department from Milagres College, Kallianpur had put up attractive presentations on the various concepts from different subjects as exhibits.
Science students from various colleges from far and near took part in a variety of competitions such as Science model, Seminar, Quiz and Collage.