Fr. Alwyn Sequeira (OCD) takes charge as the Editor of Udupi Diocesan Fortnightly "Uzwaad"
Bellevision Media Network


Udupi, 08 June 2023: The handing over ceremony of "Uzwaad" fortnightly, the diocesan magazine was held in Anugraha the pastoral center of Udupi Diocese on Saturday, 3rd June 2023 at 11am. The outgoing editor Fr. Royson Fernandes introduced Fr. Alwyn and handed over the files and key of "Uzwaad" Office.
Fr. Alwyn Sequeira took the oath of office in the presence of the Vicar General of Udupi Diocese and the Chairman of the Deepa Trust under which the magazine is being published. Fr. Ferdinand Gonsalves, the Vicar General thanked Fr. Royson and welcomed Fr. Alwyn and wished them both well for the future missions. He also thanked Karnataka Goa Carmelites on behalf of the Bishop for sparing Fr. Alwyn for the diocese.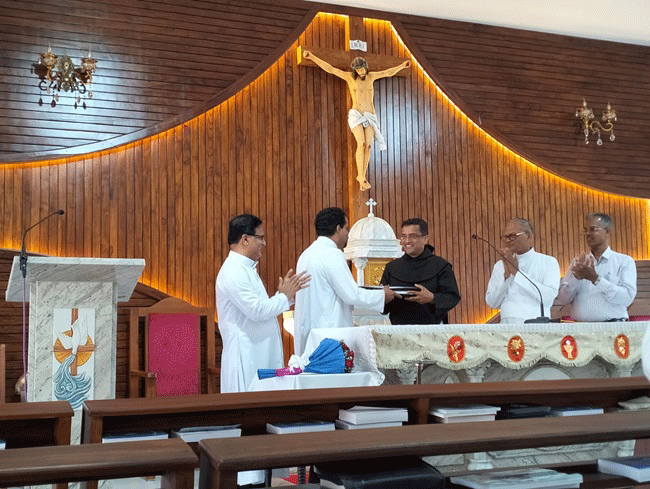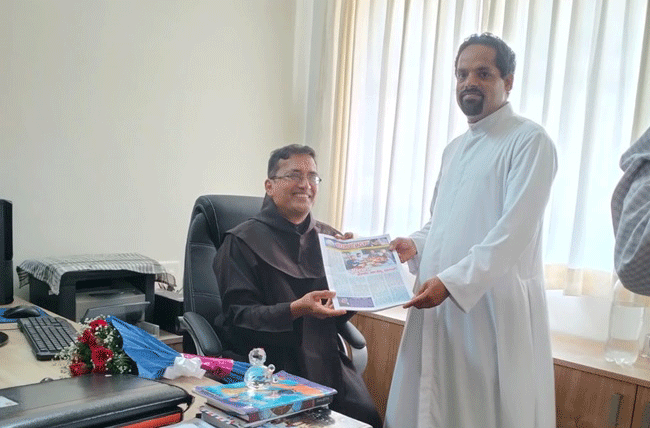 Fr. Henry Mascarenhas, the secretary of Deepa Trust also spoke on the occasion. Earlier Fr. Herald Pereira the director of the Pastoral Center invoked God's blessing on the oath taking ceremony. Priests and staff of Pastoral Center were present and Fr. Praveen Pinto the Superior of the Carmel Ashram represented the Province for the event.
Fr. Alwyn thanked the Bishop for reposing trust in him and asked one and all their valuable prayers and support to carry out his task responsibly. Fr. Royson thanked one and all and wished the future all the best.