Malabar's 'Hunger-Free World' Campaign Feeding 32,500 Daily Aiming for 1 Lakh
Bellevision Media Network


Mangaluru, 29 May 2023: The Malabar Group's Hunger-Free World Campaign is making a significant impact by providing daily meals to nearly 32,500 people in need. This CSR initiative aligns with the United Nations' Sustainable Development Goal 2- Zero Hunger. The chairman of Malabar Group, Mr M P Ahammed, envisions reaching the milestone of feeding 1 lakh people daily. Currently, the campaign operates in India and Africa through various centers.
According to the statistics of various international agencies, around 80 crore people are living in poverty globally. M P Ahammed, the chairman expresses that the Hunger-Free World Campaign is the group's contribution to the global fight against poverty, joining the efforts of various countries and agencies.
To carry out this noble mission, Malabar collaborates with "Thanal," an association known for its commitment to social service. Kitchens equipped with modern facilities have been set up in different locations to prepare meals. Well-trained staff are appointed to ensure that the food is prepared with the utmost care and hygiene. Volunteers from both Malabar and Thanal come together to distribute food packages to individuals on the streets and those in need.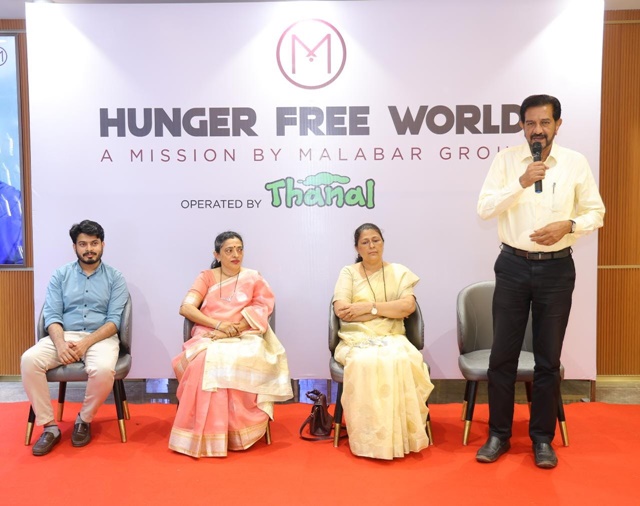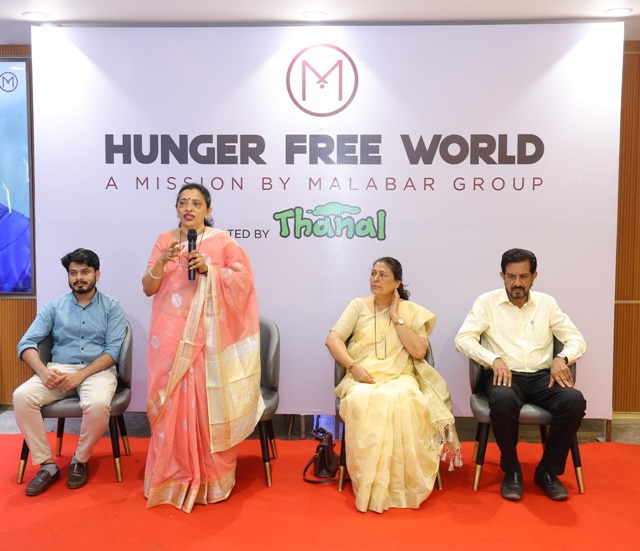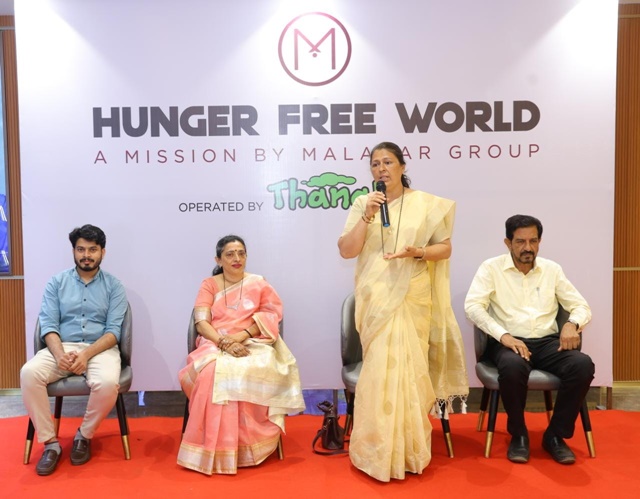 Packages are primarily distributed at railway stations, bus stands, and hospitals. Around 75% of the recipients who receive food daily are the same, with women and children also benefiting from this initiative. Besides this, Malabar volunteers conduct surveys to assess the poverty situation in the country.
In addition to the Hunger-Free Programme, Malabar Group also extends its support to the underprivileged by assisting with health care, education, and housing. All the verticals under the Malabar Group, including Malabar Gold and Diamonds keep aside 5% of the company's profit to carry out social service programme. Within this period, Malabar has contributed around Rs. 200 crore towards the well-being of people and society.
The guest of honour: Hon Geetha R Shetty- founder of sevaashrama located at Belma Derlakatte.Home for elderly destitute who have been deprived from their families. From last 10 years they have been taking care of 38 elderly destitute women of above 60years. This year i.e on may 19 they started a home for elderly destitute for men and they have 1 inmate.
Hon Jacinta Vijay Alfred- corporator Falnir- ward- Mangalore city corporation Mangalore, Hon Haneef Haji (president of Hidayah Foundation& M Friends Mangalore), From the management were Althaf AK (asst. store head), Raghuram (showroom manager), Sheikh Farhan (marketing manager), Girish shetty (sales manager), Sonal Suvarna (guest relationship manager) were present.
About Malabar Gold & Diamonds:
Malabar Gold & Diamonds is the flagship company of Malabar Group, a leading diversified Indian business conglomerate.
Established in 1993 in the Indian state of Kerala, Malabar Gold & Diamonds today has a strong retail network of 300+ outlets spread across 10 countries, 14 wholesale units in addition to offices, design centers and factories spread across India, Middle East, Far East & USA. The company currently ranks one among the largest jewellery retailers globally.
Malabar Gold & Diamonds also features an online store www.malabargoldanddiamonds.com as well as offers contact less shopping facilities like video calling facilities that provide customers the opportunity to purchase their favourite jewellery any time and on any day from the comfort of their home.