LA FESTA – Milagres College Kallianpur exhibit various talents as the Open Stage at College Quadrang
Bellevision Media Network


Kallianpur, 27 May 2023: As the 'creative process' is something about discovering new, so far unnoticed, hidden within the students, then bringing that something into the world, for others to experience, encourage and enjoy. The College always identified, nurtured these qualities and talents, in the past as it believed this age is the perfect time both to blossom and excel….. In this process or journey, apart from self motivation by students, the Principal, the Teaching faculty and others, who always ready to prepare, provide necessary incubation and ultimately provide a stage for illumination and exposure…!
Saturday, 27th May, 2023, a day must be very special for many – some making their debut and few sharpening their gifts in singing, acting, dancing, and music, for some more it's an opportunity to anchor and present and showcase - as ELEVEN TEAMS fought to grab the coveted Trophy.
At 9.30 am Correspondent of Milagrean Educational Institutions V. Rev Fr Valerian Mendonca with Vice Principal Prof Sophia Dias, IQAC Coordinator Dr Jayaram Shettigar, Principal, Milagres Junior College Mrs Savita Kumari, the various judges for the competitions - were escorted to the dais by Students Council Directors – Prof Karthik Nayak and Dr Harinakshi MD along with Student leaders viz its President Mr Karthik, General Secretary Ms Treesha DSouza and Cultural Secretary Ms Wilfa Lewis.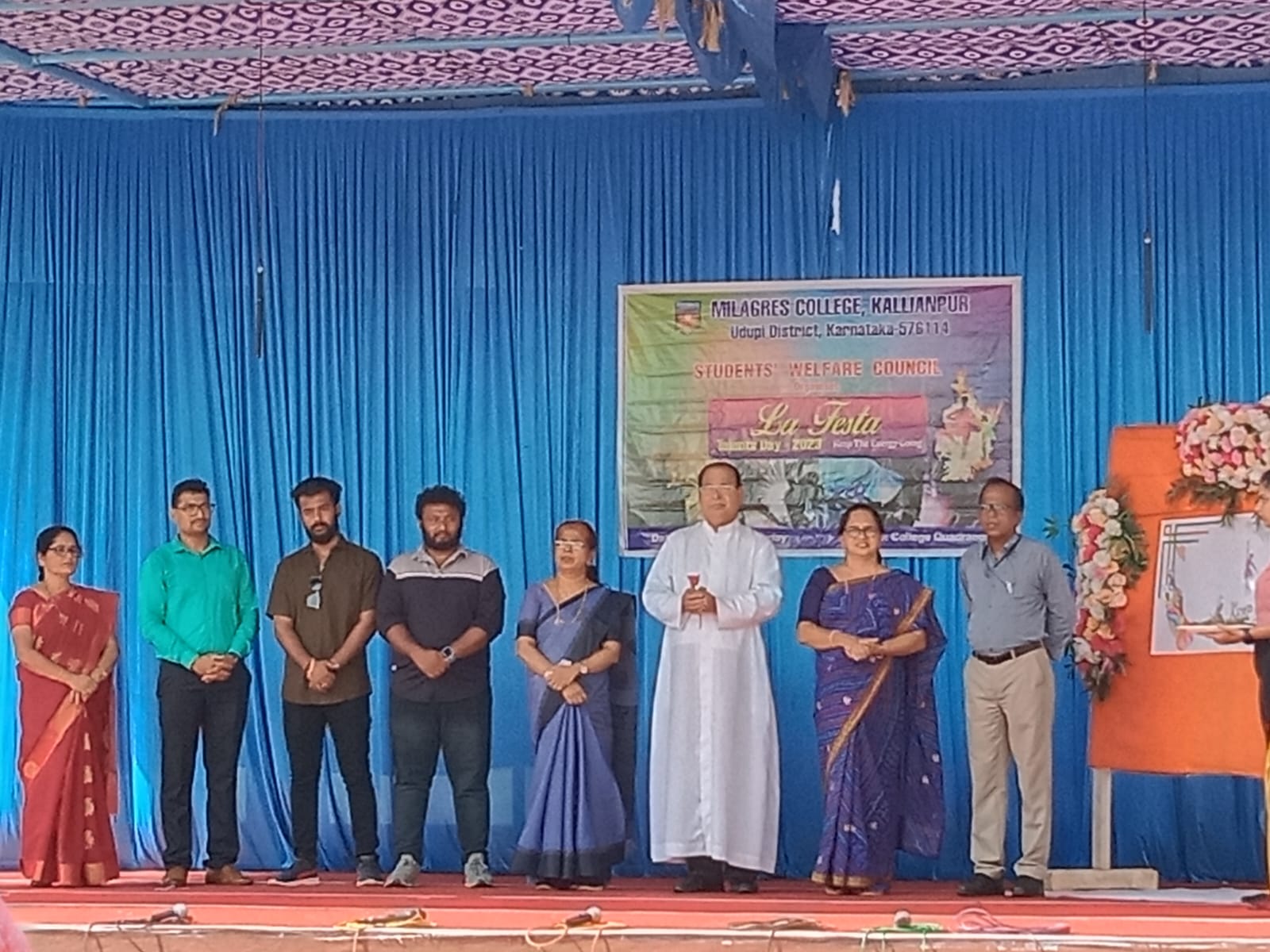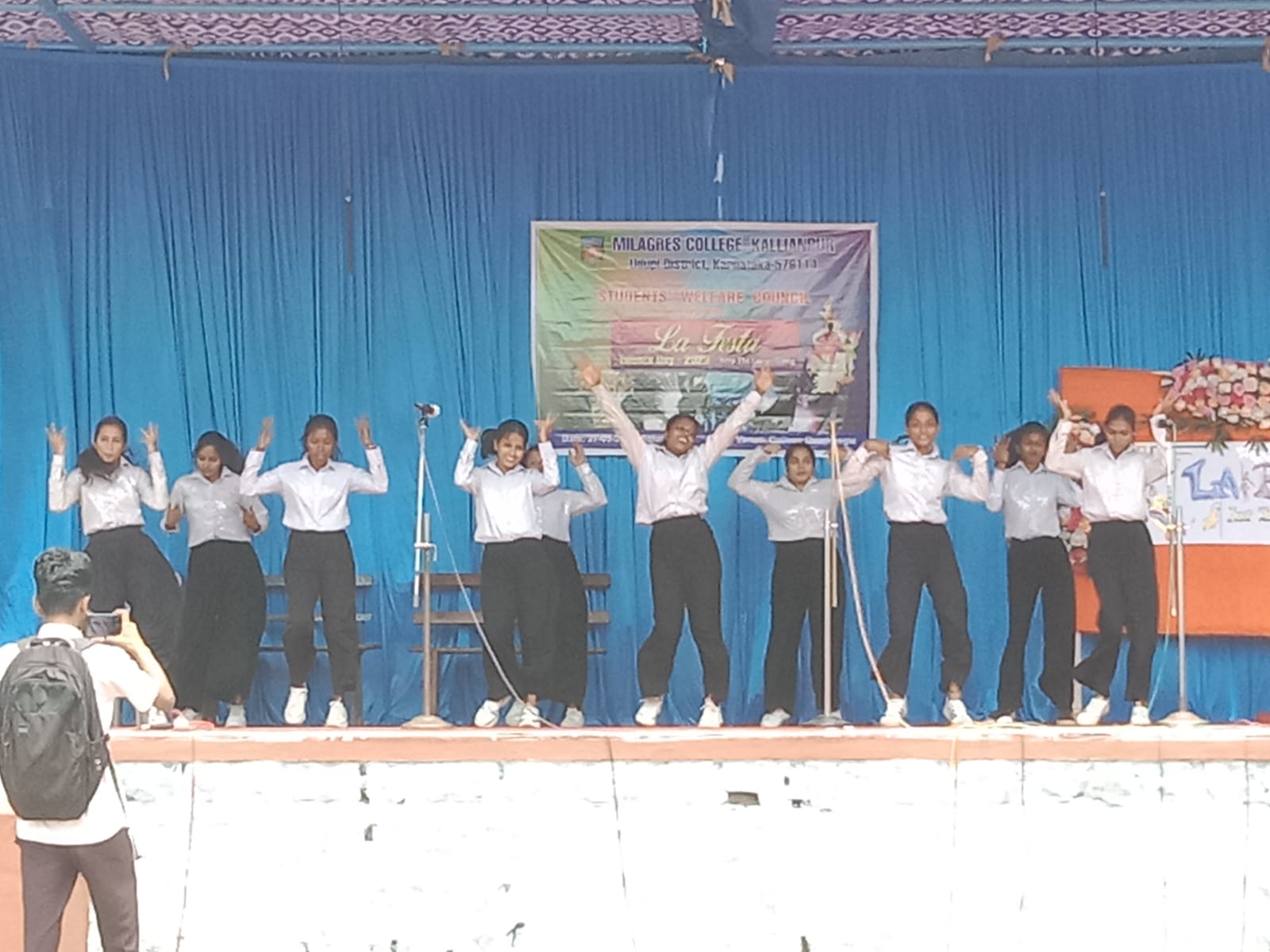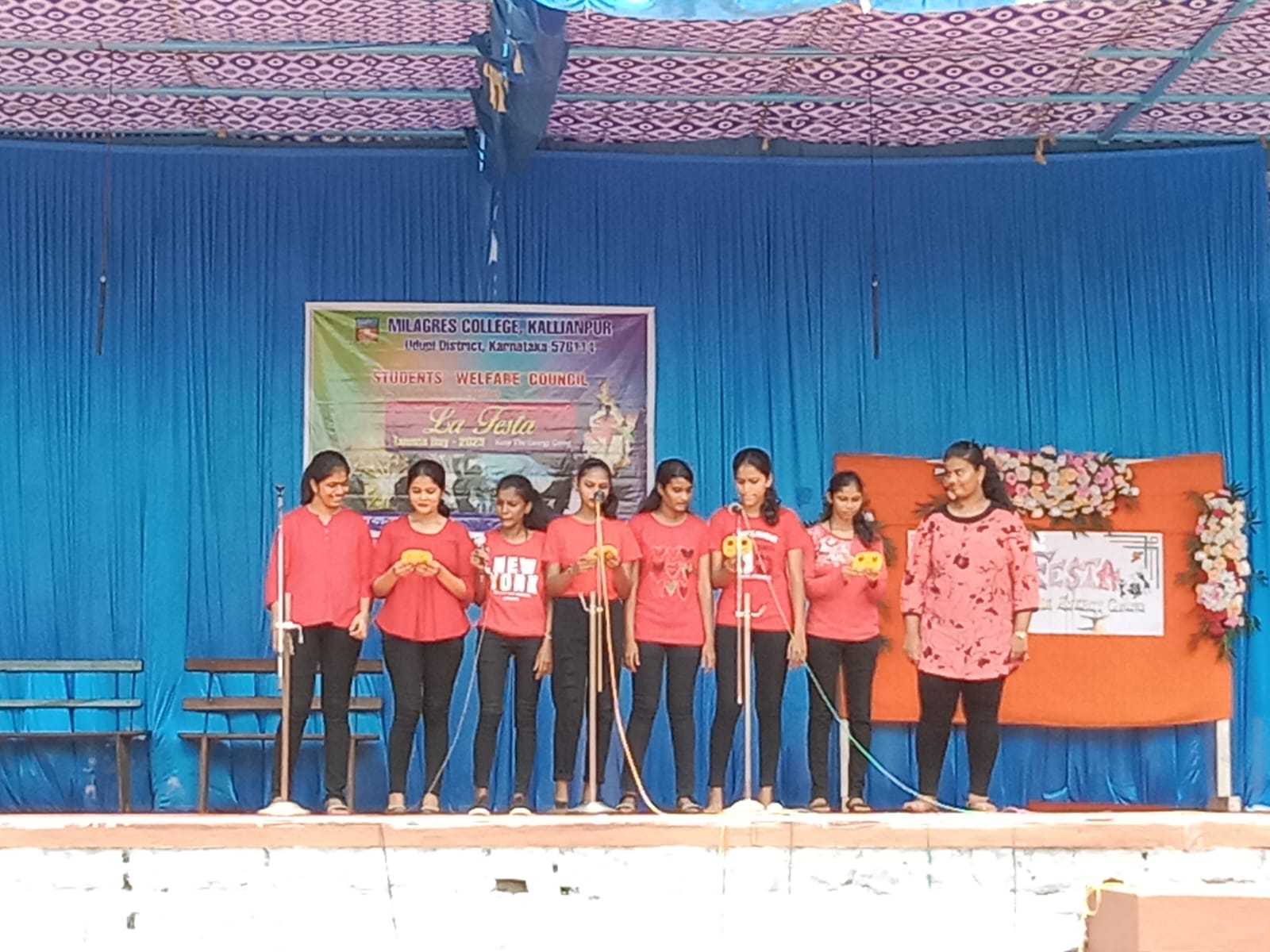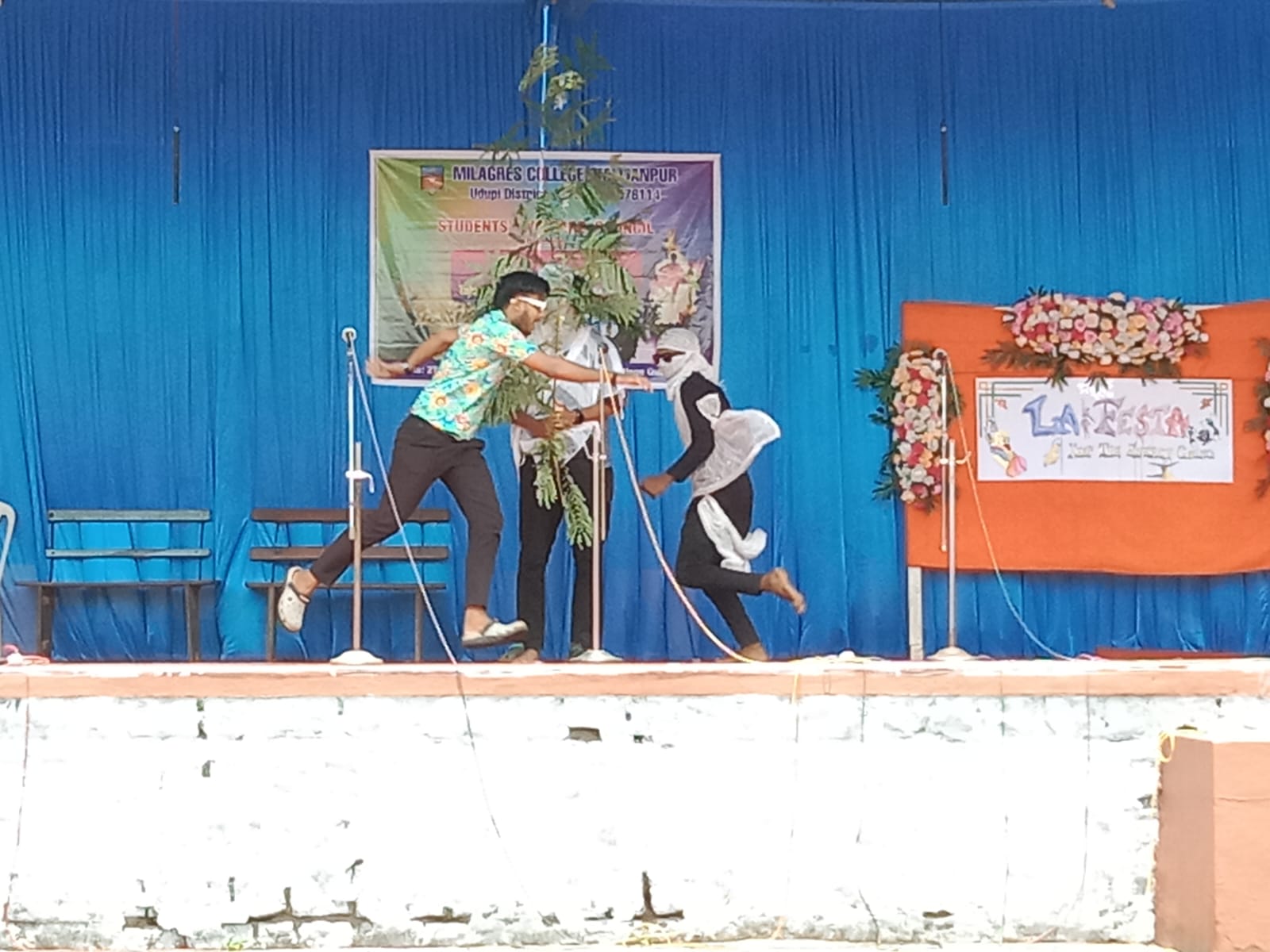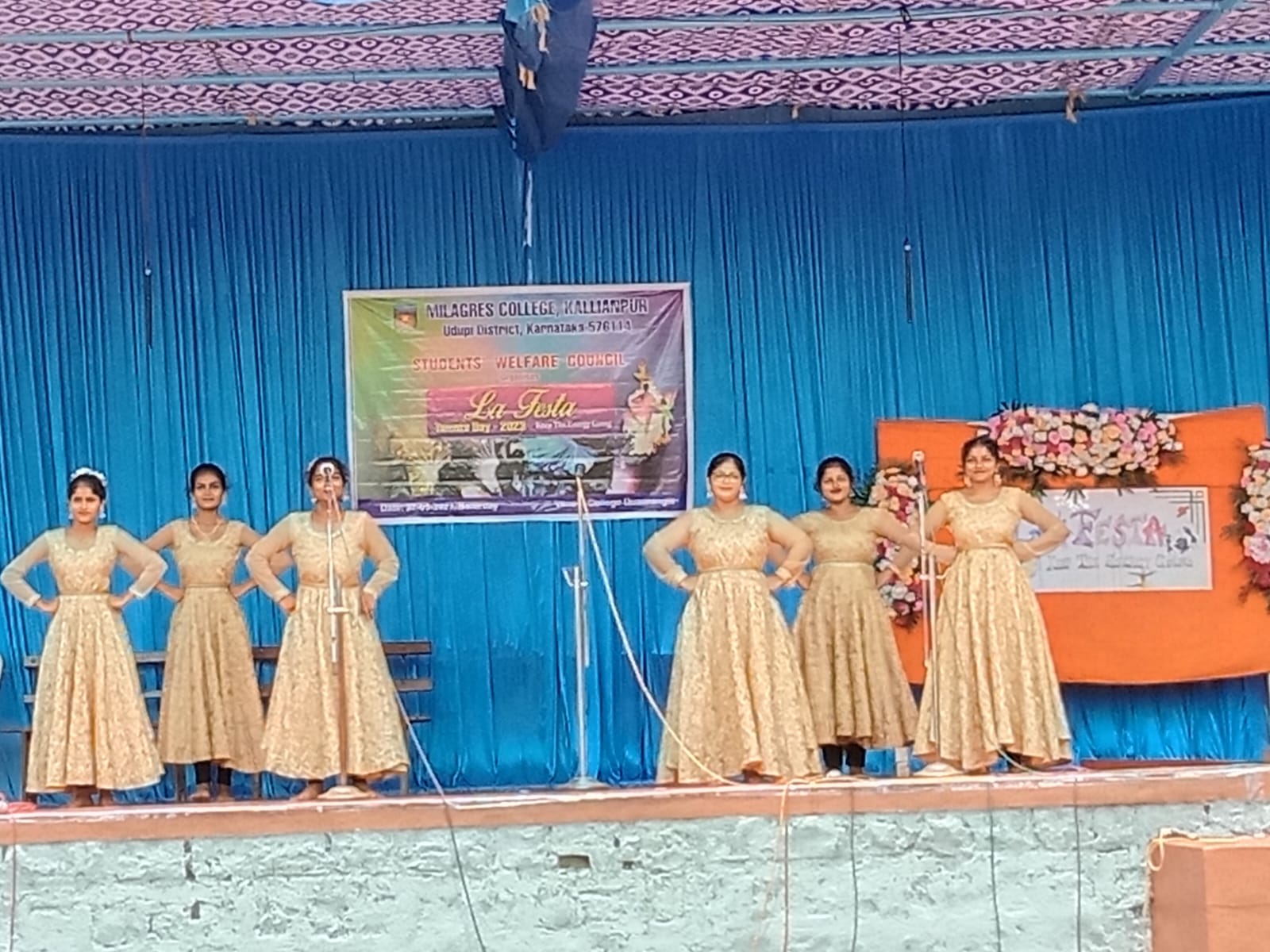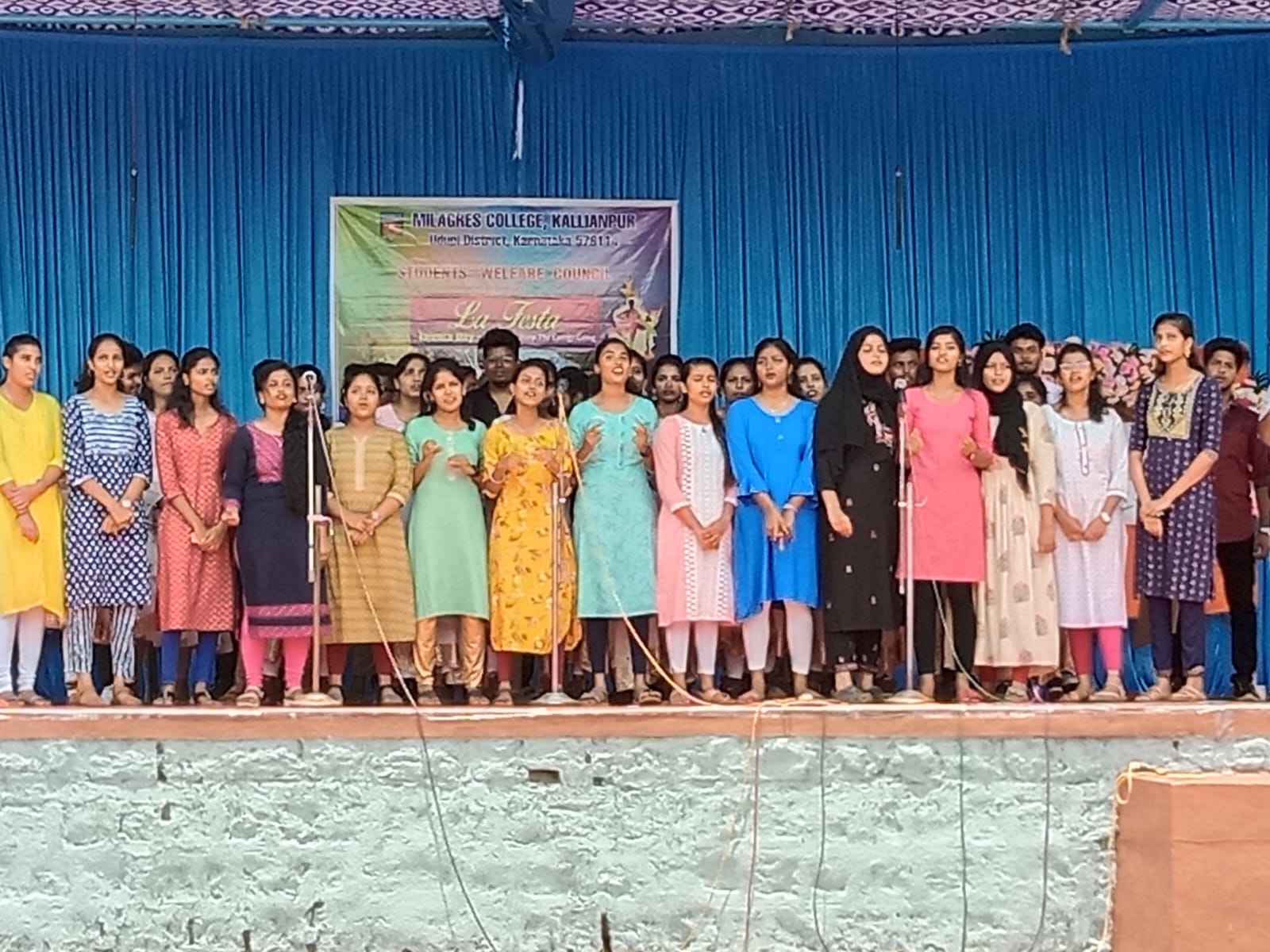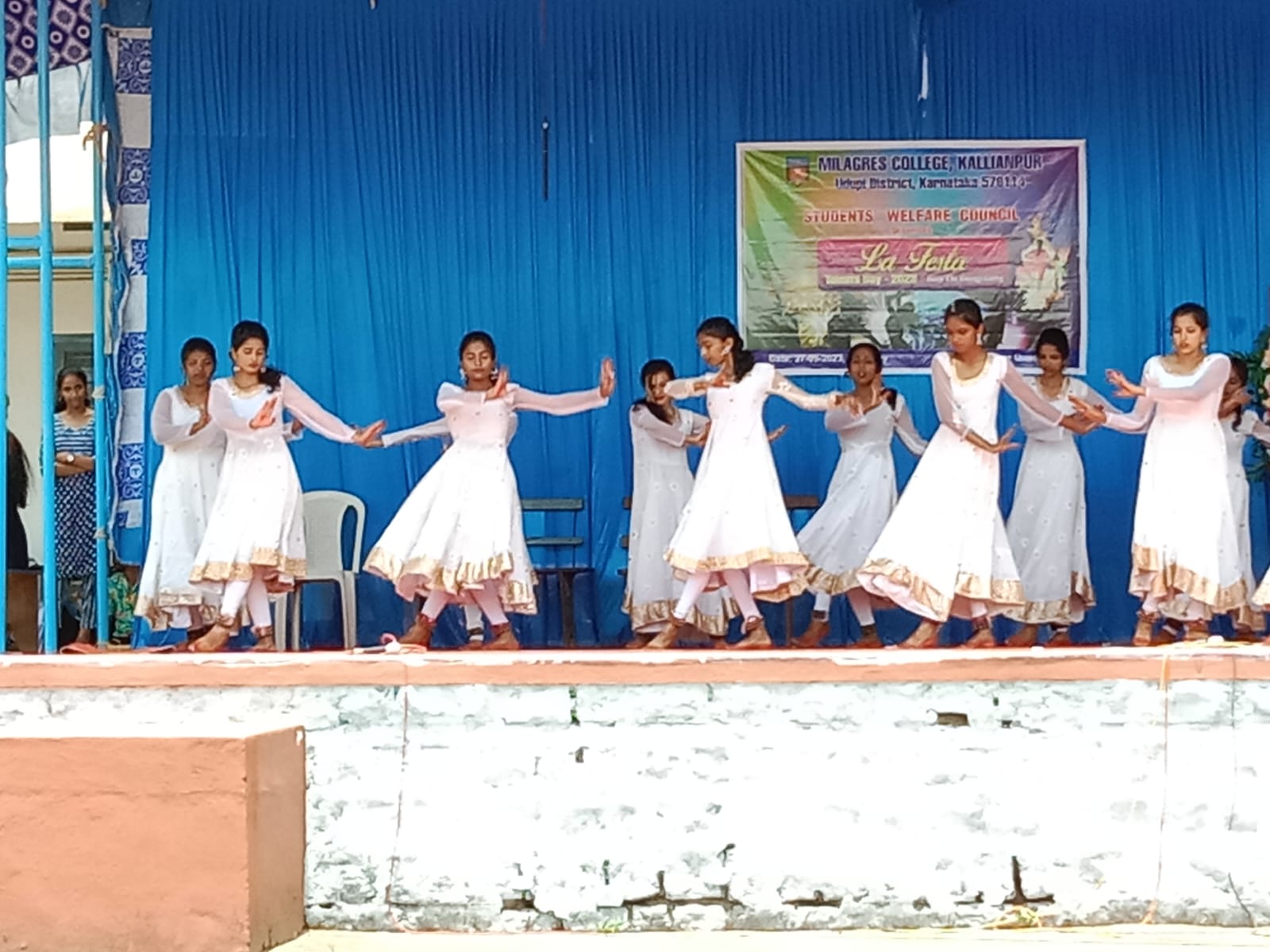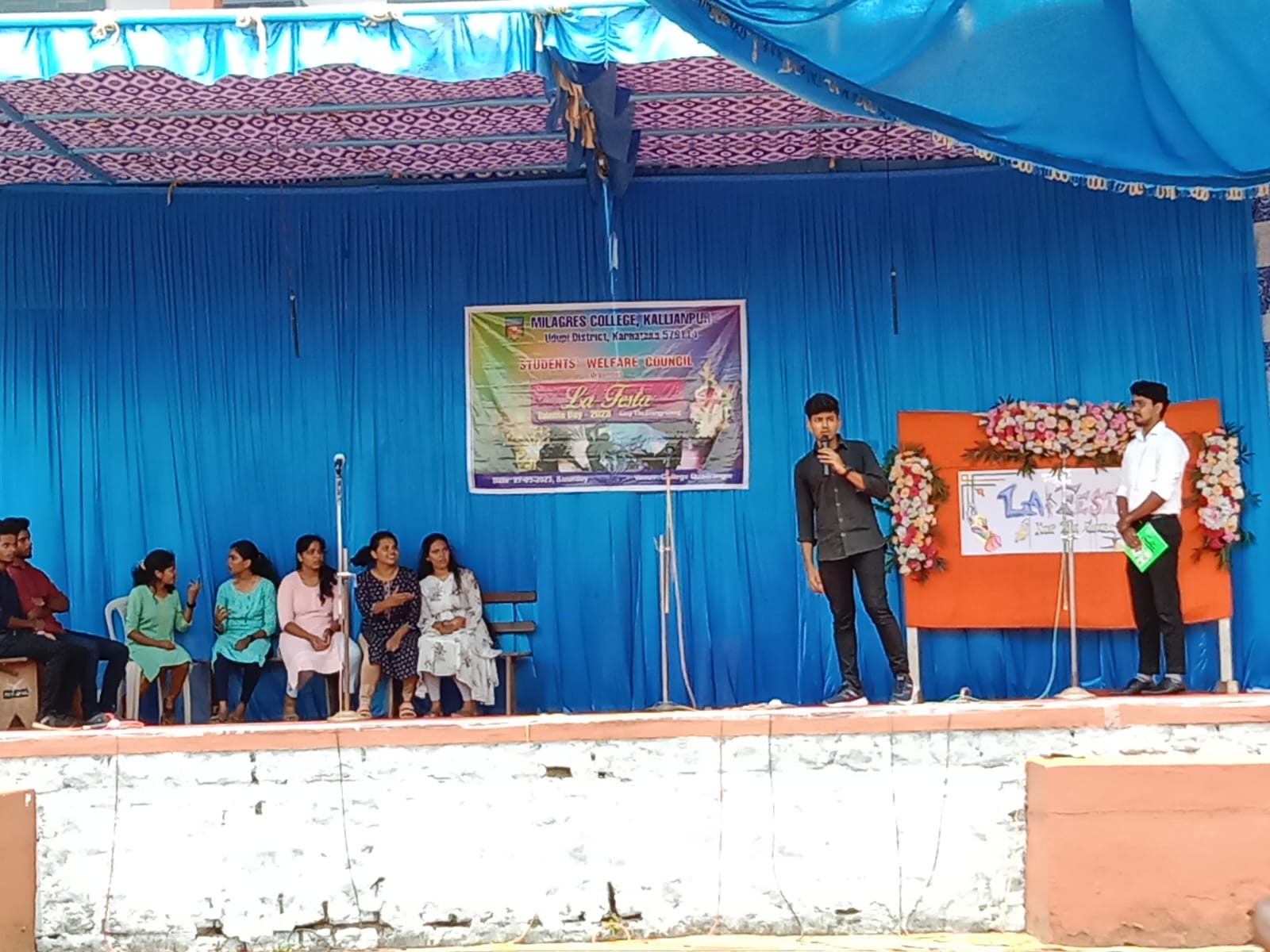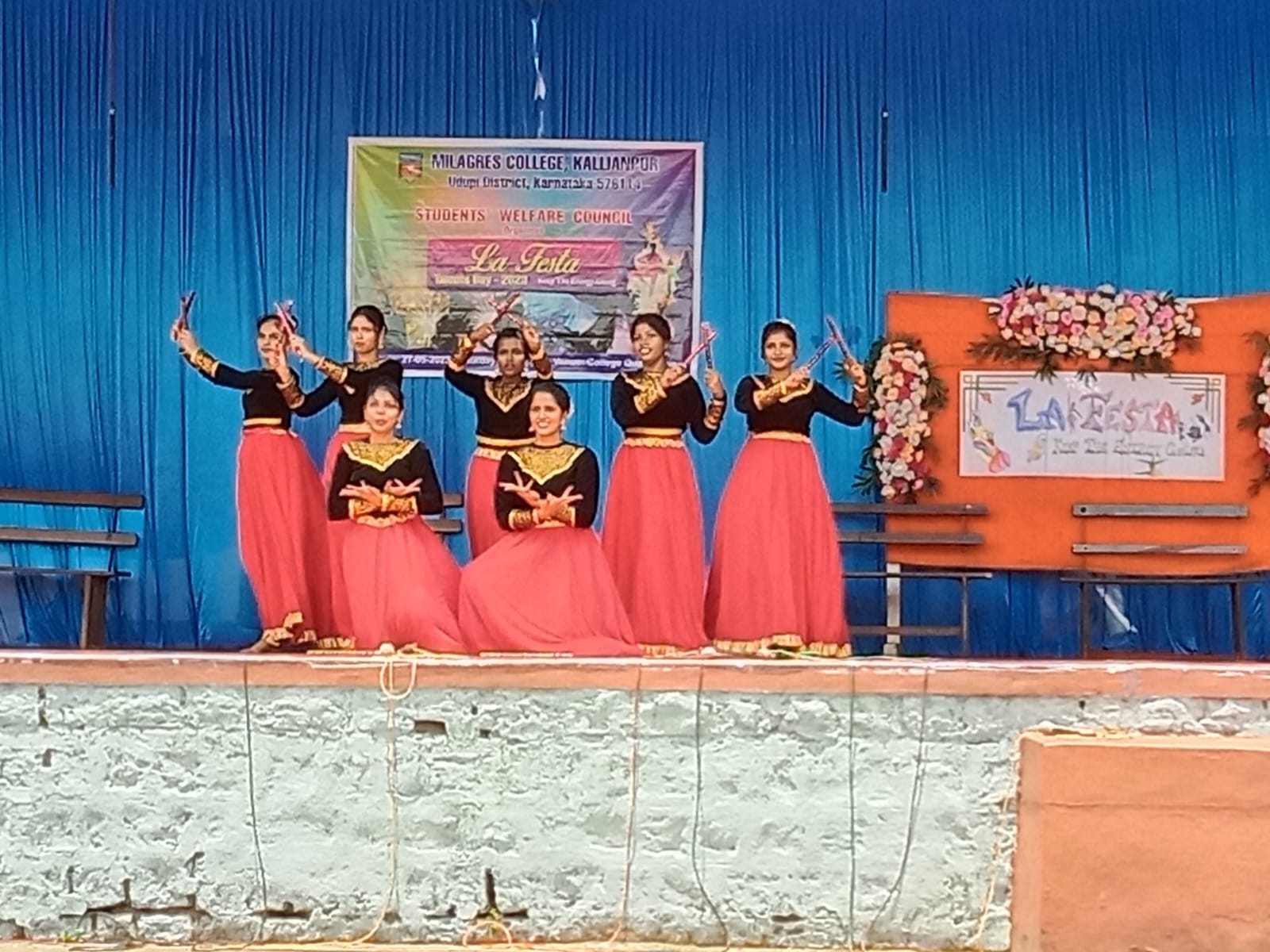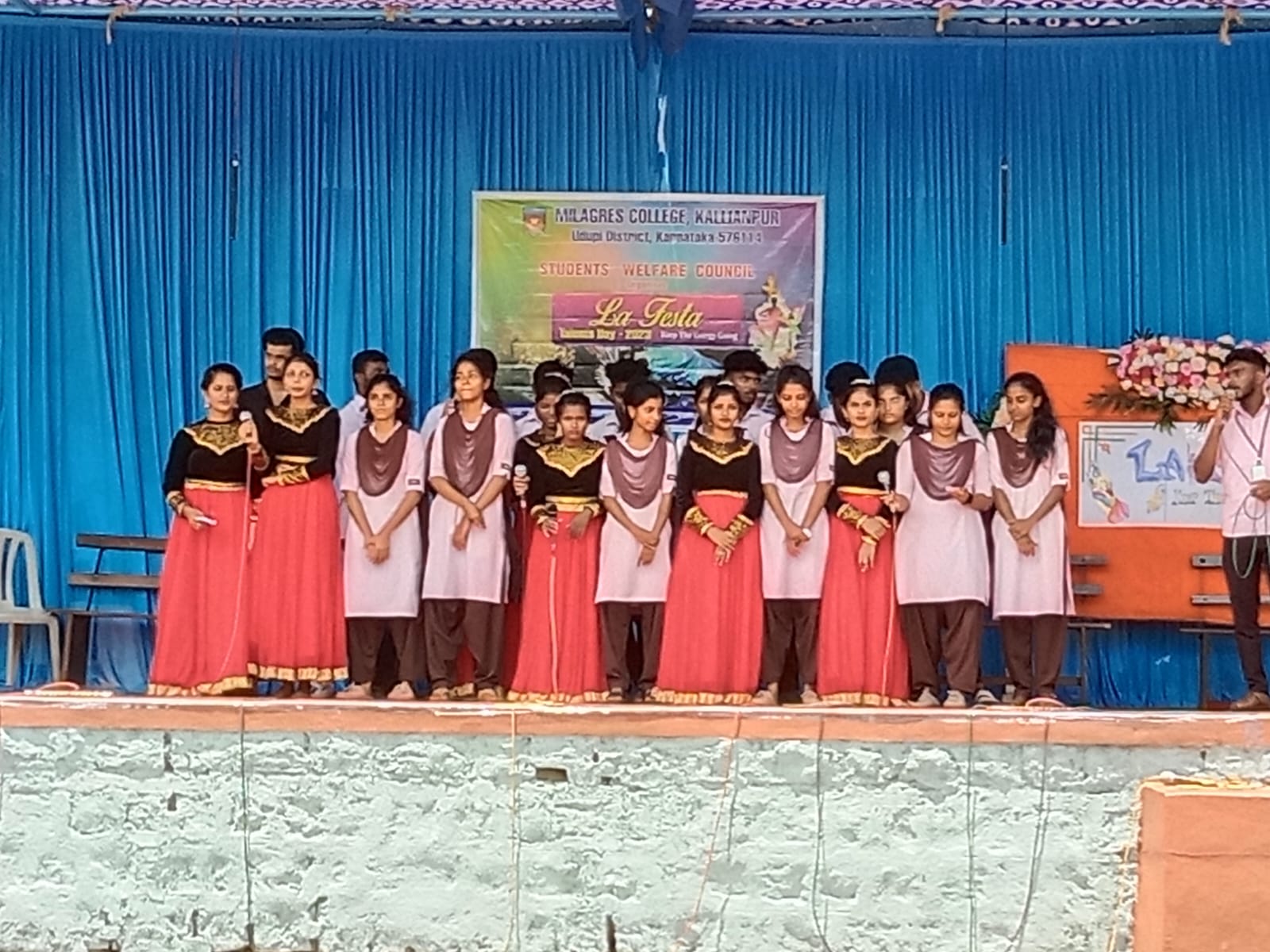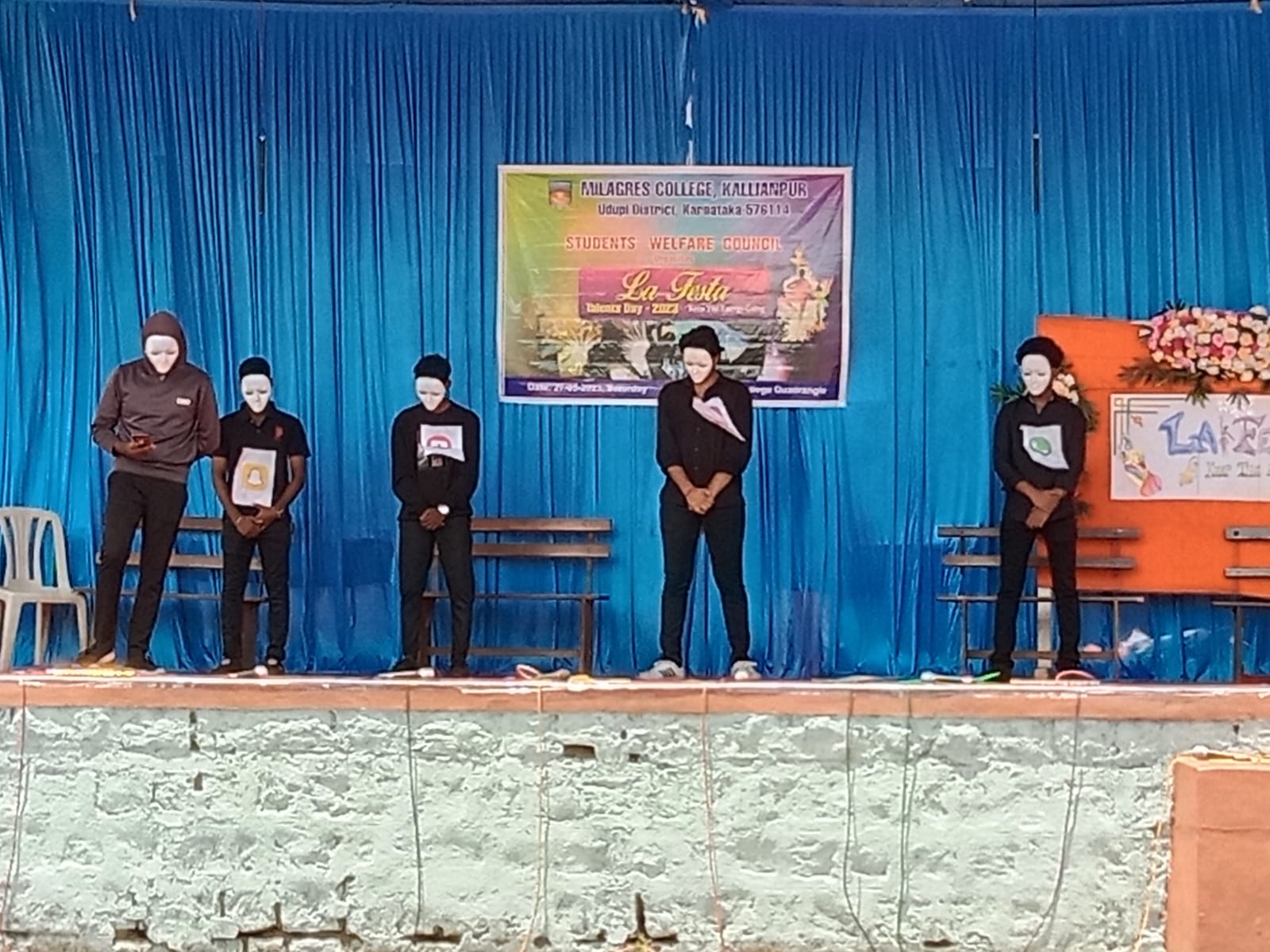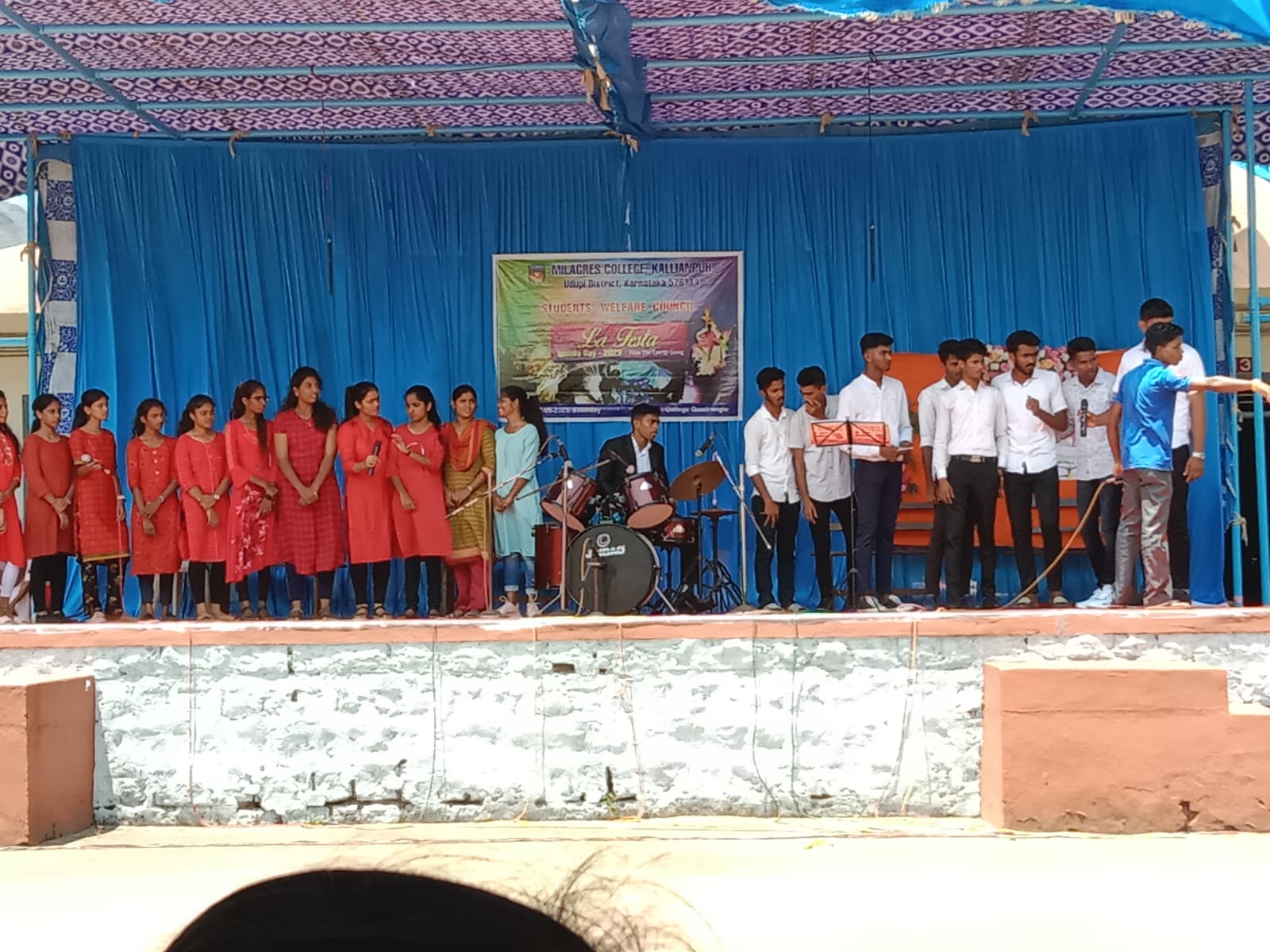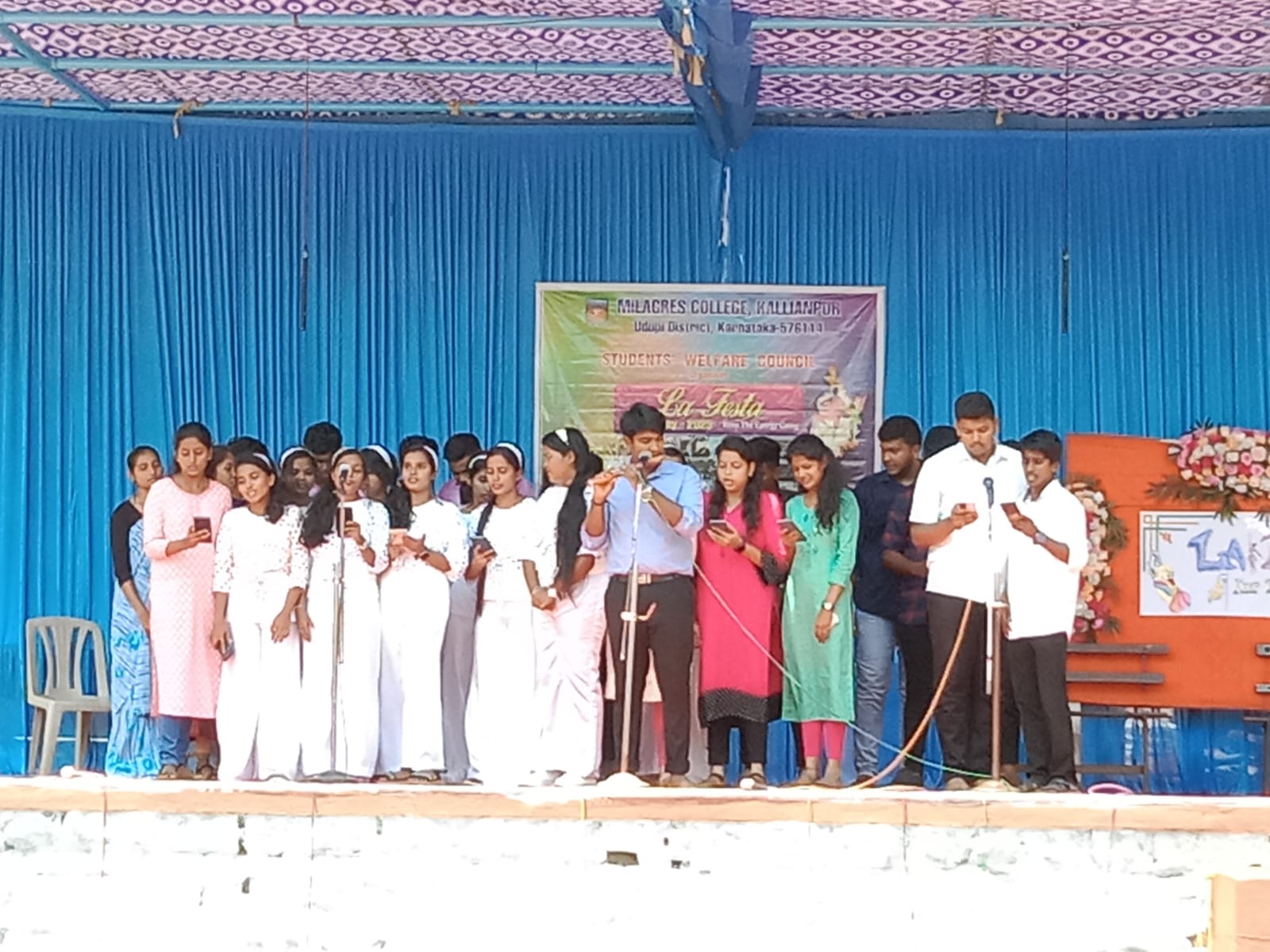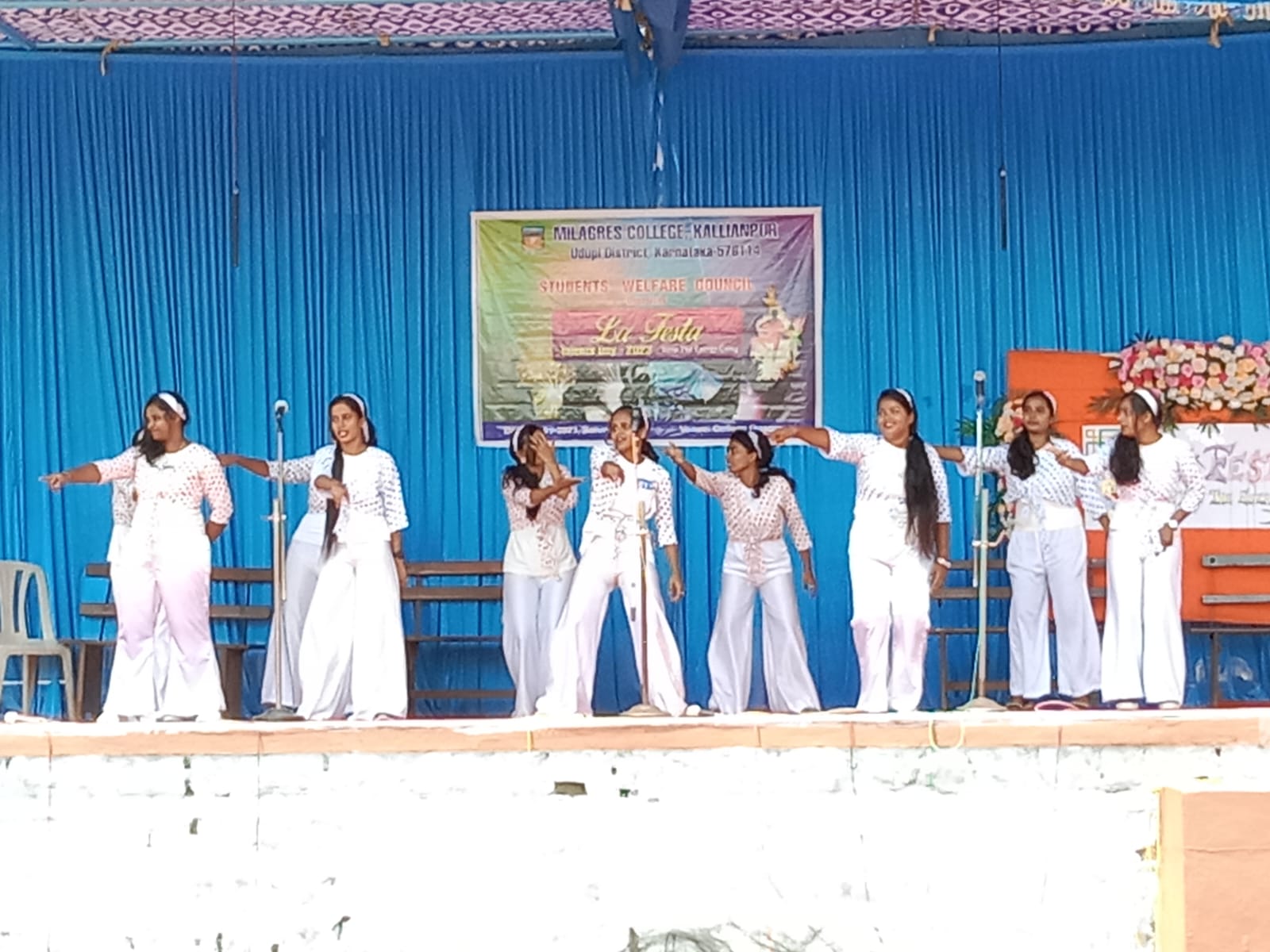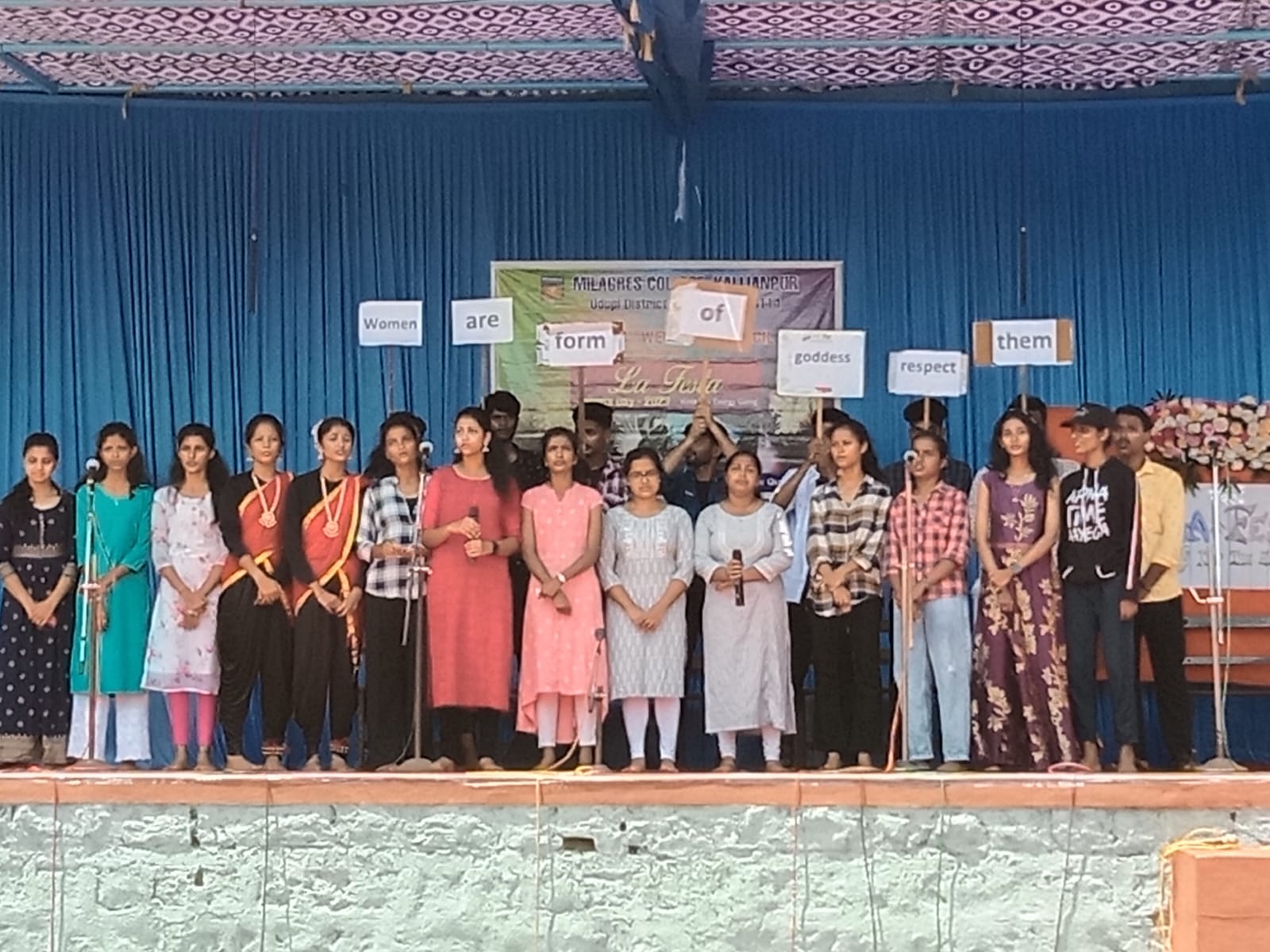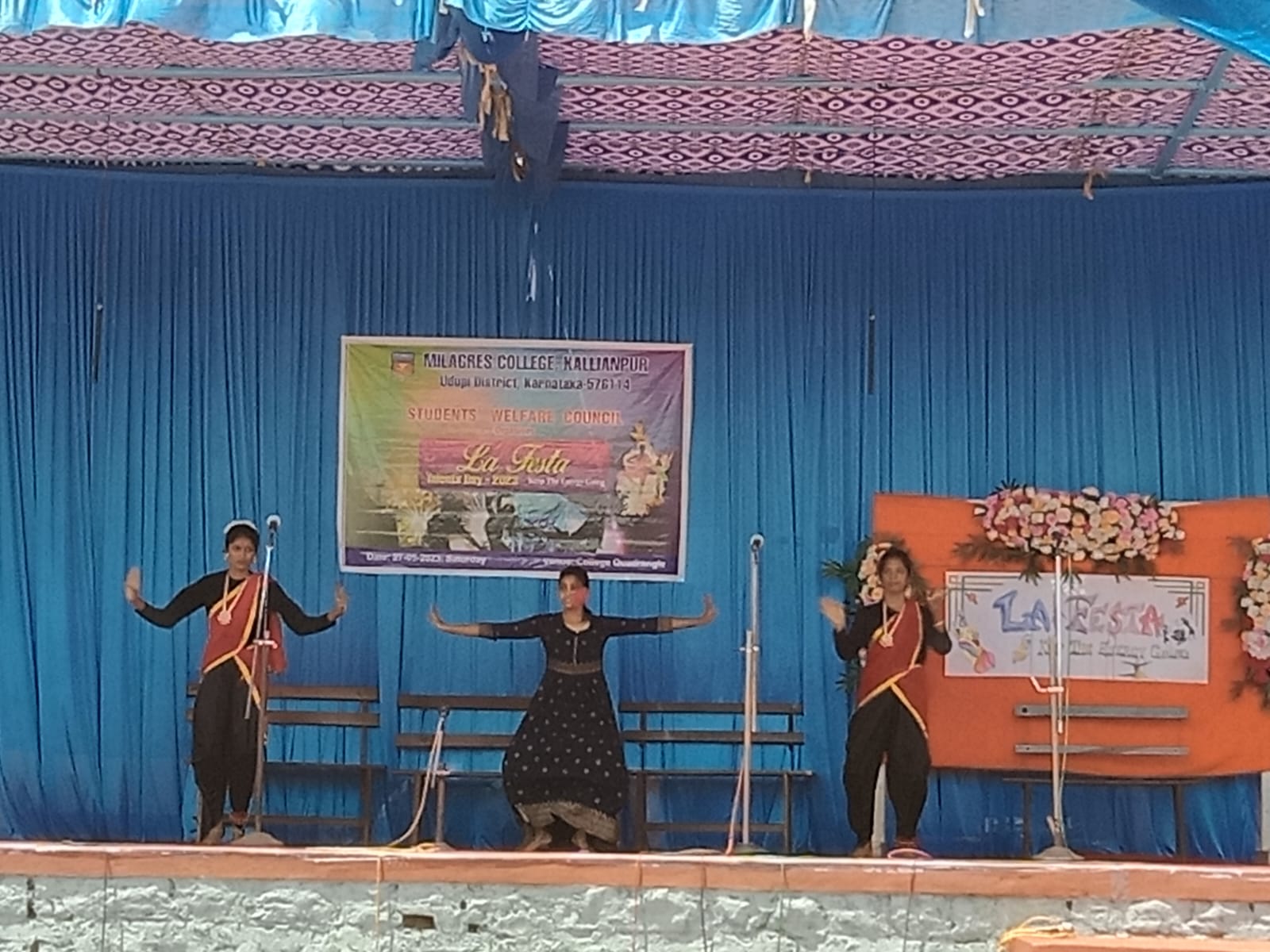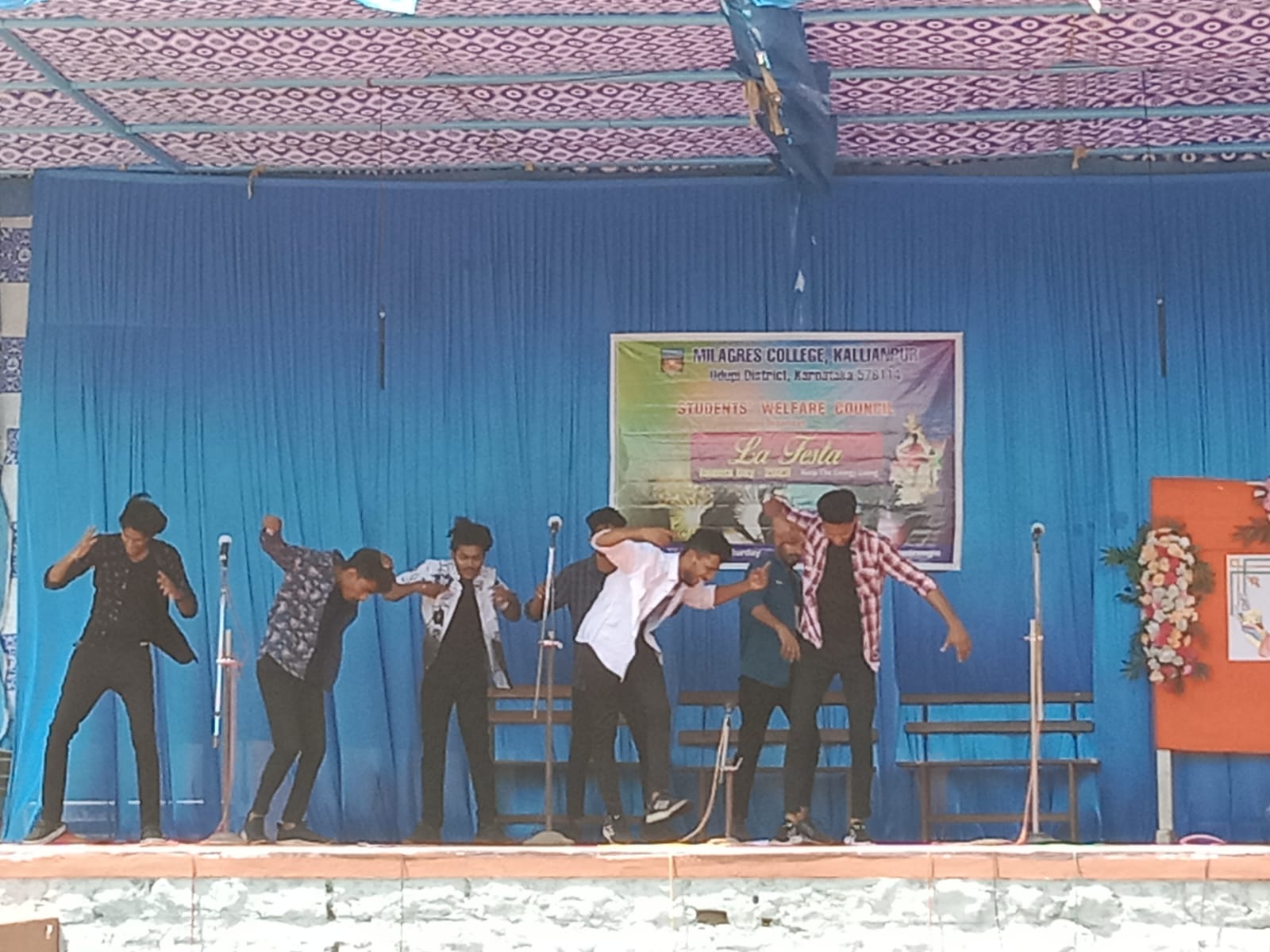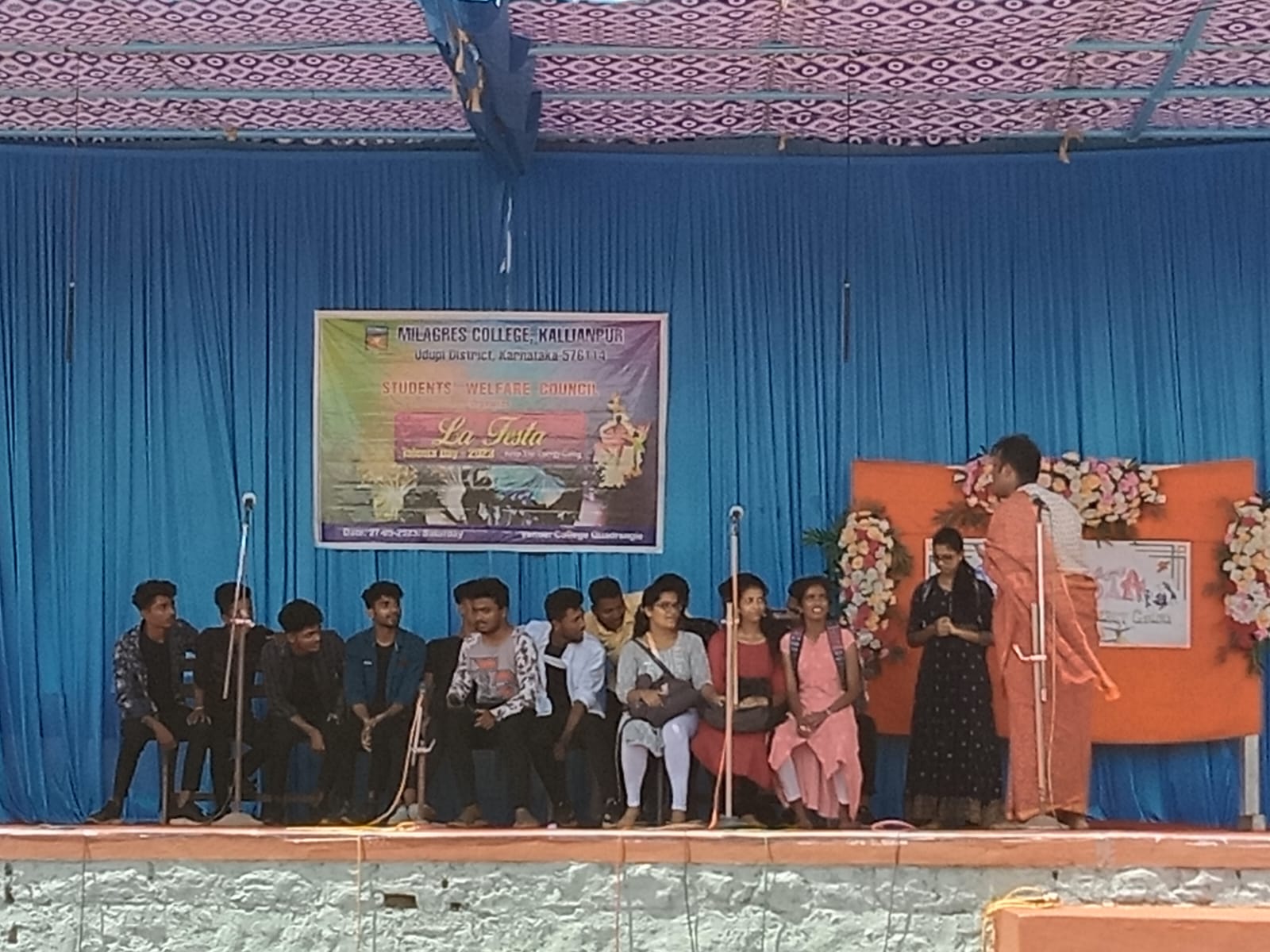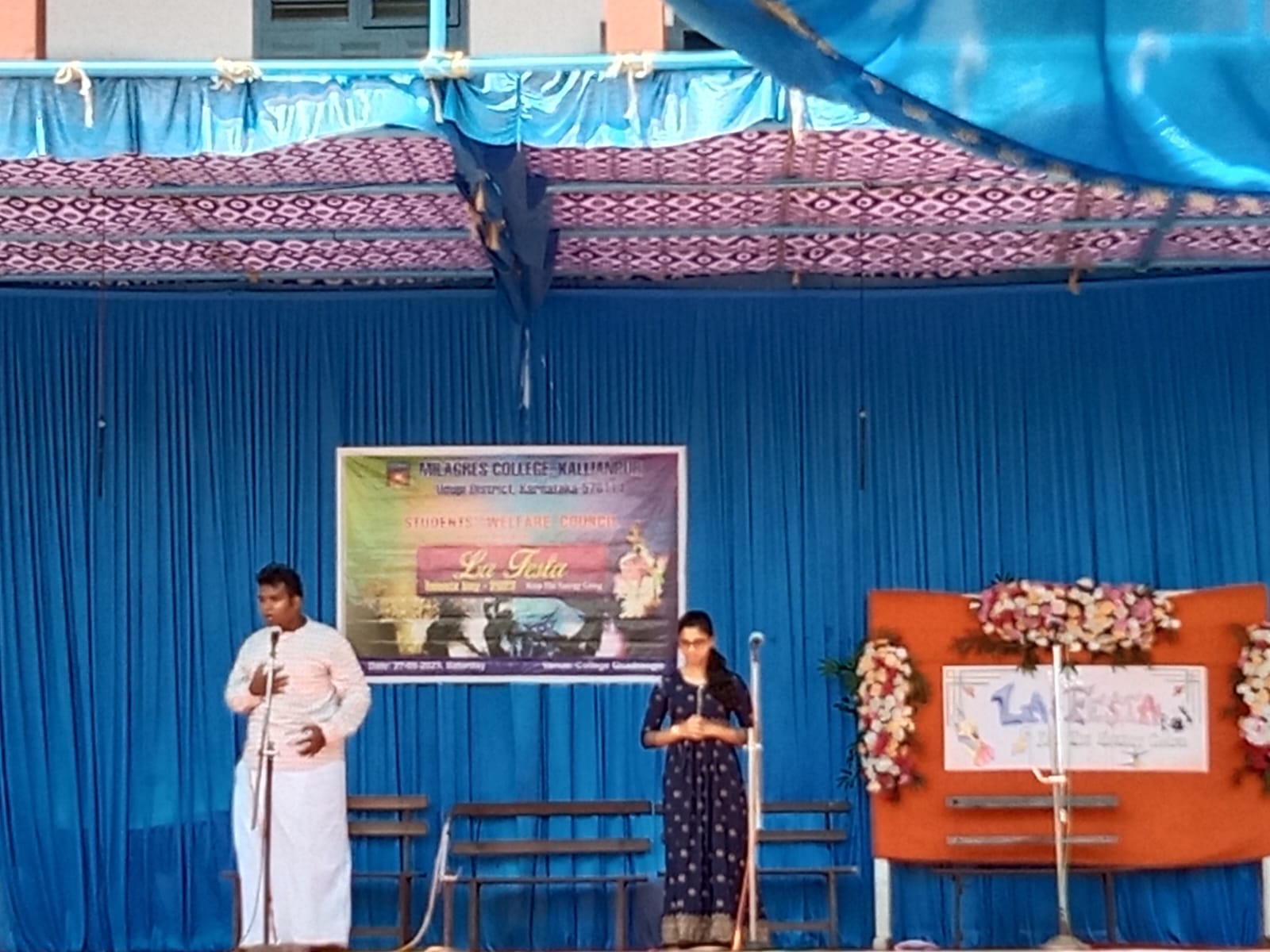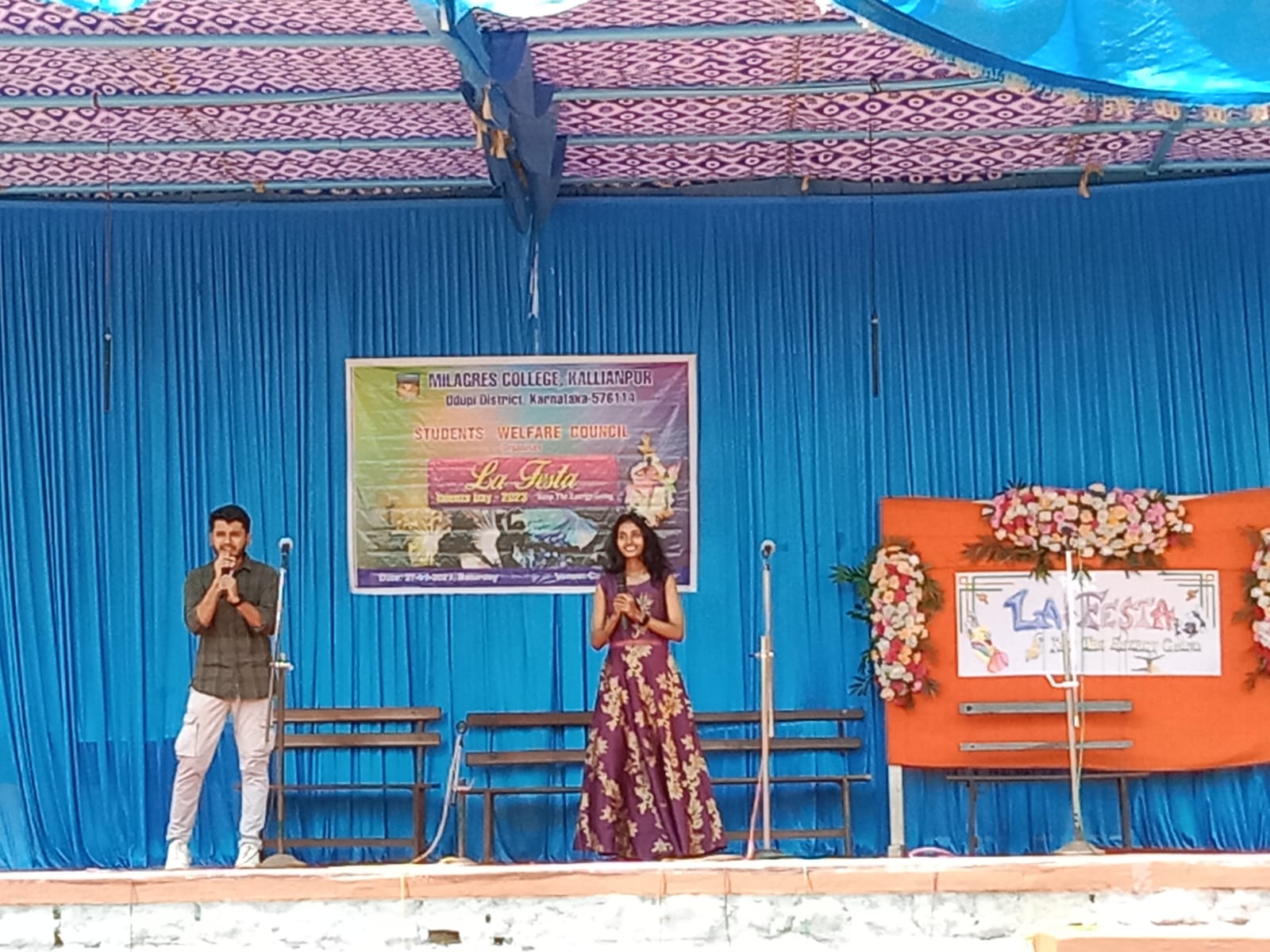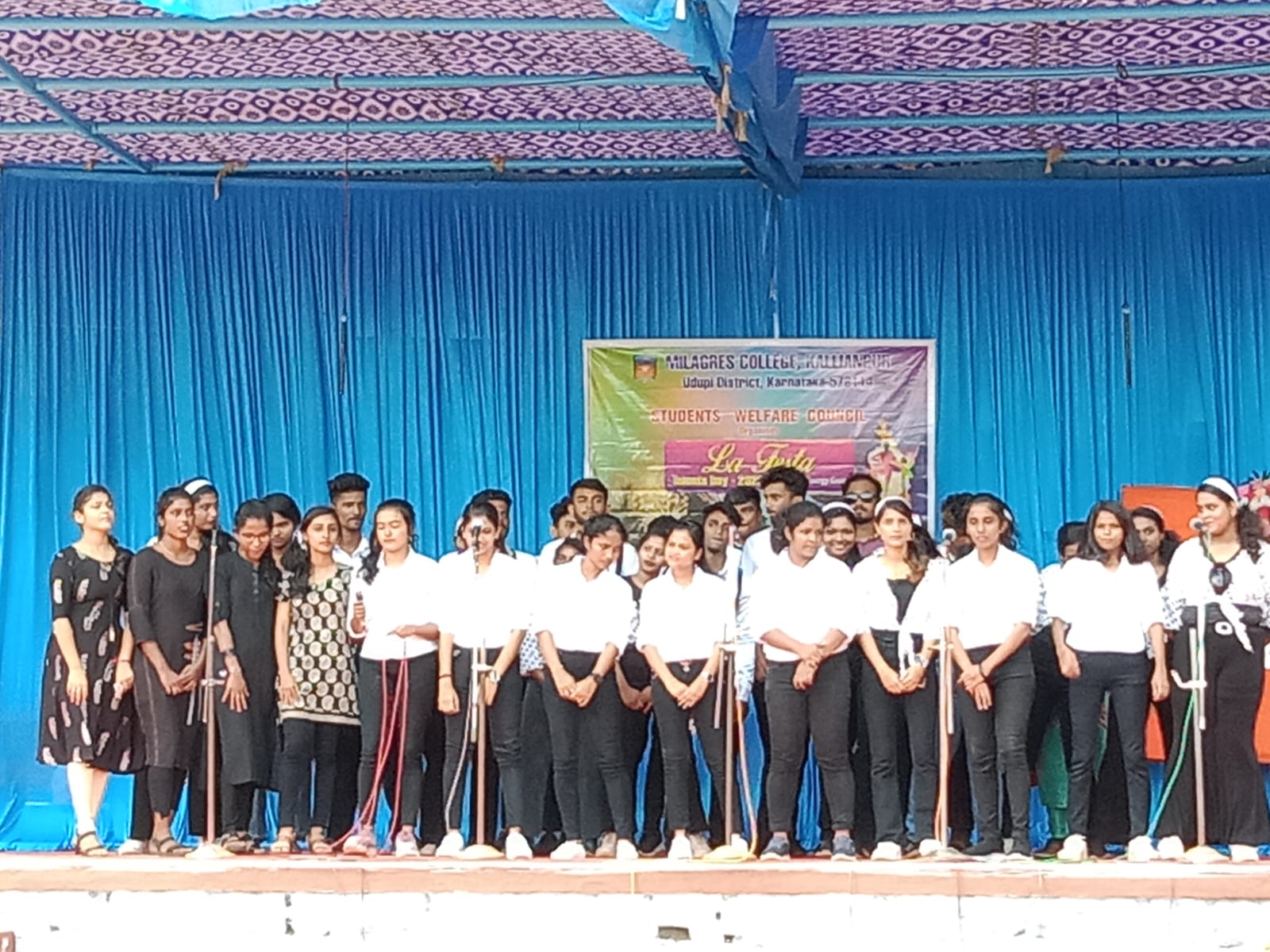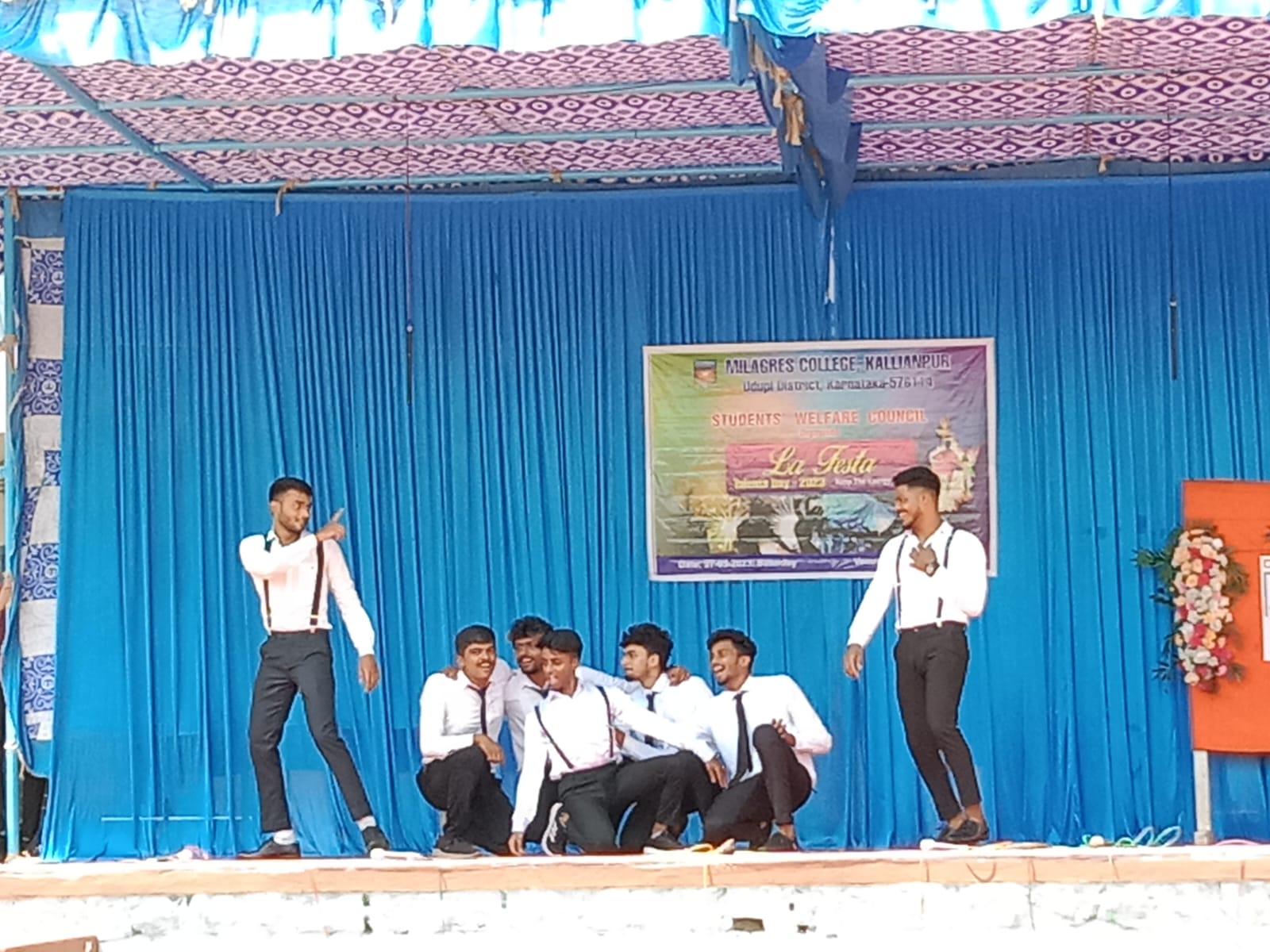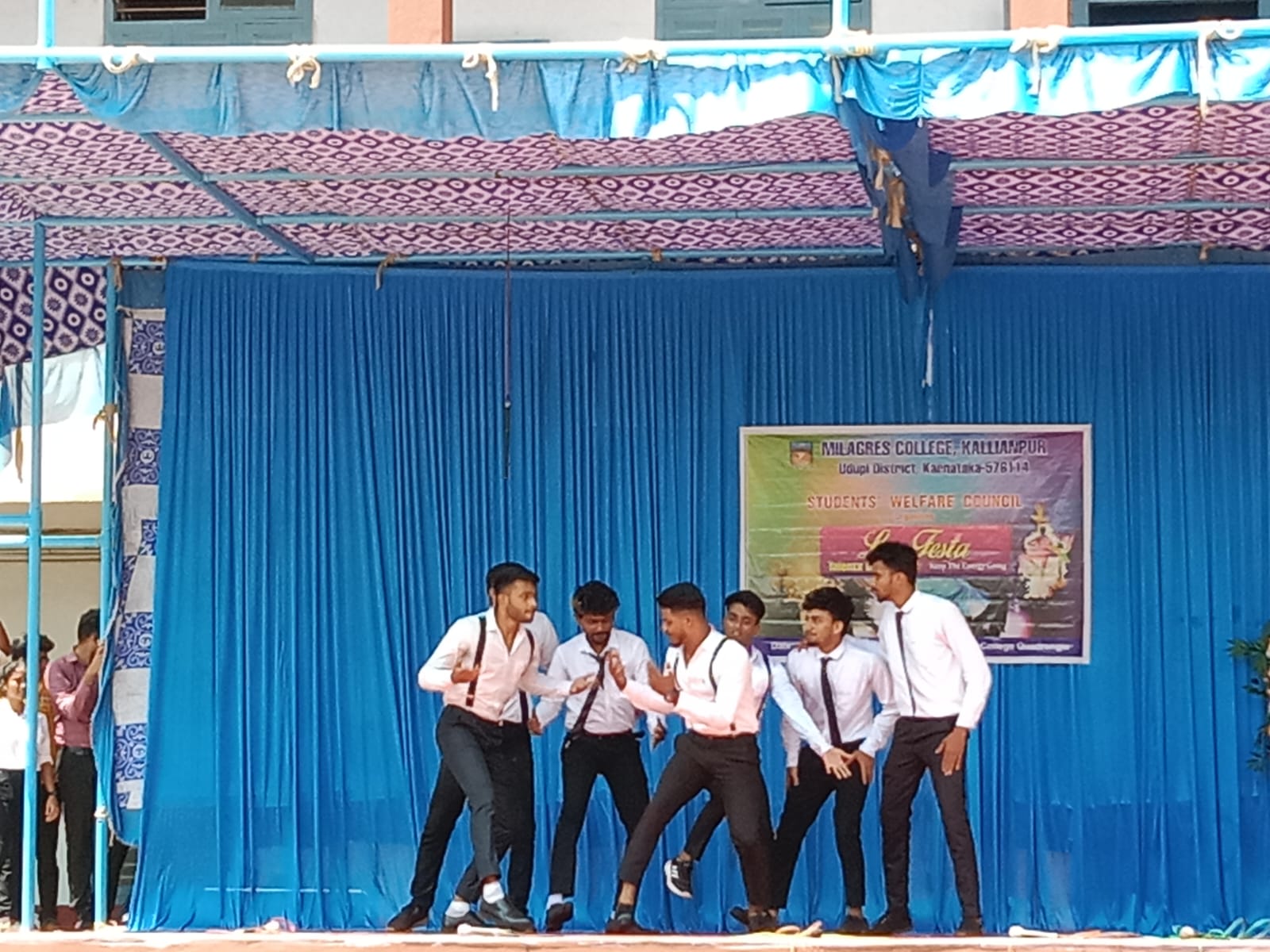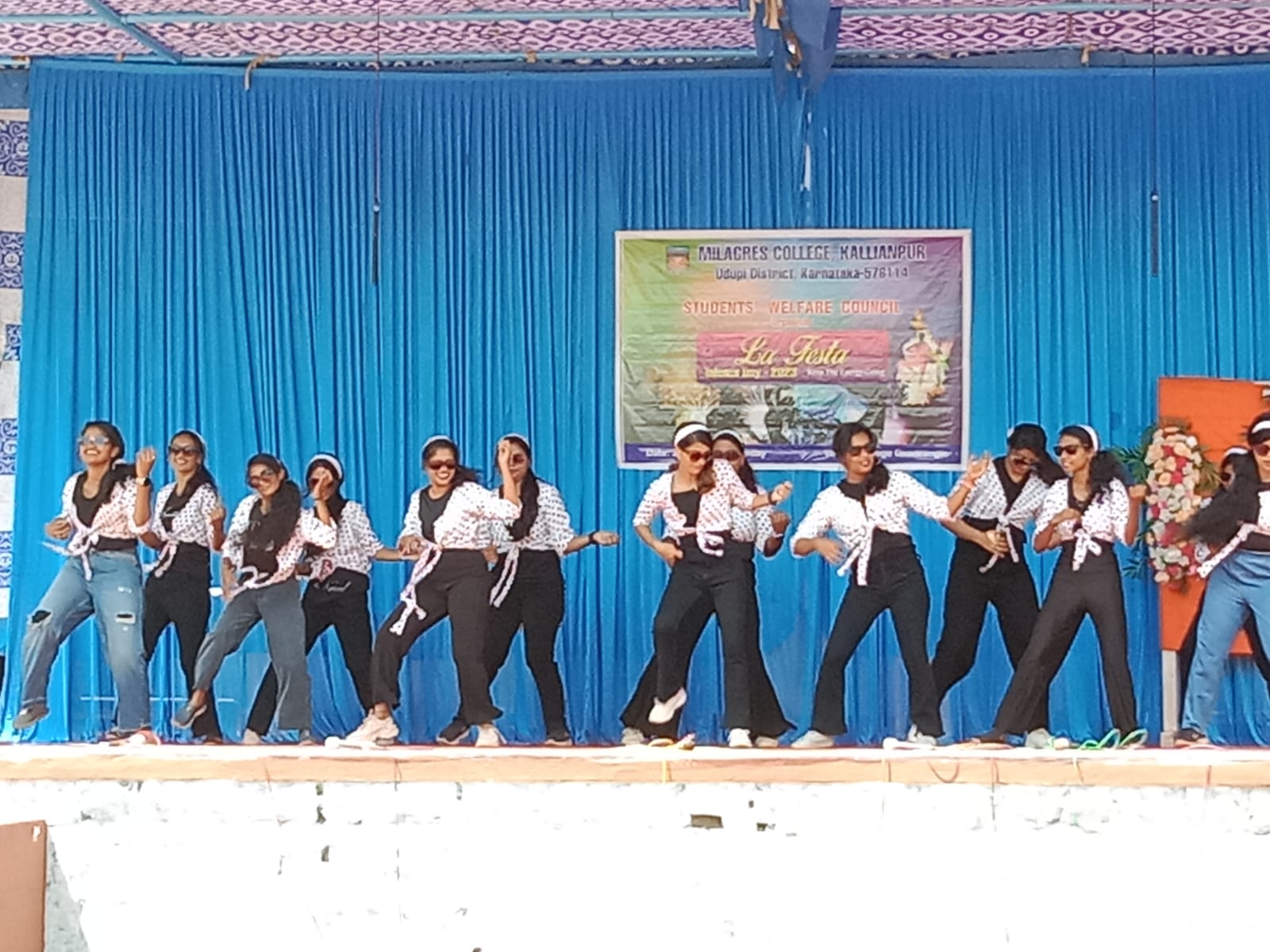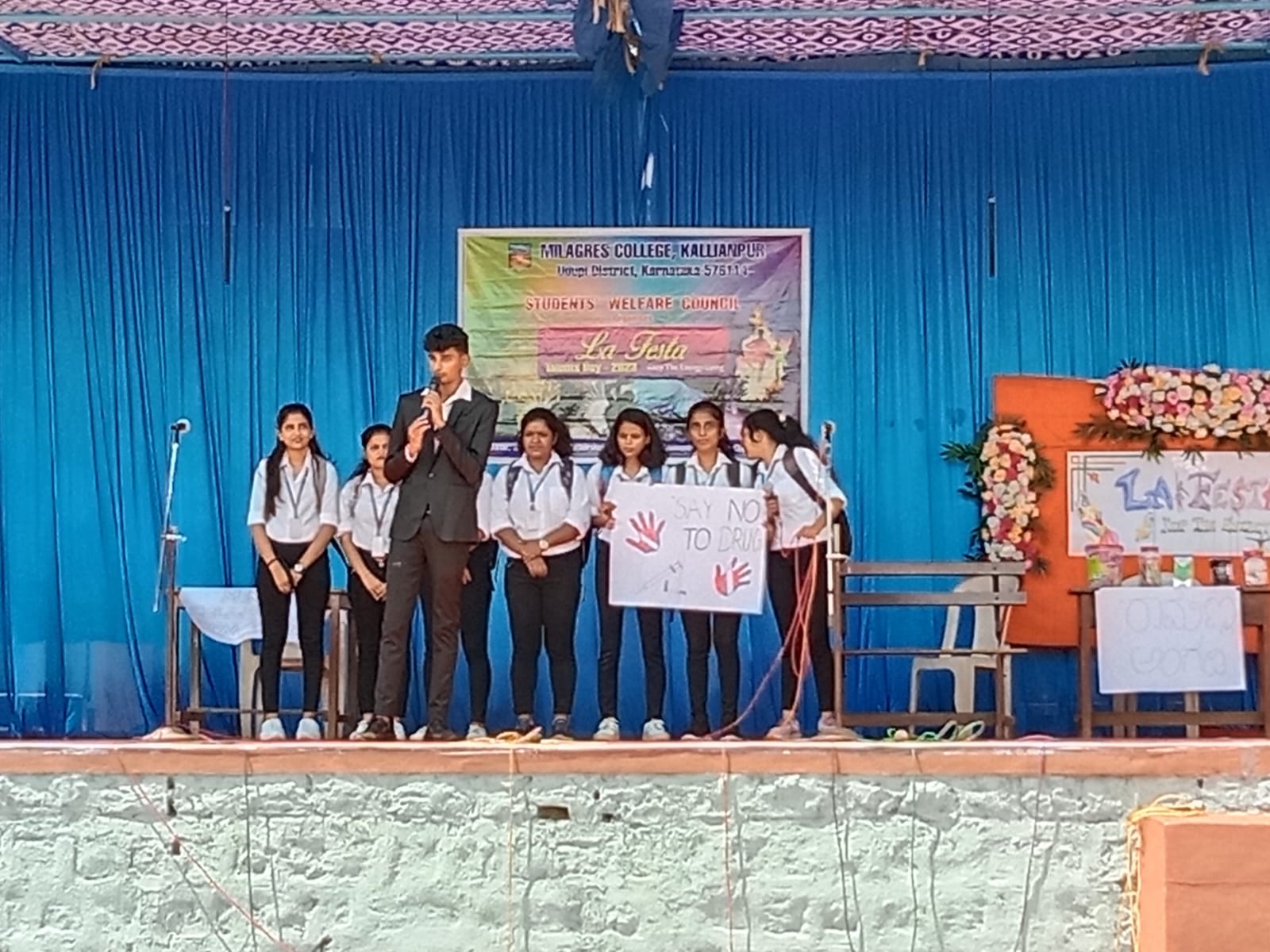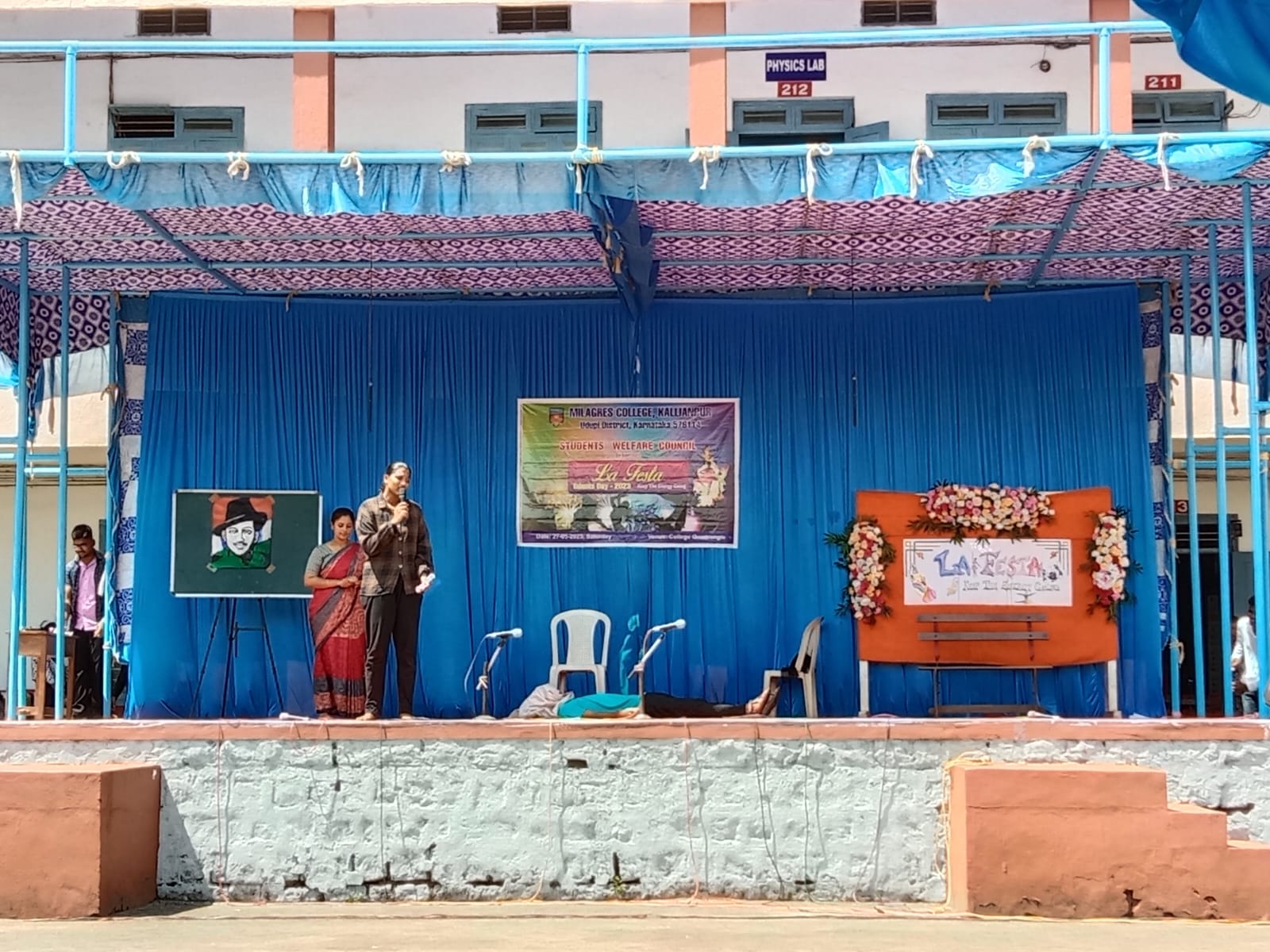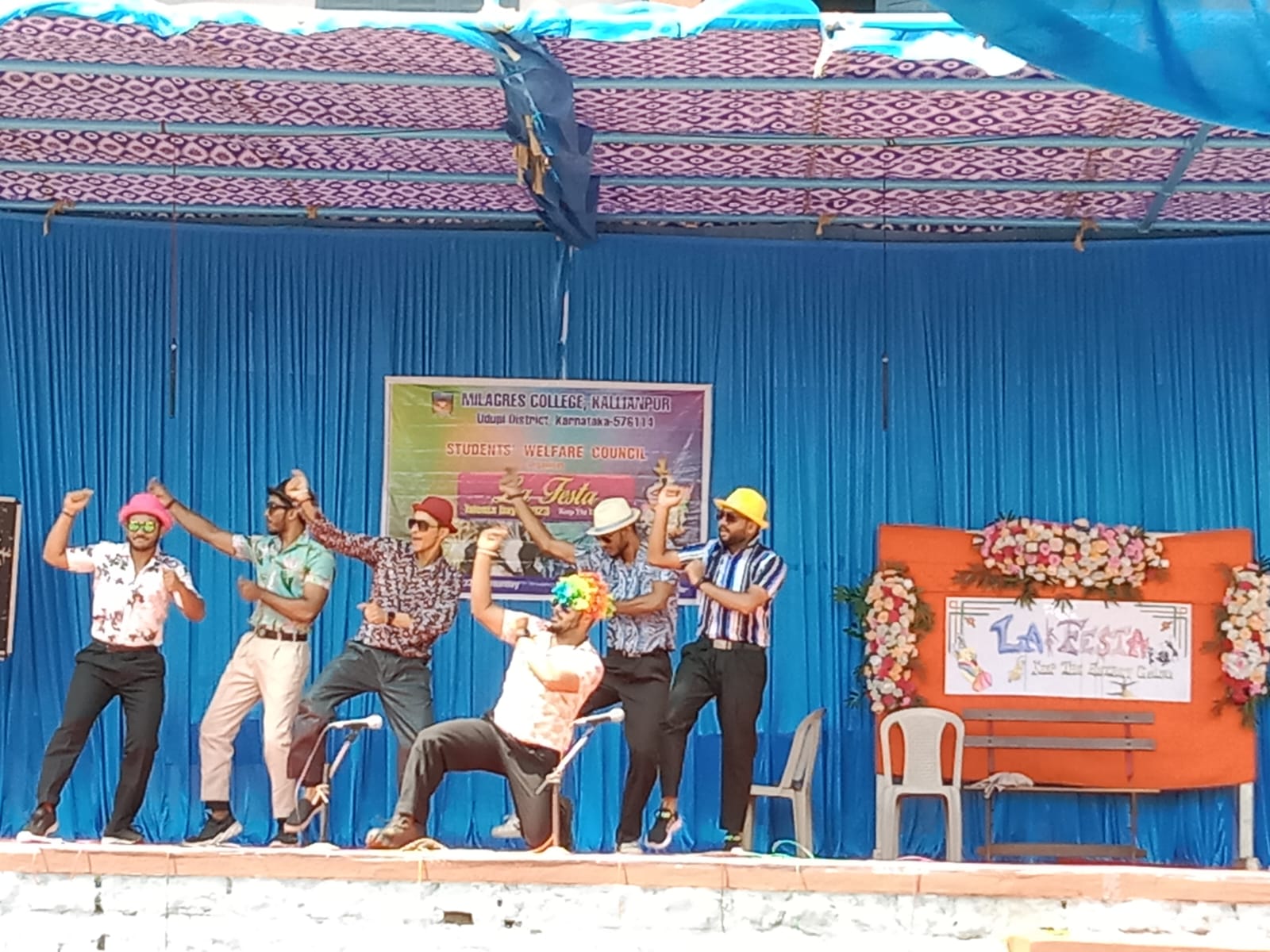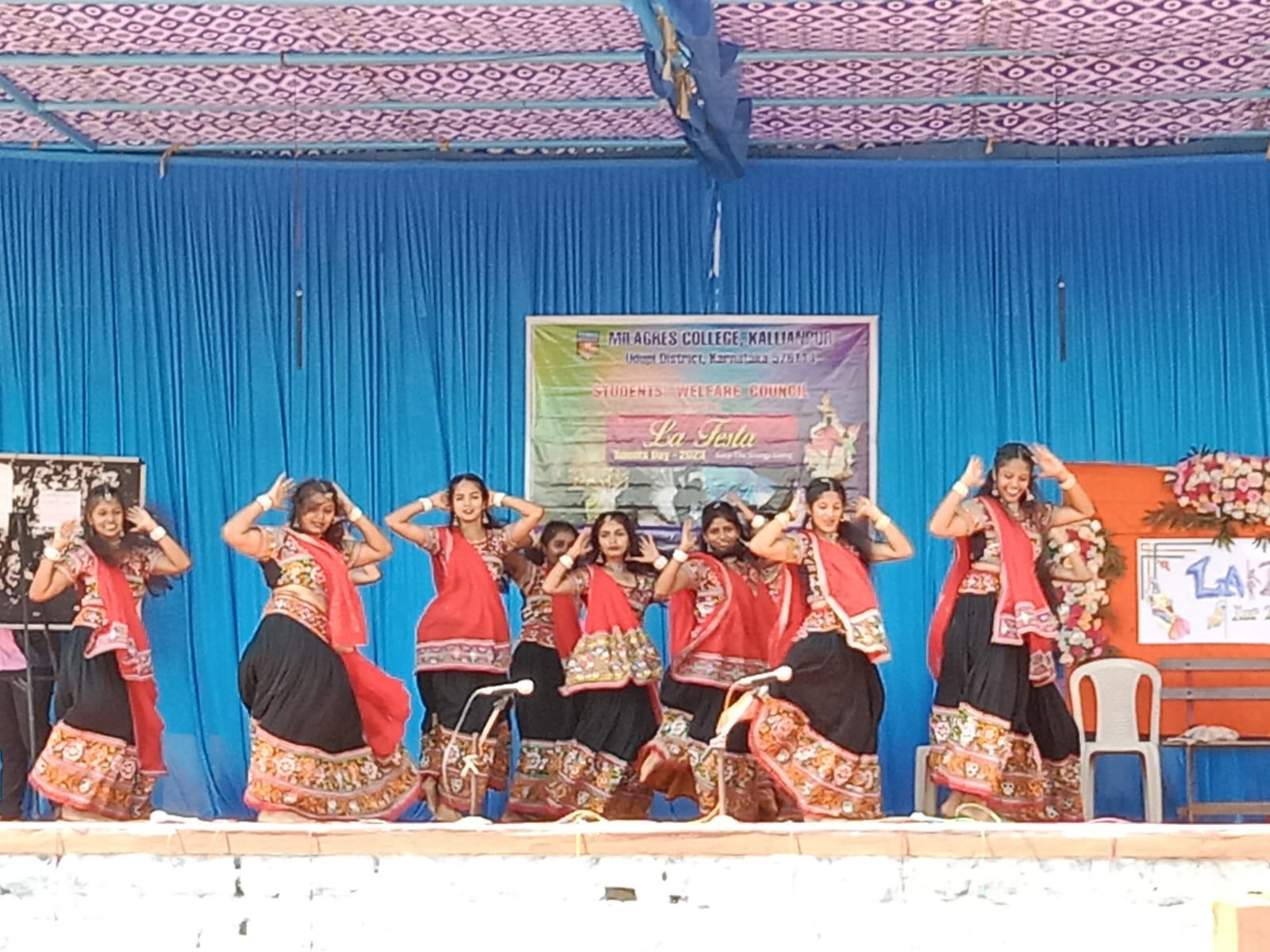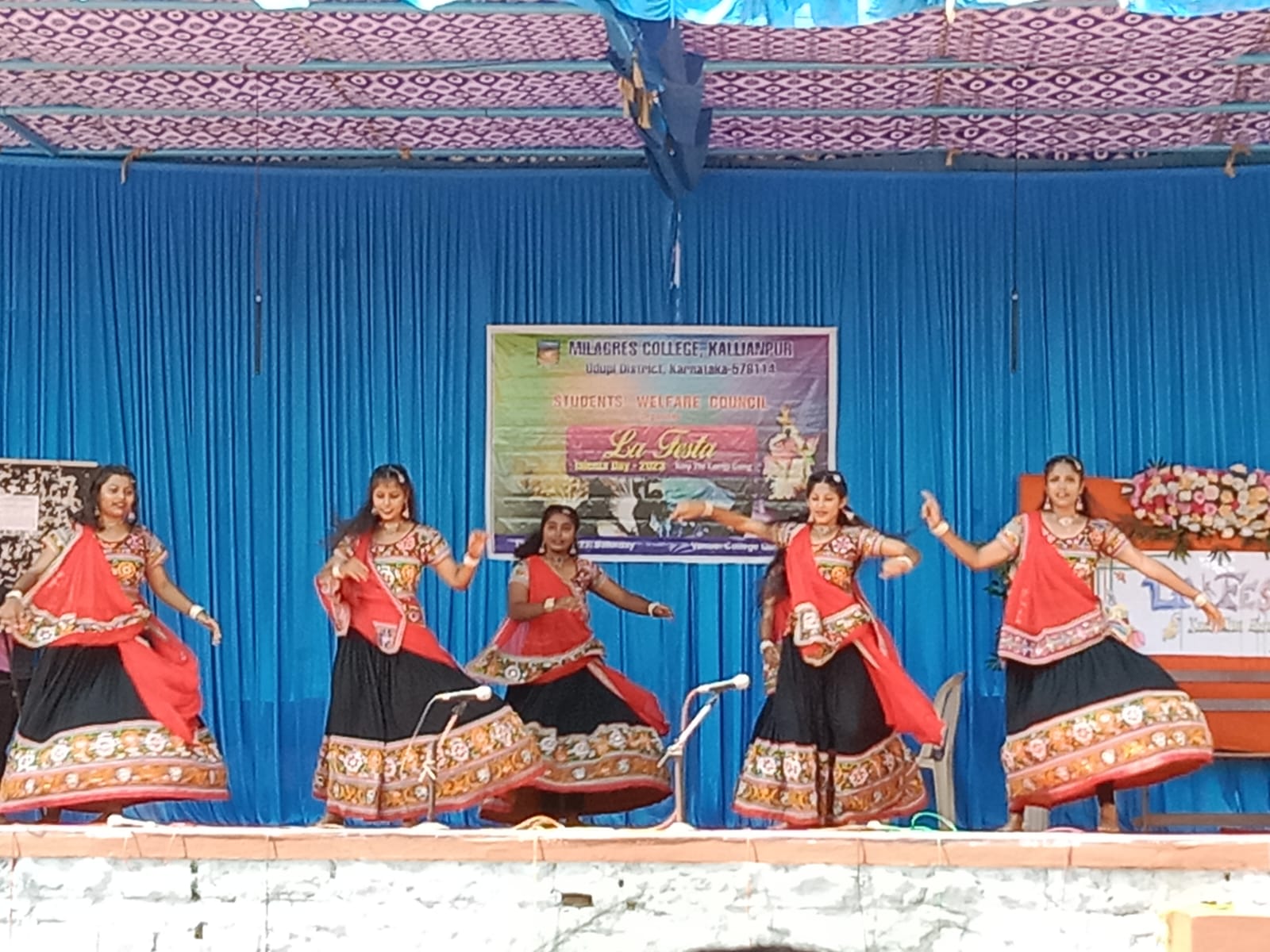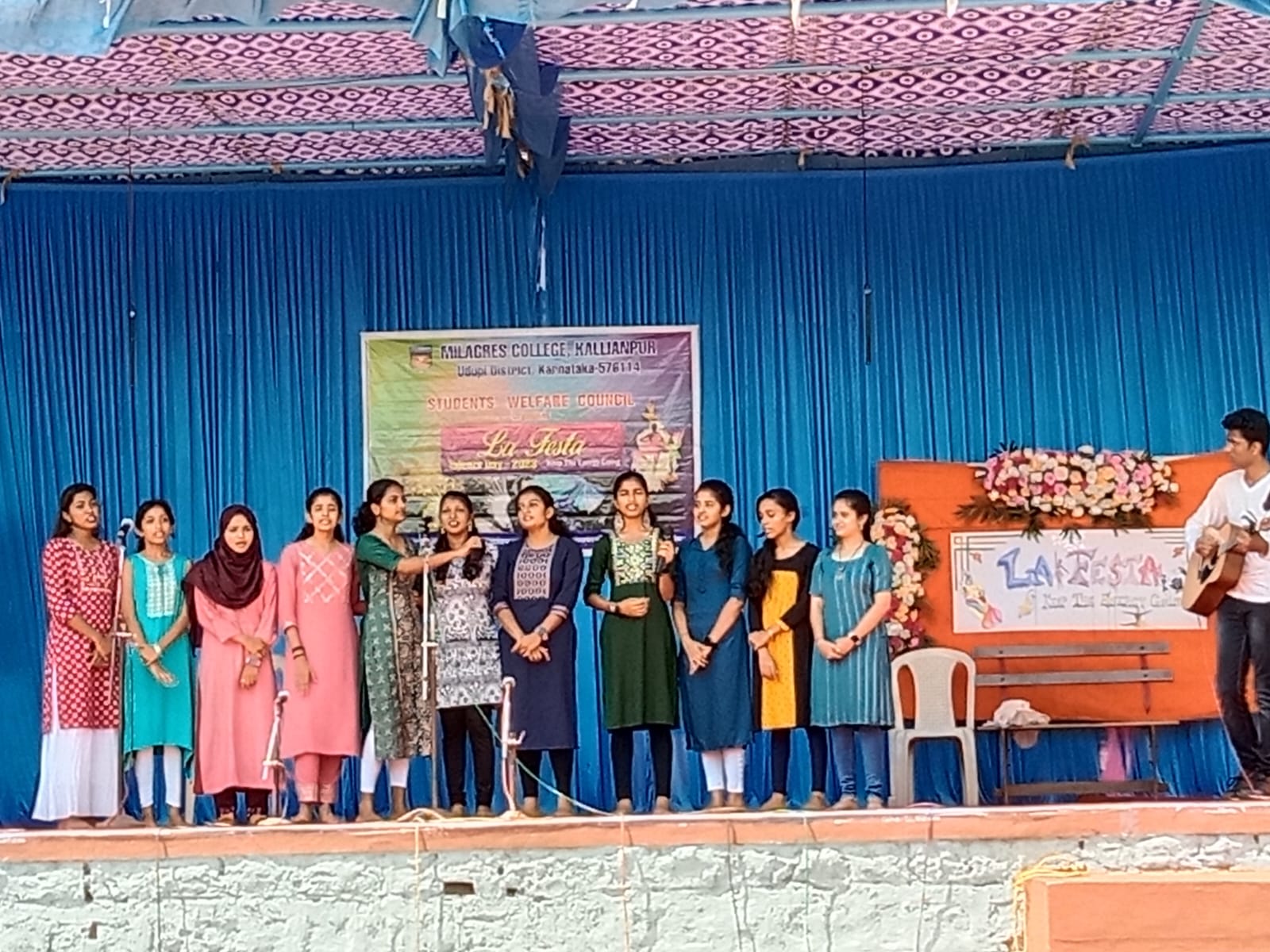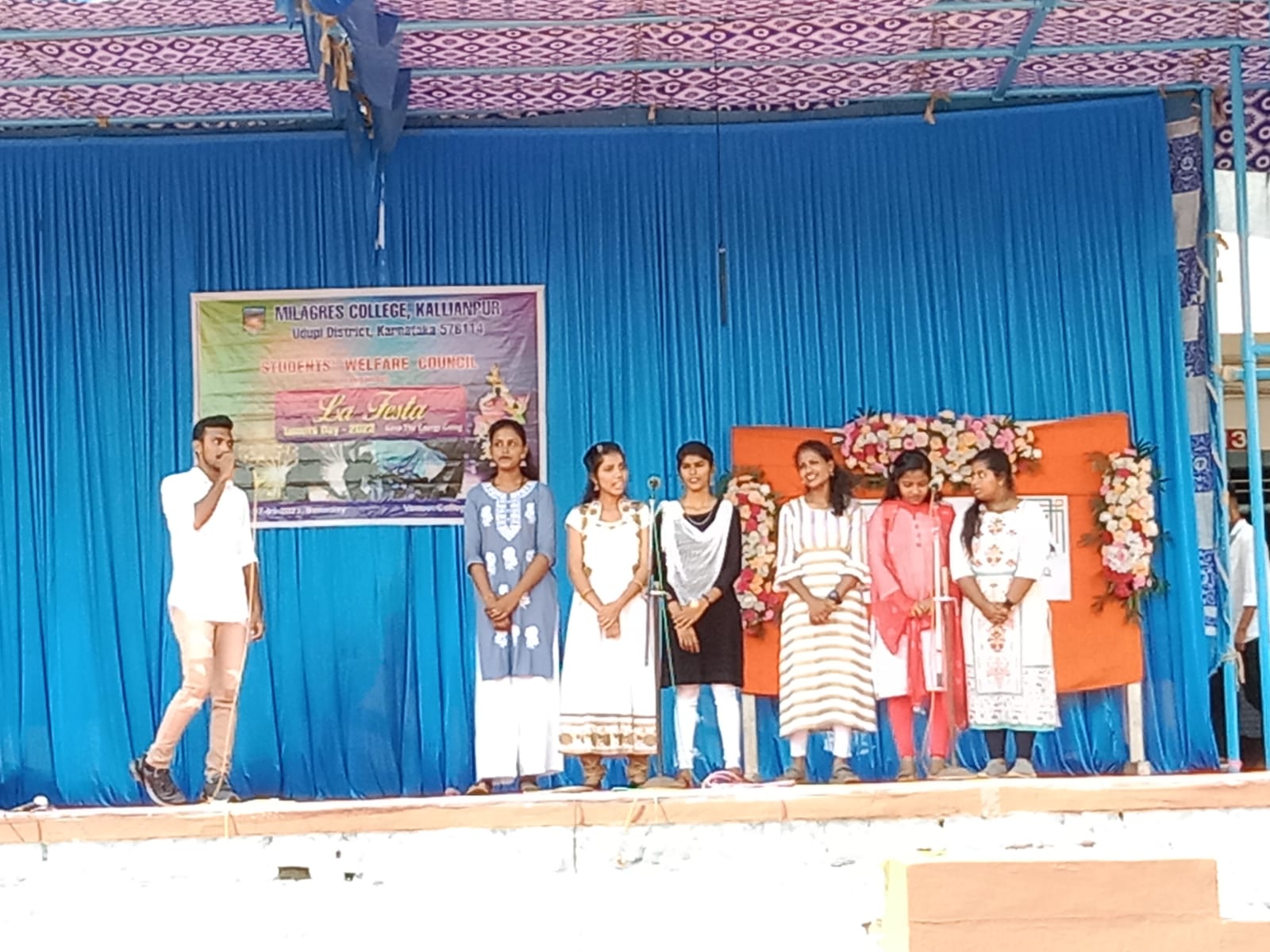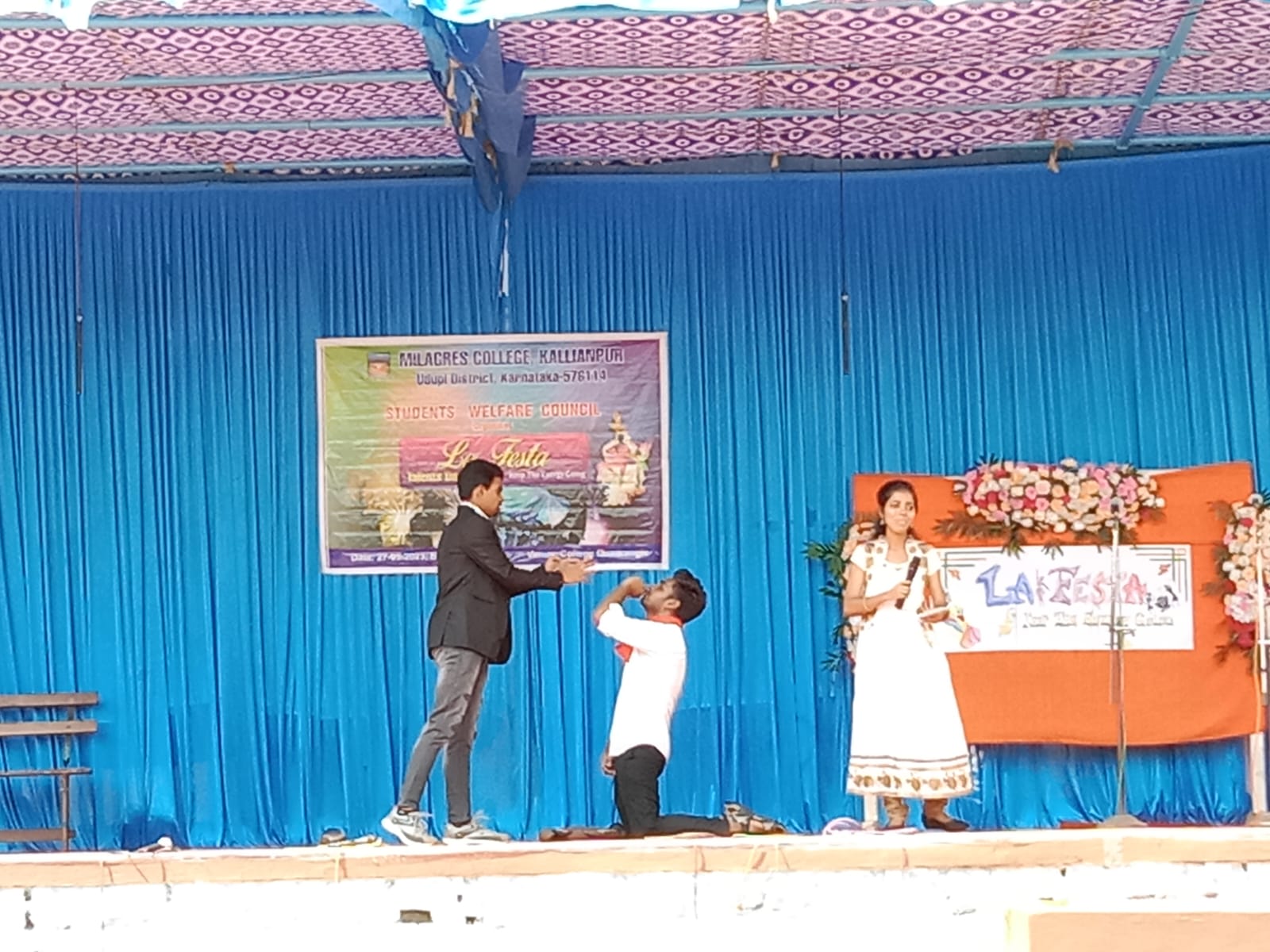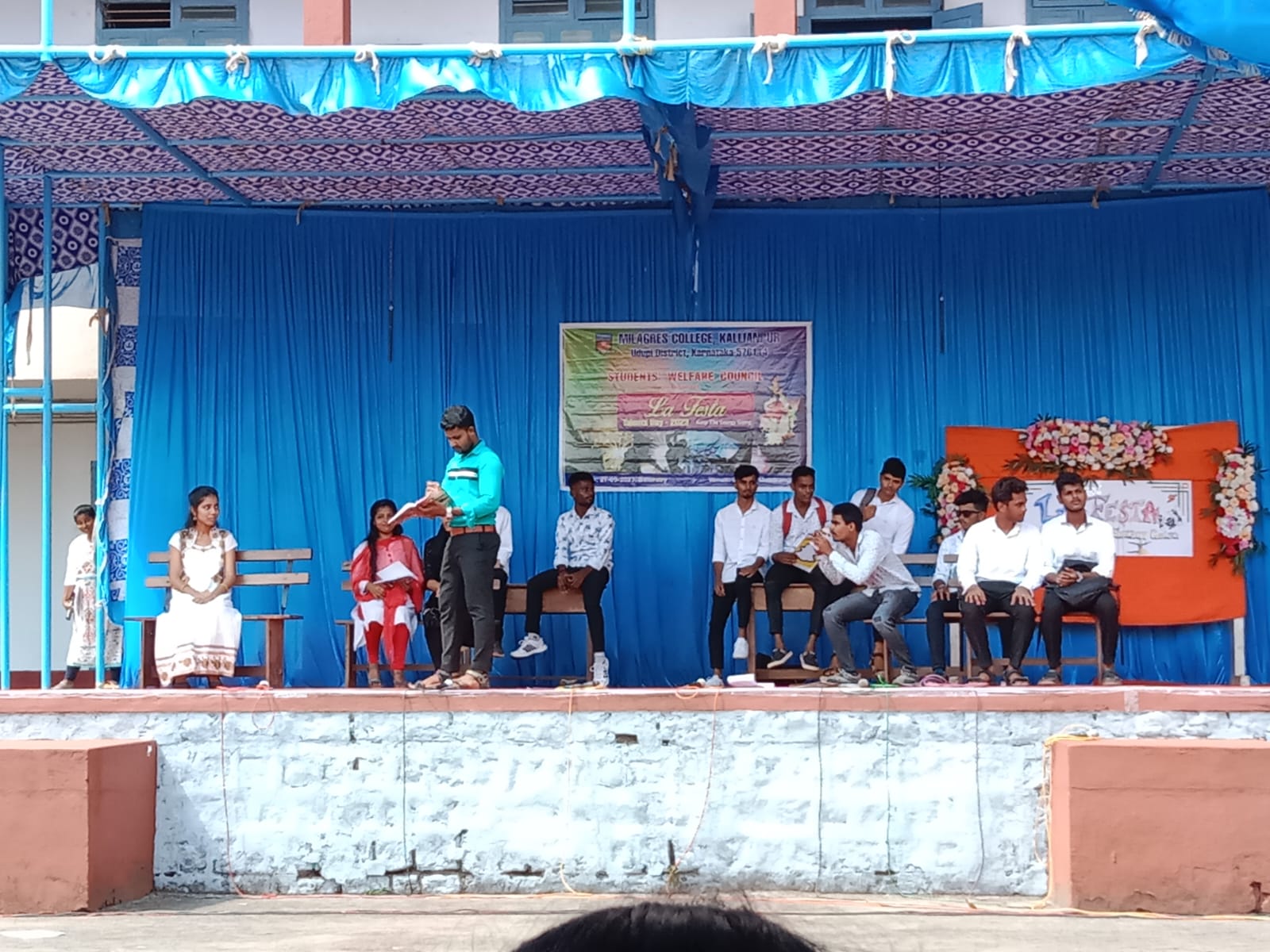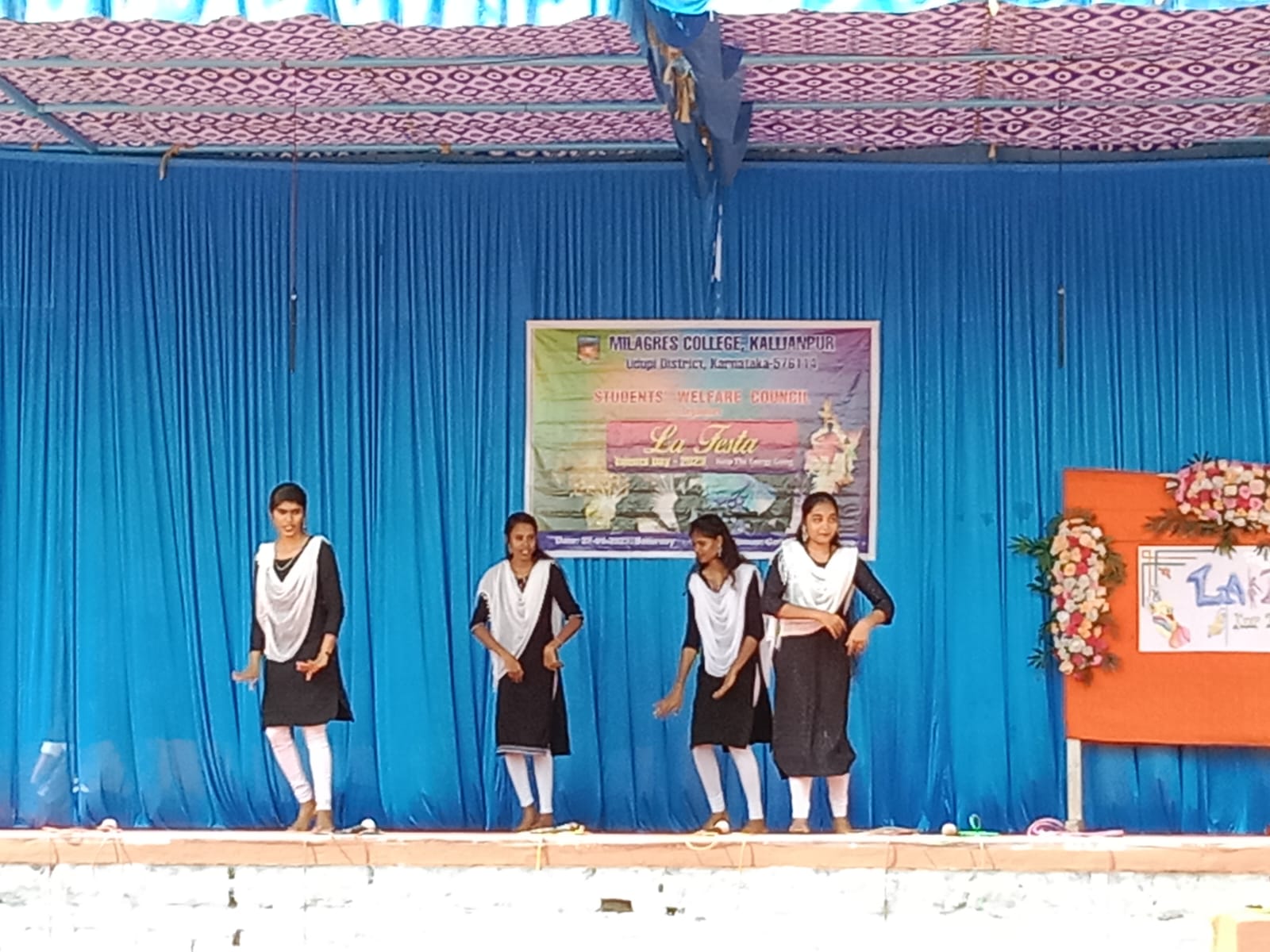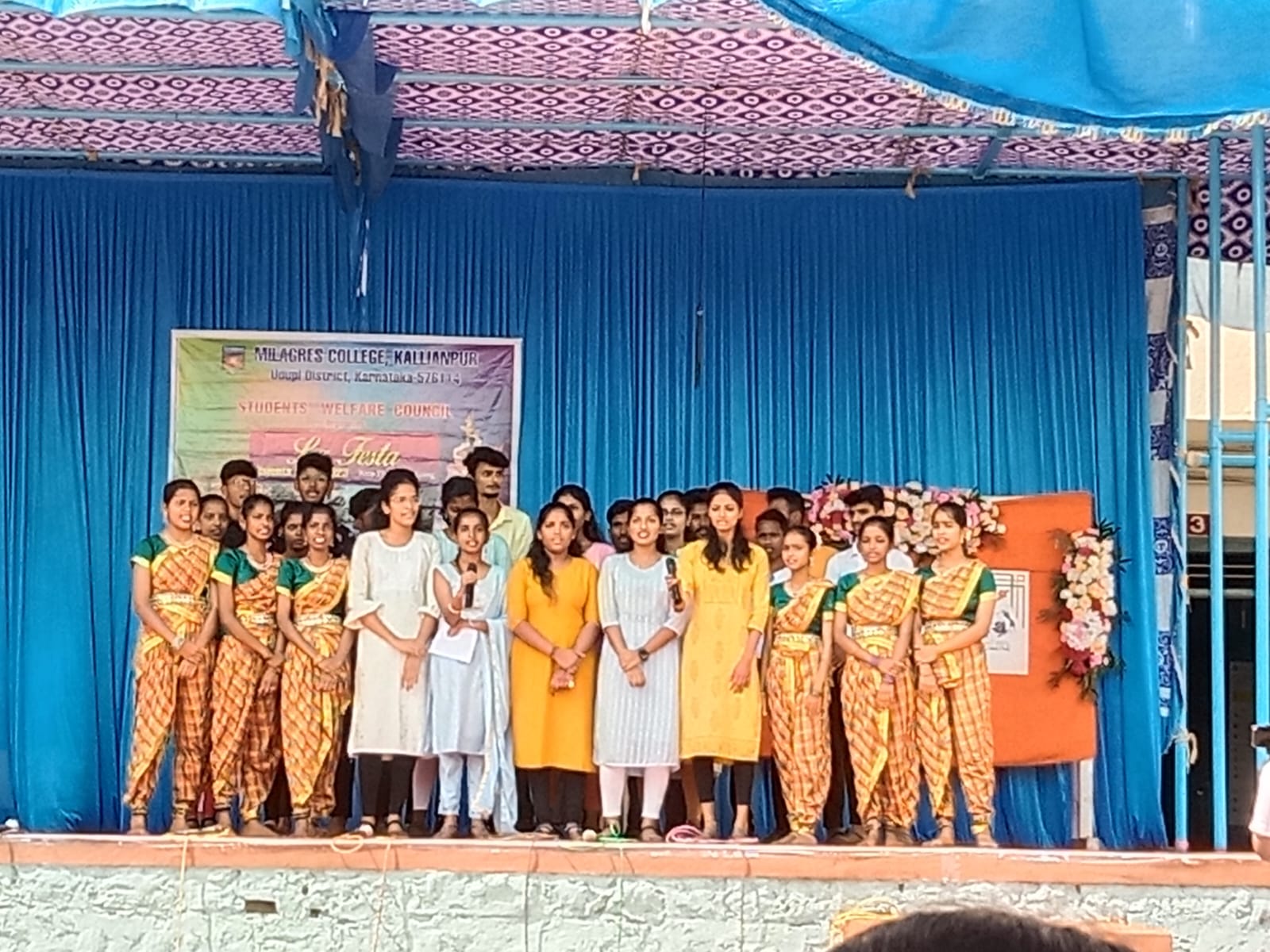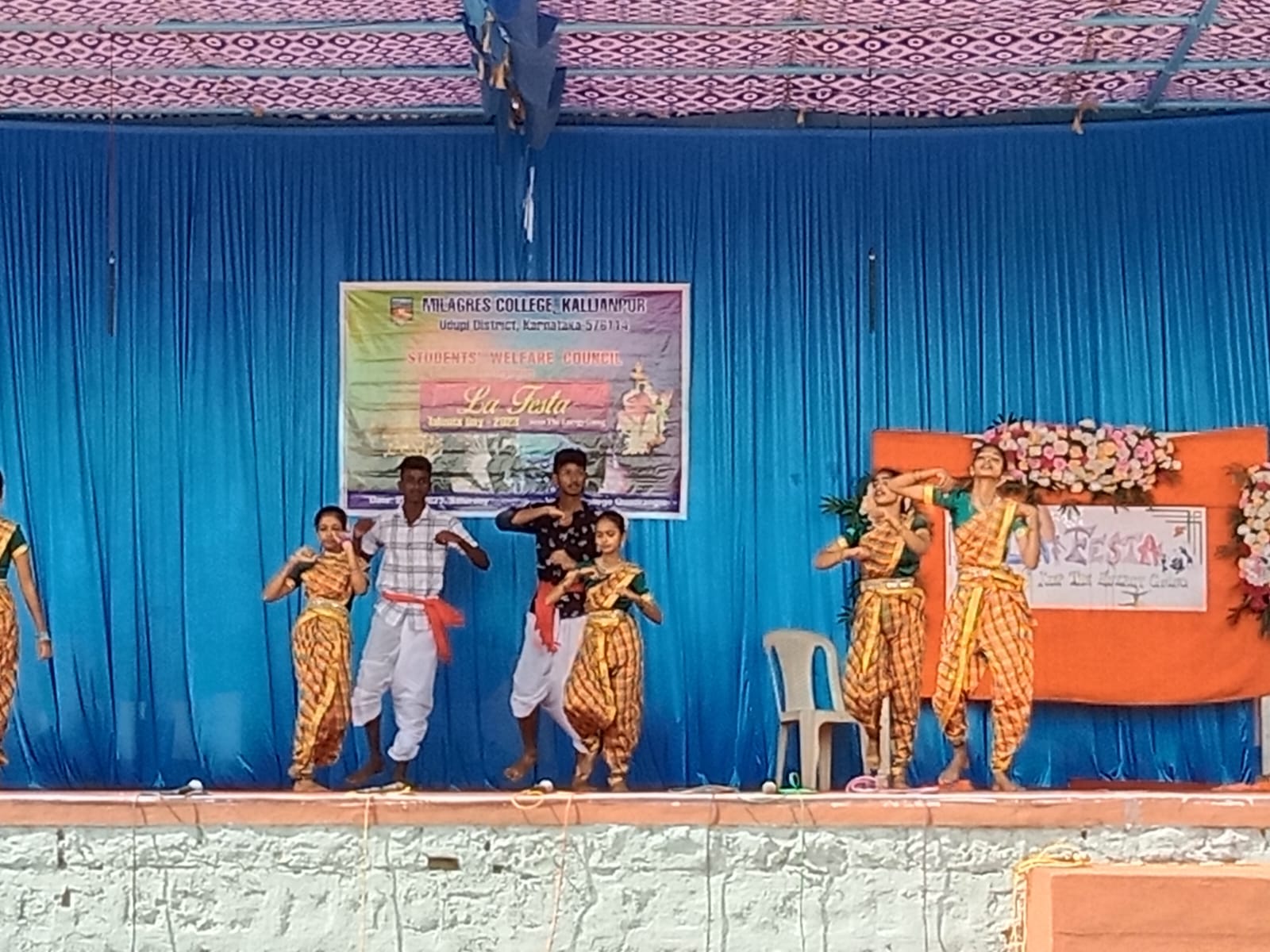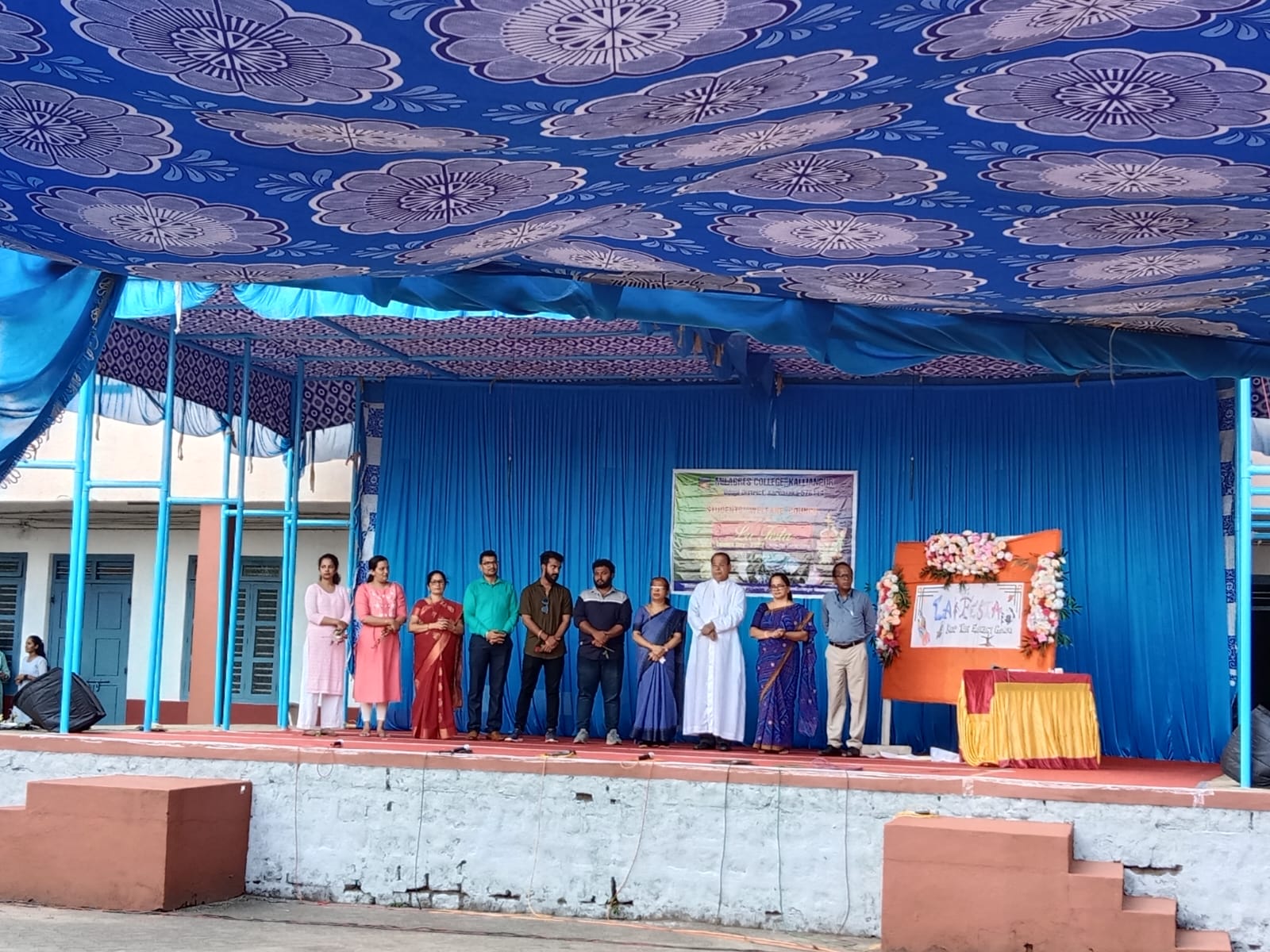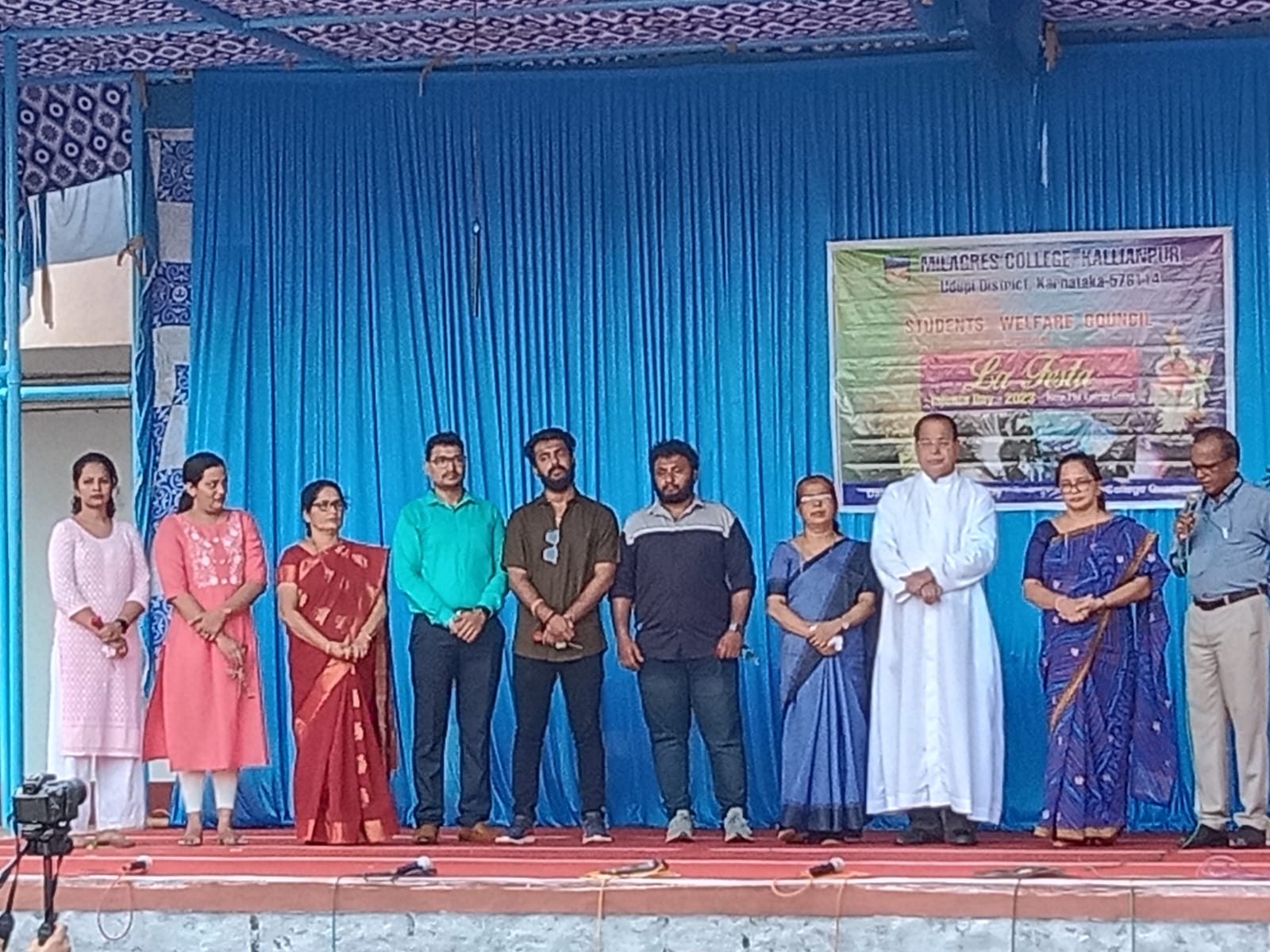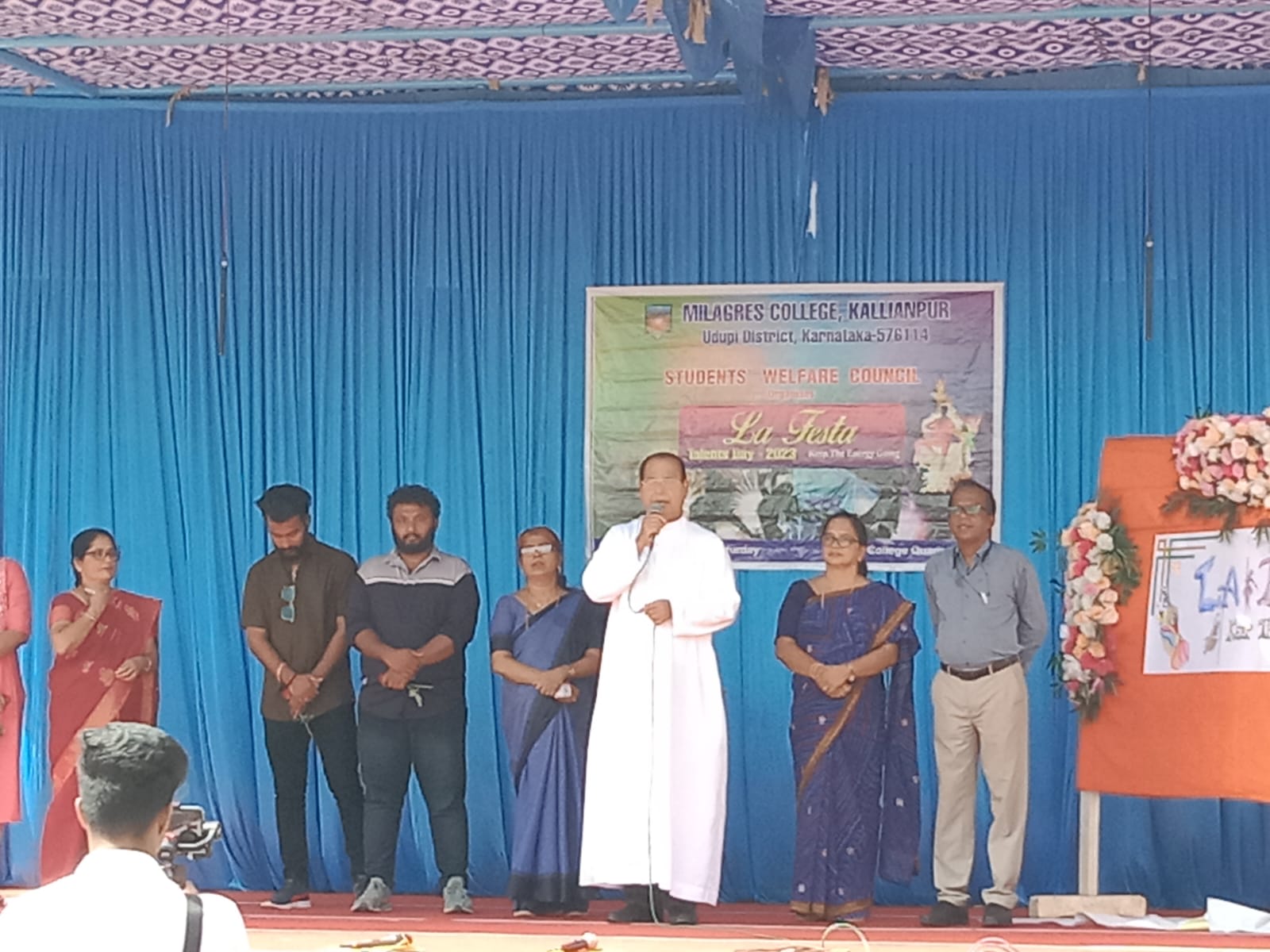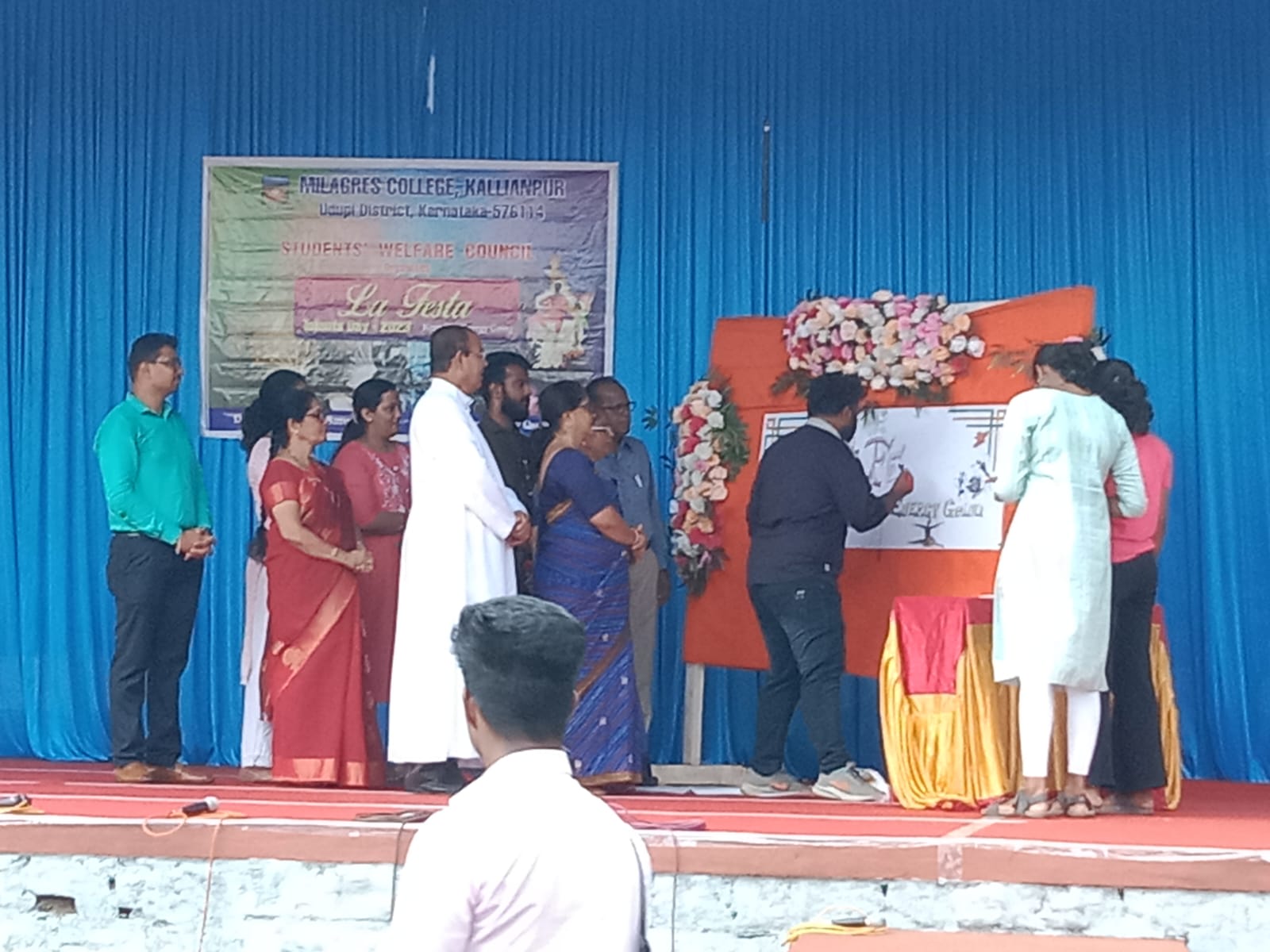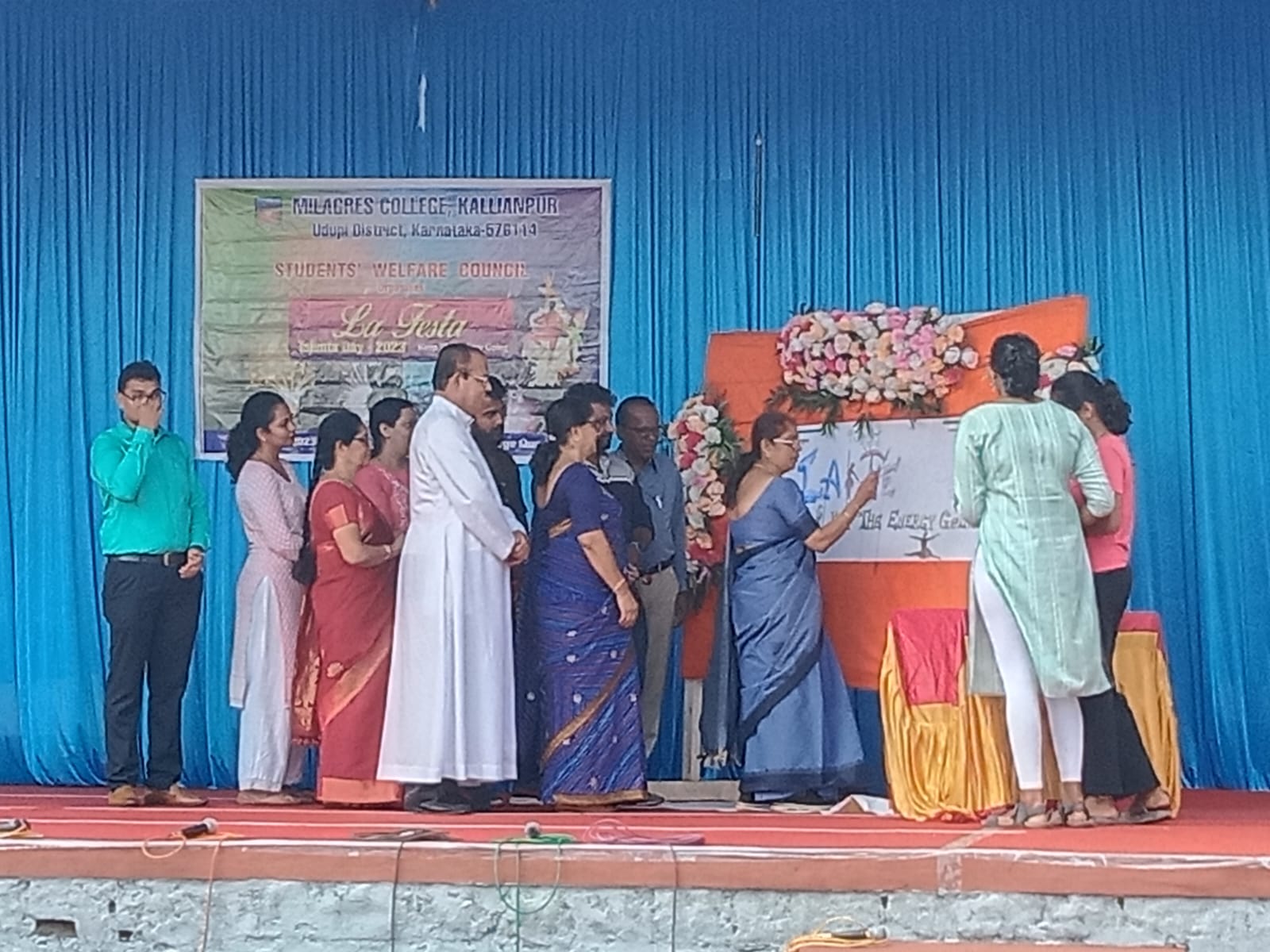 Once the LA FESTA 2023 – was given a start by the dignitaries on the stage, the Chief Guest V. Rev Fr Valerian Mendonca, in his inaugural address shared some thought provoking stories to ponder and congratulated the 'SWC for taking wonderful initiatives and wished all the very best to the students and teams to make the best use of opportunities….which eventually bring laurels for themselves, parents and family and the Institution….'
Dr Jayaram Shettigar in his message recalled 'the talents of yester years who begun their cultural journey from here, now earned a name of repute and respect in the society, always a proud feeling for all of us in the Milagres College and role model to imitated by youngsters' he told. The short stage program was concluded with vote of thanks proposed by Ms Wilfa Lewis.
What followed was a package of wholesome entertainment – neatly presented by 11 Teams a mix of skits, group dance, singing, display of distinct solo performances over the set of drums, flute, guitar, key board etc. as the spectators applauded the performances with claps and echoing the appreciation. Truly the young students invented new ideas, college life, experimented some innovative ways to convey socially relevant messages - excessive use of mobile, drug abuses, alcohol was really wonderful experience to watch and retain and carry home.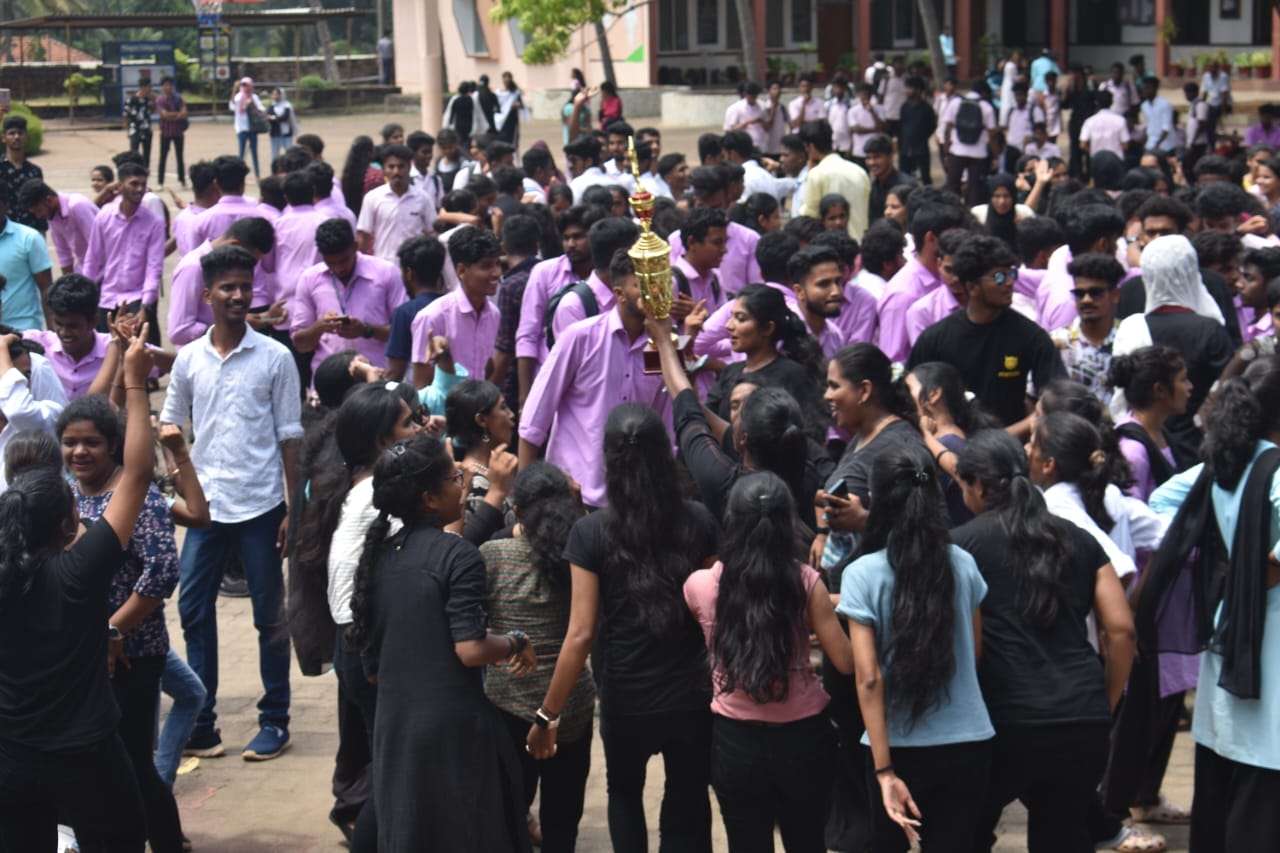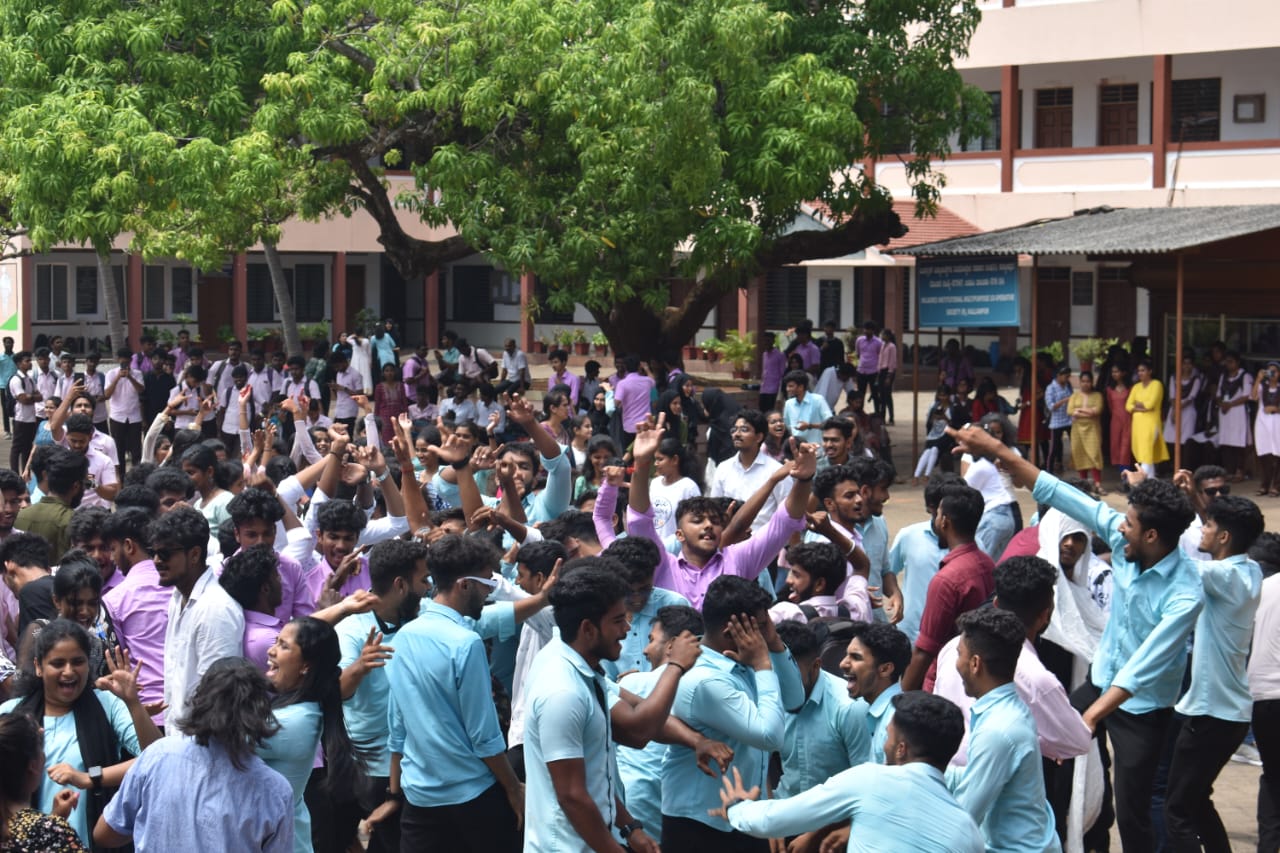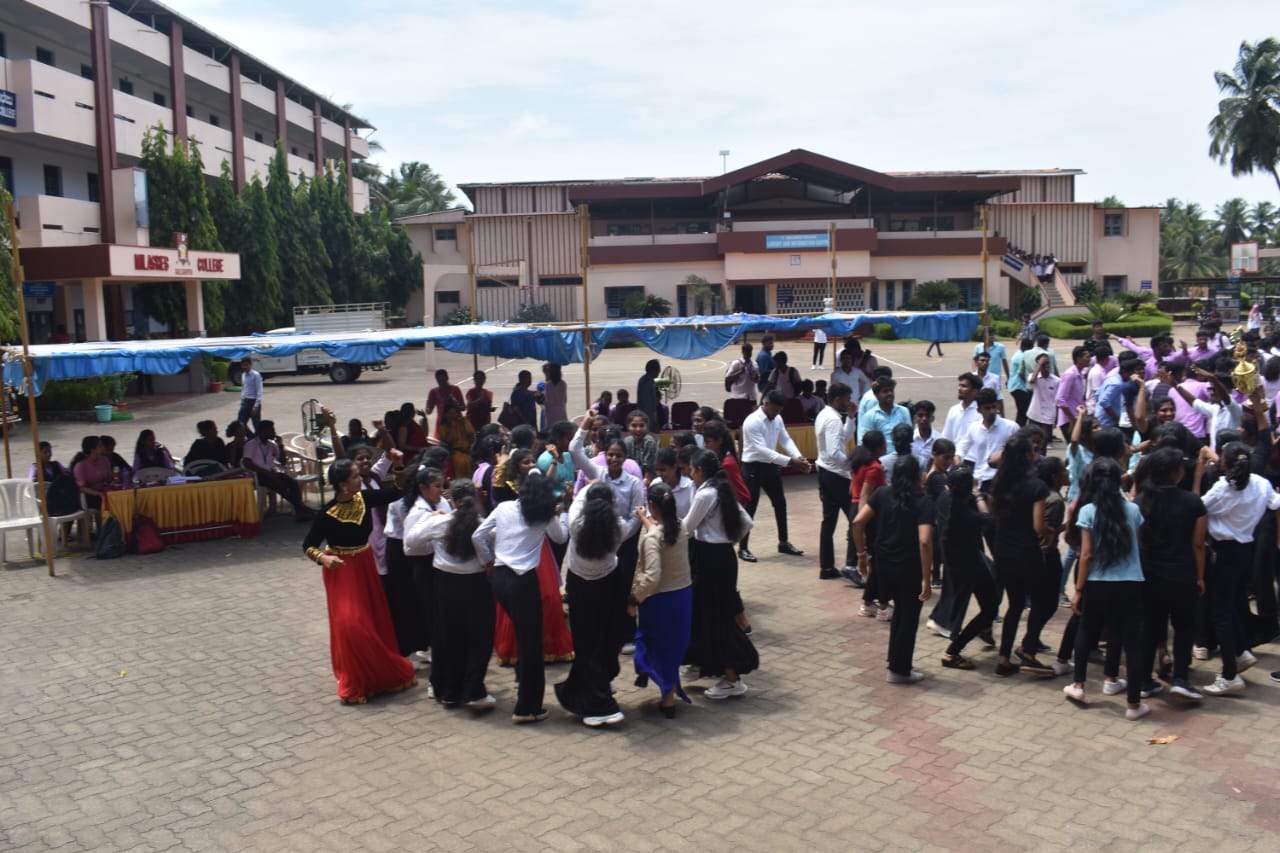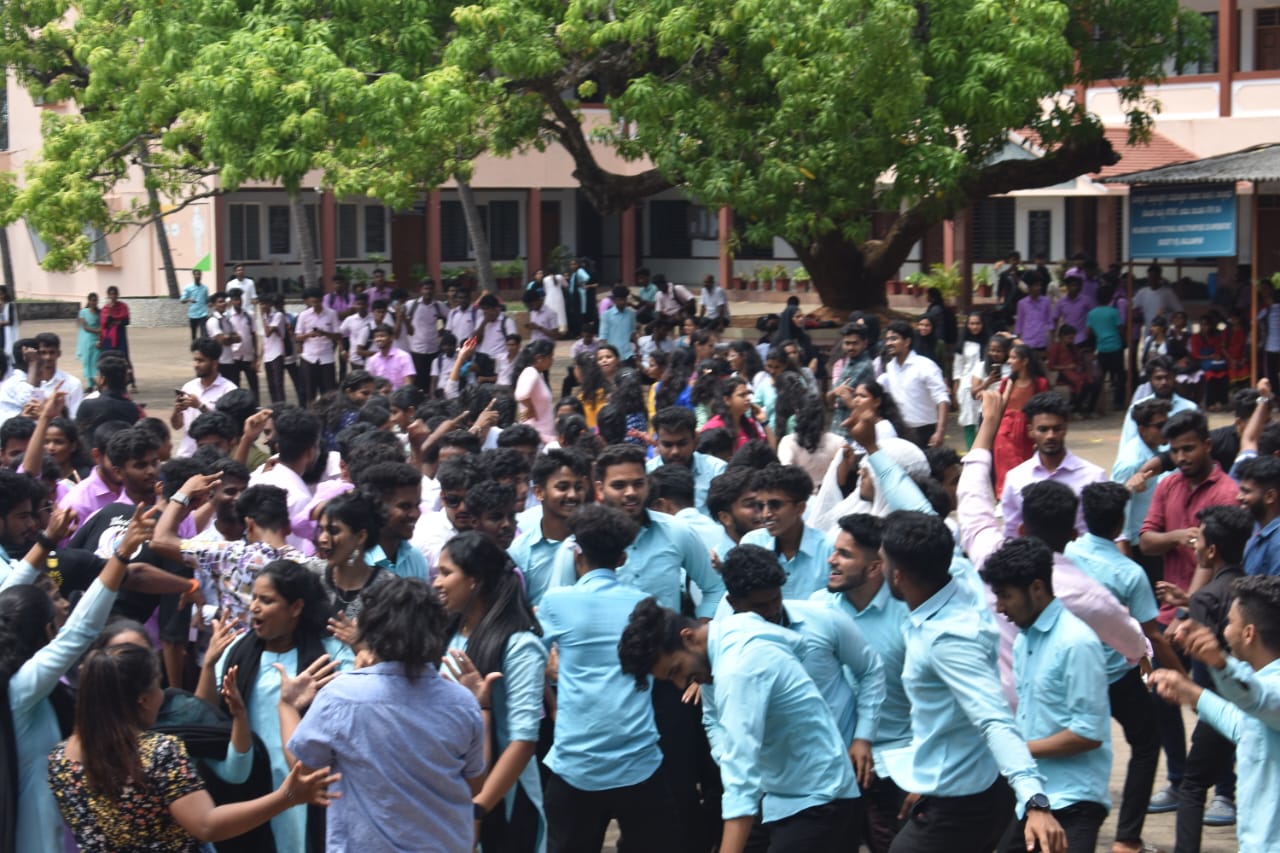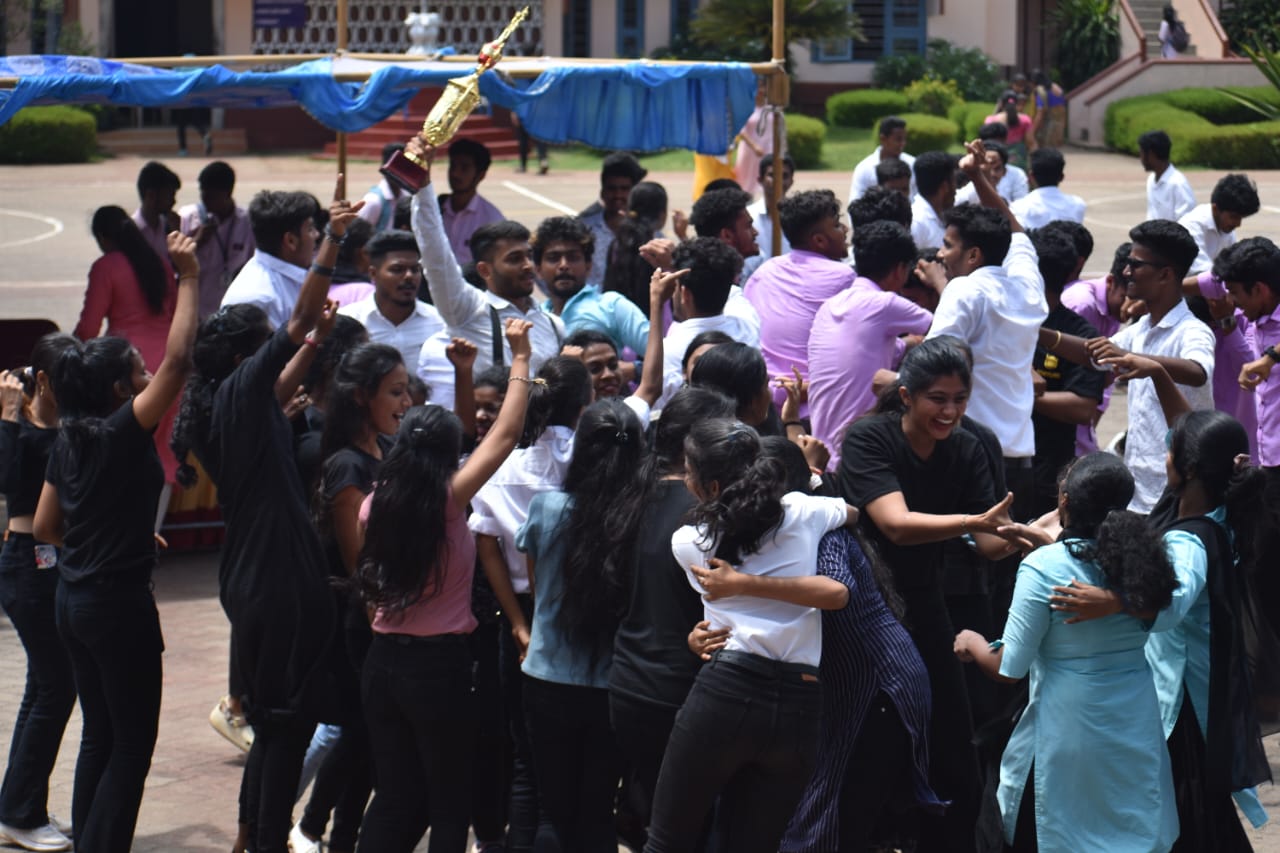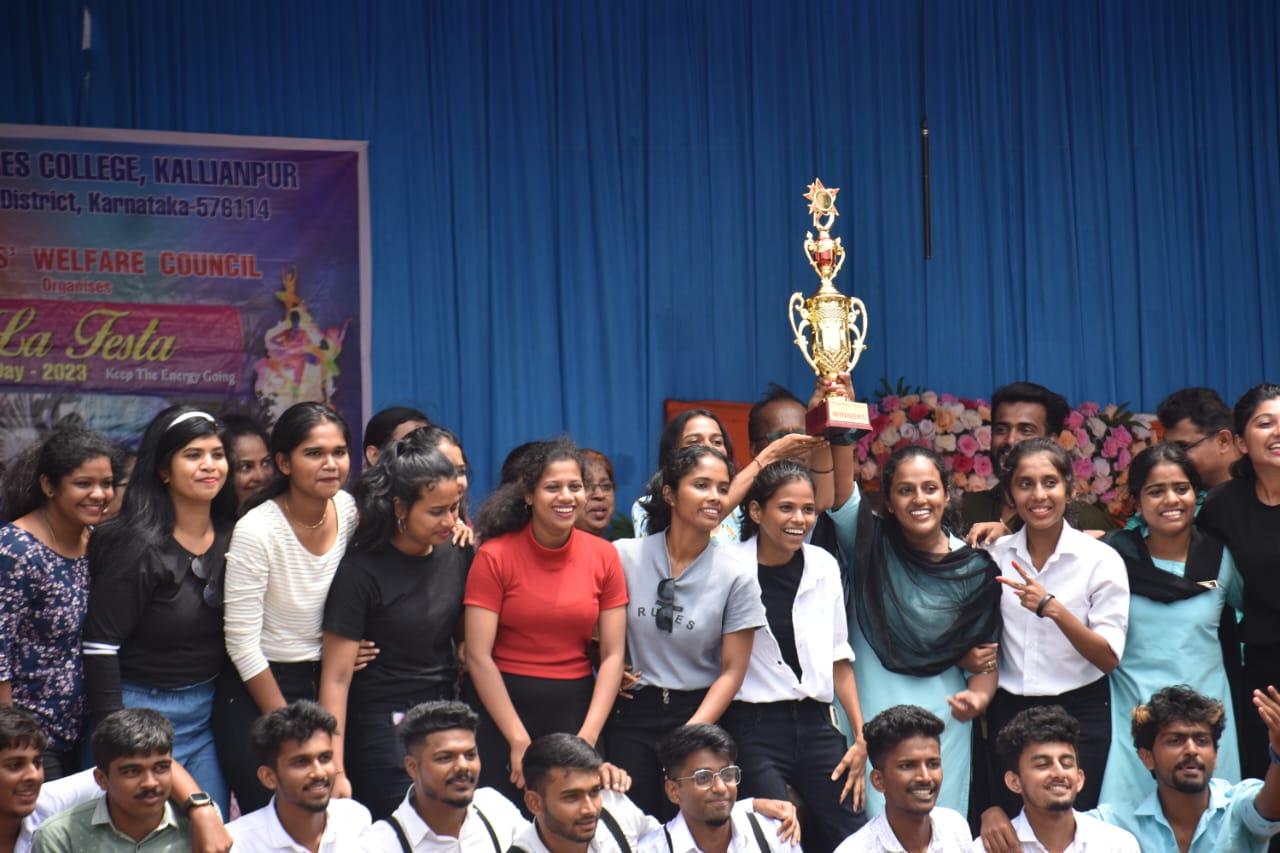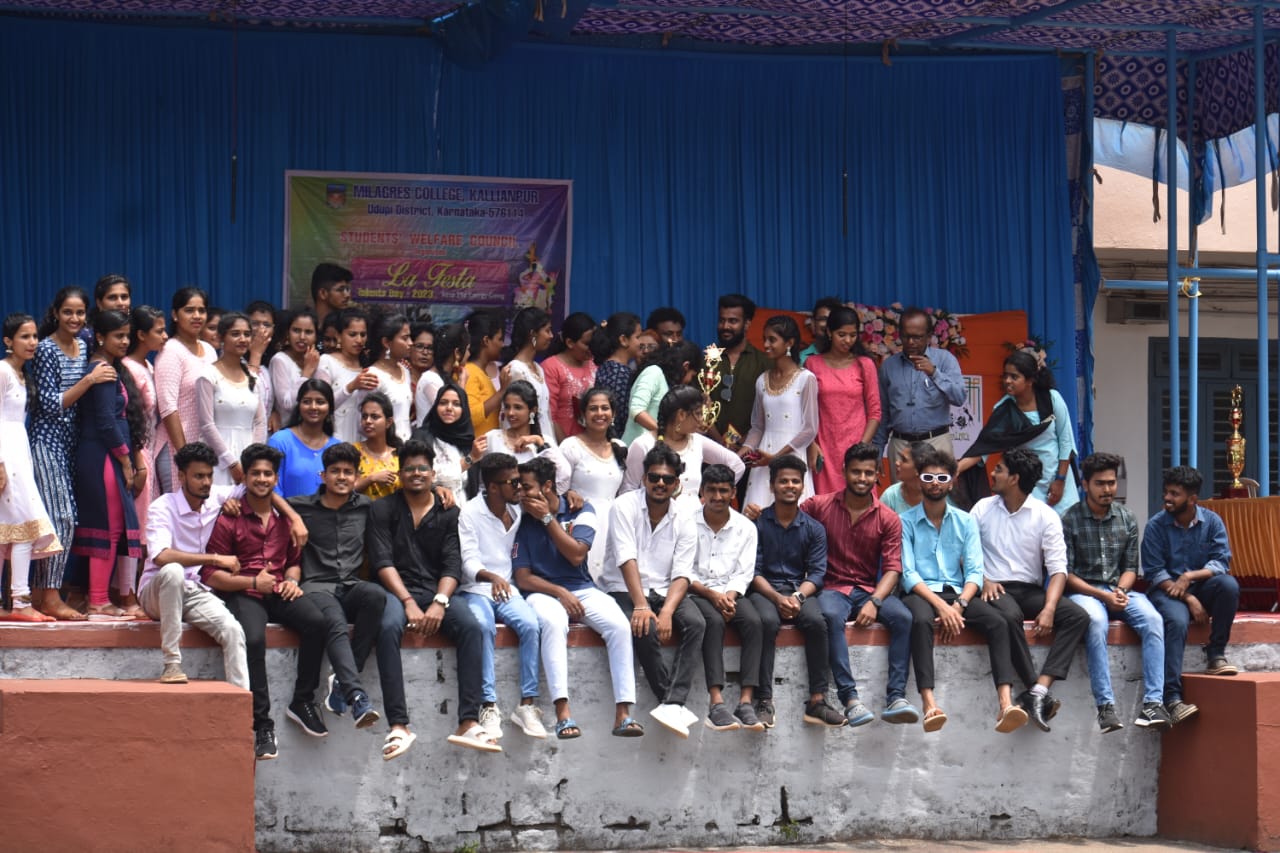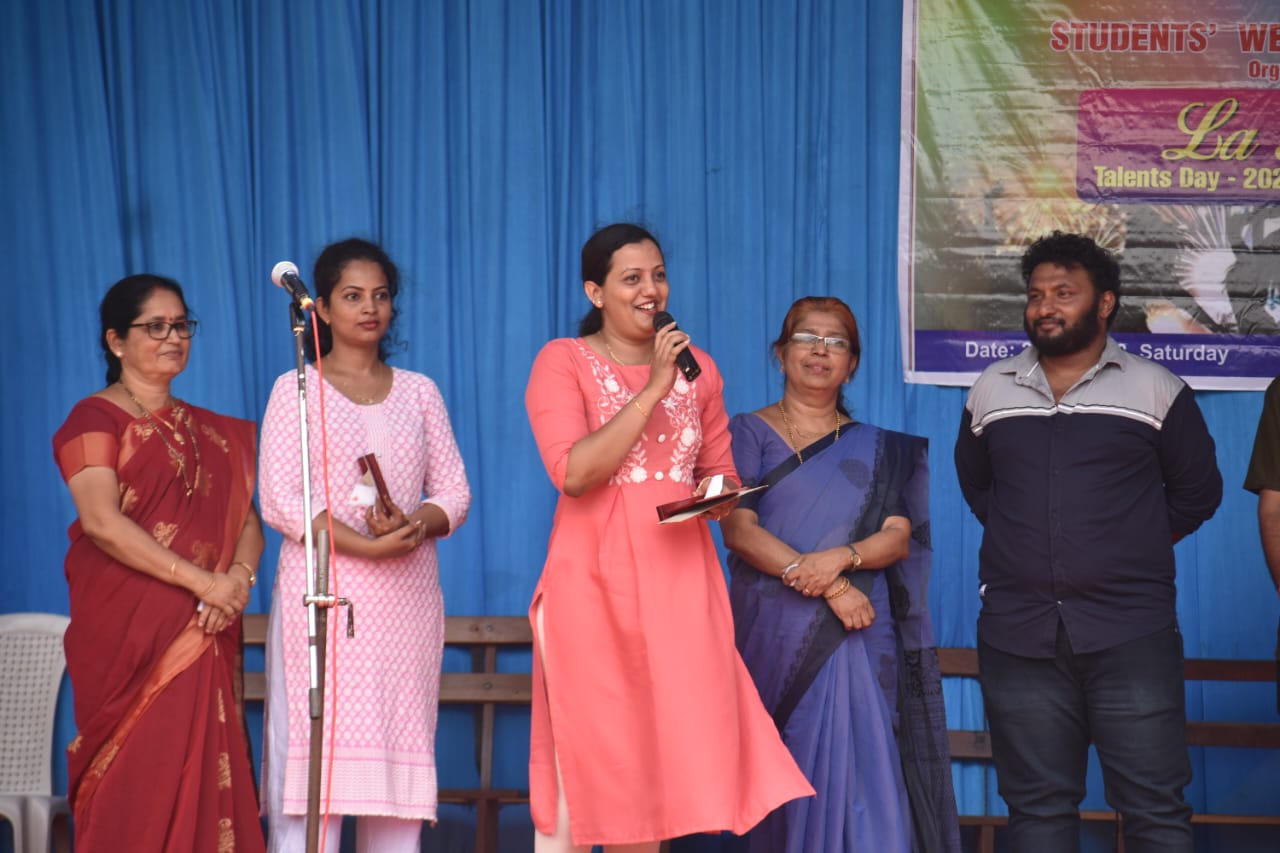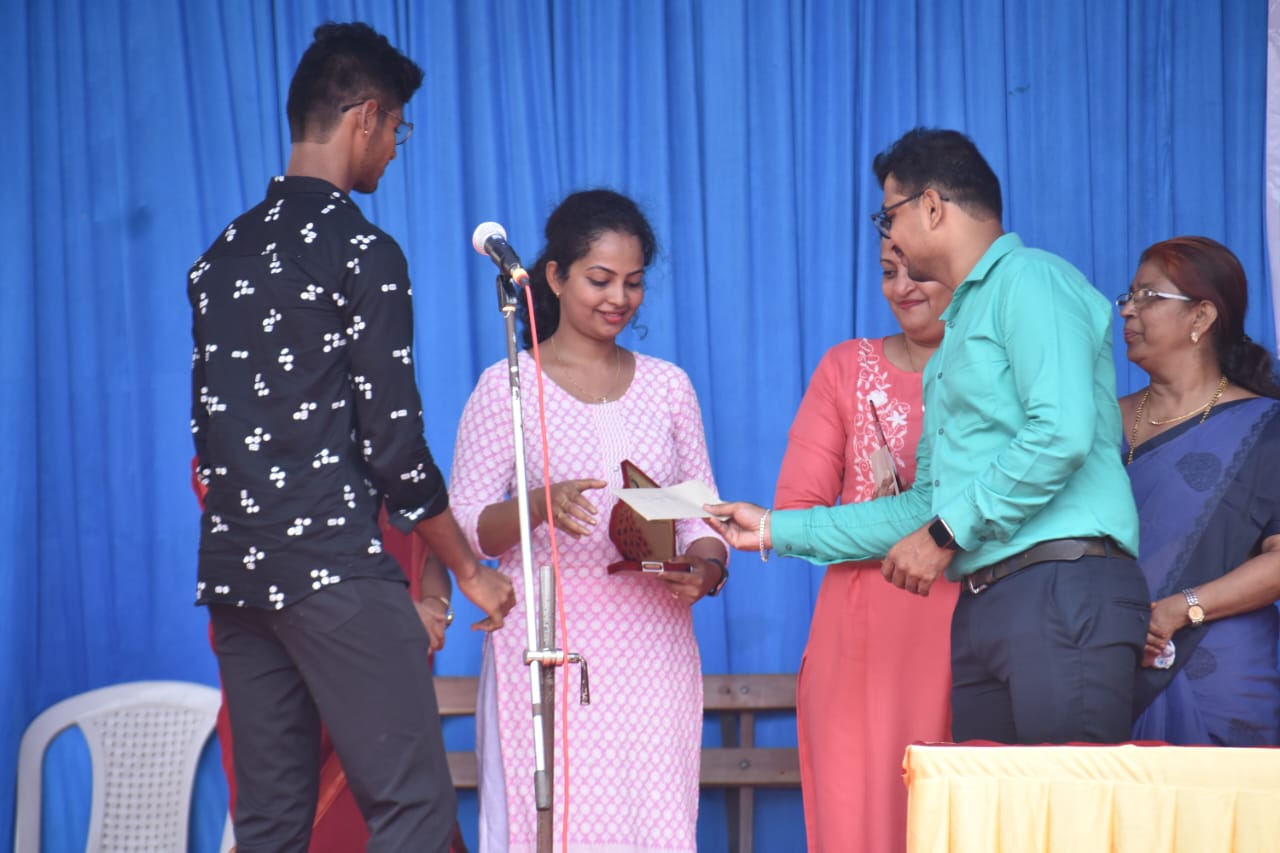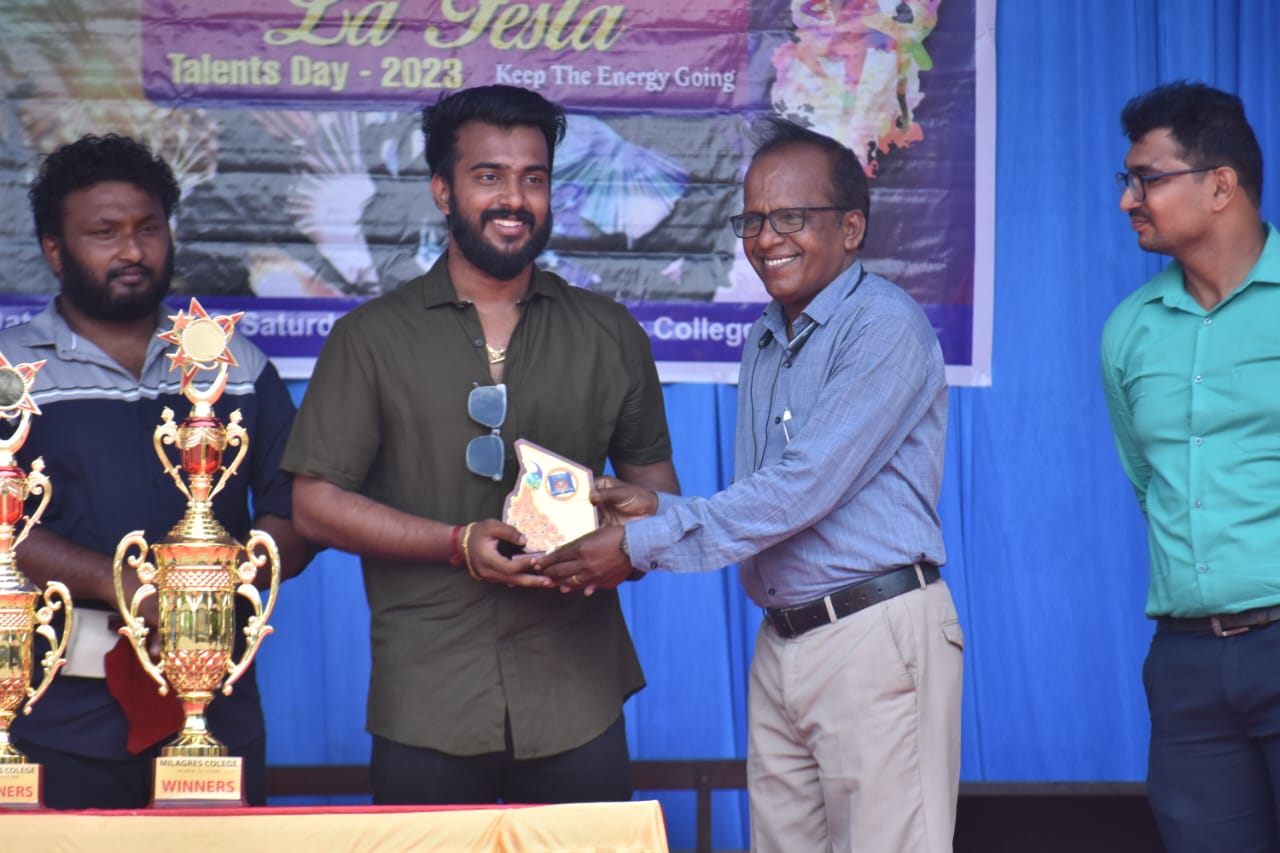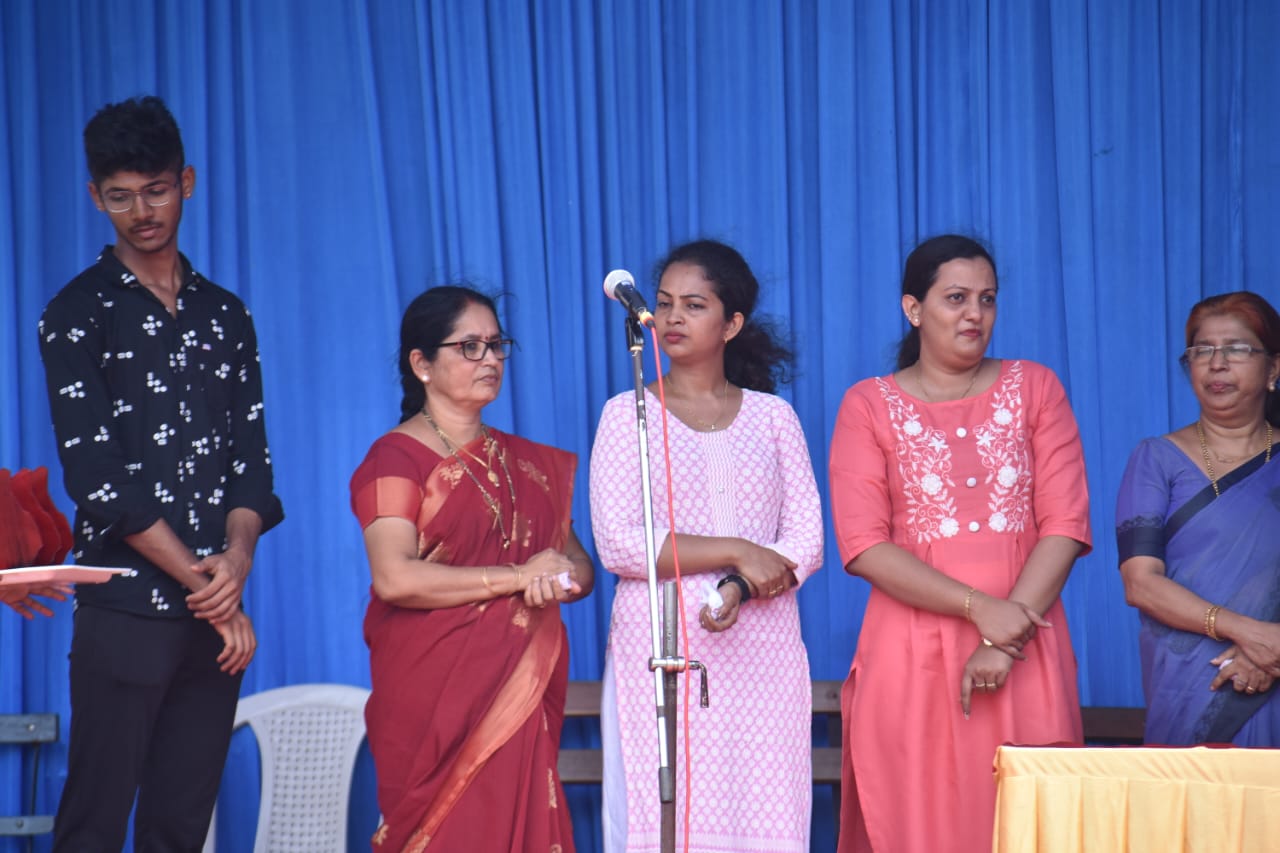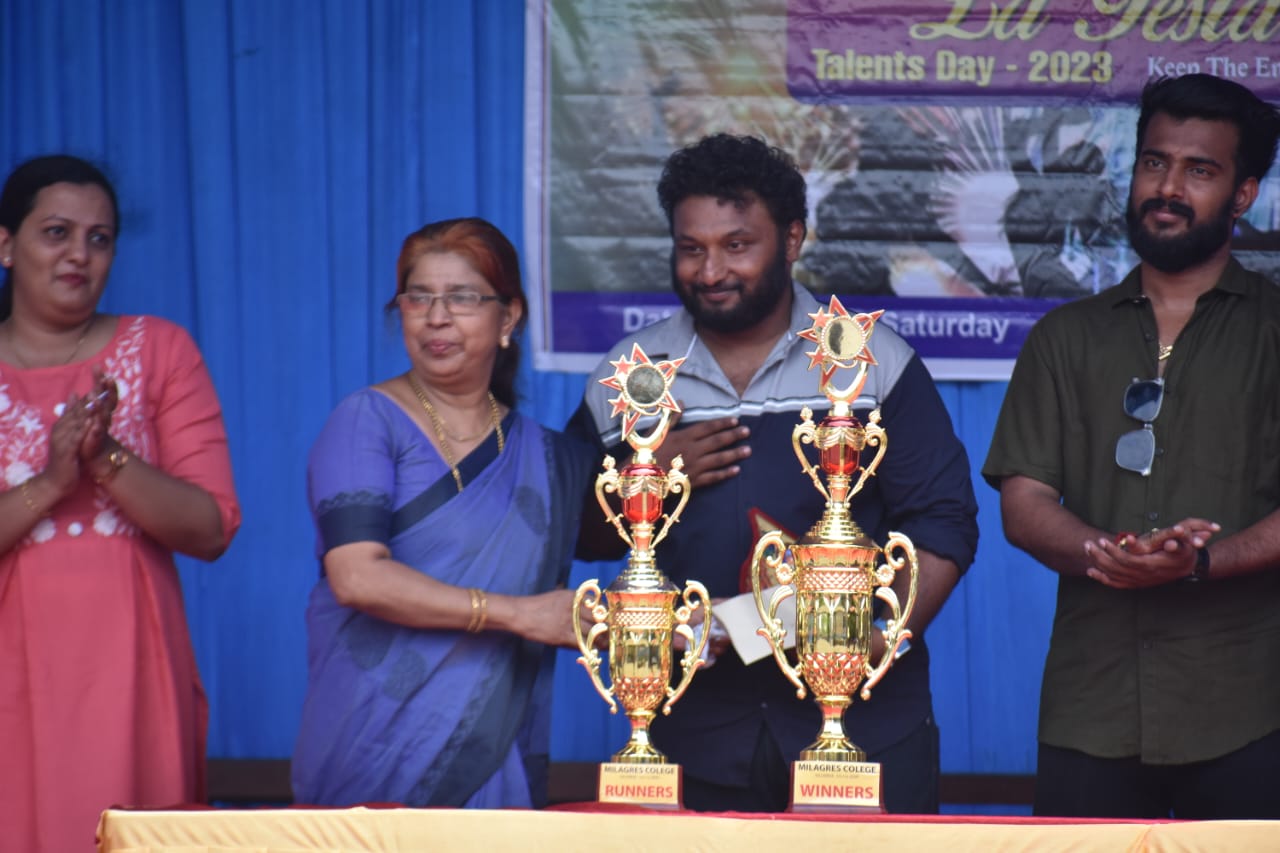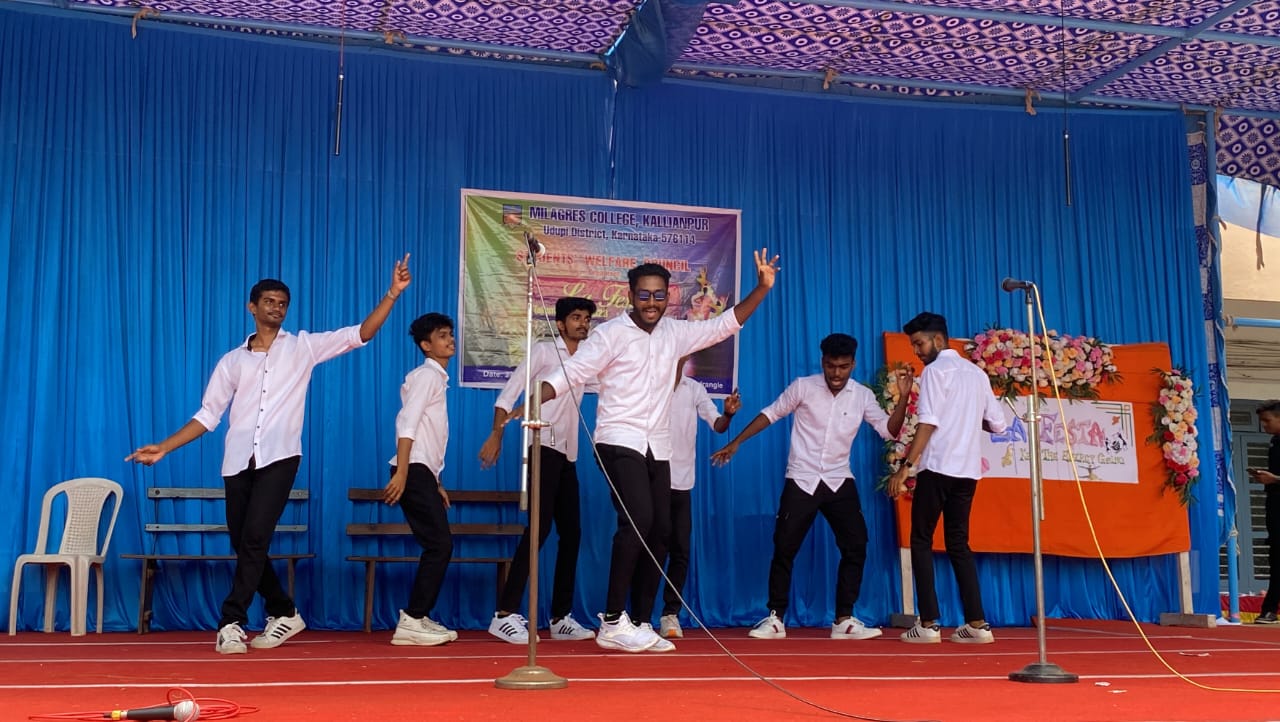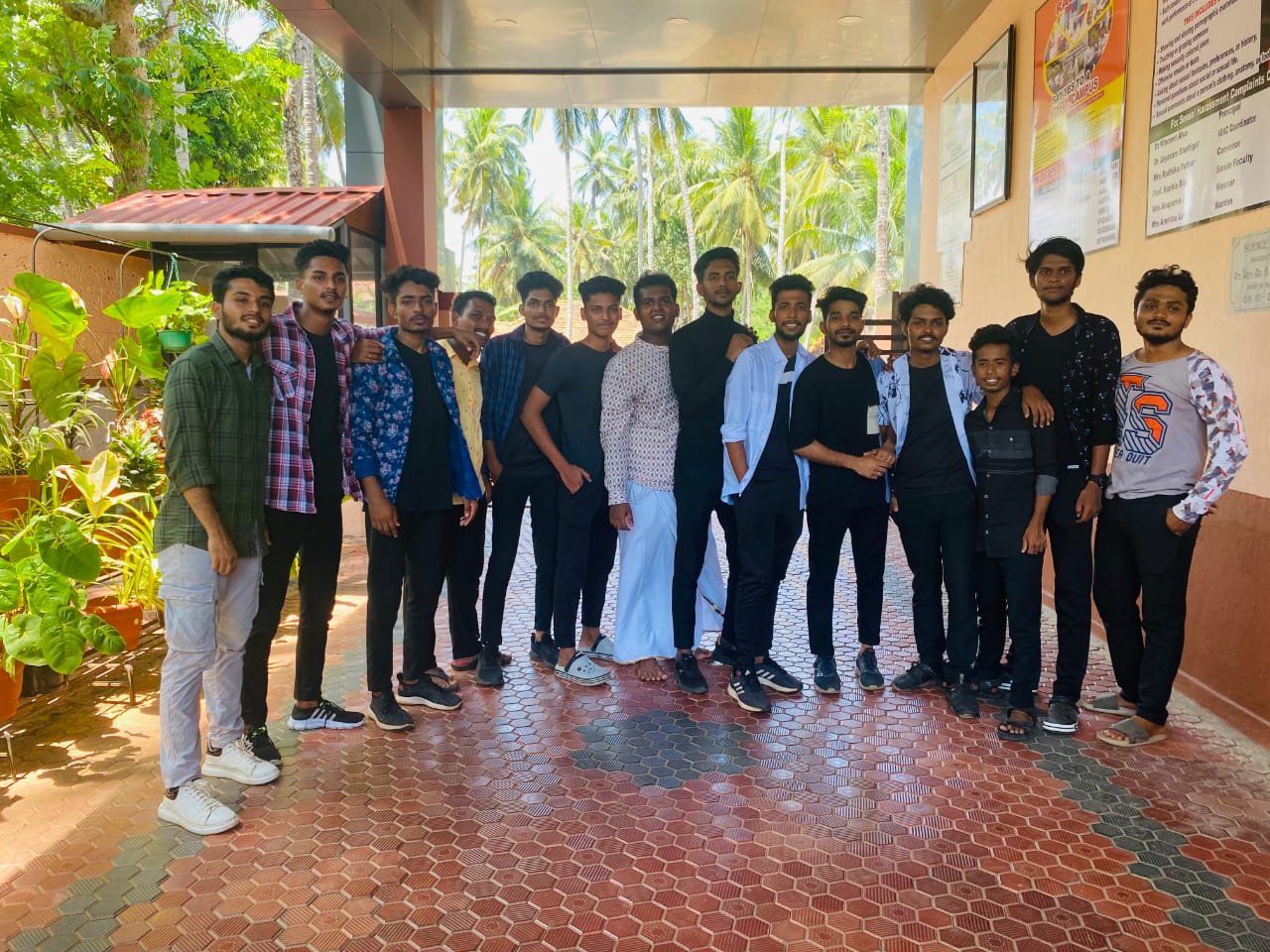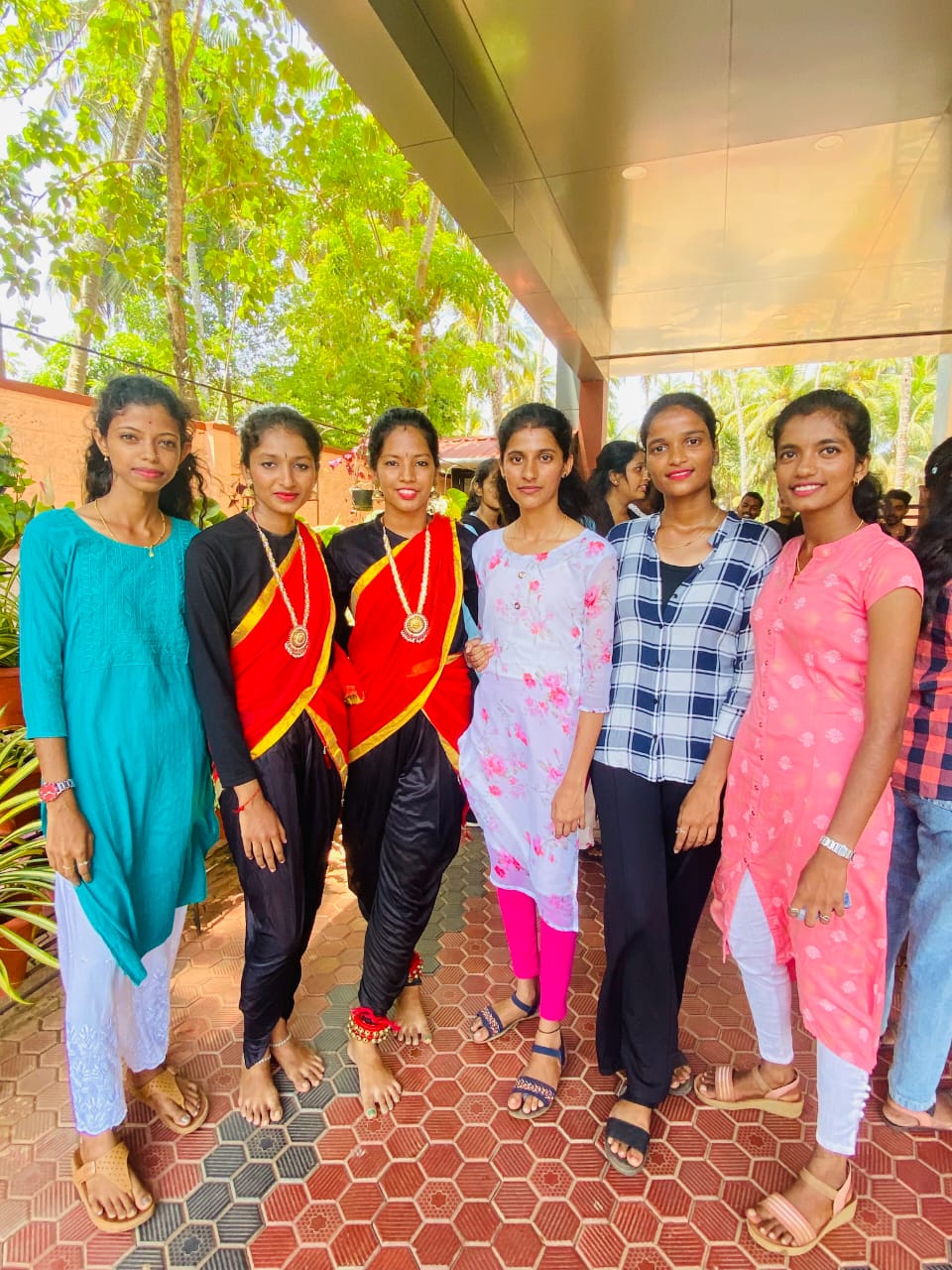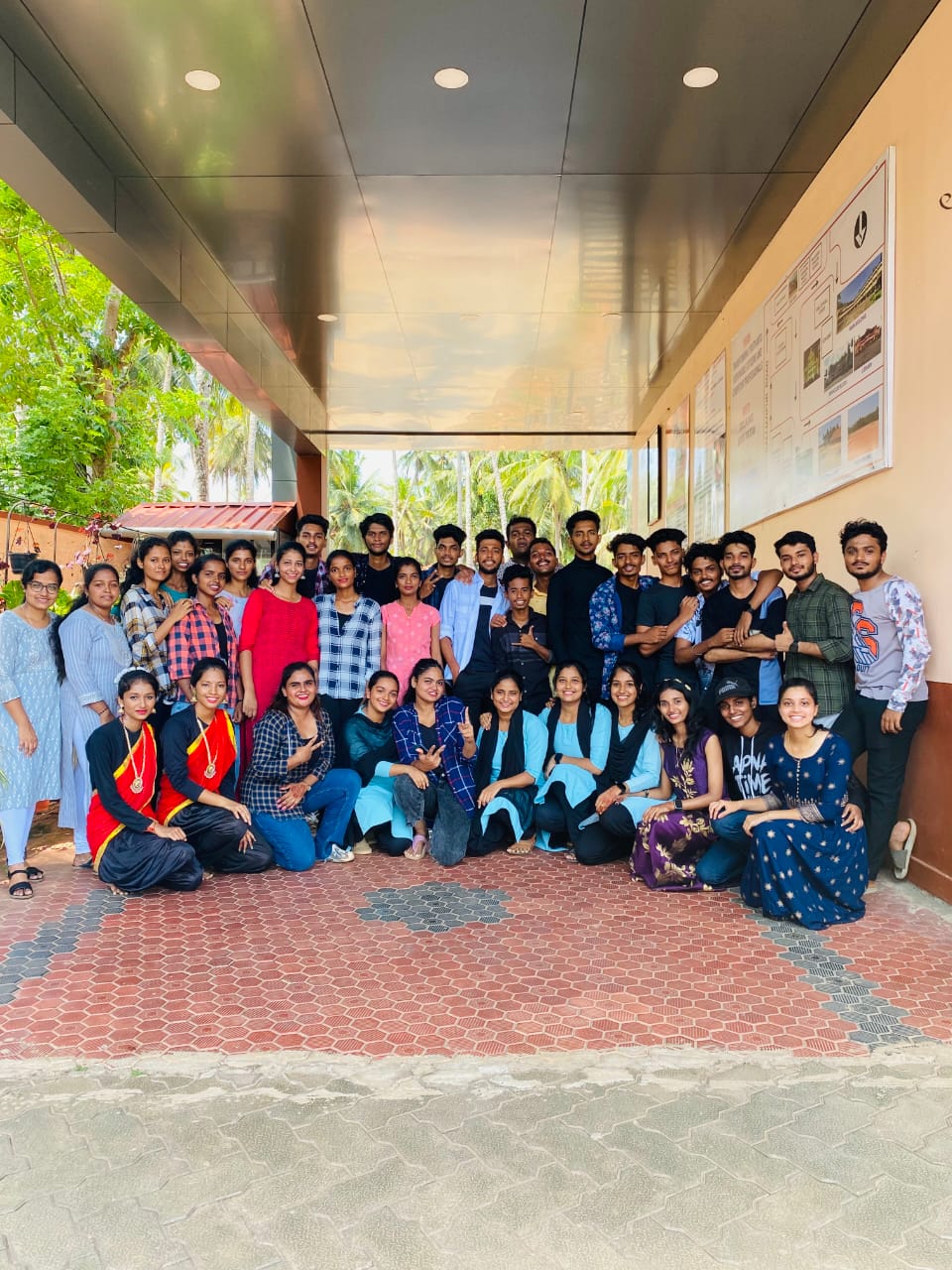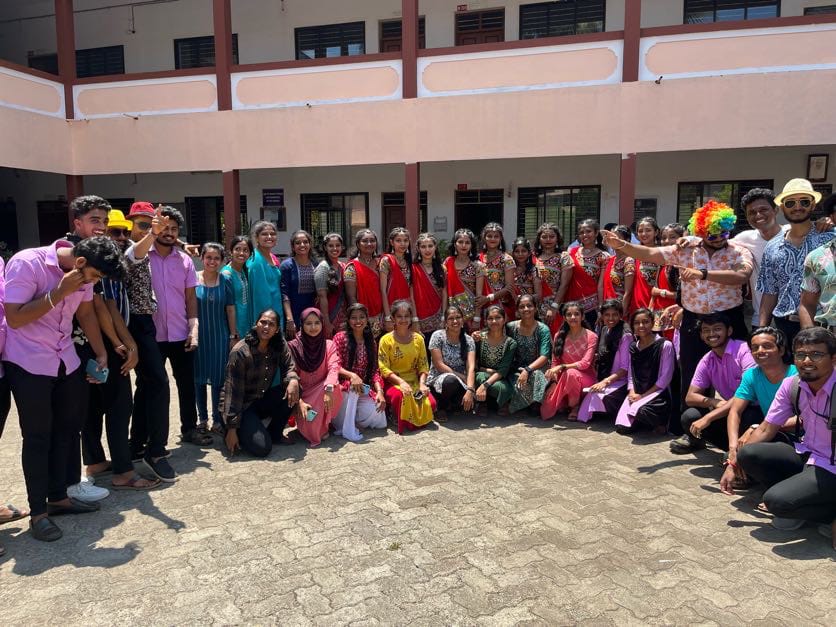 The Students Welfare Council planned a day full of activities and the valedictory and Prize distribution programme was held at 1.30 pm as Final B. Com B, deservedly won the prestigious Winners Trophy and their counterparts Final B. Com A Division declared Runners up in the closely fought competitions. However it is worth a note that all the teams had some points or the other may it be of excellence, quality, presentation or whole package.
It was a tough time for judges – a spectacular team of four, who paid concentrated attention, to each and every aspect of the event. Mr Prajwal Shetty, an actor in Gatti Mela, Kannada serial had the credit of performing various roles in plus 10 feature films, at present Production Manager of Kabza, Martin Kannada movies. Mr Radhesh Shenoy, old student of Milagres College, 2015- 18, a finalist in Comedy Kiladigallu season 4, also acted in more than 20 films in Kannada, Tulu, currently plying a important role in Tudar Tulu movie. Talented Ms Ashmita Corea, again an alumna of Milagres who has passed her MCom had the credit of serving Lecturer, at present perusing her MBA studies. Ms Shayona Shetty too a proud alumna of Milagres College, 2017 – 20 batch, now serving for Cognizant.
A great deal of talent and gifts are lost to the world for want of a little courage, opportunity or encouragement the Milagres College always had that contentment of identifying them in various fields, may it be cultural, sports or academic in various ways and means in the past and continue its efforts in days to come. Yes, everybody has talent; it's just a matter of moving around until one has discovered what it is.