St Aloysius College holds National Science Day
Bellevision Media Network


Mangaluru, 01 Mar 2023: The faculty members and students of Science, St Aloysius College (Autonomous), Mangalore organized a programme on the theme "Global Science for Global Wellbeing" to commemorate "National Science Day" on 28th February 2023 in L.F. Rasquinha Hall of LCRI Block.
A proud alumnus and Bridgeman of India Padma Shri Awardee Dr Girish Baradwaj was the guest of honour for the programme. Rev. Dr Praveen Martis, SJ, Principal presided over the programme. Mr Harshith B, Coordinator of the programme, Dr Narayana Bhat, Director of Science Block, Dr Alwyn D'Sa, Controller of Examinations and Mr Ian Castelino, the student coordinator were present on the dais.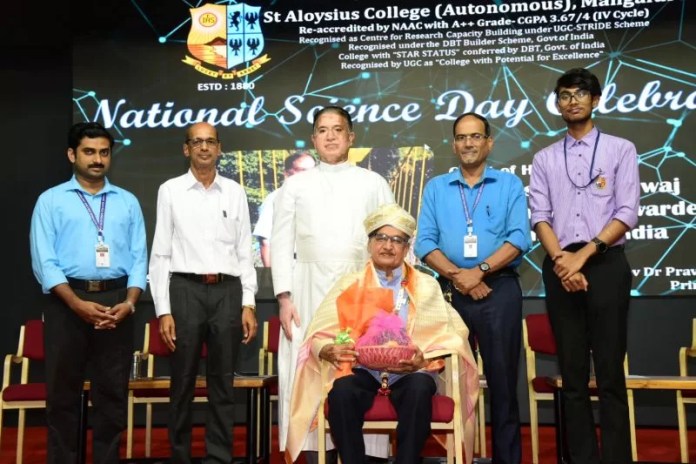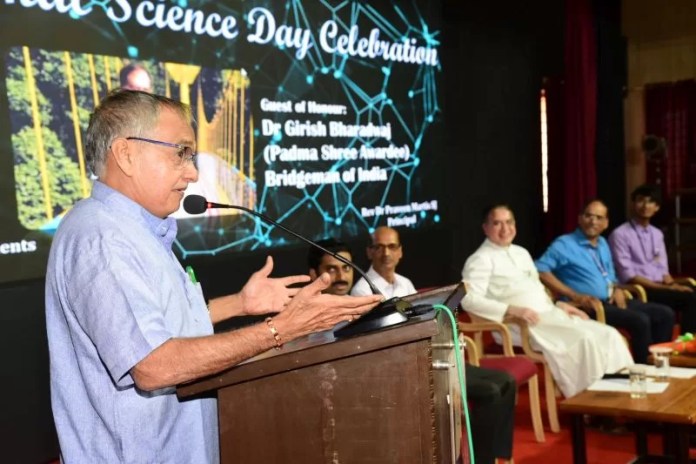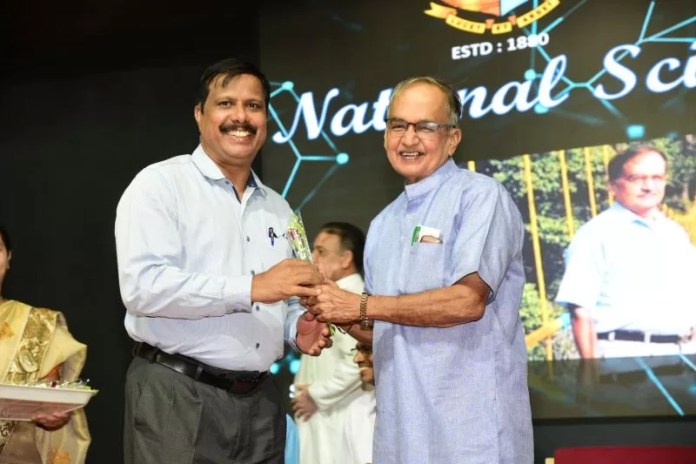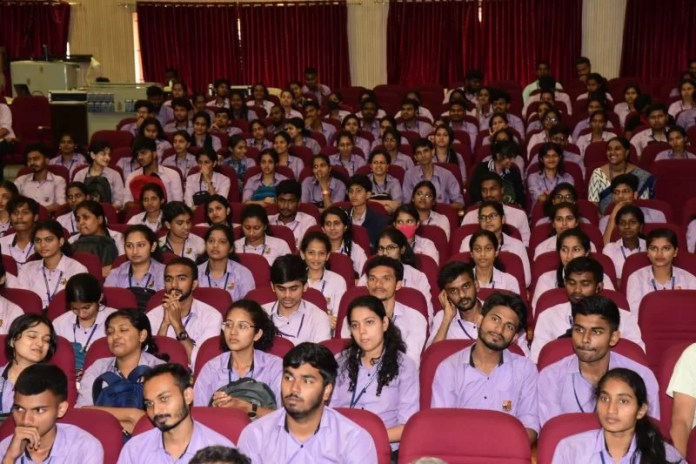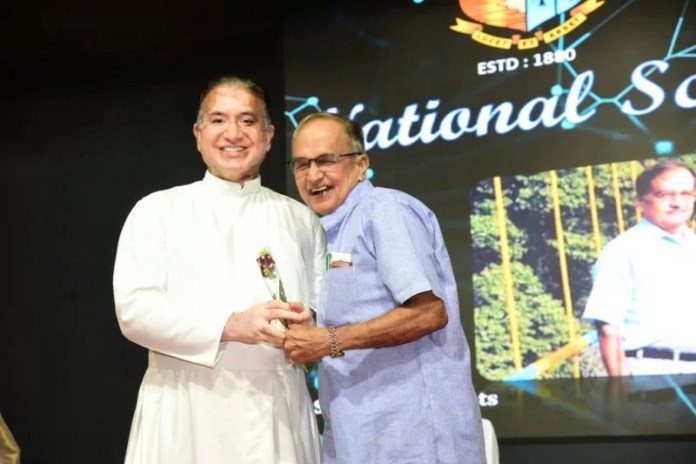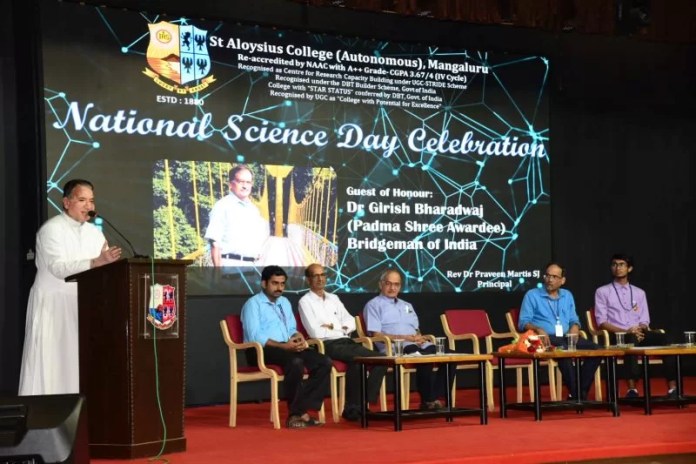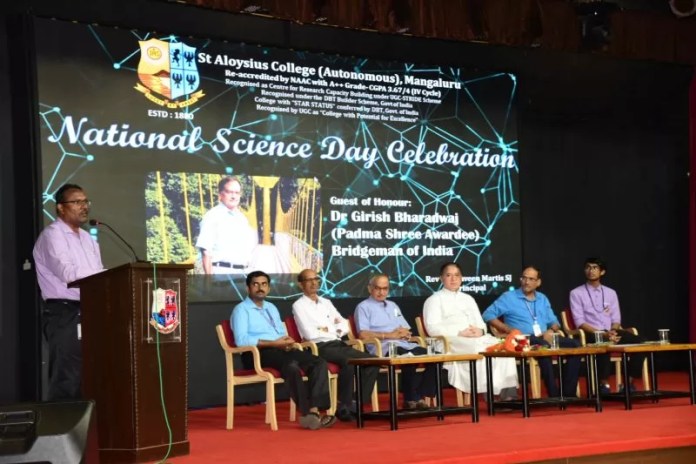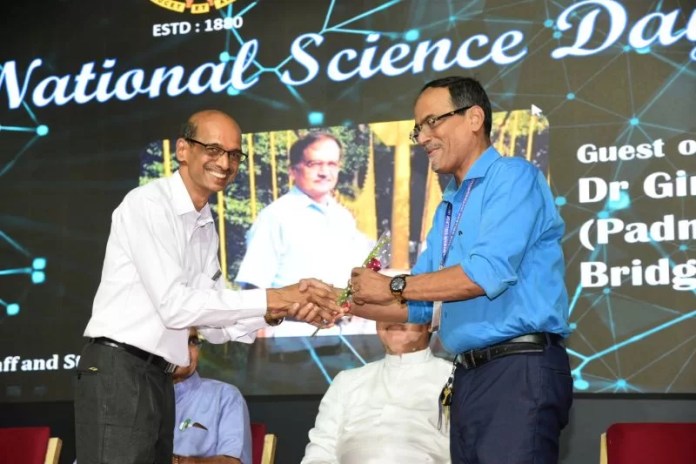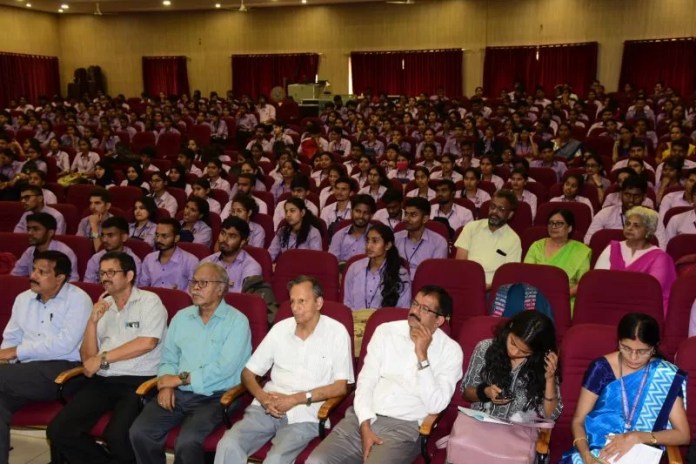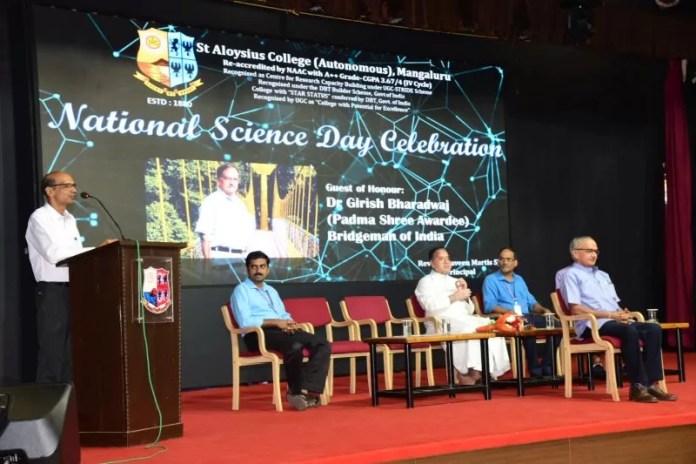 Dr Girish Bharadhwaj in his address reminisced about his college days at St Aloysius College, Mangalore. He said that St Aloysius College teaches a variety of subjects in science along with that it teaches a strong moral science. He shared his experience in establishing a workshop as per his father's advice. Being an engineering degree holder, Dr Bharadhwaj decided to develop his own business and help remote people by building low-cost hanging bridges across India.
Rev. Dr Praveen Martis, in his presidential remarks, briefed about the progress of science in the modern era. He suggested the students take up research activities and do something new in their careers. Dr Girish Bharadhwaj was honoured during the programme. The staff who have been awarded Doctorate degrees were honoured and certificates were distributed to the students who completed the internships at National Institutes.
Ms Rashmita, III B.Sc compered the programme. Mr Harshith welcomed the gathering. Dr Narayana Bhat, Director of Science Block introduced the guest. Mr Harsha Paul, Dean of Biological Sciences proposed the vote of thanks.
About Dr Girish Baradwaj:
Dr Girish Baradwaj, a native of Sullia, is an Indian social worker often referred to as Sethu Bandhu and Bridgeman of India for building 148 low-cost suspension hanging bridges in remote villages across India. He has conferred the Padma Shri award in 2017 for his notable contributions to society. He is also the recipient of Dr Shivarama Karantha Huttoora Prashasthi in 2021. This award was instituted by Kotathattu Gram Panchayat and Dr Karanth Huttoora Prashasti Foundation.