Infant Jesus Ward, Mount Rosary Church Santekatte celebrates their patron's Feast
By Anusha Sharon

Pics: Apoline DSouza

Bellevision Media Network


Udupi, 26 Jan 2023: Infant Jesus Ward, Mount Rosary Church, Santekatte-Kallianpur celebrated their patron Infant Jesus' Feast on, Sunday 22nd January, 2023. It was a routine and regular affair to pray in unison and honour Infant Jesus, by observing nine days Novena, since this ward was crafted out in 2014, and all families joined together to thank Almighty Lord.
A Thanks giving High Mass was offered in the Church at 8.00 am celebrated by Rev. Fr. Claude Corda, Dominican Priest hailing from the same ward now serving in Bihar, concelebrated with Parish Priest of Mount Rosary Church, Rev Dr Roque DSouza, and the day's responsibilities of the liturgy was shared by the ward members in particular and the Members of Holy Bible Commission of the parish in general as the day was celebrated as 'Bible Sunday'.
The attractive venue for the celebration, the spacious compound of Mr Gerry Vincent Dias and Molly Dias was well decorated with lights and flowers as the evening Get Together was given start at 6.00 pm, with prayers led by Sarita Crasta as well as Gurkar Richard DSouza. Ward Annual report presented to the audience by Mrs Catharine Baretto, whereas annual receipts and payments account by Apoline DSouza. Names were nominated to serve in various parish commissions / 20 Ayogs were confirmed, once the concerned members consented to serve over here in 2023.
The chief Guests of the evening Rev. Fr Rolwin Fernandes, the Asst Parish priest, Mr Luke DSouza, VP of Pastoral Council, Ms Priya Furtado, Secretary & Ms Benedicta Menezes, Convenor of 20 Ayogs, Sister Superior Jane, Sr. Melani and other guest nuns from Goretti SRA Convent were escorted to the dais by Gurkar Mr Richard DSouza. Ms Emilda Olivera Ward Representative in Pastoral Council, and Gurkar formally welcomed, both on behalf of Infant Jesus ward as well as Host Dias family, all distinguished guests and offered roses to acknowledge their august presence and ward members and their families for their involvement and participation.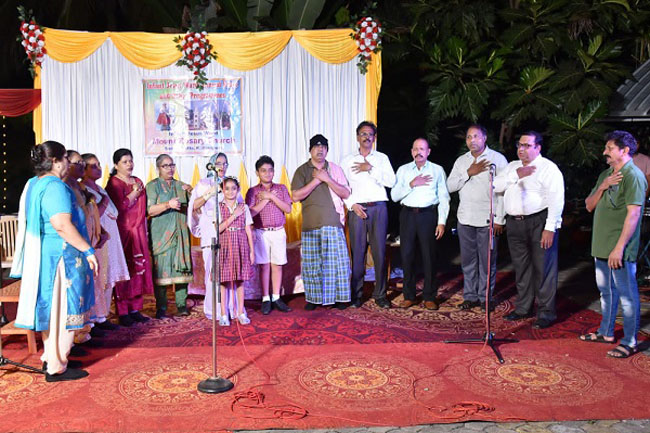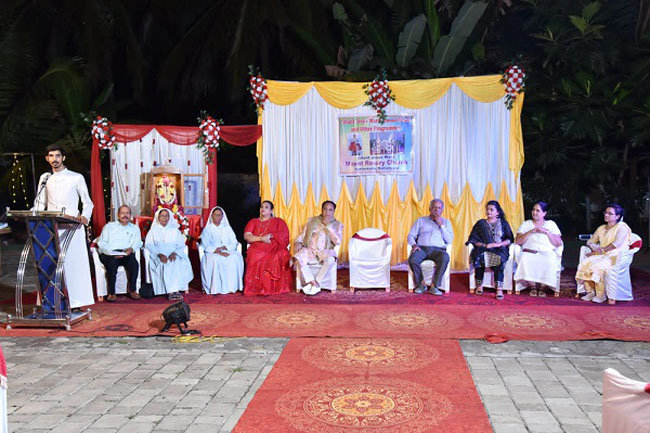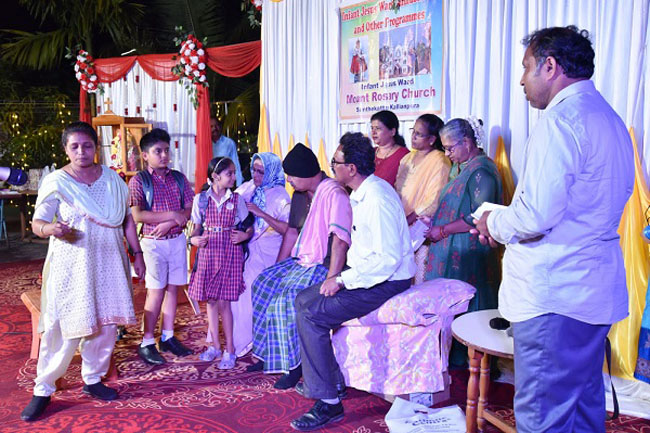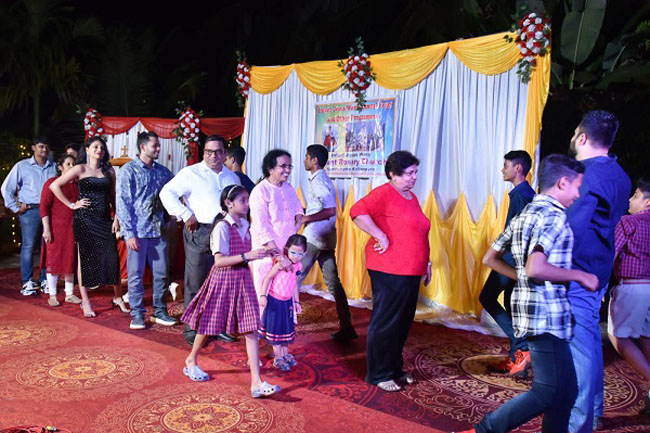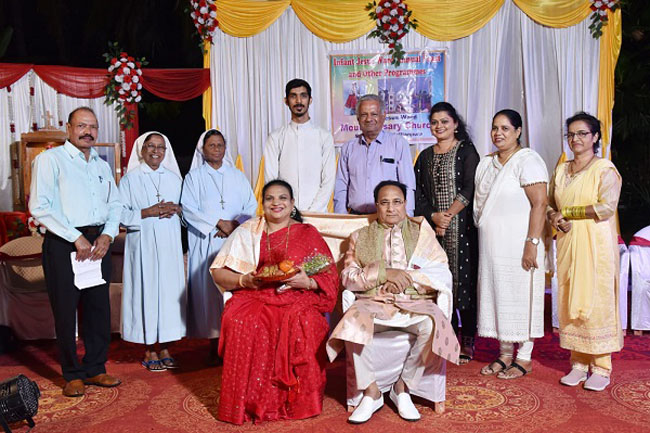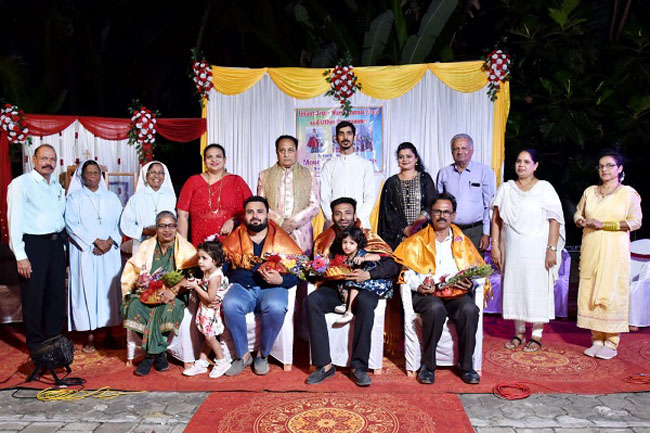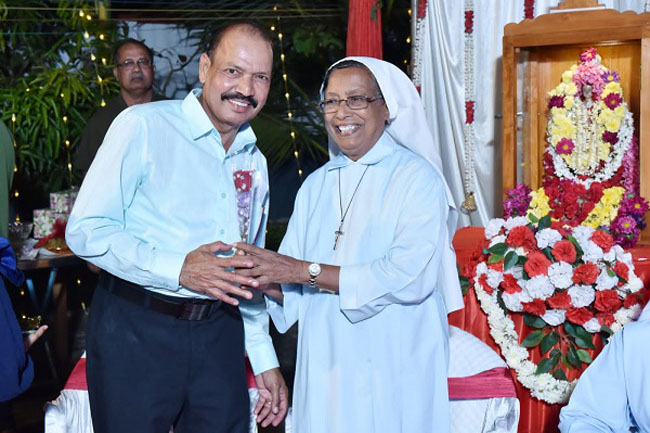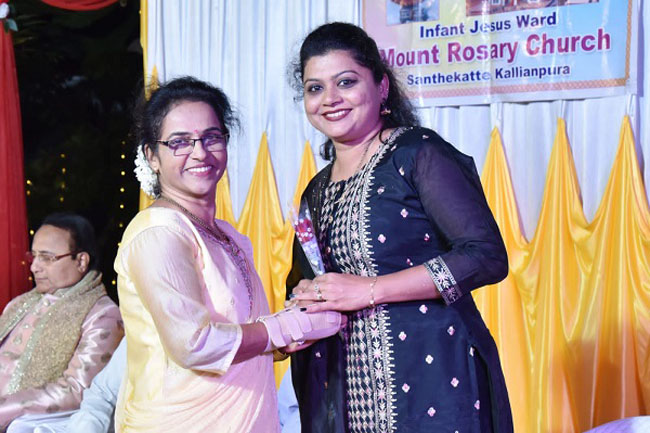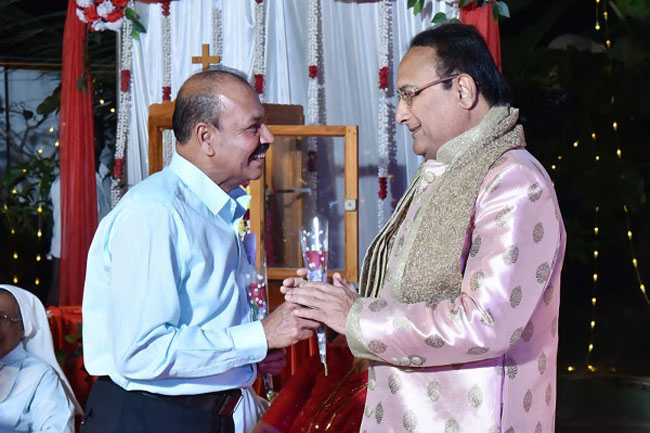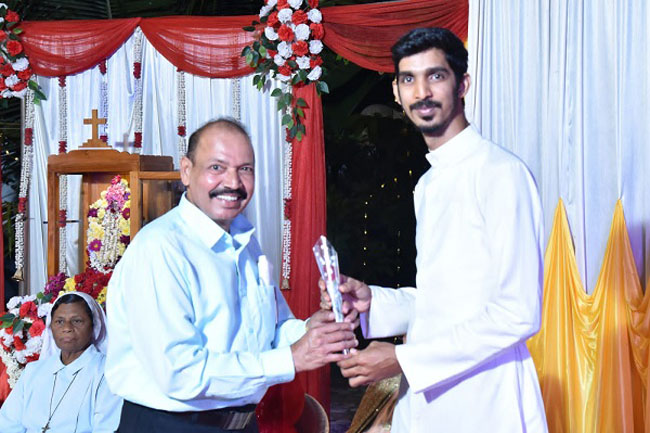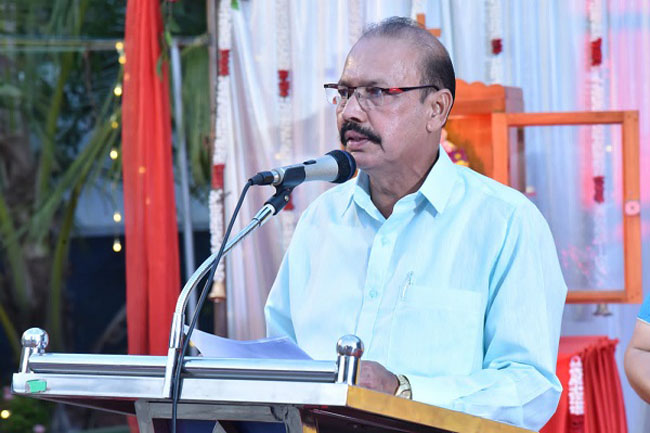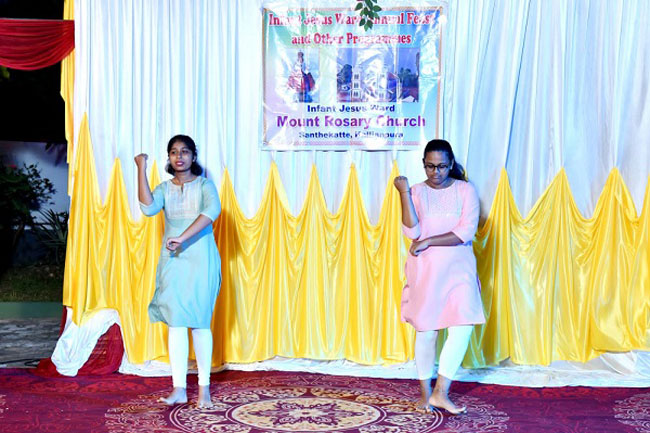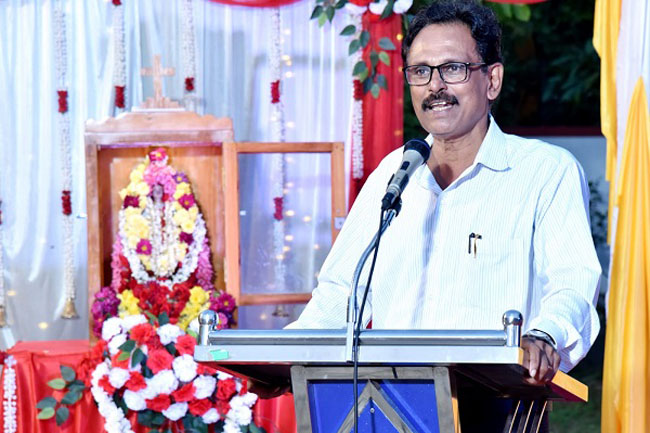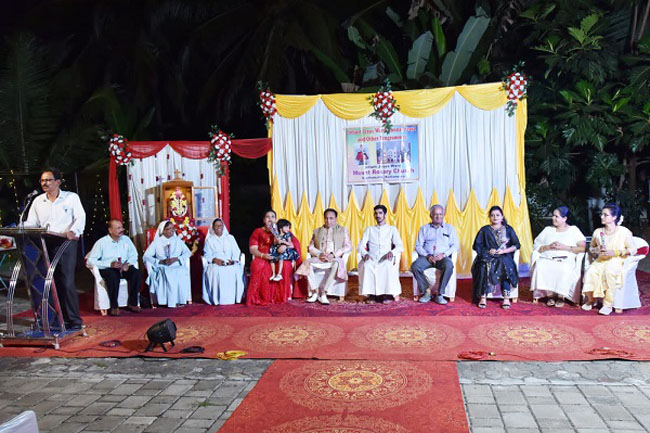 The short stage programme was organised so meticulously with due honour to three distinct achievers of the ward, in Dr Lara Dias, BAMS, recently finished her MD studies with distinction, Ms Anusha Sharon Furtado, who secured first rank in MSc Studies, 2020-22 in MAHE, and Avniel Muscarenhas, now perusing his engineering studies in Raichur, proudly represented Karnataka State in Table Tennis, with draping of traditional shawal, bouquet, fruit baskets and colourful memento.
Youth leaders of the ward – Lenox Rebello, ICYM President, Vanisha Sequeira, Ashlyn, and Craig Crasta too were recognised both for their service and leadership. All children present were called to the dais to receive gift hampers and sweet packets.
Guest of Honour for the day, Sr Melanie of Gorettee Convent congratulated all the achievers for their unique and outstanding achievements which will be an inspiration to youngsters to imitate. She conveyed festal greetings to all gathered in large numbers and assured her prayers for better prospects.
Arun Menezes briefed the audience the role and services of ms Pramila Muscarenhas, two term member in Pastoral Council, Prof Archibald Furtado, served as member in Parish Council, Finance Committee, Catholic Sabha etc, Mr Glen Dias serving in the Parish Finance Committee, Mr Jason Dias an youthful leader served as Animator of ICYM were deservedly thanked for their yeomen service and as a mark of respect draped with traditional shawls, bouquet, fruit baskets etc with mementos.
Prof Archibald Furtado, was emcee for the event, recalled and remembered the services of ward leaders in the past and the wonderful couple Mr Gerry Vincent Dias and Mrs Molly Dias were honoured for their multiple contributions for the cause of unity, social work and needs of the ward in particular and the society in general. Proud recipient of prestigious Rachana Award, 2022-23 added one more feather to his cap of respects and magnanimity as the Dias family sponsored the whole cost of the glittering event in their spacious Compound to celebrate this year 2023 feast, were thanked for the hospitality and contribution.
In his reply Dr Jerry Vincent Dias revealed his past struggle, as well as the sacrifices of the family to enable and encouraged him to climb the ladder of success as he was gifted with only with tremendous courage and Almighty Lords special favour, to go ahead. Future belongs to youth and children and it's our responsibility to guide and guard them he cautioned.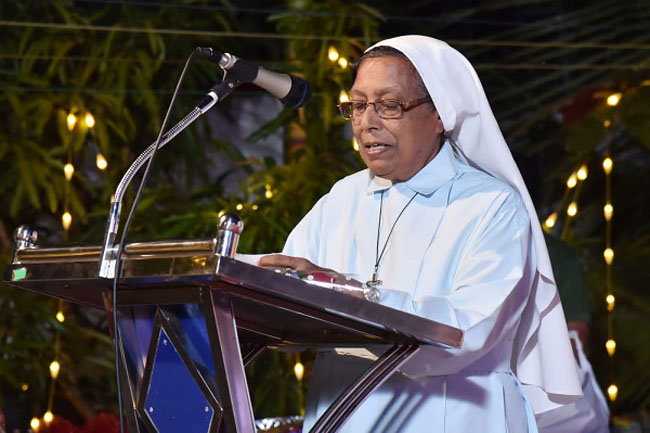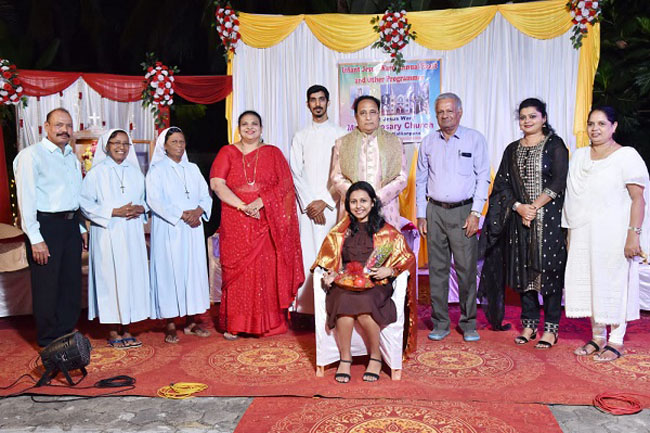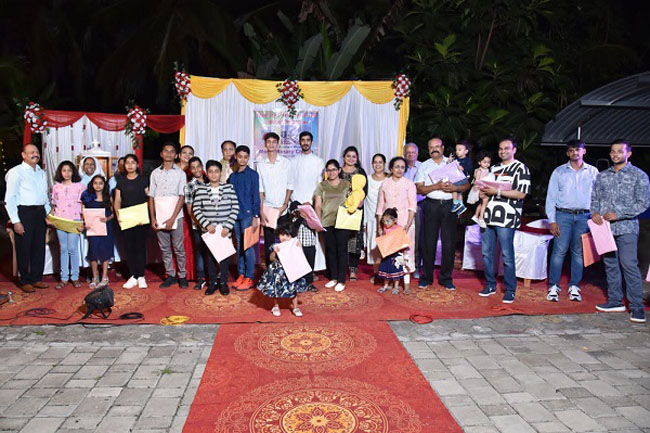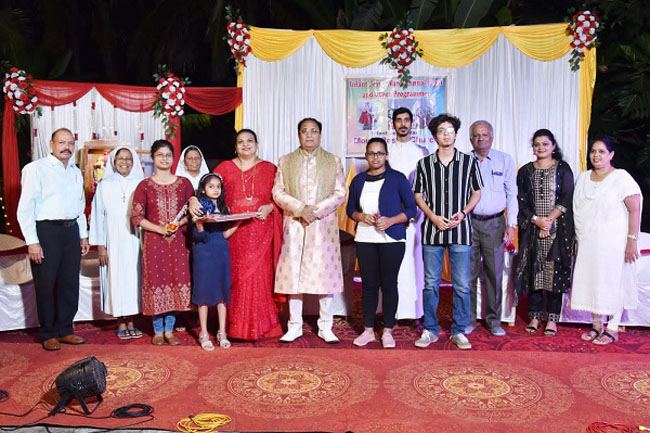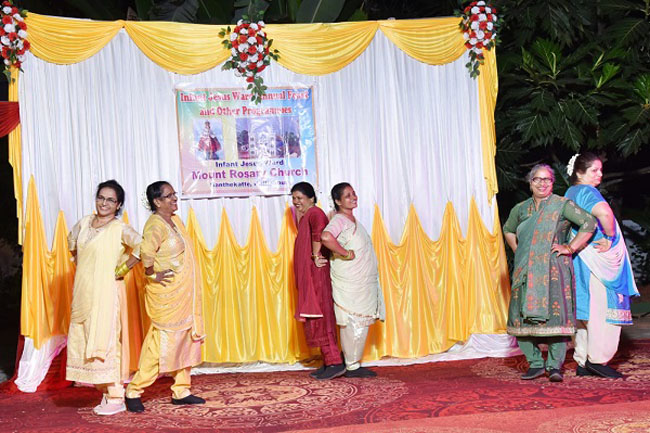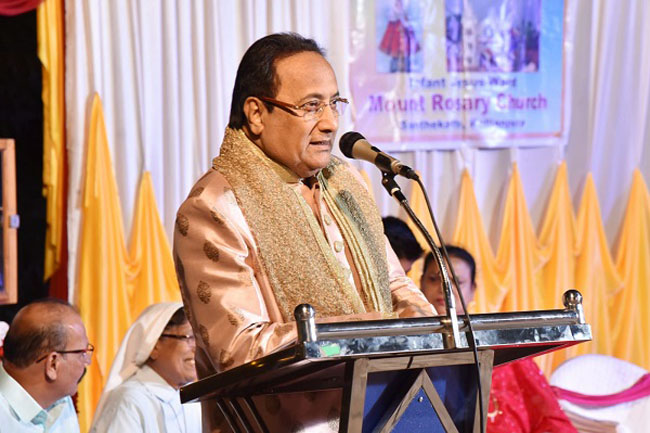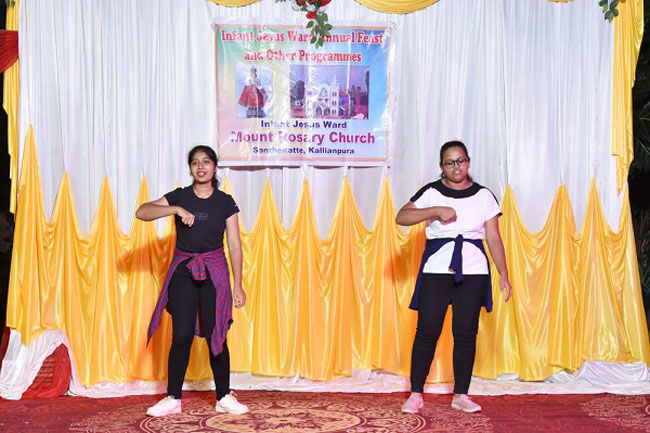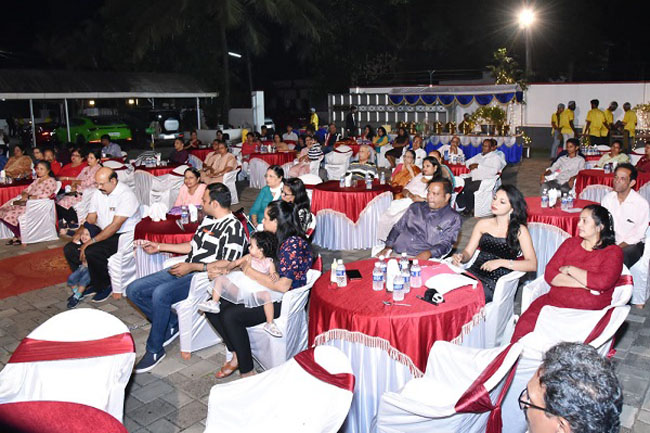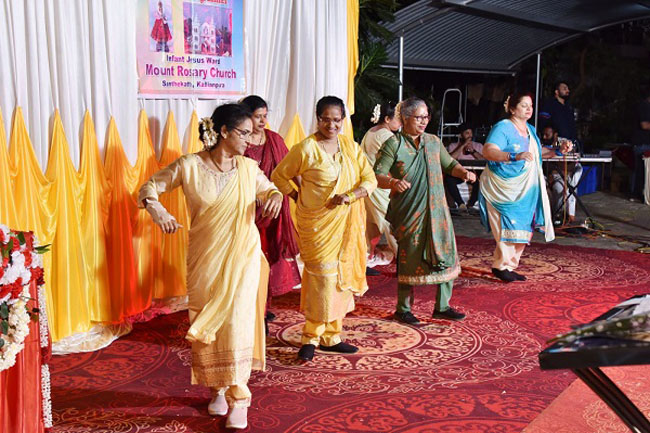 Rev. Fr Rolwin Fernandes, the Asst Vicar of Mount Rosary Church, extended festal Greetings to all ward Members present, at homes, and those serving elsewhere and couldn't be able to make it to attend the function. In his congratulatory address to the ward leaders and achievers, expressed his happiness and contentment to see the unity, togetherness and co festiveness in this ward. He also narrated the interesting background of the miraculous statue of Infant Jesus, as he too witnessed manifold blessing over here.
What followed was the cultural Programme wherein the entire Ward family participated enthusiastically with heart and soul in the entire proceedings.
The ladies of the ward presented a wonderful dance to entertain with lively steps whereas Arun Menezes, Philomena Quadrus, Richard DSouza entertained the audience with their melodious Konkani and Hindi songs and Ancia Lewis and Vanisha Sequera entertained the audience with superb dance performances.
Actually, Housie was the game, brought whole gathering to their toes. Winners of various games were presented with gifts.
A short skit carrying a beautiful message, to convey the significance of unity in the ward and cooperation and coordination in the neighbourhood and packed with few hilarious moments and a light dose of laughter was performed by the ward members.
Gurkar Richard DSouza proposed vote of thanks to call out the services, contribution, sacrifices during the Nine days Novena, Holy Thanks giving Mass in the Church and grand finale.
Festivities were given additional attraction by conducting few games for youth and children, however it was Tambola, the Housie game handled by Jason Dias made the participants to stand on their toes as the winners were gifted with Gold Coins as prizes, generously by host family.
Arrangements were in place to drink, dine and dance as the participants were part of feast with joy and happiness.