Confraternity Sunday celebrated in the Mount Rosary Church, Santhekatte, Kallianpur
By P. Archibald Furtado

Bellevision Media Network


Udupi, 02 Jan 2022: Sunday, 2nd January, 2022 was visibly joyful and an occasion to exhibit our unity and solidarity as one parish family. At 5.00 pm ever enthusiastic parishioners of Mount Rosary church gathered in large number to participate in the Holy Eucharist, concelebrated by Rev Fr Reginald D'Mello, Ecumenical Director CBCI who was the main celebrant with Rev. Dr Leslie C.DSouza, the parish Priest and Rev Fr Steven Fernandes, the Assistant Vicar and Rev Fr. Vasanth, the native elderly guest priest.
The celebration was given a perfect start by the Mount Rosary High School Band with their lively performances as a harmonious team with popular religious music / tunes, well trained by Head Mistress Sr. Vandita and others.
As the melodious choir of the parish, led by Mrs Jovita Fernandes, joined to sing entrance hymn, Somya Tujya Mandiranth….the celebrants entered the magnificent church, to climb the holy altar, with divinity and dignity. Mr Valerian Fernandes welcomed and gave brief introduction of the day's liturgy.
While breaking the word of God, in his well-presented homily, Rev Fr D'Mello outlined the significance of the day i.e. Eucharistic Sunday and explained how the host is the symbol of unity and togetherness…..He also narrated with real incidents how the Eucharist not only a spiritual food but also it heals and satisfy our worldly needs, even hunger.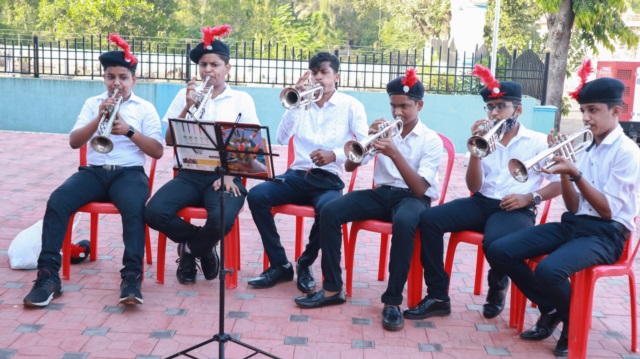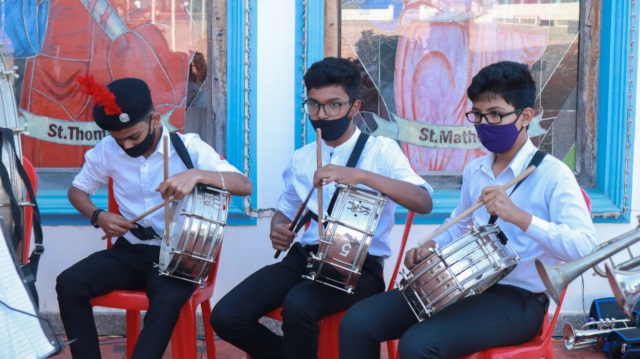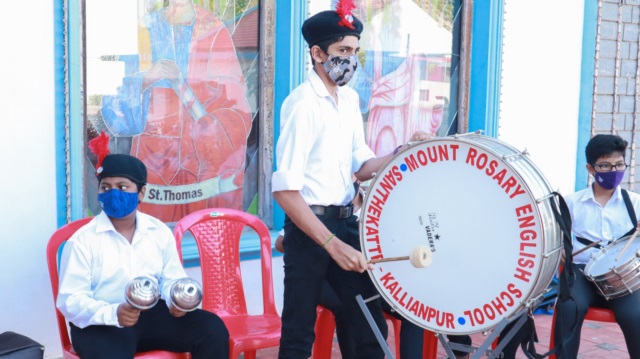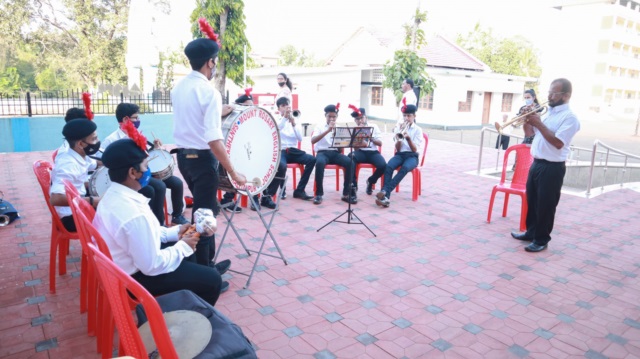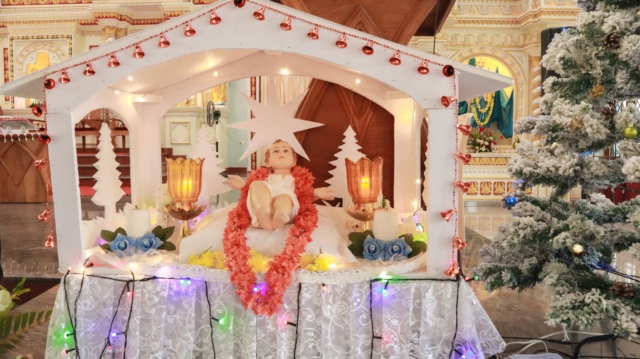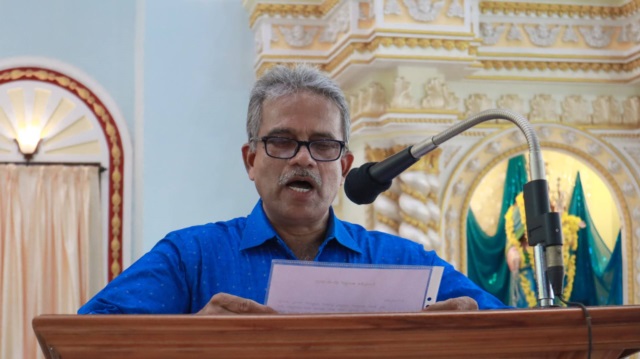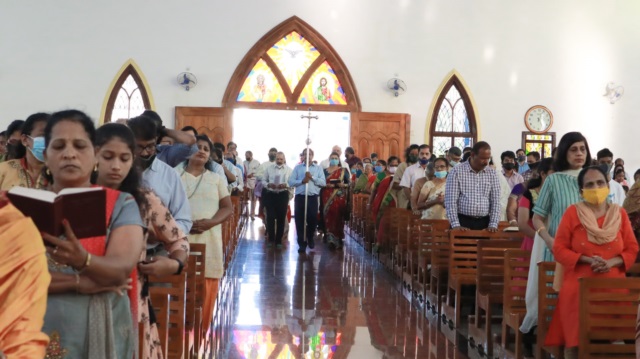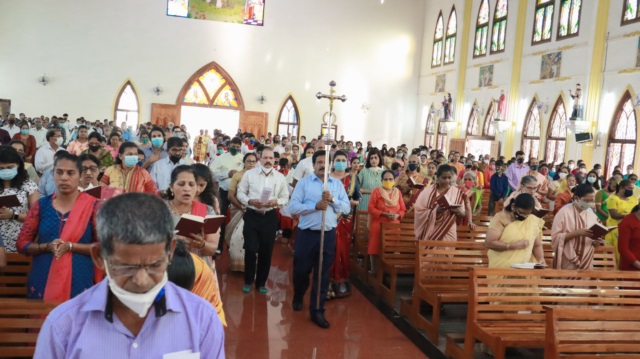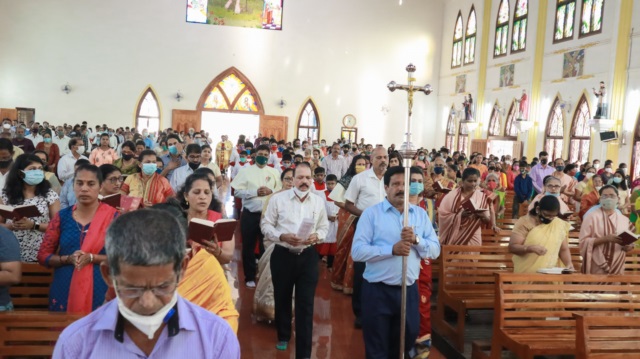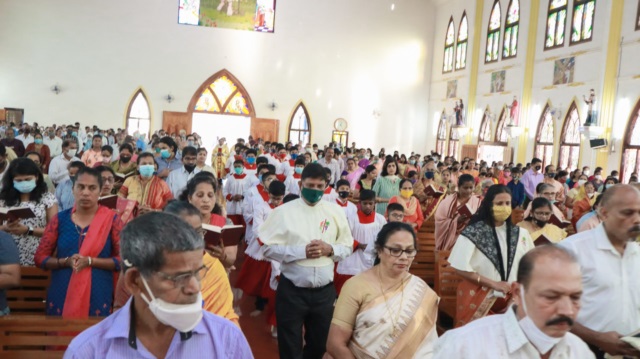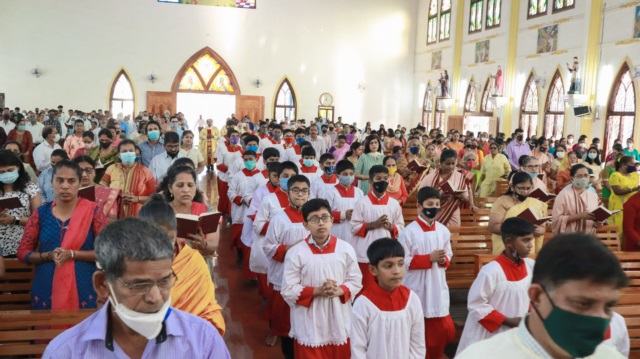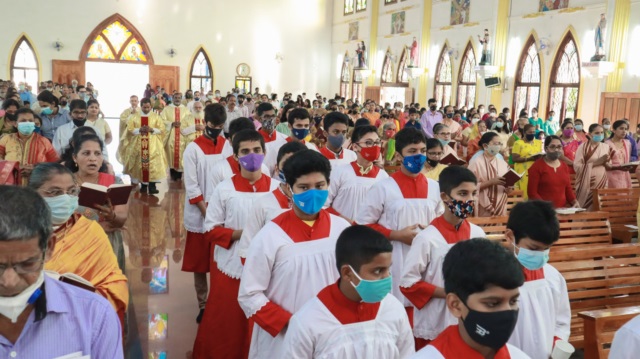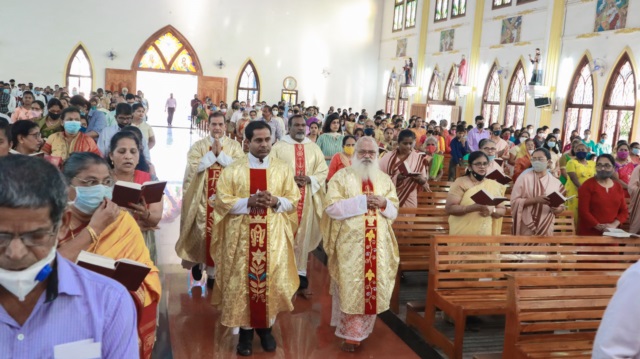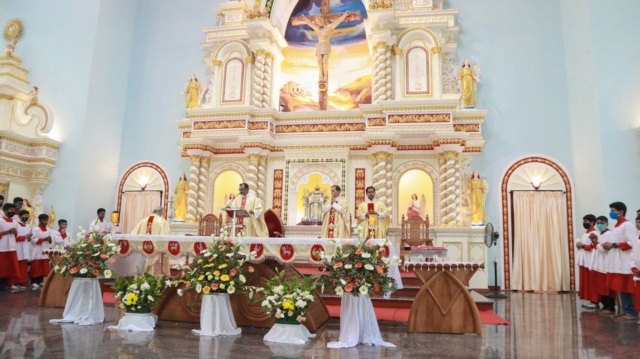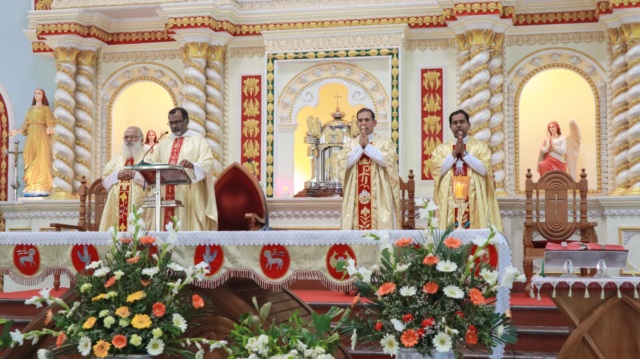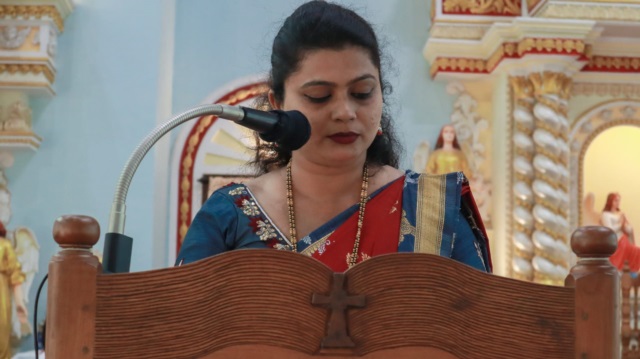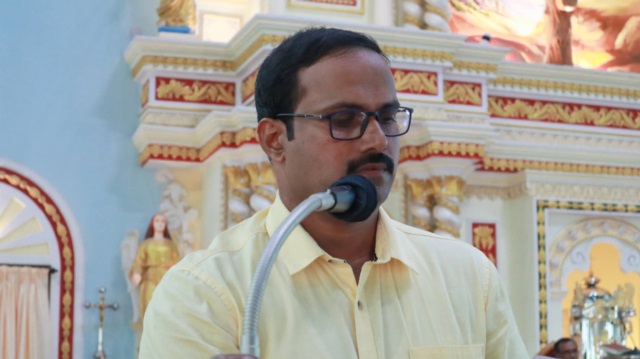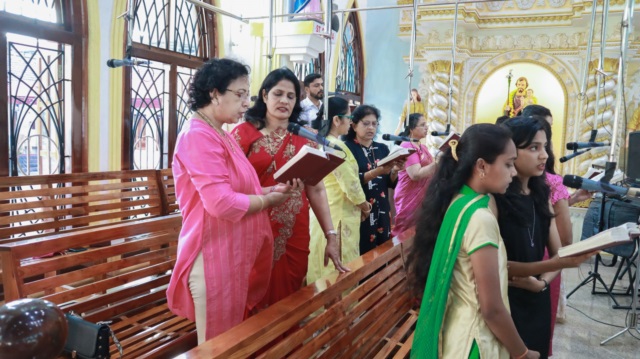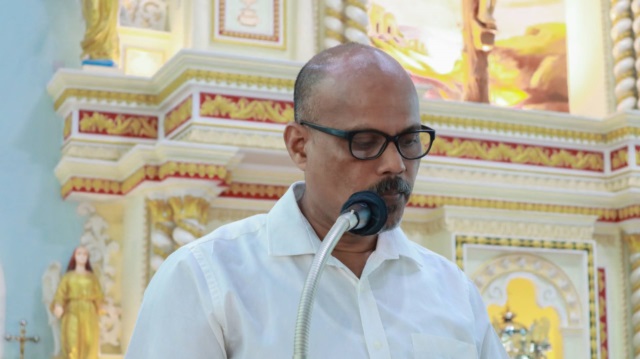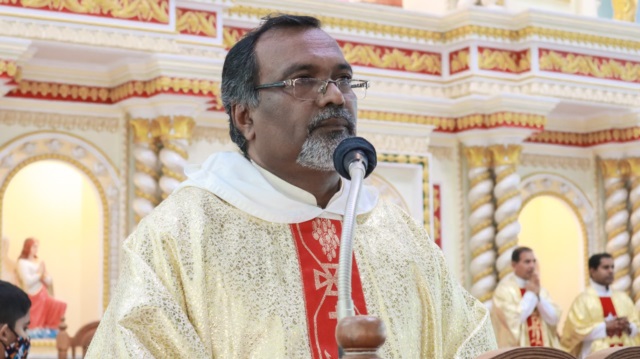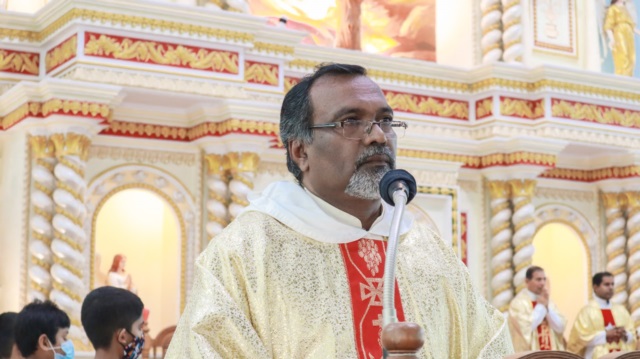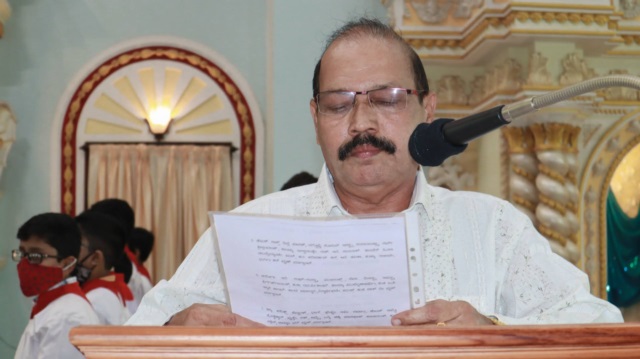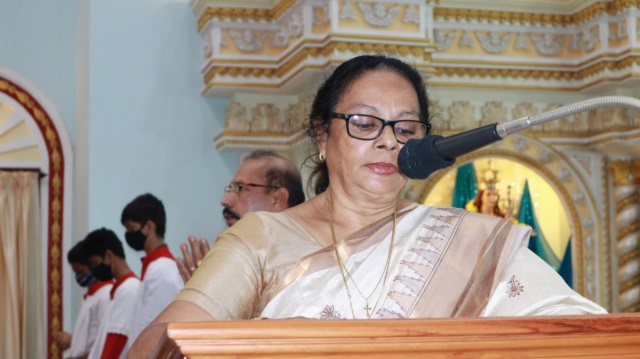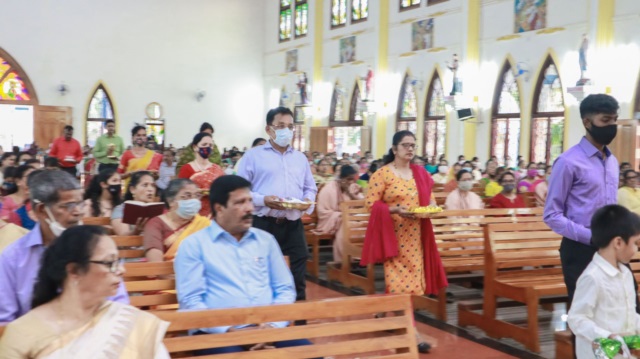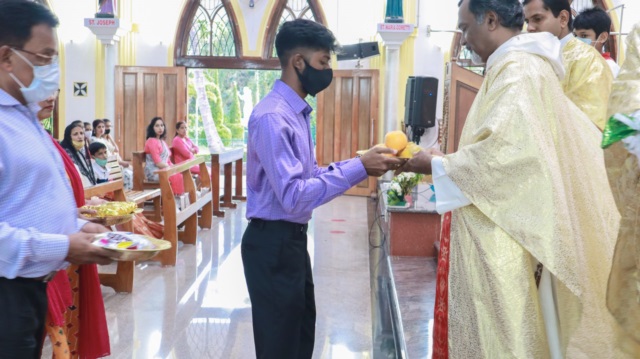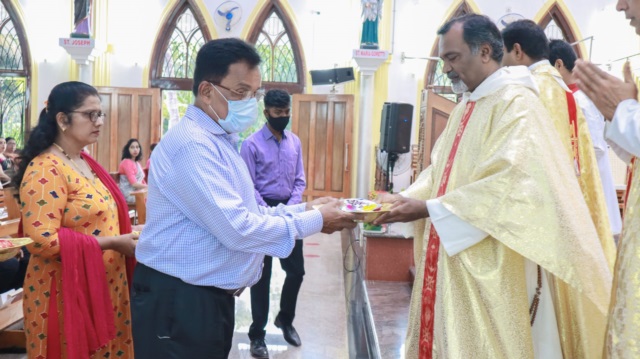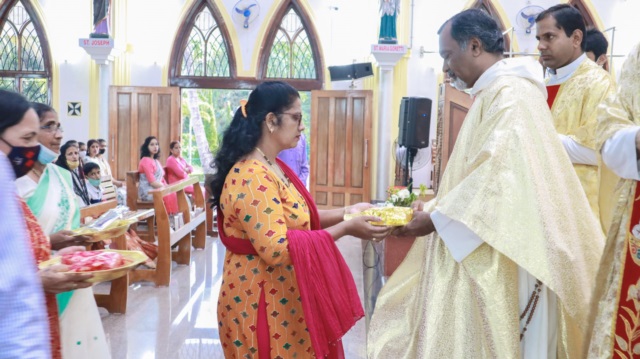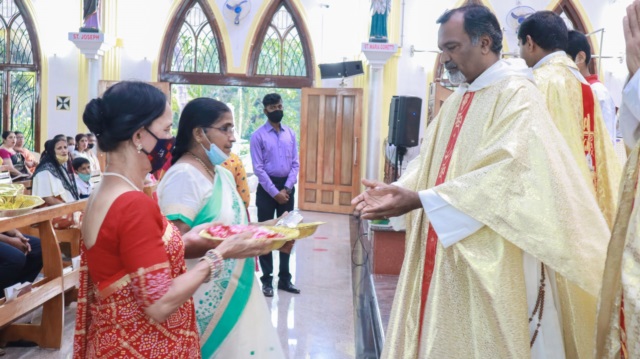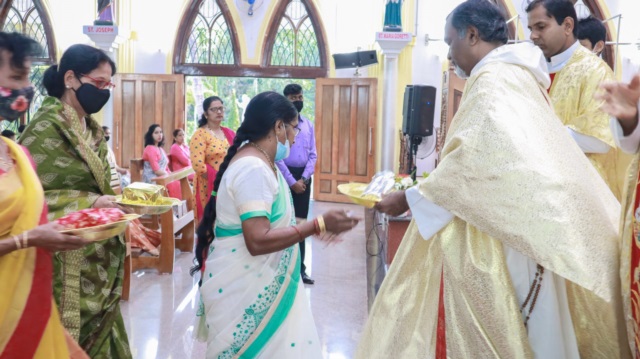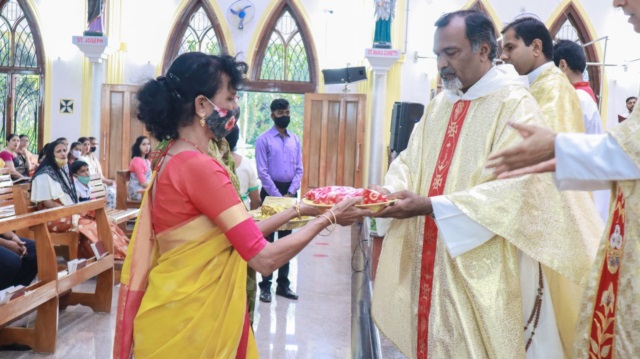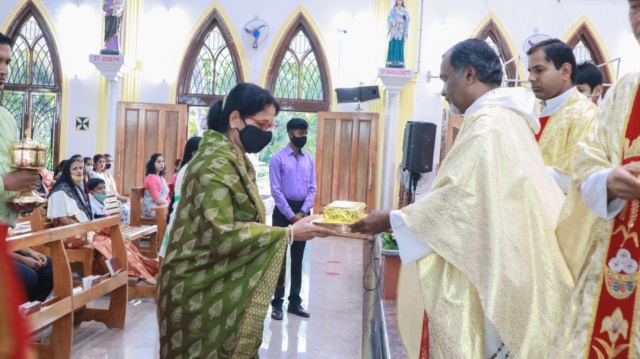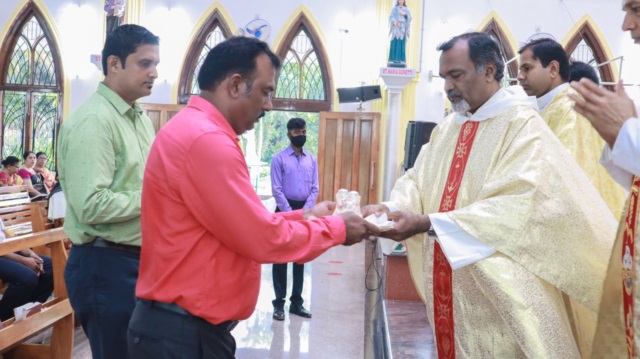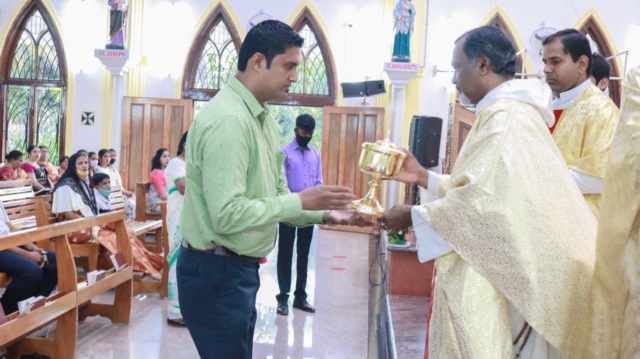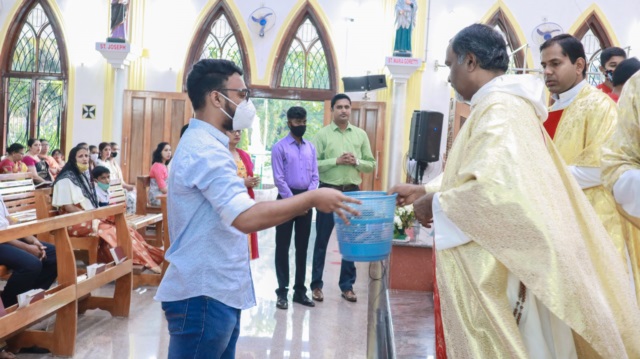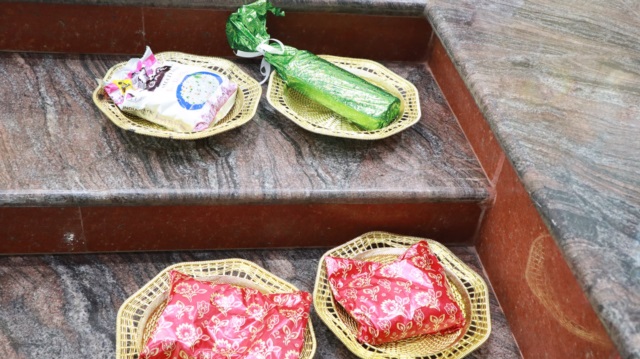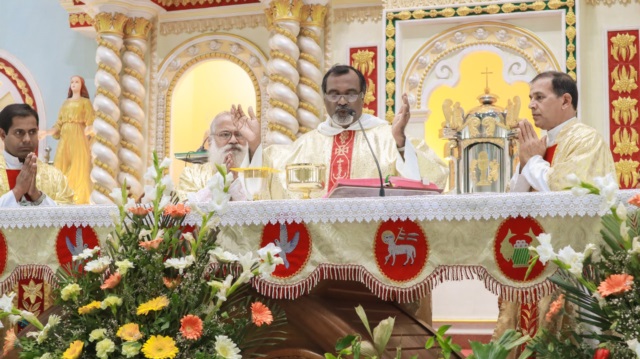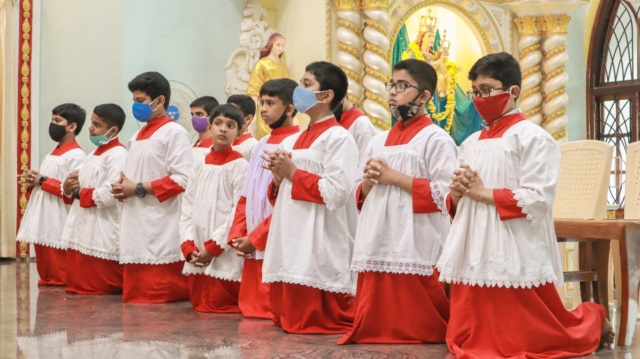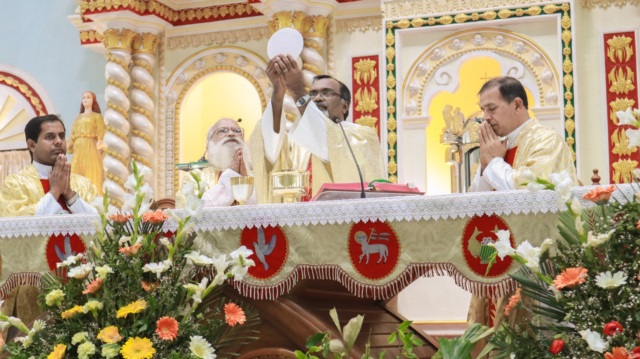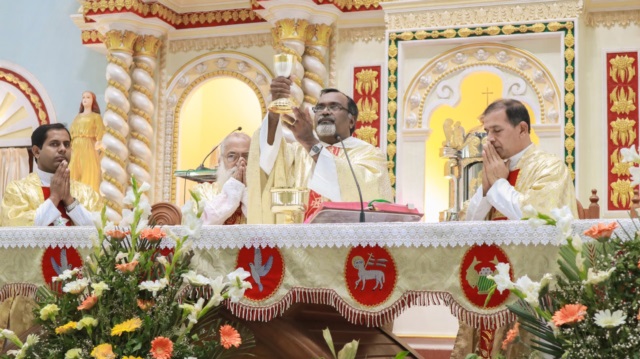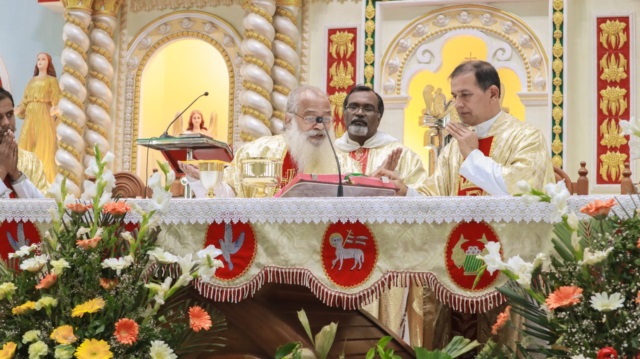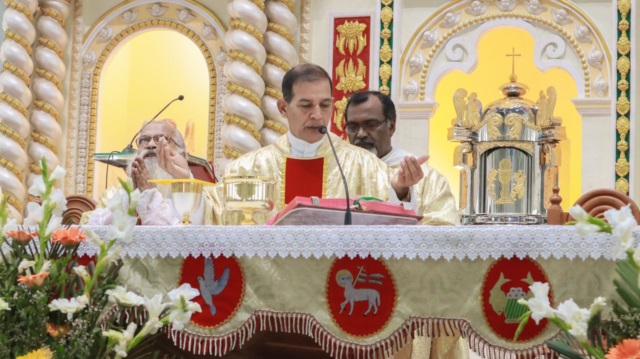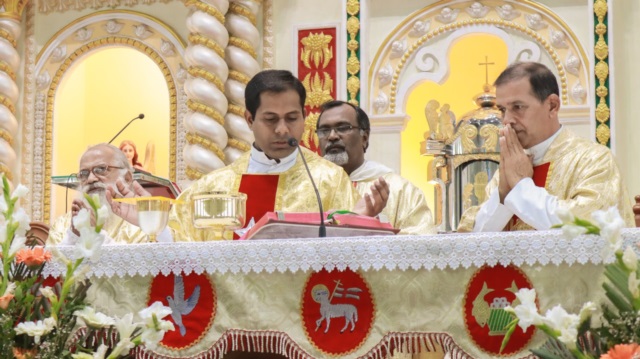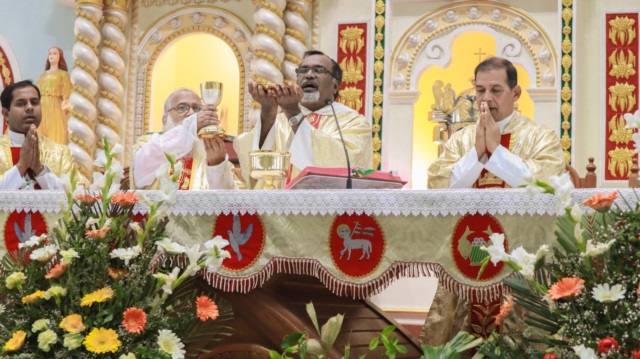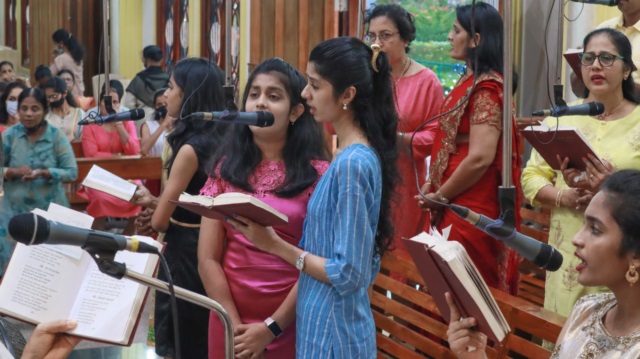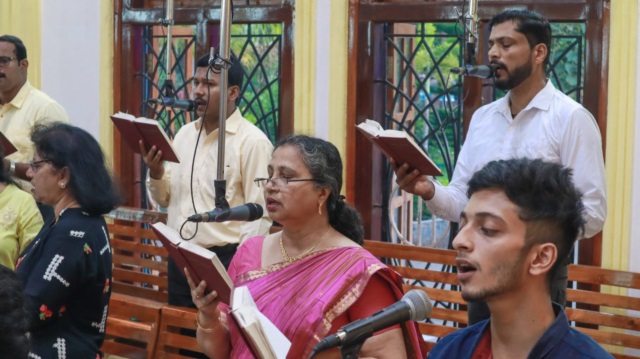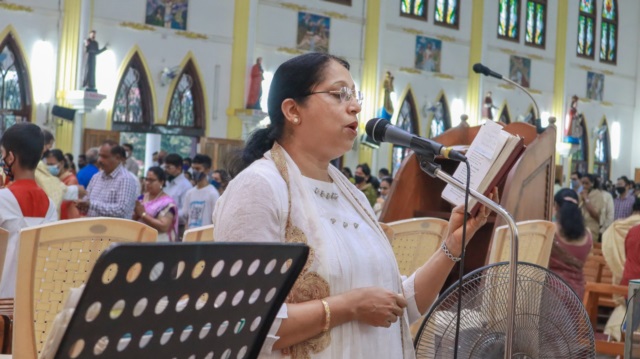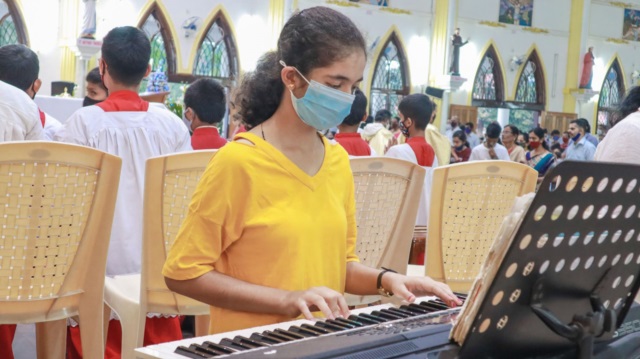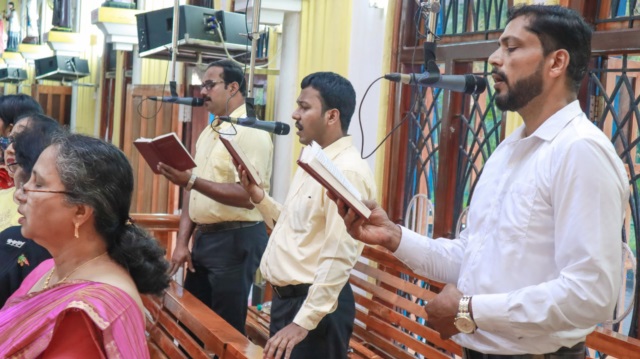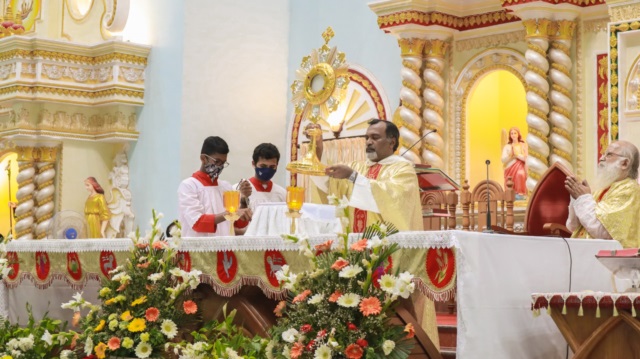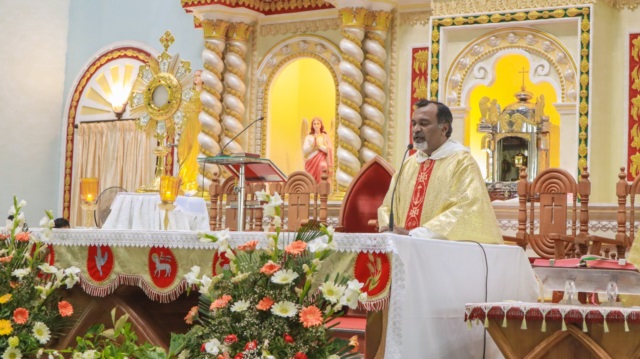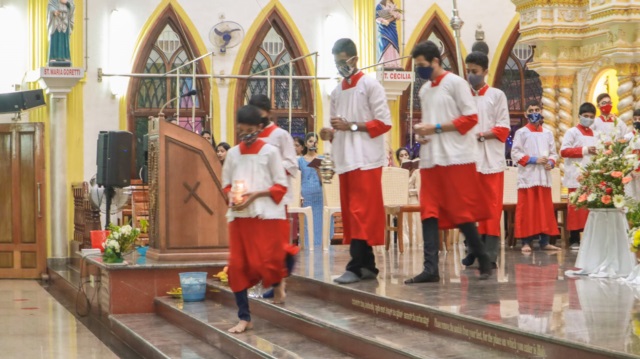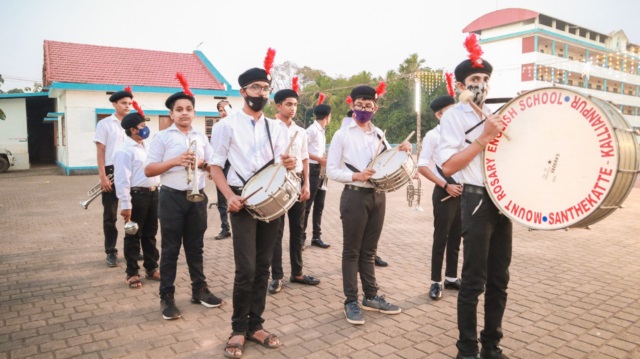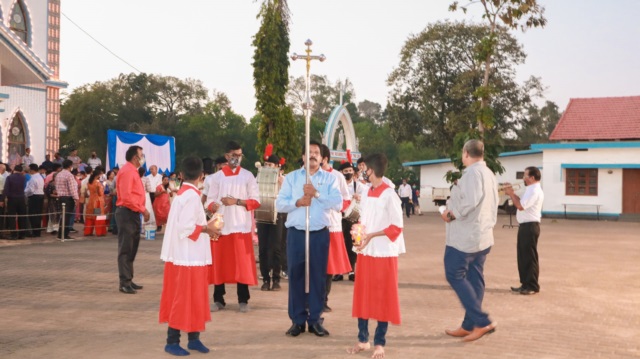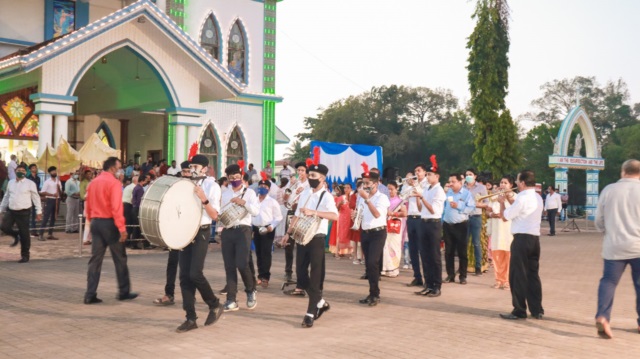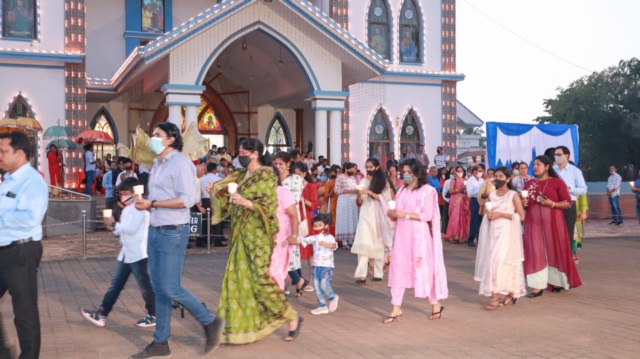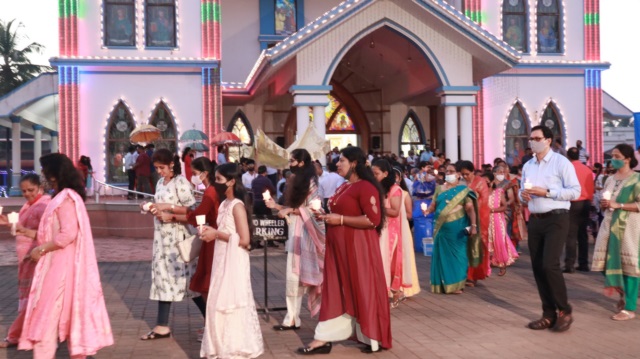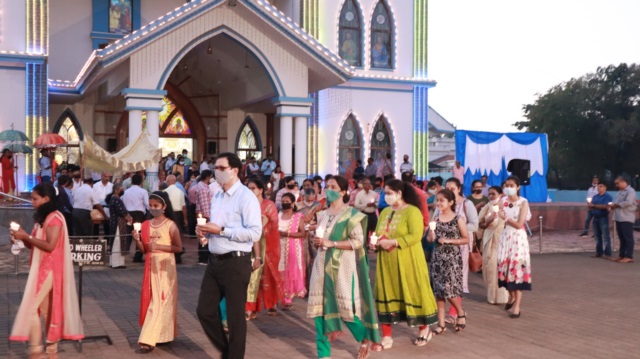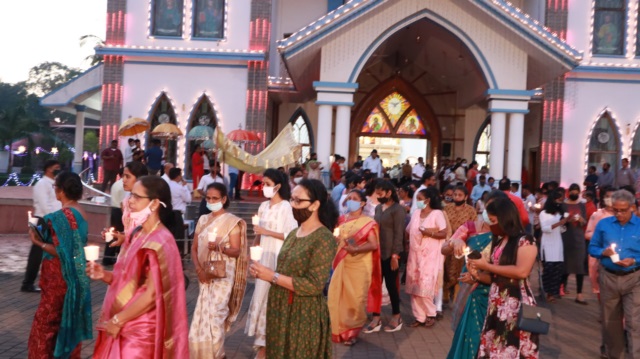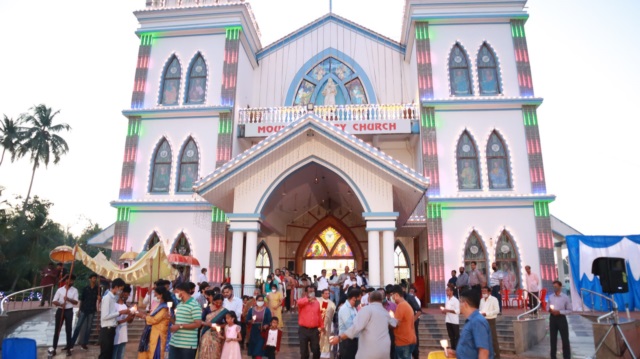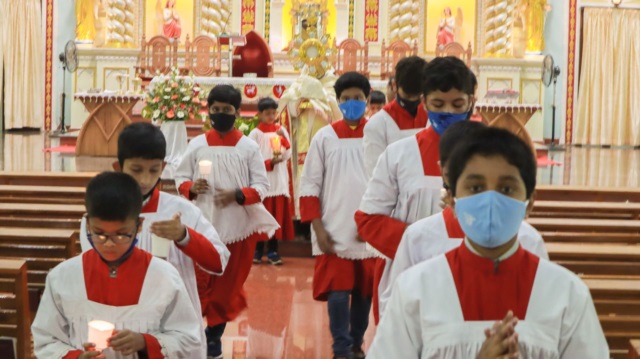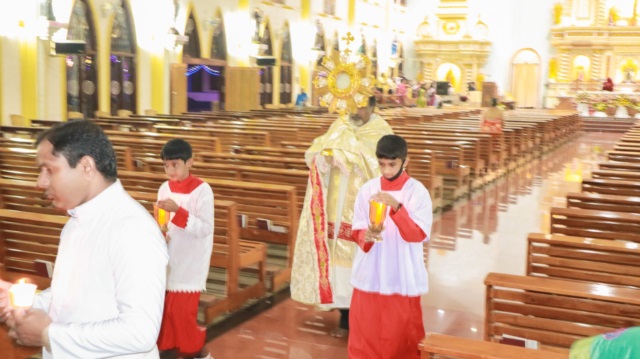 After the festal Holy Mass, the Holy Sacrament was exposed for public veneration to thank Almighty Lord for all favours received and prayers granted and seek His blessings in abundance and was followed with a symbolic procession (customary public procession on the main road was not arranged due to precautions and restrictions) inside the Church compound as the well decorated main path way was glittering with stars and attractive lightings. Again the faithful entered the church to receive solemn Blessings.
In the beginning of the service, Parish Priest Rev. Dr Leslie C DSouza introduced the main celebrant and to conclude thanked him for leading and bringing us close to Jesus on this very special day as the precursor for the Vespers on 4th January, Tuesday evening at 7.00 pm and Annual Feast on 5th January, Wednesday at 10.00 am.
After the final prayers in the Church a short programme to honour the distinct achievers in our parish was organised by ICYM, YCS, The Rozaricho gaanch team and Catholic Sabha Unit of the parish.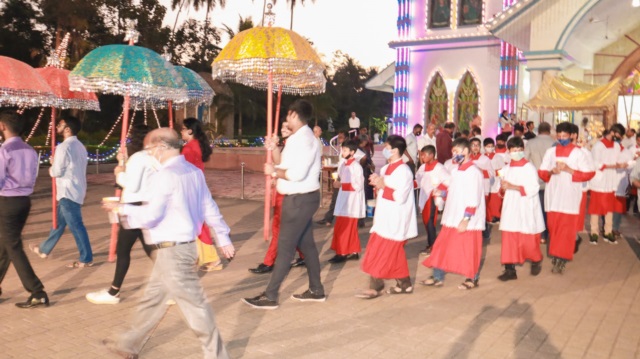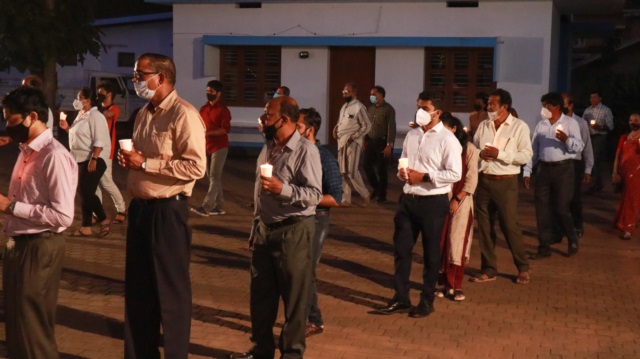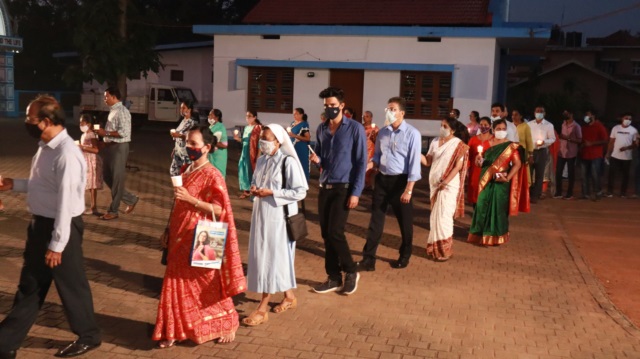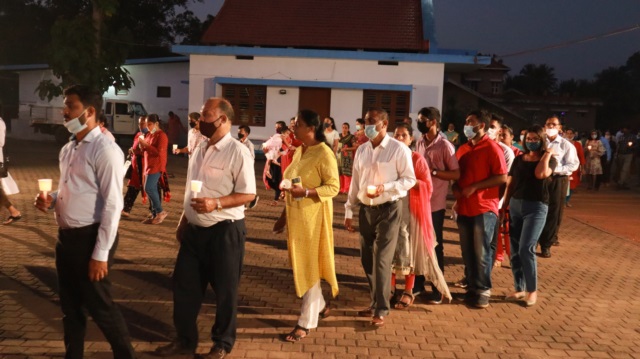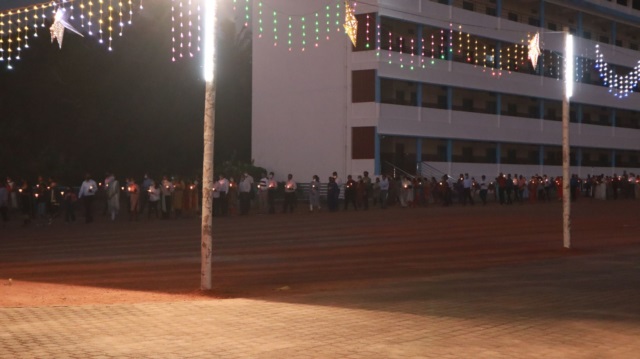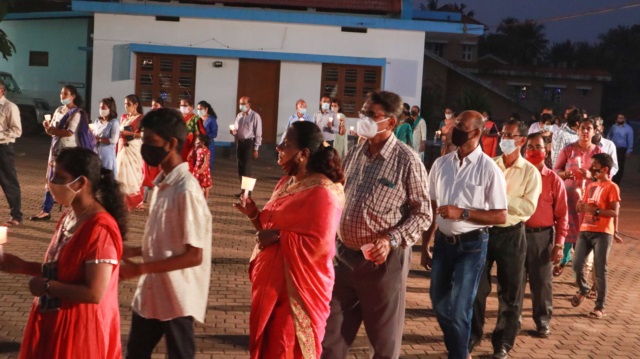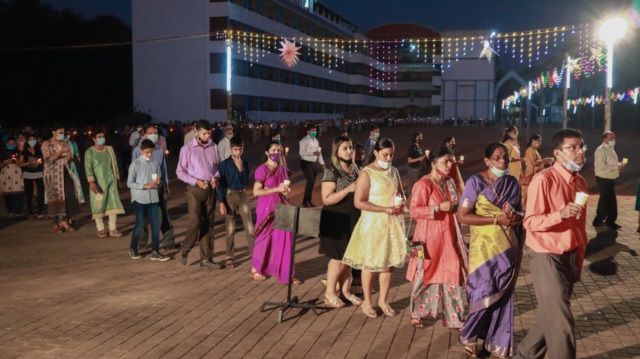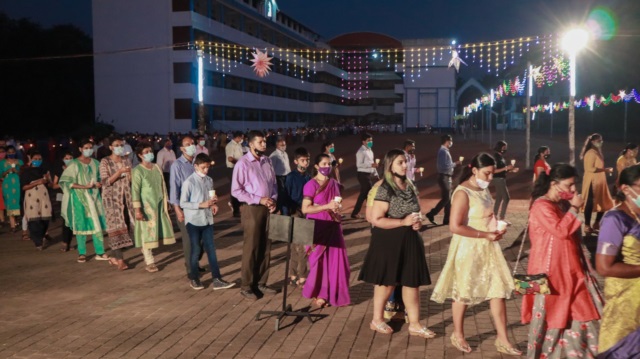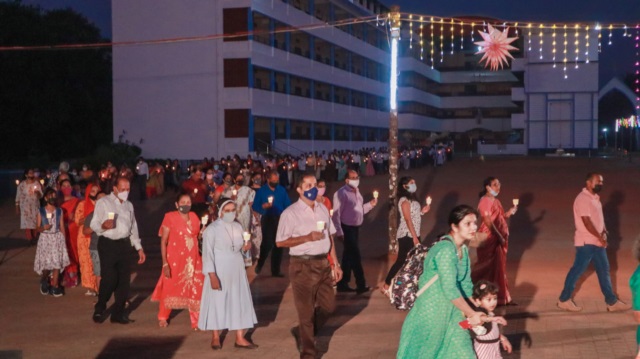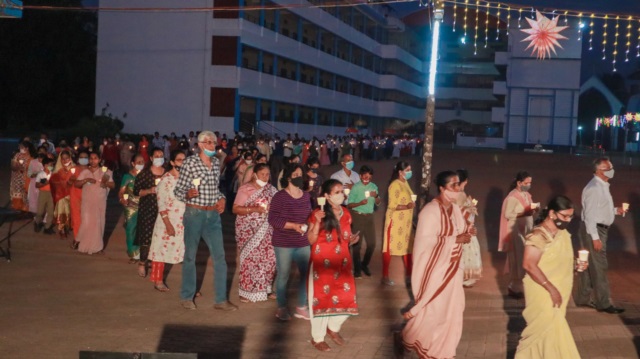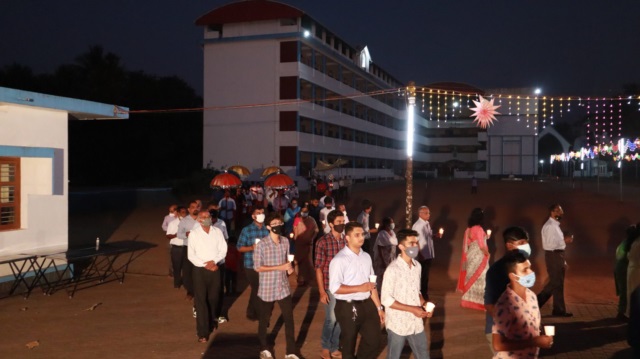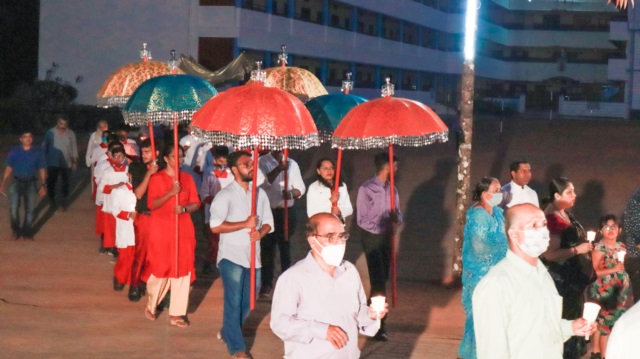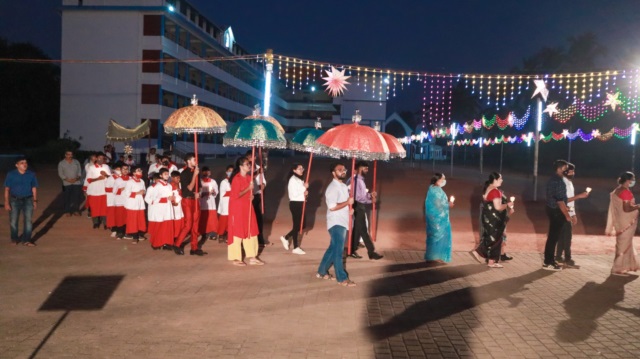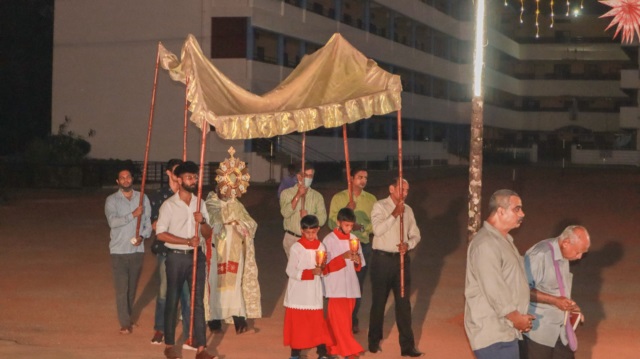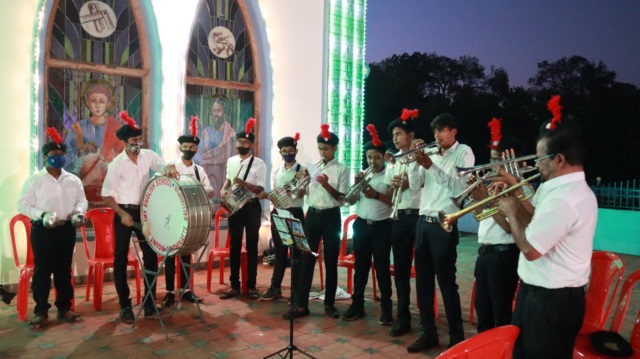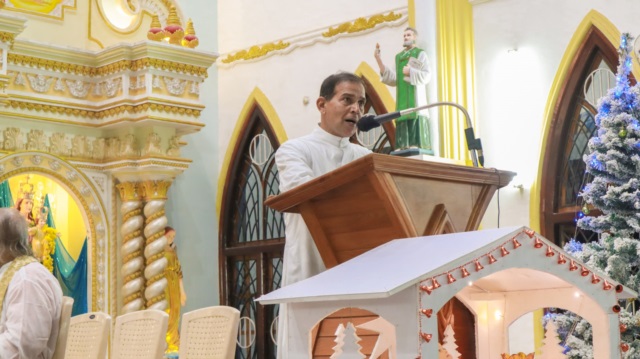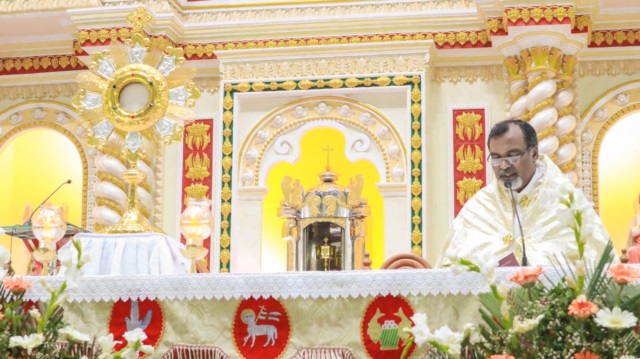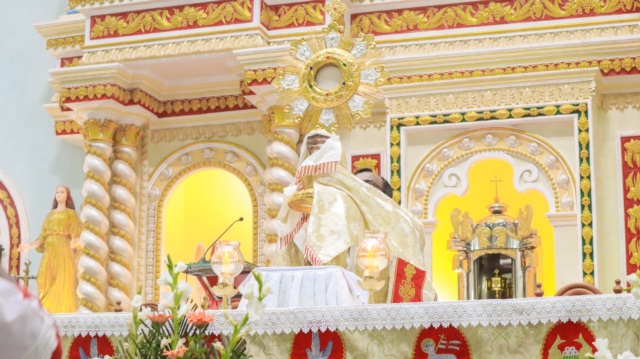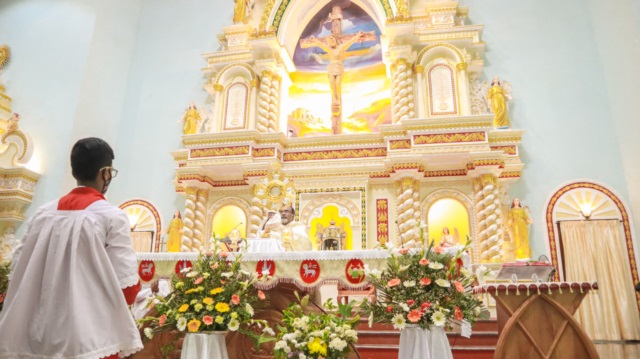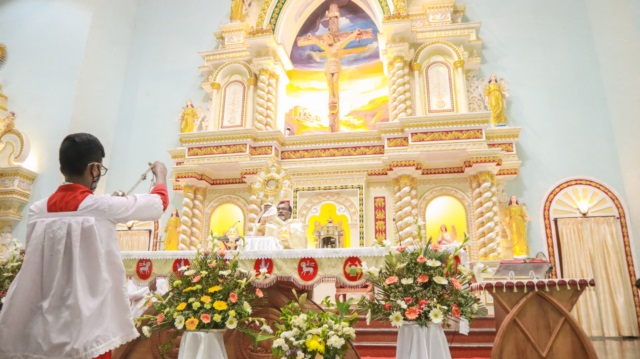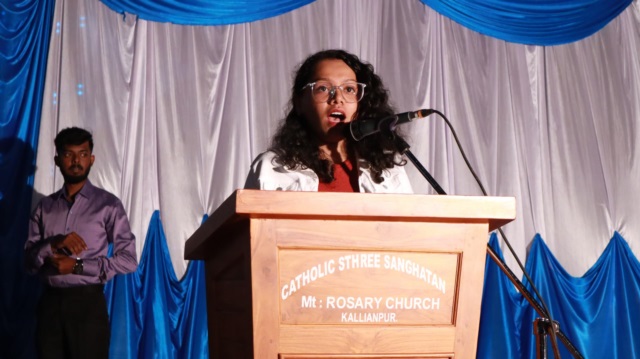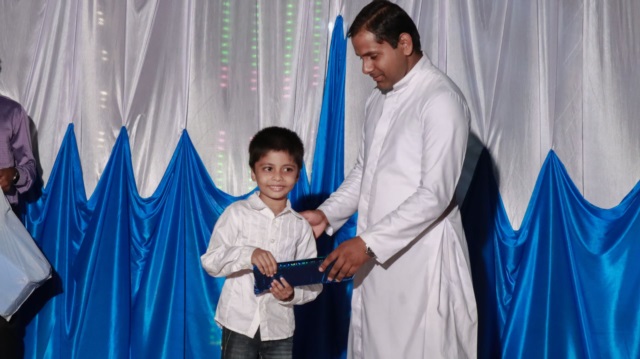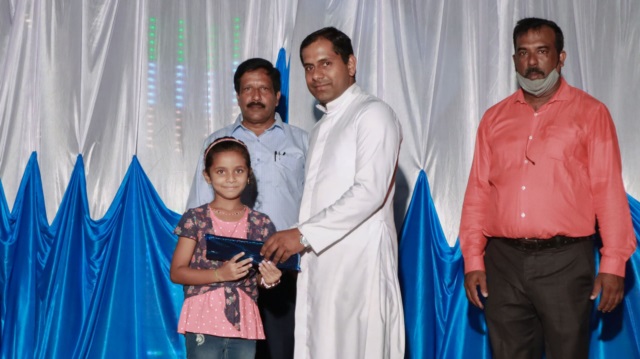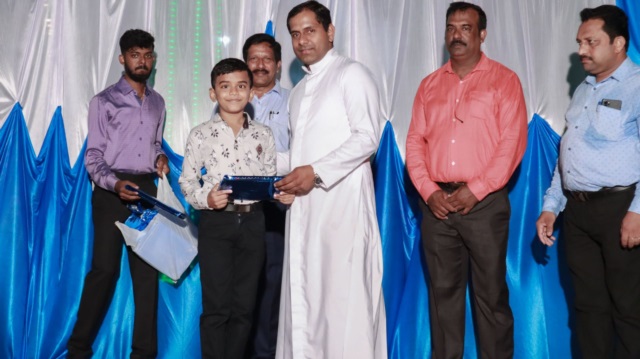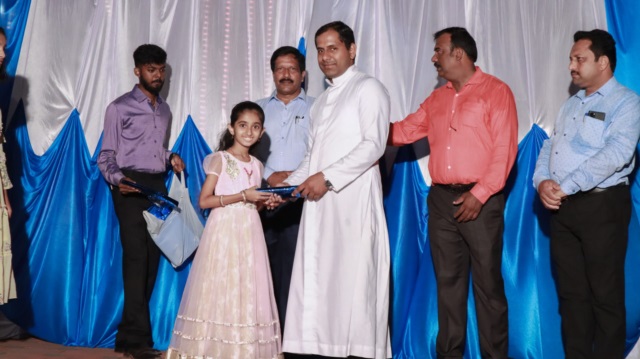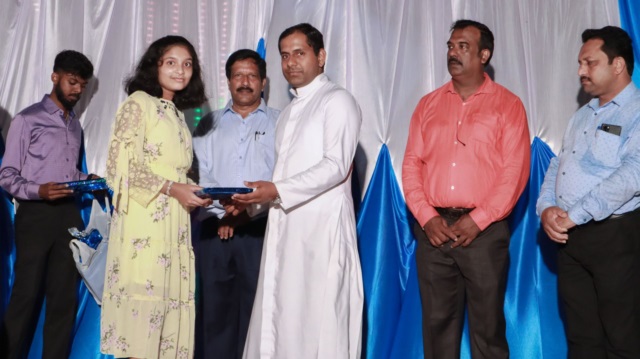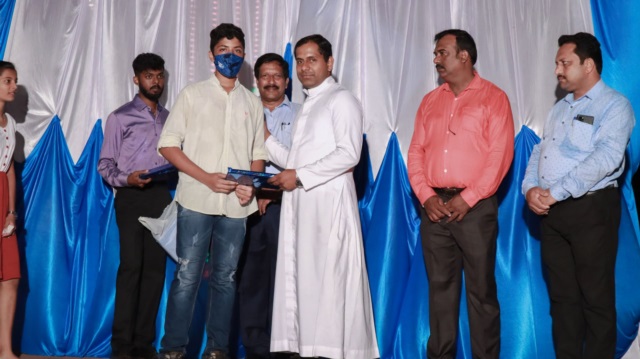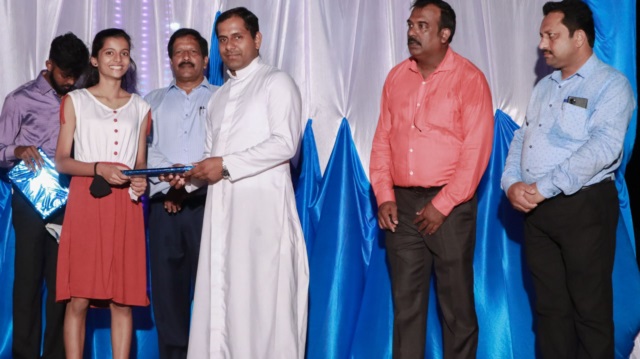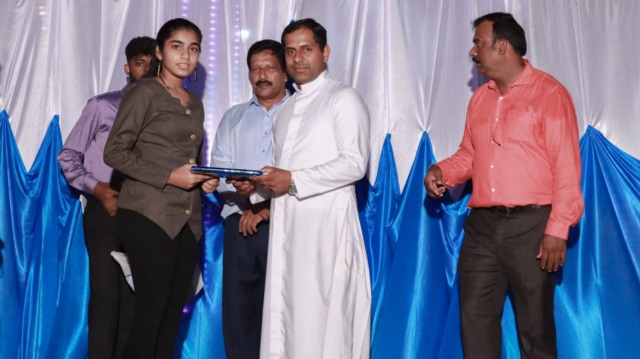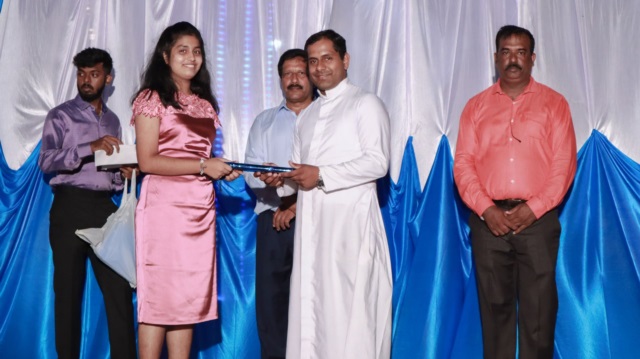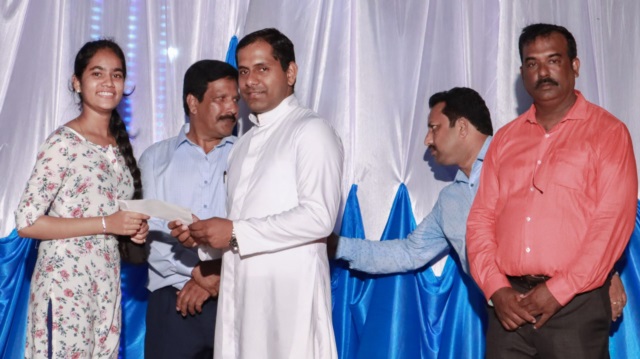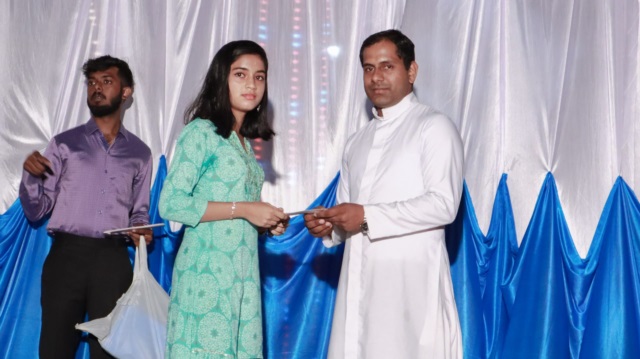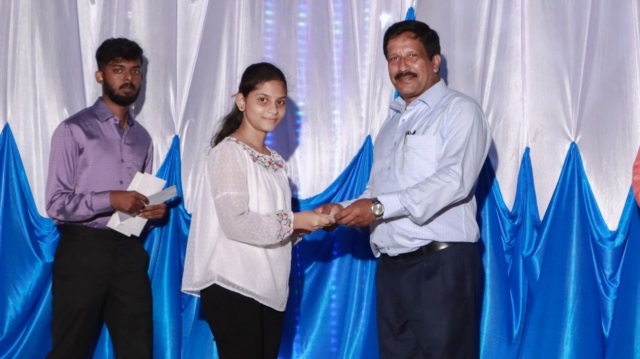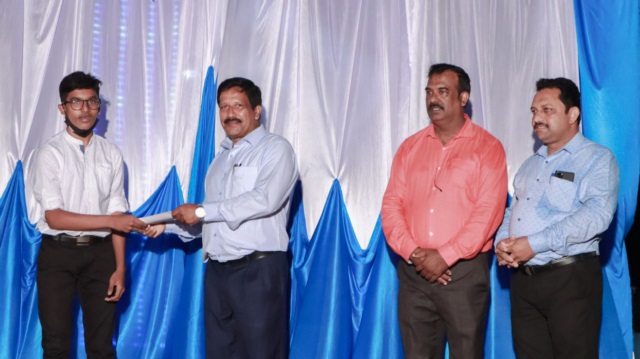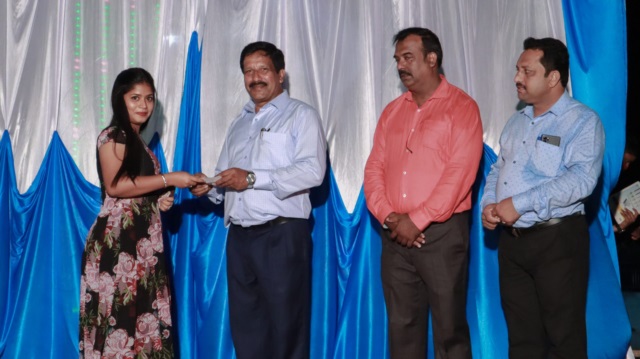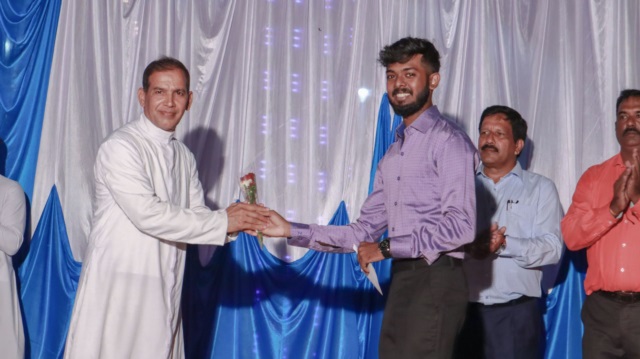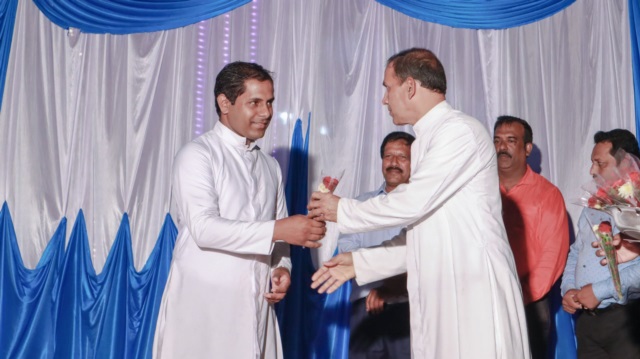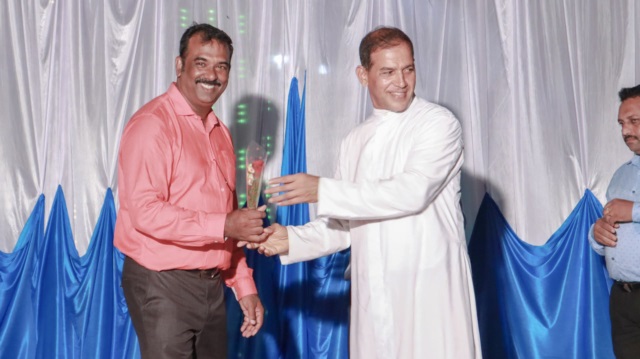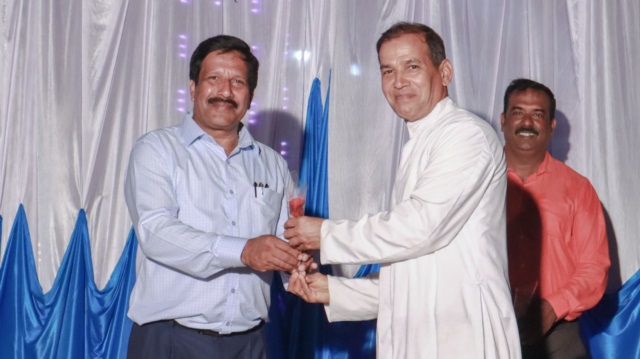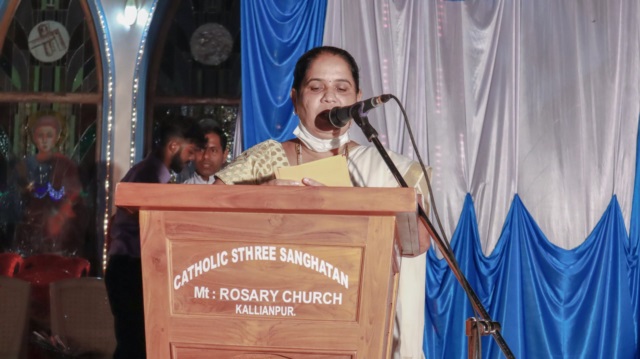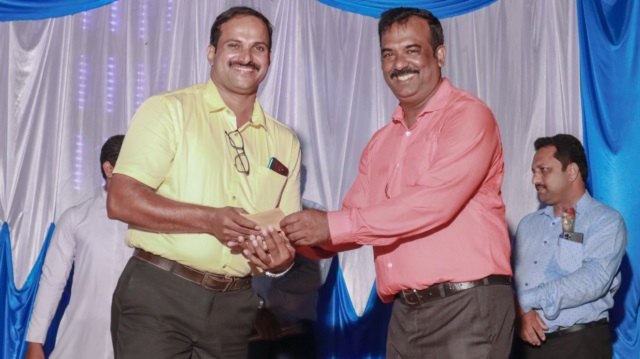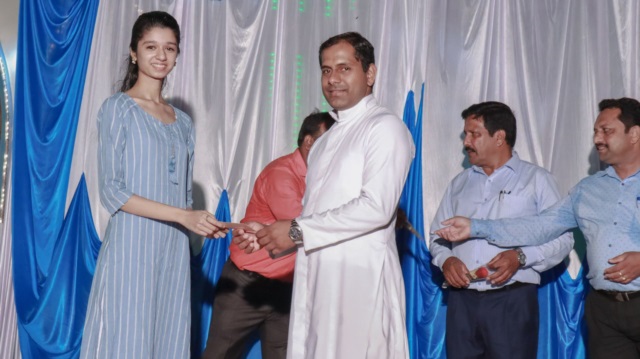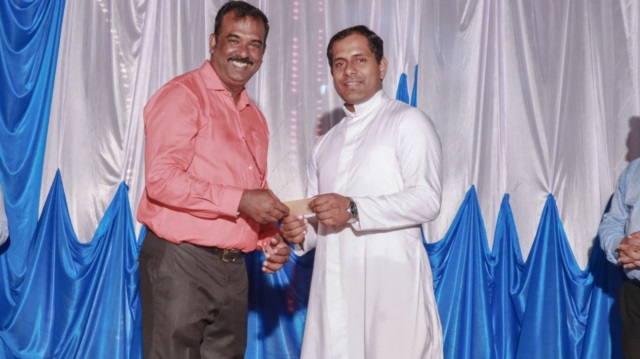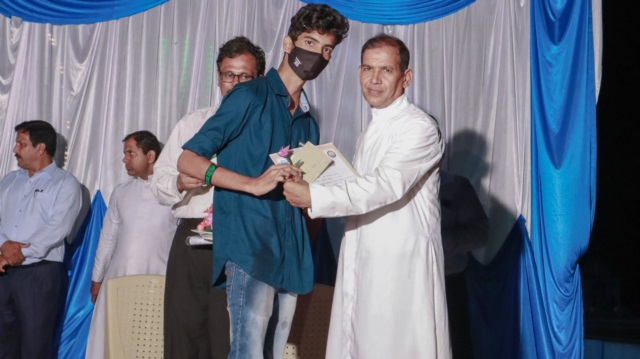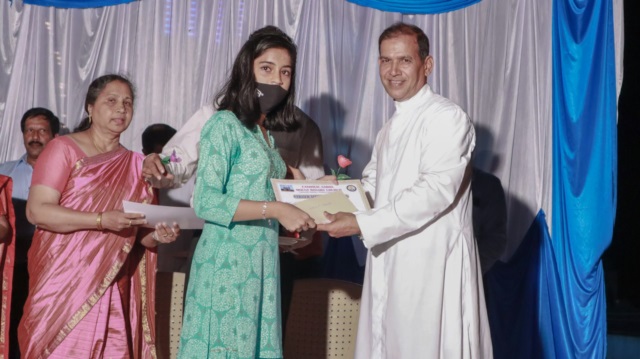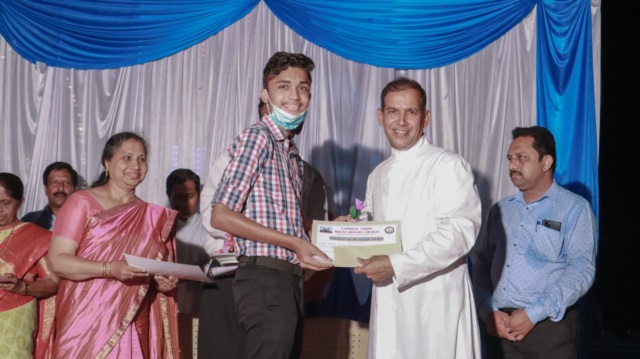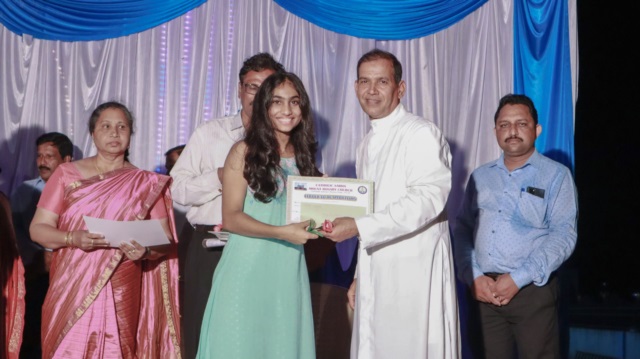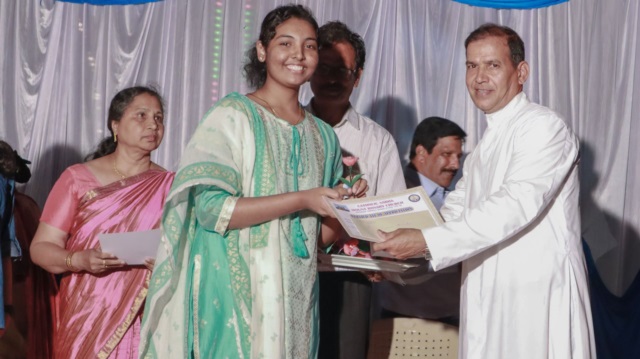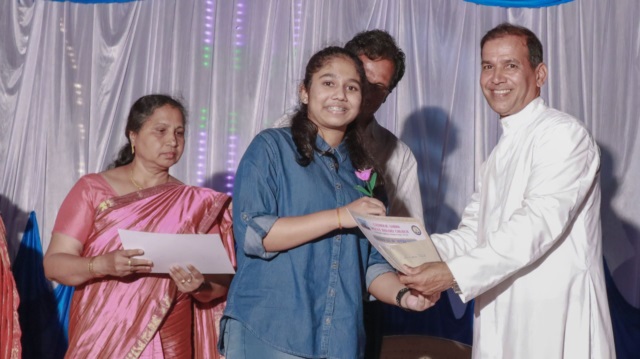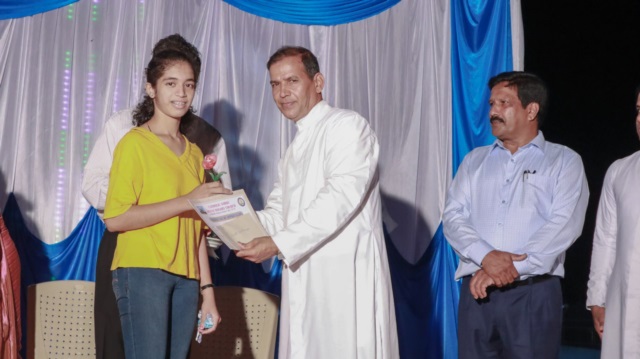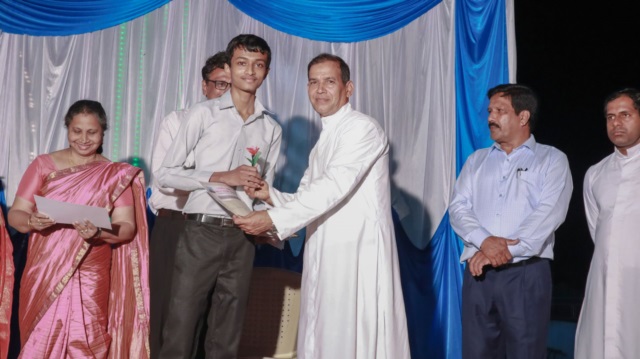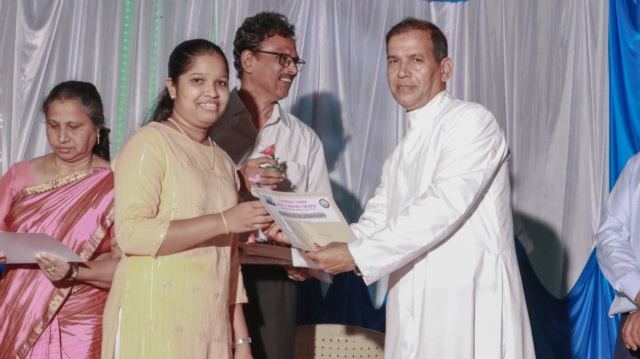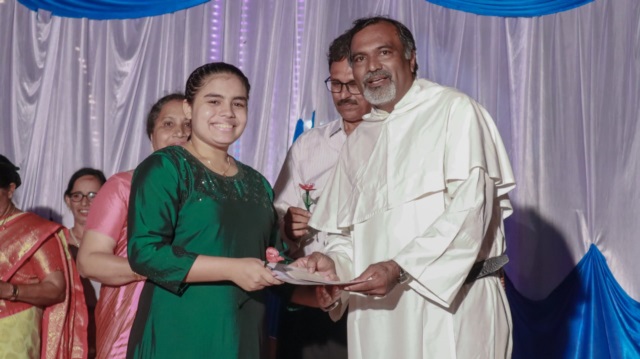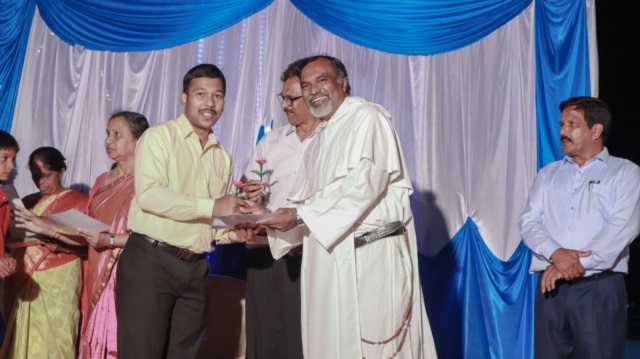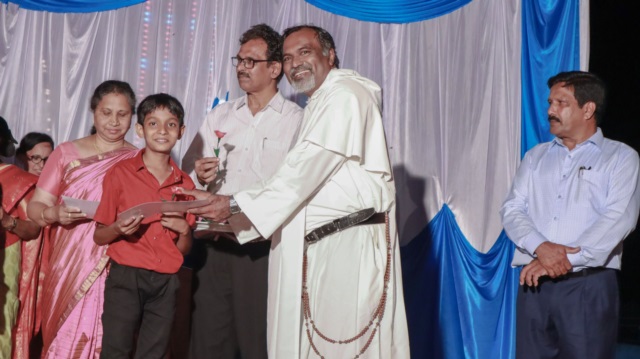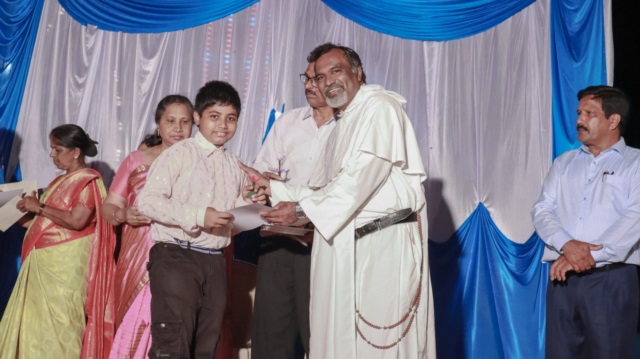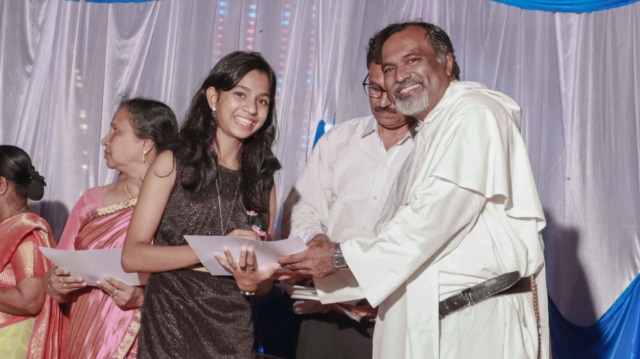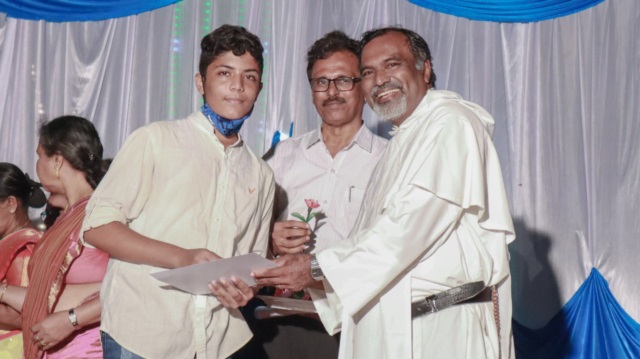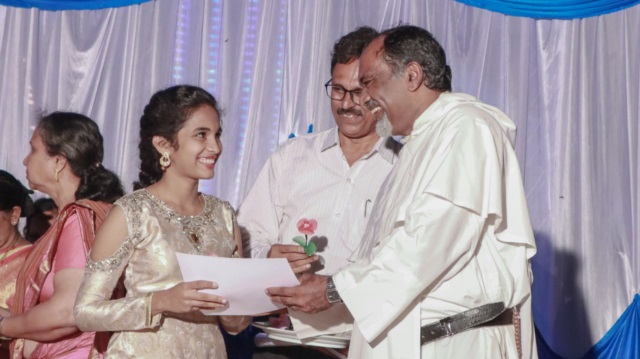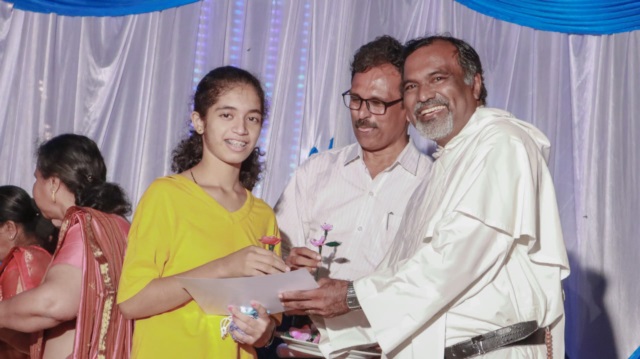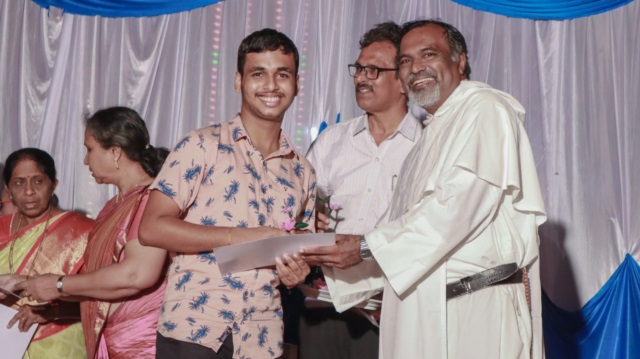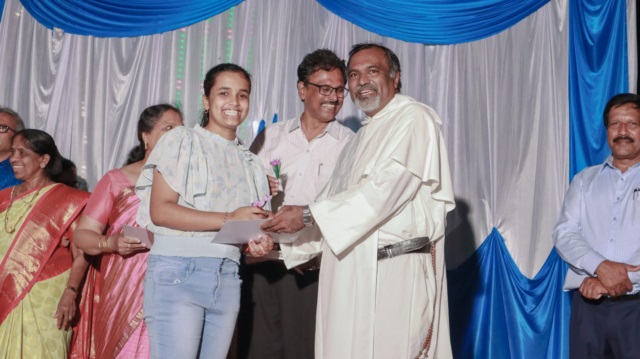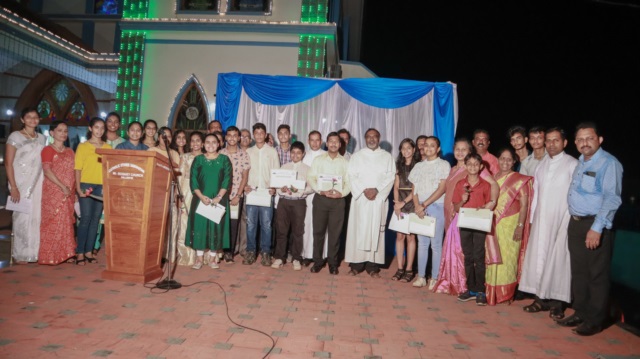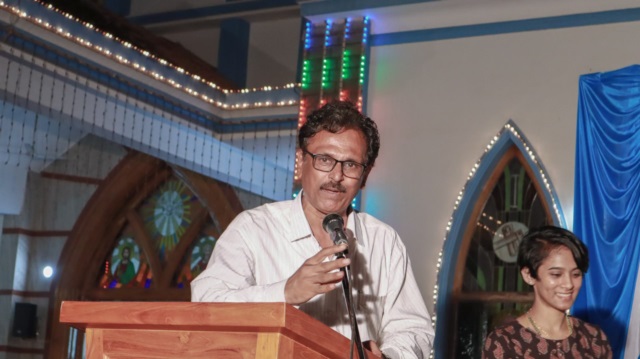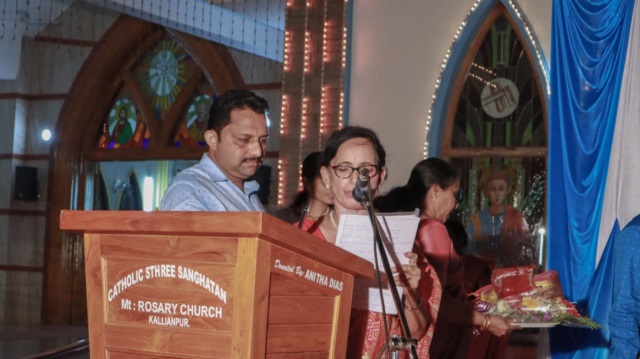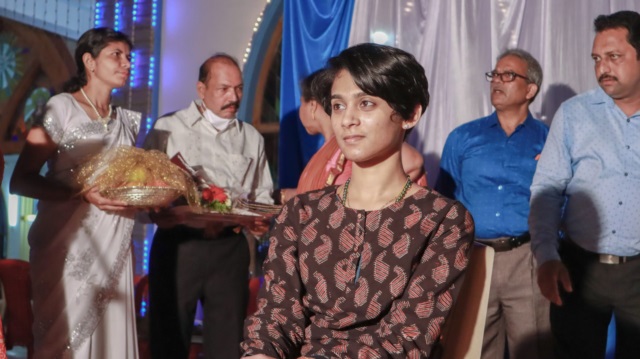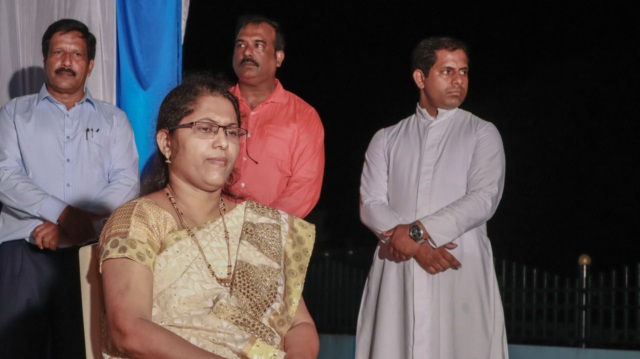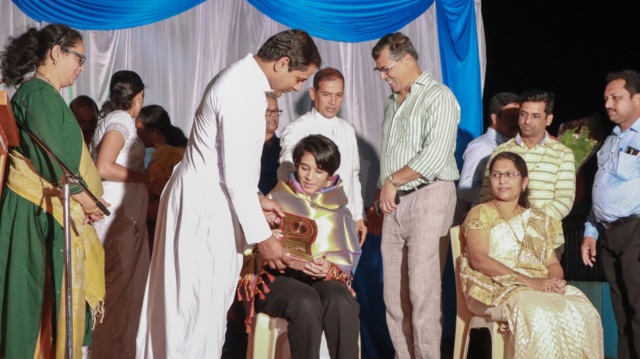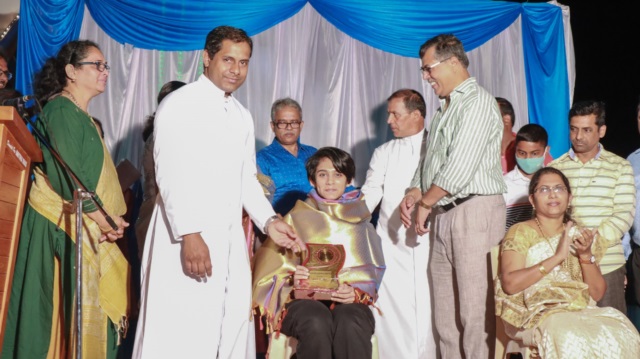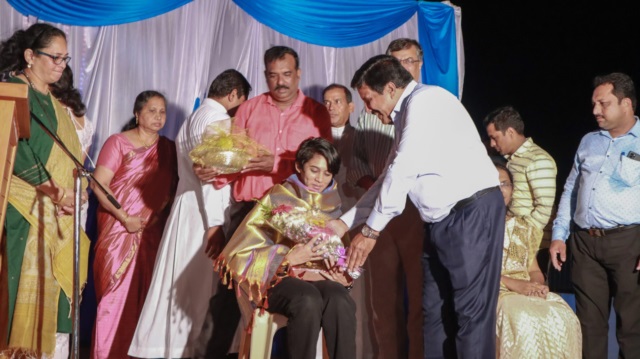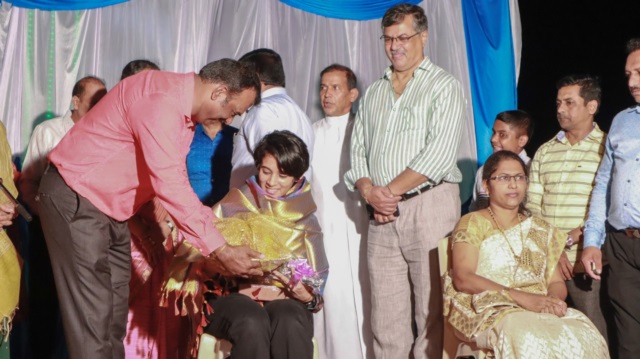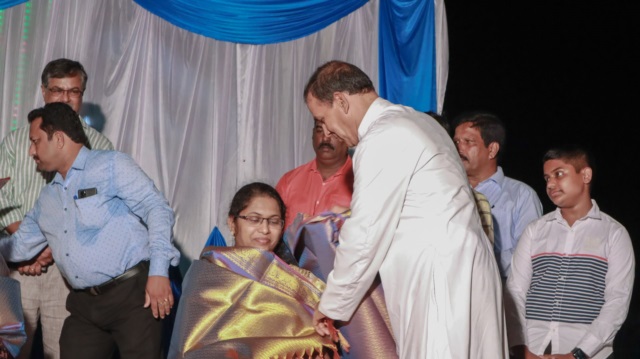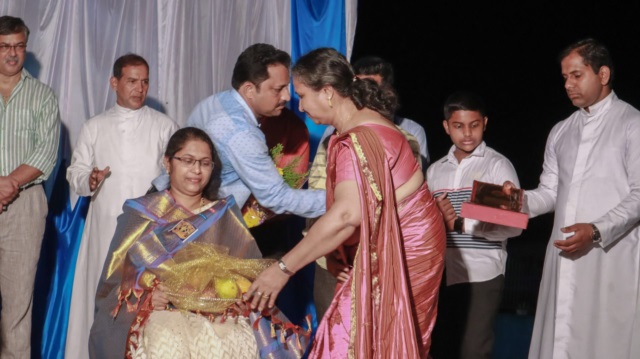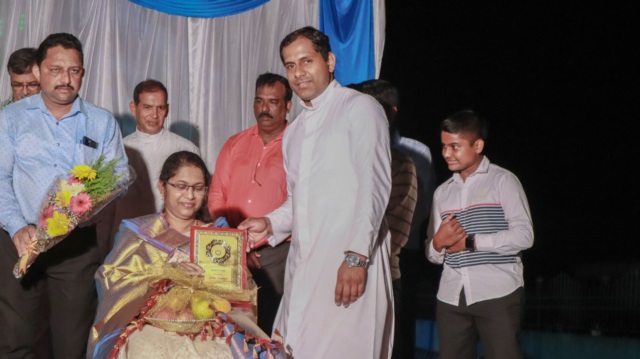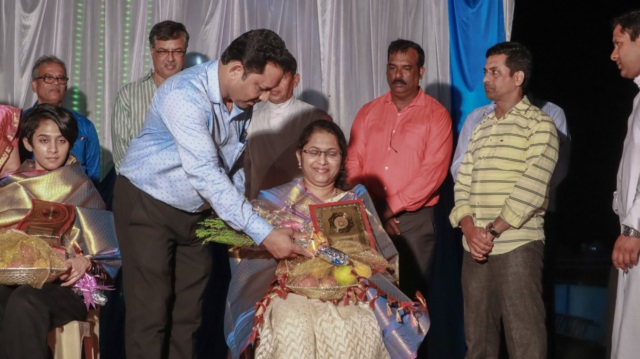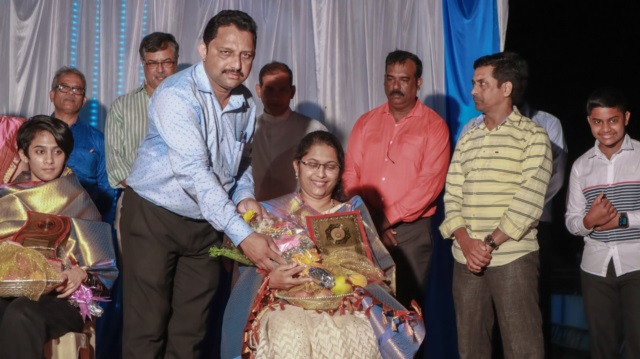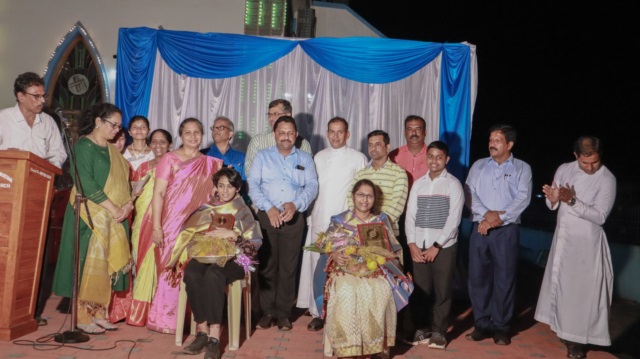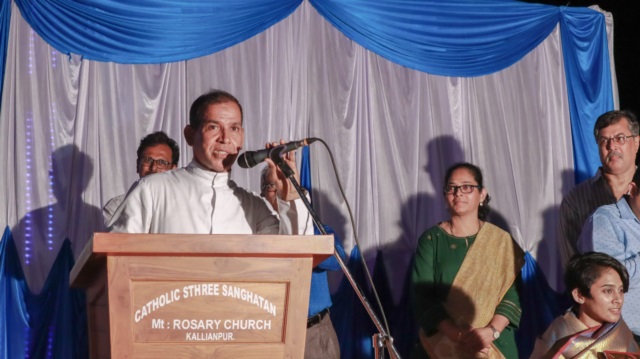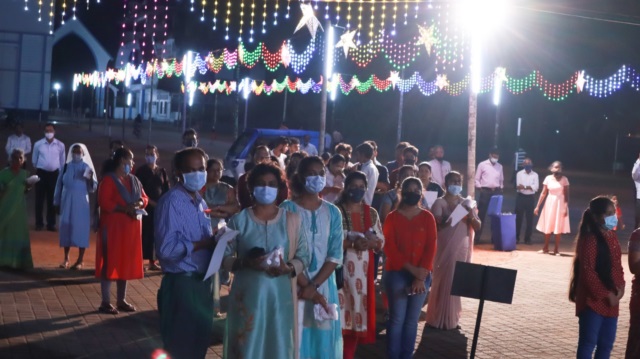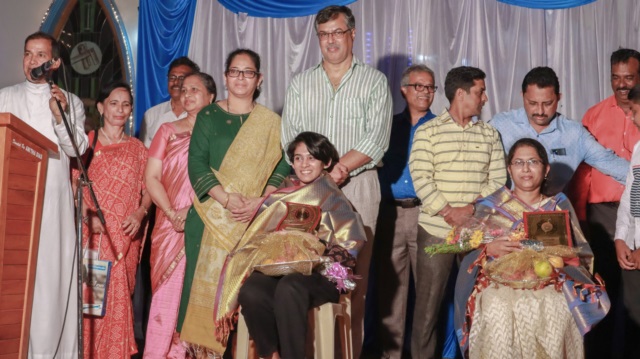 Prizes were distributed to the winners of various competitions like Crib, Drawing etc and recipients of various prizes in Quiz Competition organised by Rozaricho Gaanch were recognised and presented with cash prizes.
Catholic Sabah of our parish arranged regular Elocution Competitions in Konkani and Kannada languages for the youth and children of the parish and the various winners were honoured with Certificates of appreciation, flowers and cash prizes. The dignitaries and guests on the dais led by Parish Priest Rev Dr Leslie DSouza also recognised the outstanding achievers in the academic excellence selected from our parish, in X and XII Public Exams held in 2020-2021 with merit Certificates and cash prizes.
Shalom Britto proud daughter of Jerome & Sandra Britto the recipient of first rank and Gold Medal in B. Arch Exams conducted by MAHE in 2021, was specially congratulated and honoured for her singular and stellar performance, with traditional shawl, bouquet and fruits on behalf of the parishioners and Catholic Sabah, along with her proud parents.
One more achiever Dr (Mrs) Mavy Miranda, Associate Professor in Govt First Grade College & Post Graduate Centre, Tenka Nidiyur, who was recently bestowed with Ph D – by Bharatiyar University, Coimbatore for her research thesis – Status Management among Woman Employees of Public sector Insurance Companies: A study with reference to Coastal Karnataka, was recognized for her unique milestone was rightly honoured during this occasion with traditional shawl, bouquets and fruits by Parish Priest, with her husband and son.
On this glorious moment of Confraternity Sunday, of great joy, the Parish Priest Rev Dr Leslie C DSouza, congratulated all the winners and achievers on behalf of the parish family.
Assistant parish Priest Rev Fr Steven Fernandes, who meticulously organised and distributed days liturgy, Vice President of Pastoral Council, Mr Baptist Dias, Secretary Ronald Saldanha, leader & Convenor of all 20 Parish Commissions (Ayogs), Mr Santhosh Carnelio, President of Catholic Sabah Mrs Jyothy Lewis and office bearers, Mrs Benedicta Menezes on behalf of Rozaricho Gaanch & team, President of ICYM, Remus Saldanha ICYM & YCS Office bearers were present.
As the day's celebration was concluded around 7.25 pm, arrangements were in place to serve with snacks and soft drinks to all gathered and participated.