Bantwal: Peasants hold stir against proposed Udupi-Kasargod 400 KV transmission line
Bellevision Media Network


Bantwal, 29 Dec 2021: The peasants led by Udupi-Kasargod 400 KV electricity transmission line anti-struggle committee staged a protest to abandon the proposed power line at Jakribettu junction, here on Tuesday, December 28.
Addressing the protesters, the struggle committee president former Karnataka minister B Ramanath Rai said, 'the small and tiny farmlands-owners are surviving on plantation of areca, palm and plantain, pepper and growing vegetable; while the transmission lines passing through such plantations would destroy their livelihood,' said Rai.
'The proposed power line would cause havoc on not only humans but also all living beings. We got to think on scientific terms. The struggle should not be limited to just one day that has to go on till the government shelves the project once for all,' added Rai.
Rai also said, 'The peasants are not interested in compensation, the state energy minister is from our own home district who can cancel the project in just 1 day,' said Rai.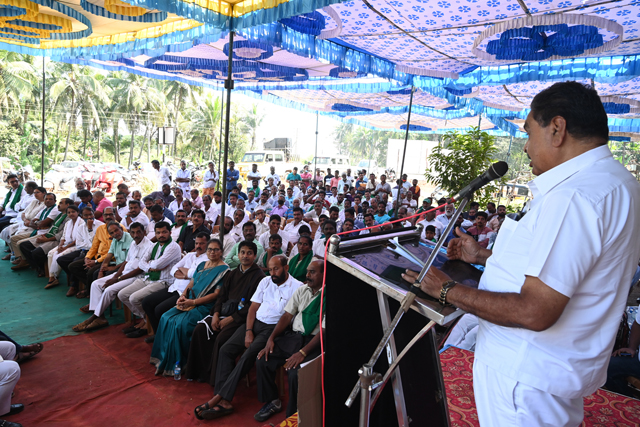 Raita Sangh Karnataka general secretary Ravikiran Punacha said, 'We are not anti-progress. But we cannot tolerate the imminent injustice to our fellow peasants,' said Punacha. He questioned the state authorities when they prepared a survey to lay the power line by google map, 'why can't they survey the likely damage to crops, plantations, bio diversity, eco-environment by the google map,' he questioned. He cautioned the authorities that the struggle will not cease as the peasants are determined to get justice for their livelihood.
The victim Concepta D'Sa and Karnataka Pollution Control Board former member Pius L Rodrigues also address the protesters.
The leaders Baby Kunder, Sudeep Kumar Shetty, Chandraprakash Shetty, M S Mohammed, Padmashekar Jain, Sudarshan Jain, Veena Bhat, Roy Carlo, Mohammed Shafi, Lukman, Chittaranjan Shetty, Roshan Rai, Mohan Gowda Kalmanja, Shekar B, Ramanna Vittal, Prabhakar Deivagudde, Parameshwar Moolya, Vasu Poojary, Lavina Wilma Moras, Padmanabha Rai, Prakash Shetty, Jagdish Koila, Prashant Kulal, Suresh Jora, Yusuf Karandady, Anand Salian, Abbas Ali, Janardhan Chendtimar, Ramesh Nayak, Venkappa Poojary, Premanat Shetty, Hasseinar, Madhusudan Shenoy, Ida Suresh, Flossy D'Souza, Benedict Carlo, Sitaram Shetty, Nawaz Bantwal, Ibrahim Nawaz Parlya, Lokesh Suvarna and others were present.
Suresh Kumar compered the programme.
Earlier, a bike rally was held to draw the attention of the general public on the plight of peasants in case the power line project gets go ahead by state authorities.