Second series of lectures in memory of Fr Roche and Fr Noronha held in SMS College
By Seema Lewis

Pics: Kiran Acharya

Bellevision Media Network


Udupi, 11 Jan 2021: A bright morning in the colourful SMS College on Monday, 11th January, 2021, was more pleasant as the enthusiastic students and good number of teaching and non-teaching staff eagerly waiting for the second series of Lectures in memory of legendary educationists Fr. Zephrine Noronha and Fr Alfred Roche who lived and served in Brahmmavar in the 19th and 20th century respectively.
Much awaited programme organised under the aegis of Dept of English, SMS College, was given a prayerful start with invoking Almighty Lords blessings with a silent prayer at 10.30 am in the College Auditorium.
Prof Jude Alfred Furtado, HOD, Department of English SMS College cordially welcomed the distinguished and learned speakers and escorted them to the dais. In his short address, also referred the first series of successful lectures held on, 17th August in the year 2019, which was acclaimed by the students who made it a point to attend and listen to it.
The colourful Portraits of Rev. Fr. Noronha and Roche were garlanded by the guest speakers and a moment of silence rightly paid deserved homage to these great departed souls.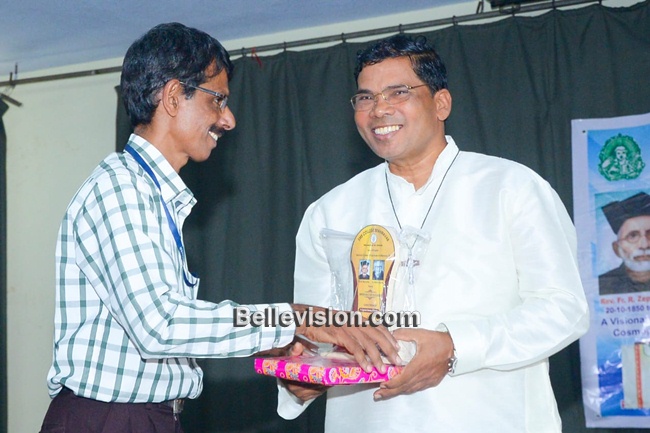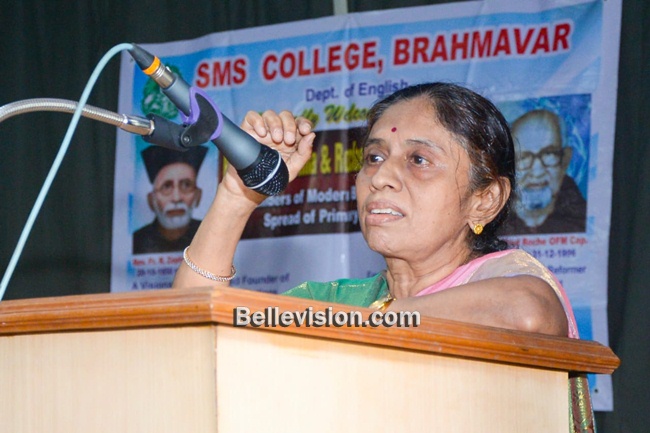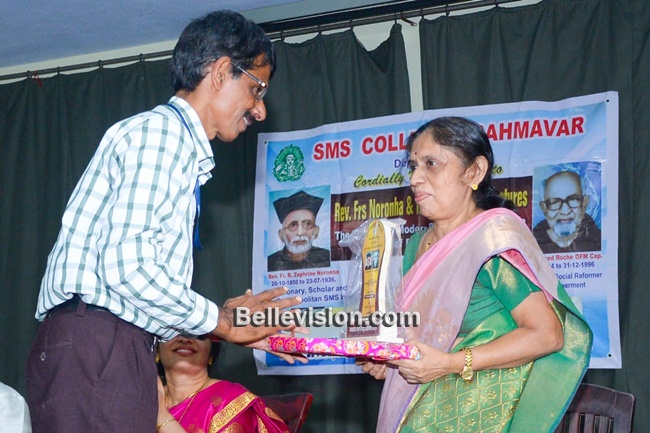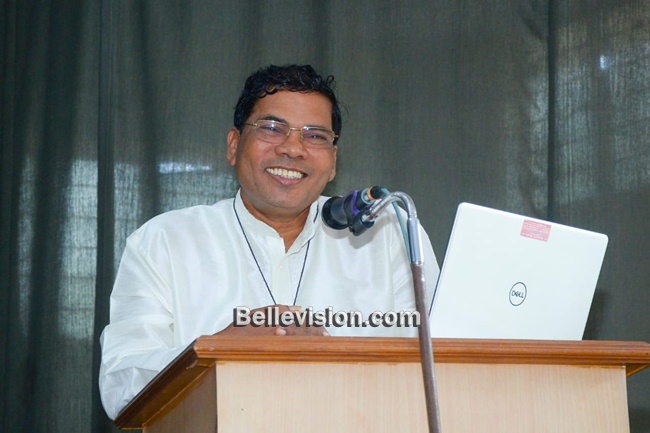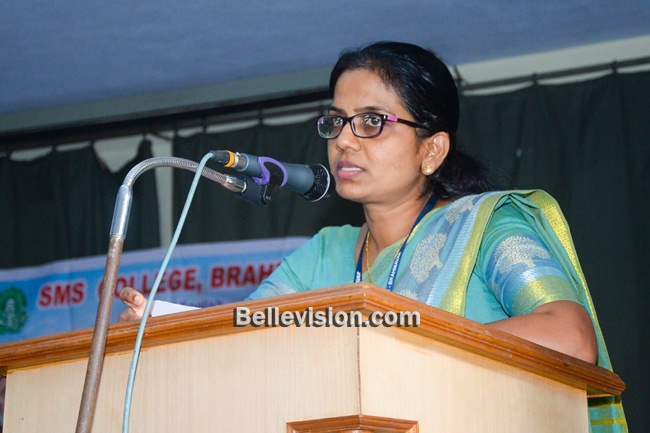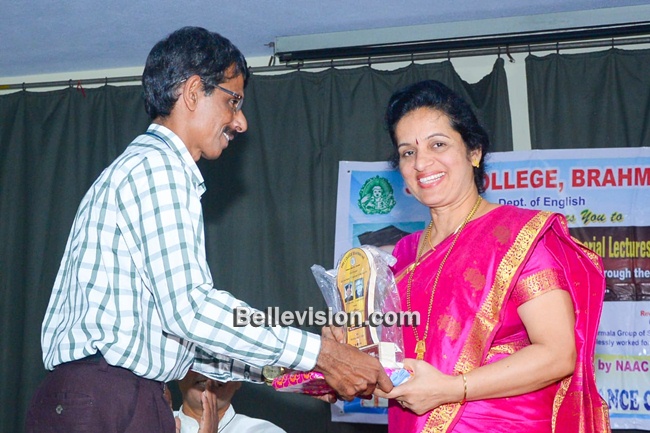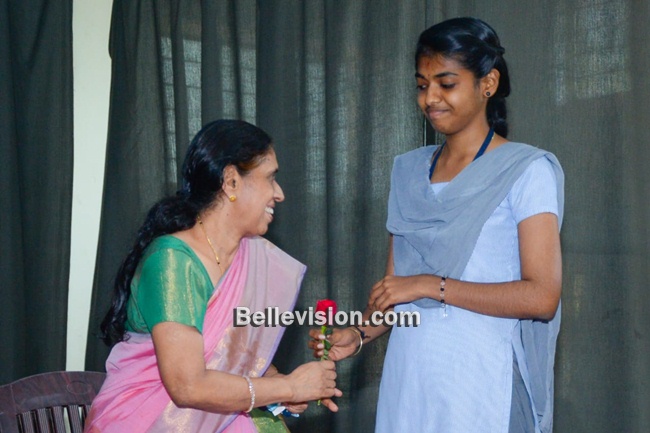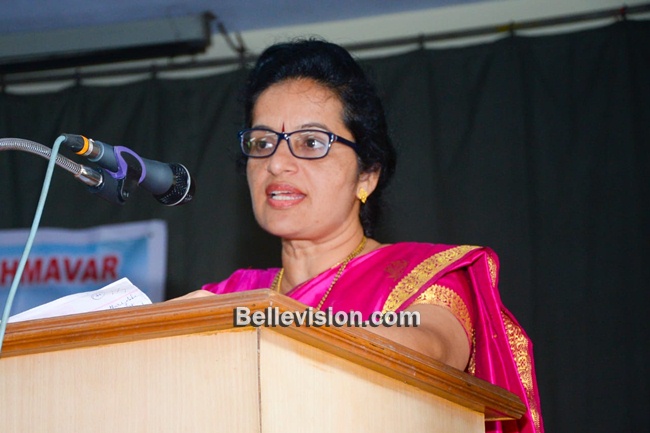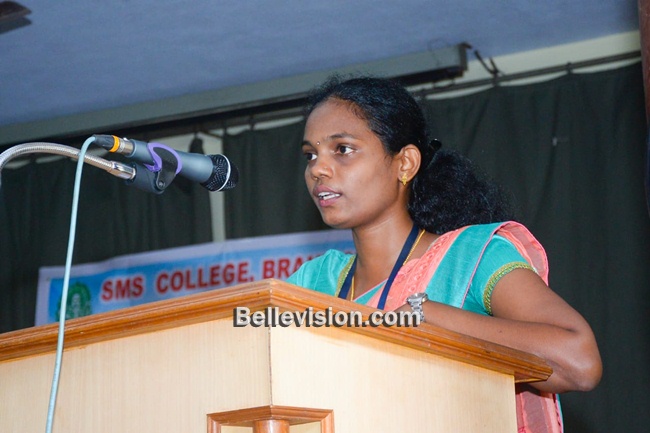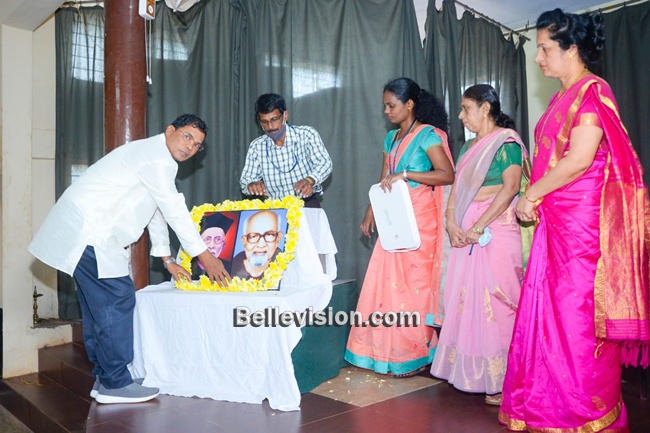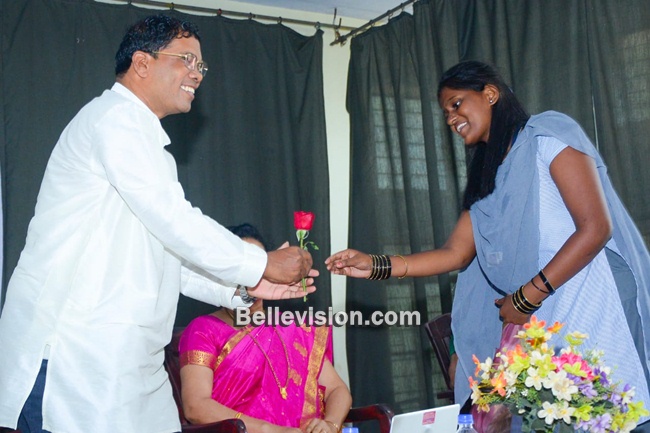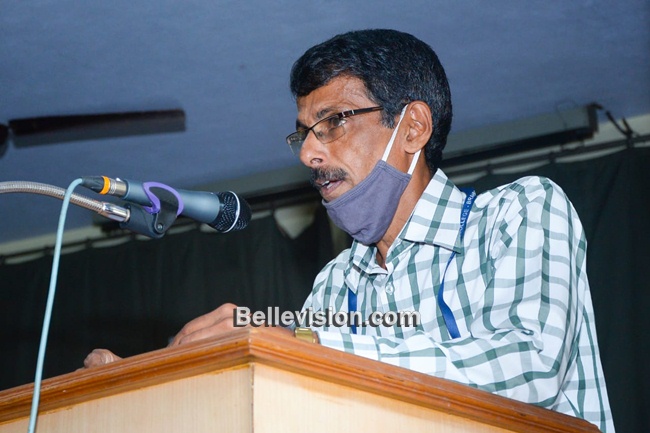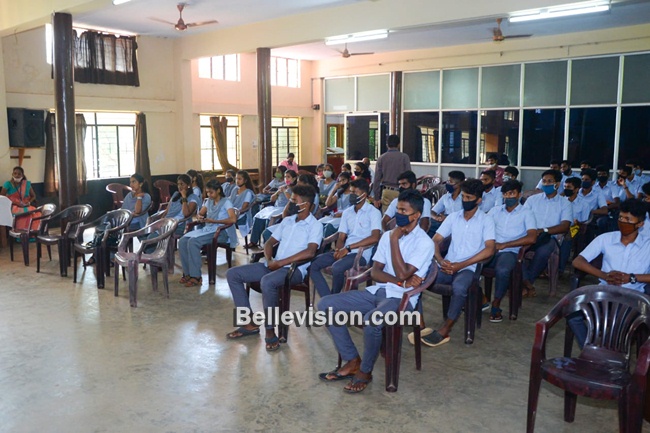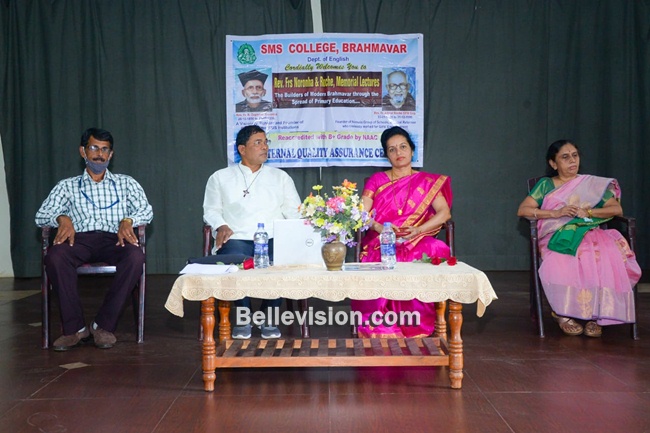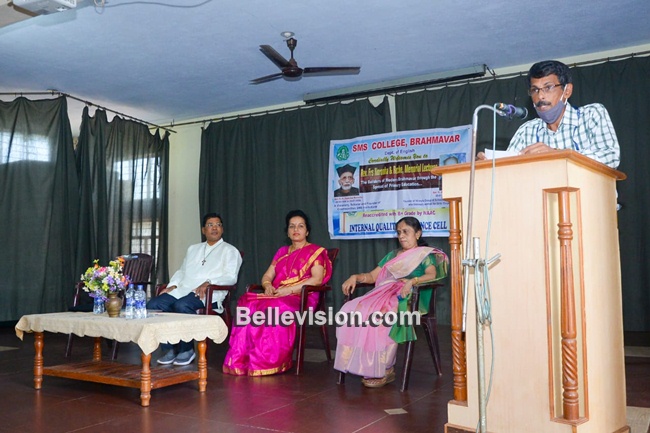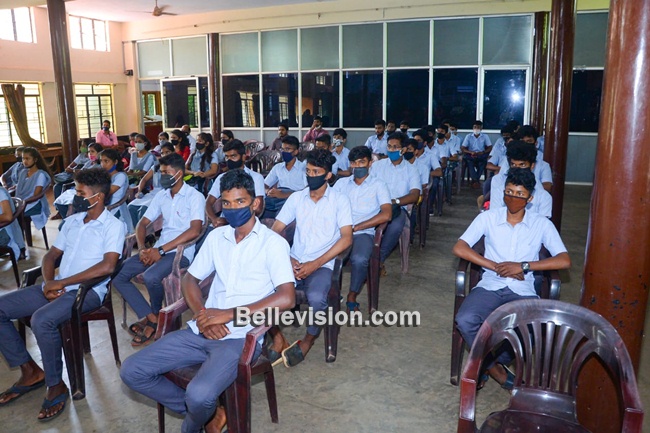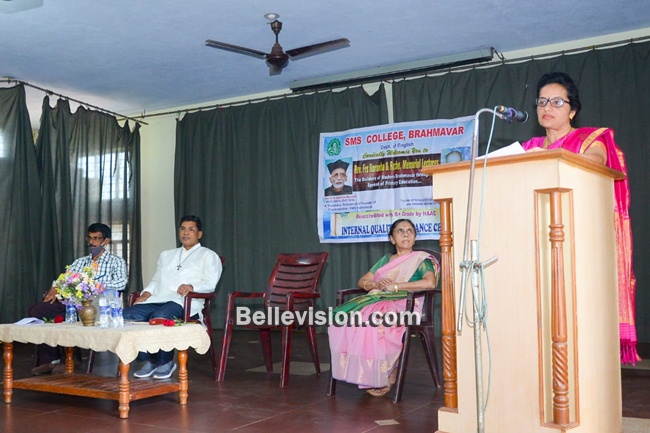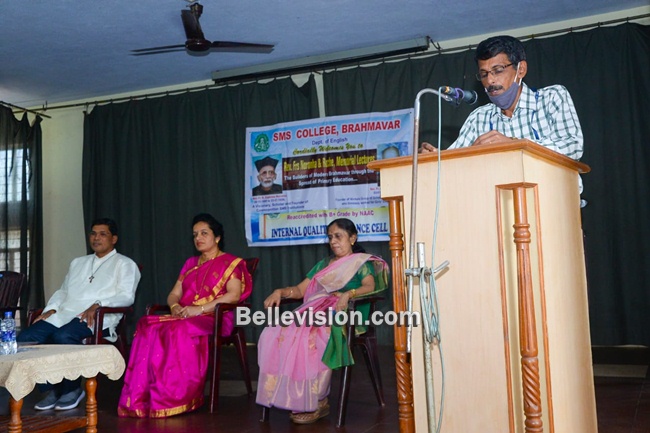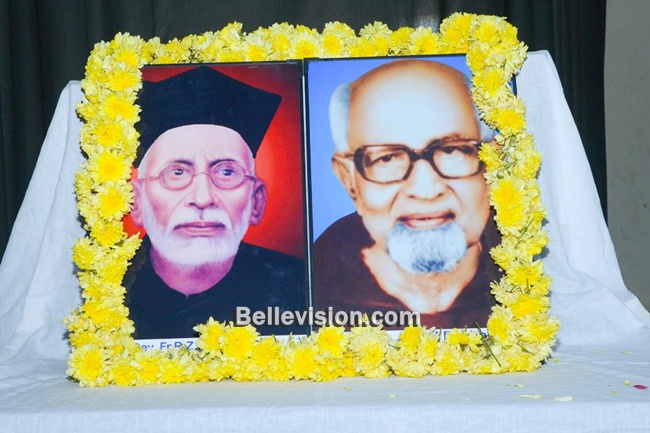 Pioneer and a reformer to familiarize Girl's higher education in Brahmmavar – Fr. Alfred Roche:
Lecturer Ms Jayashree was briefly introduced Mrs Joyce Vandan DSa, Deputy Head Mistress a teacher by profession, known for introducing modern techniques of teaching to make the learning process interesting in Maryknoll School Barkur.
In her impressive and resourceful talk, she spoke about the importance of educating girls in today's world. She recalled the difficult days of pre-independence and early independence era and the conservative society restricting girls and women to go out. Coastal Districts were fortunate to have pioneering and forward thinking educationists and social workers in the likes of Fr. Alfred Roche, OFM Cap who had the distinct credit of starting Primary Schools, especially Nirmala Girl's High School in Brahmmavar.
Father of Primary and modern education in the then rural Brahmmavar, who sown the first seeds of general education:
The next speaker for the occasion Fr. Cyprian Henry DSouza was briefly introduced to the audience by Prof Jude Alfred Furtado, …….a renowned and well educated priest in the academic areas like English literature, Social work, Law and music and a trainer of Youth in the Diocese of Mangalore, who earlier also served in St. Aloysius College as a part time Counsellor.
He beautifully narrated the role of rural education, which transpired socio-economic system. Knowledge is power and today the society remains grateful to those educationists who both took initiative and risk of commencing Primary Schools in the region, as Saintly Fr. Zephrine Noronha who founded Cosmopolitan School in the year, 1916……rightly the 'Father of Modern Education in Brahmmavar'.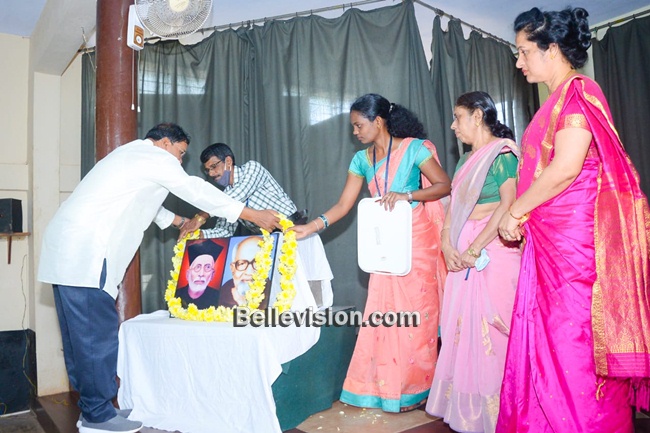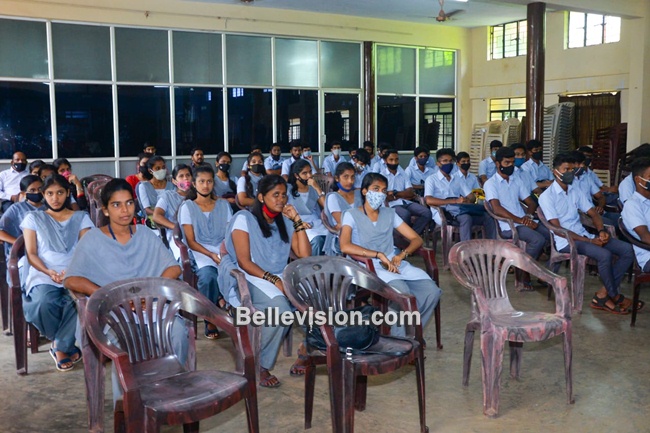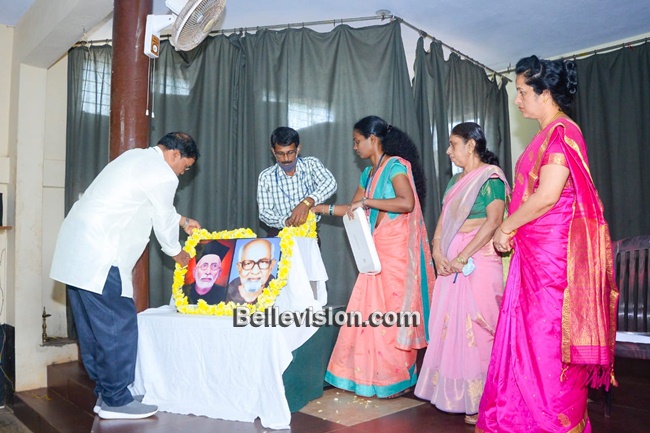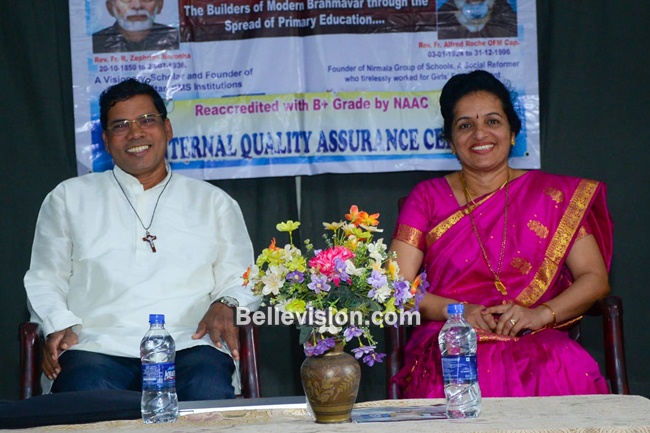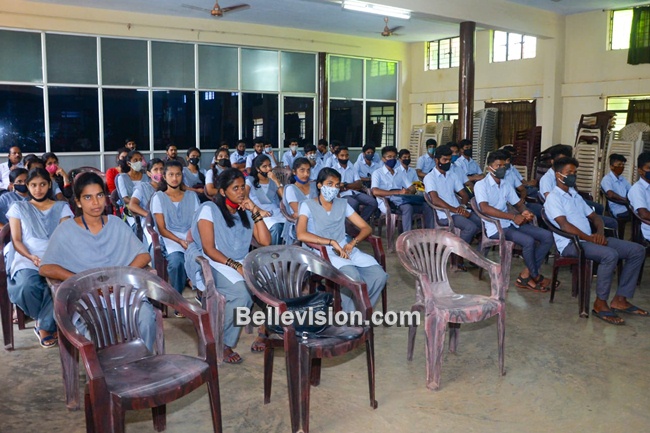 Spreading of knowledge not only a social, but also a divine responsibility: Prof. Namita Tolpadi
Lecturer Mrs Seema Lewis, in her short and crispy presentation highlighted the personality of Prof Namita Tolpadi, retired HOD dept of English, who had the distinct credit of teaching in the same SMS College, for almost four long decades, 37 long years, since the very inception of SMS, shared her nostalgic feelings….
In her matured and best prepared concluding address, Prof Tolpadi, spoke in length with her life time experiences the value of proper education in modern world……Education is key to a successful life, which empowers mental, physical, social.... in a way holistic development of a person. She continued, "Though British introduced general education, women were denied in post independent India too. Coeducation is best and ideal for human growth. Exposure to Extracurricular and co-curricular activities are important and a teacher must be a permanent learner…" She regretted, "present day education system has been a failure, people who learnt less know more and vice versa, she opined. That is why; Socrates is great because, he knew that he knew nothing…."
Ms Shaunusha Shetty, III BCom, aptly compeered the whole proceedings, which were rightly, took the audience to a different world.
All Guests on the stage were presented with colourful memento and copies of recently published Biography of Rev. Fr. Alfred Roche, on his way to Sainthood, renowned research Scientist Dr. Gabriel Fernandes and Richard Carvalho, a mechanical Champion - set of all these three Books which were authored by Archibald Furtado, Barkur.
While proposing vote of thanks, Mrs Seema Lewis, thanked all guest speakers, Principal Bhat - for their valuable time and sharing insightful thoughts, Mr James Fernandes, Chicago, USA for instituting the trust to present these series of talks every year in SMS and students and teachers for gracing the occasion in fairly large number and adhering to safety, sanitising and wearing masks.