Newly-appointed KPCC spokesperson Ivan D'Souza holds Christmas & Deepavali Friendly Meet in city
By Robert D Costa

Pics: John V Tauro

Bellevision Media Network


Mangaluru, 24 Dec 2020: Christmas and Deepavali Friendly Meet was held at Antony's Ashram, here on Thursday December 24 afternoon. It was held at the leadership of former Karnataka MLC and newly-appointed KPCC spokesperson Ivan D'Souza.
D'Souza was organizing all religious friendly meet during Eid, Deepavali and Christmas in the city since the last 7 years.
Meanwhile, owing to Covid-19 pandemic, it was held at St Antony's Ashram Jeppu, here on Thursday.
Mangala Devi temple managing trustee Ramanath Hegde, MUDA former chairman and DCC former executive president Kodijal Ibrahim, St Antony's Ashram director Fr Onil D'Souza, Ivan and Dr Kavita D'Souza couple, Panama Group CEO Vivek Raj Poojary, advocate M J Hegde, up coming entrepreneur Ashith Pereira, former corporators Nagendra Kumar and Sabita Misquit, Dinakar Shetty, Sunil Pinto – proprietor of Canara Pinto Travels and others were present.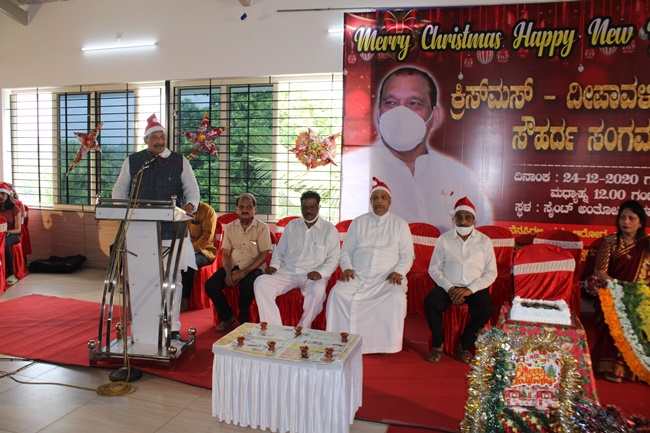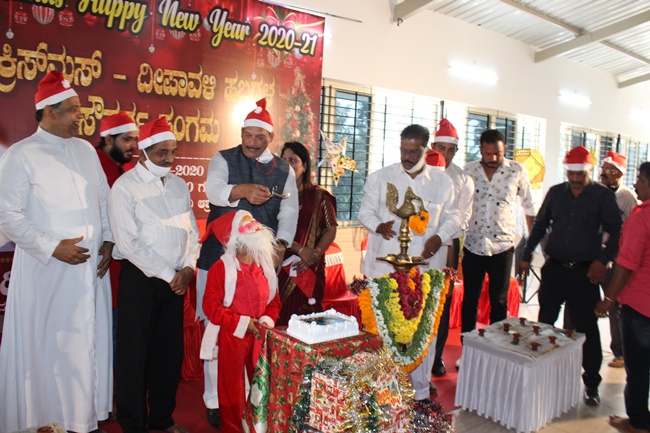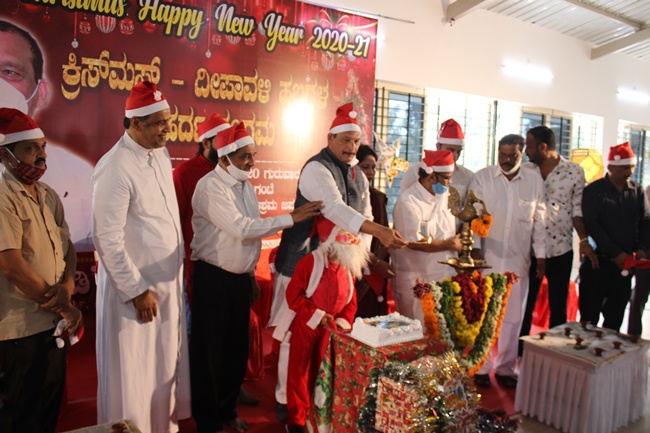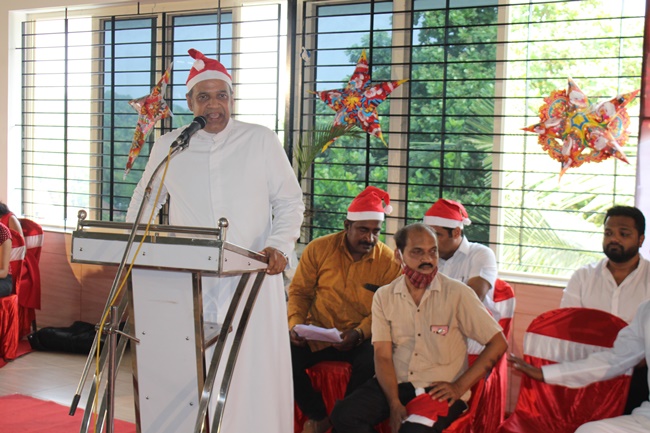 In his welcome address, D'Souza said, 'I thank God for saving us from Covid-19 pandemic to be present at the venue. The life has drastically changed since the outbreak of Covid -19 that has threatened the survival of mankind. Meanwhile, I have done a bit to help the poor by distributing rations and other daily necessities to hundreds and thousands of people across Dakshina Kannada district during national lockdown by raising loan of Rs 32 lac. I believe in communal harmony among people of different faith that has to be fostered for prosperity,' said D'Souza.
Ramanath Hegde said, 'I go to St Lawrence Shrine at Karkala every year because I believe in miraculous powers of Saint although I am staunch Hindu. Similarly, I also attend Eid Friendly Meet with my Moslem brethrens, said Hegde. He also said he attends Christmas meet every year that is being organized by Ivan D'Souza.
Kodijal Ibrahim said, 'All religions of the world propagate peace and harmony among the brethrens in this universe that is created by God,' said Ibrahim. He also said that it's the time to shun hatredness and enmity among the people of different faiths as the nation is facing problems in this regard. He appealed the brethrens to live in peace and harmony as light brings new hope during Deepavali.
Fr Onil said, 'Christmas is the season to get rid of enmity and anger; to be new creations of God who became man to save the mankind from sins. Similarly, the Deepavali – the festival of light expects us to shun our failings to live better lives with definite resolve,' said Fr Onil.
The choir group of CSI Sushanti Church, Madikeri ushered the gathering into Christmas festive mood and also presented Christmas carols.
The music troupe of Full Gospel Church, Kankanady, here also presented Christmas carols on the occasion.
The free food that was sponsored by Ivan D'Souza was served to 400 inmates of St Antony's Ashram.
The gathering was served with fellowship meal to conclude the programme.
Rohit compered the programme.