Udupi/M'Belle: Principal Devaraya Shanbhogue Retires From St. Lawrence PU College
By Dr. Eugene DSouza

Bellevision Media Network


Udupi/M'Belle, 28 Nov 2020: Principal Devaraya Shanbhogue was given a warm send off following his retirement after a long period of 36 years of dedicated and sincere service in St. Lawrence Pre University College Moodubelle, first 34 years as lecturer of Statistics and later on year and eight months as Principal of the college.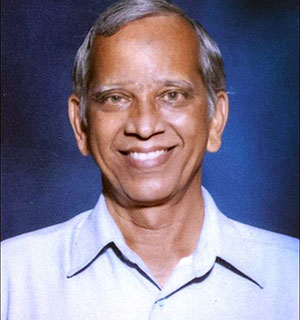 The farewell function was held in St. Lawrence PU College Hall on Saturday, 28 November 2020 at 11 am. Though the programme was simple and restricted due to the Covid 19 pandemic and absence of students, it was quite emotional and dignified in all respects.
The programme of farewell to Principal Devaraya Shanbhogue was presided over by Fr. Clement Mascarenhas, Correspondent of St. Lawrence Educational Institutions. Other dignitaries on the dais included Principal Devaraya Shanbhogue, his wife Mrs. Divya D., Fr. Jithesh Castelino-Assistant Parish priest of St. Lawrence Church, Moodubelle, Gerald Fernandes-Vice President of Parish Pastoral Council and President of PTA, Maxim D'Sa-President of Old Students Association and Mrs. Sunitha Kamath-Headmistress of St. Lawrence Kannada Medium High School.
Following the prayer, Mrs. Jacintha Lobo-senior lecturer of Commerce welcomed the guests.
Fr. Clement Mascarenhas felicitated both Principal Devaraya Shanbhogue and Mrs. Divya by offering shawl, garland, memento, flower bouquet and citation which was later read by Jadabharath Sharma-Sociology lecturer.
In his message, Fr. Clement Mascarenhas expressed gratitude for the long and dedicated service to the institution by Principal Devaraya Shanbhogue who worked with love and honour. He appreciated his teaching qualities and administrative capabilities. Fr. Clement wished happy and healthy retired life to Principal Devaraya Shanbhogue.
Maxim D'Sa in his brief address recalled the love and affection that the old students have towards Principal Shanbhogue who taught the difficult subject of Statistics with such simplicity and clarity that every student could understand and pass in the examination with good marks. On behalf of the old students Maxim D'Sa wished happy and contented retired life to Principal Deavaraya Shanbhogue.
All the teaching and non-teaching staff members of St. Lawrence Composite PU College felicitated Principal Devaraya Shanbhogue by offering him flowers and posing for group photographs.
Principal of St. Lawrence English medium High School, Br. Philip Noronha as well as Headmistress of Church Aided Higher Primary School, Sr. Irene Viegas also honoured Principla Devaraya Shanbhogue.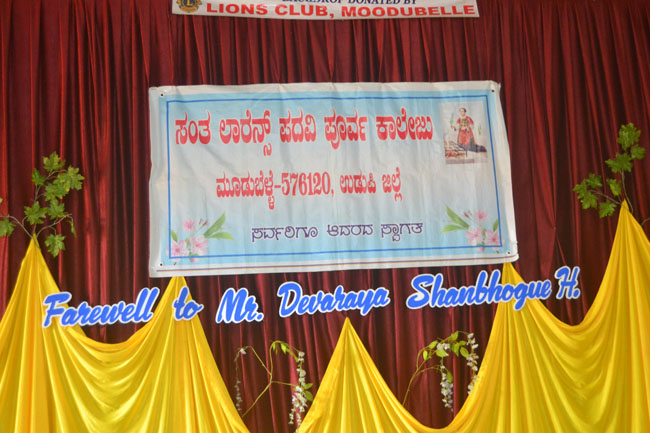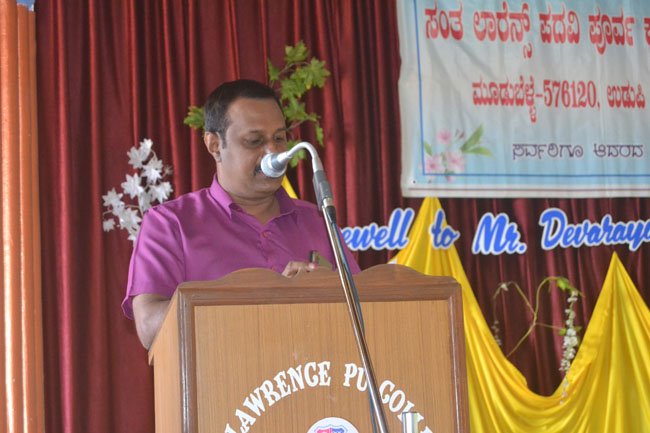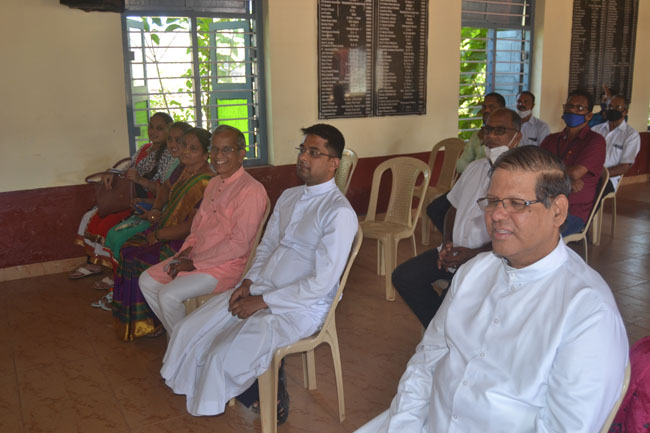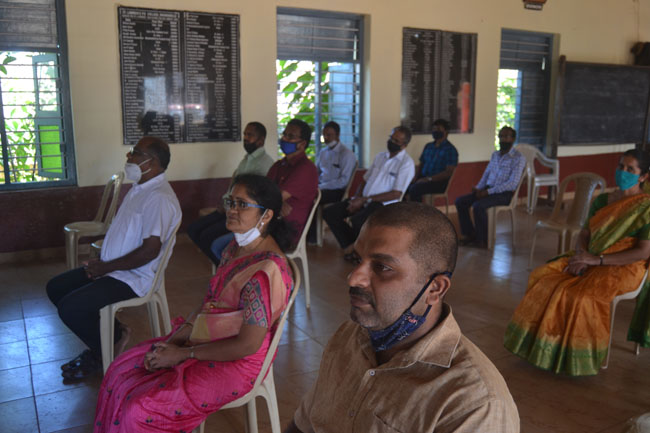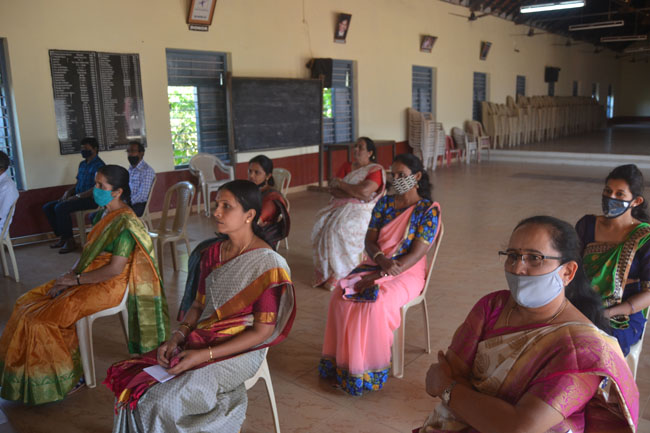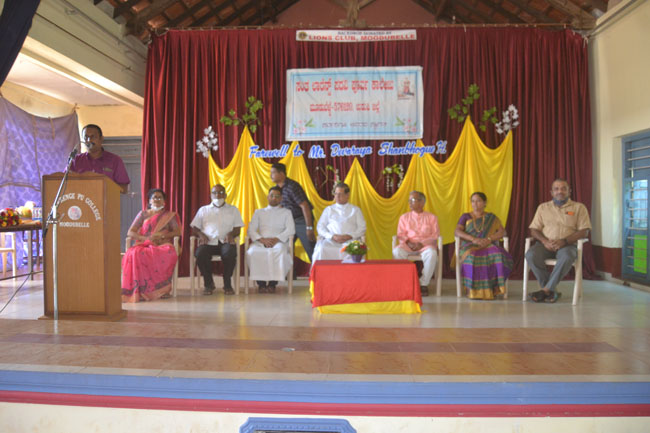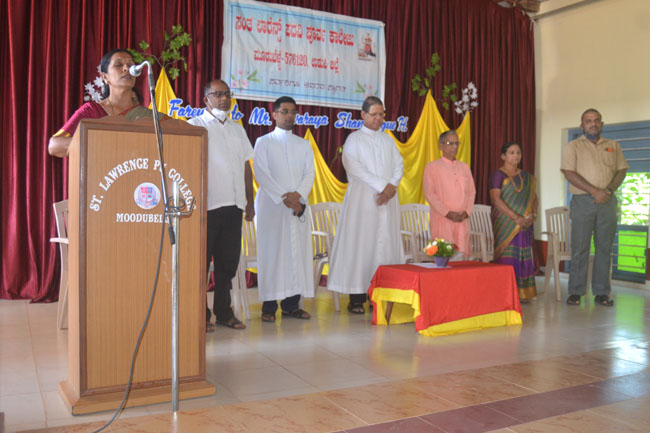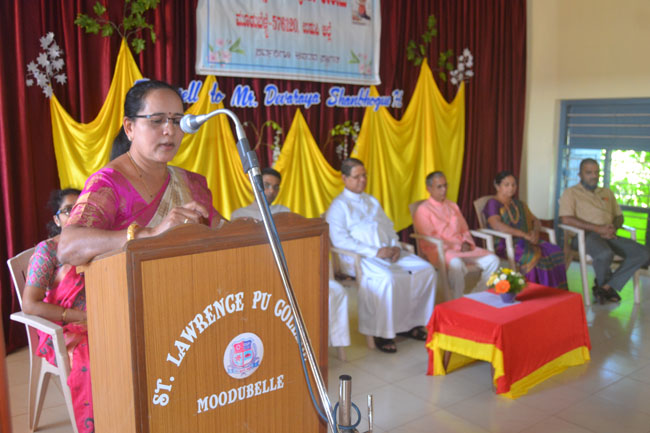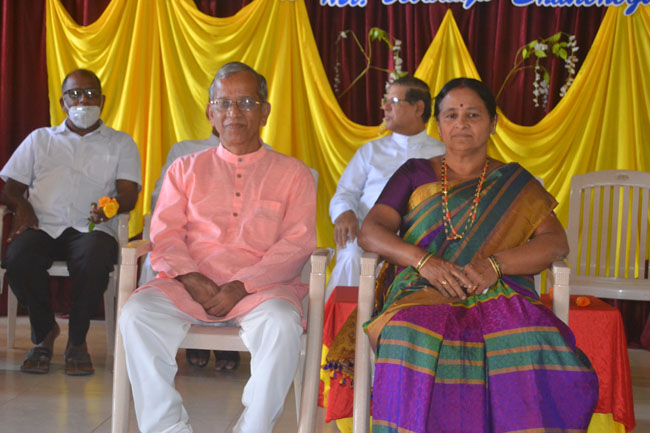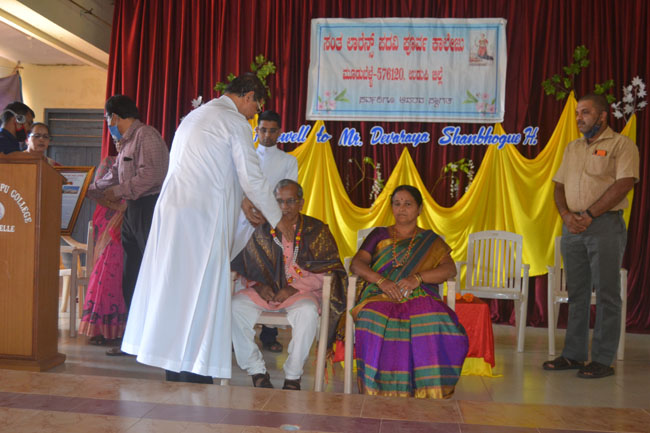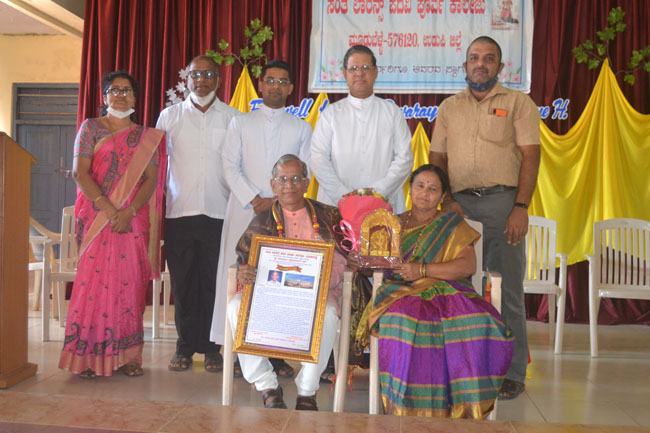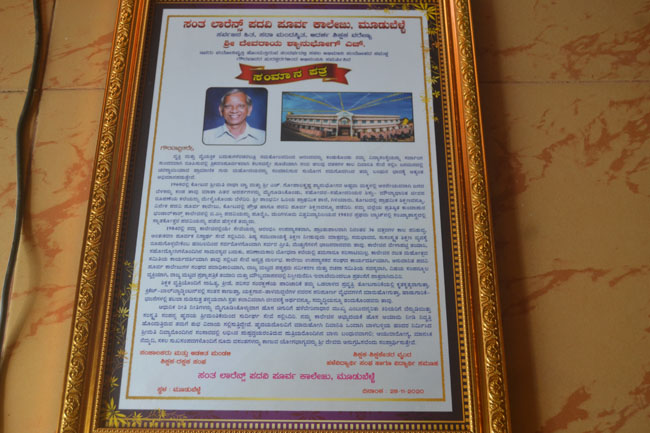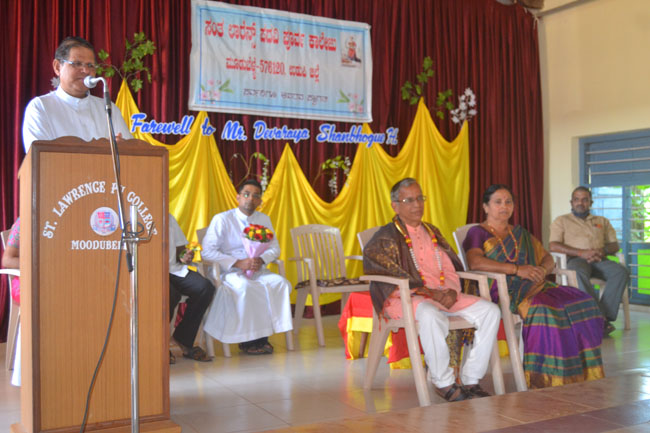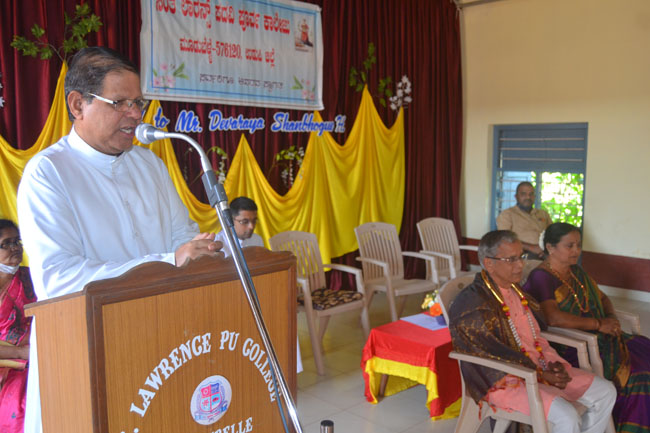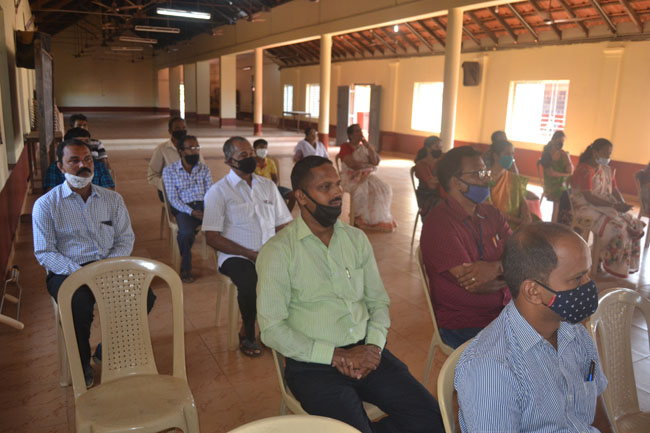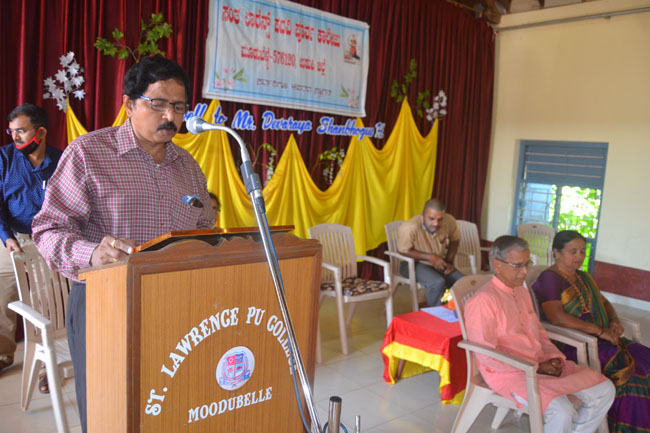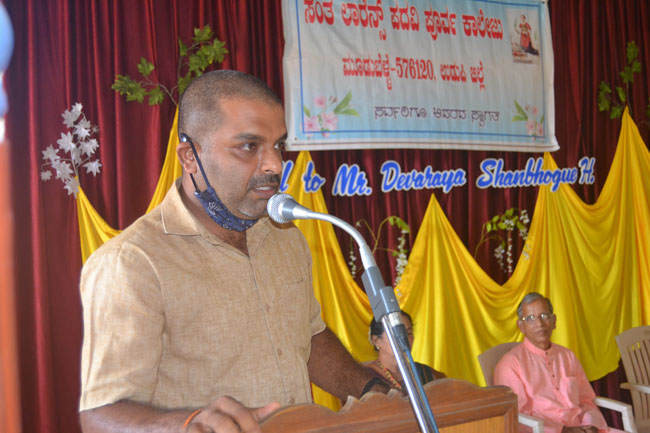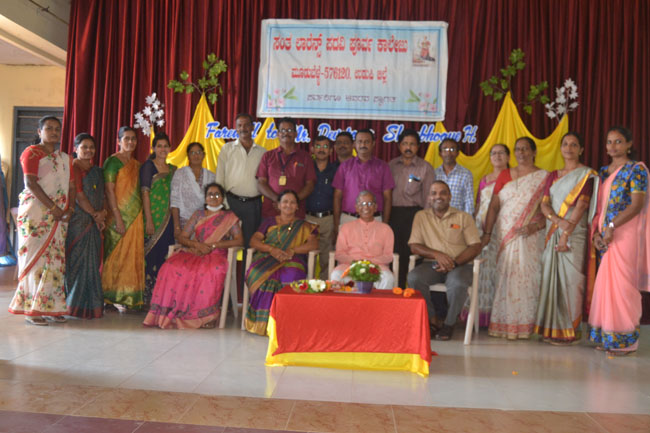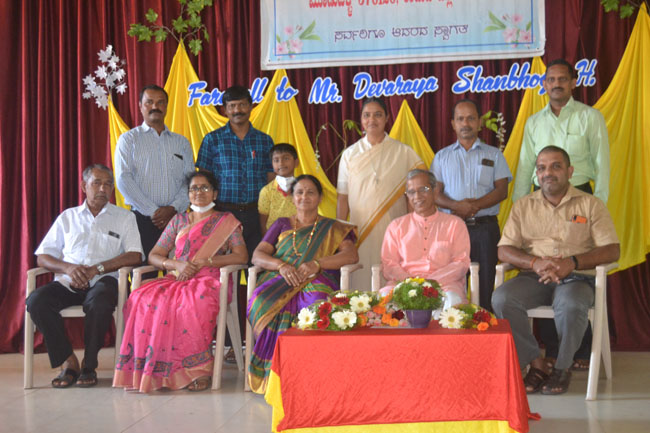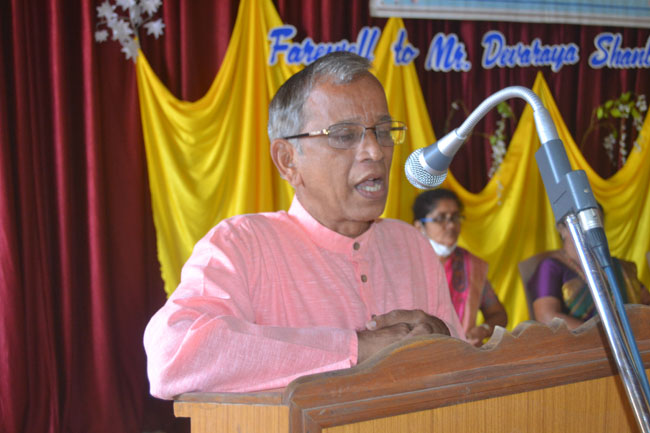 In his reply to the felicitation on the occasion of his retirement, Principal Devaraya Shanbhogue narrated his family background and his service in St. Lawrence PU College for 36 years. He said that he joined the institution in July 1984 when Fr. Herald Menezes was the Correspondent. Thereafter he served under seven Correspondents. He recalled his senior colleague and expressed his gratitude to them for their support and cooperation.
Principal Deavaraya Shanbhogue expressed his gratitude to his wife, Mrs. Divya D. whom he married in 1991 for shouldering the responsibility of the large family of 11 members including his grandmother, parents and brothers and sisters as well as two daughters-Deepaika and Diksha. Both his daughters have completed M.Tech and are in service in reputed companies. Speaking further, Principal Devaraya Shanbhogue said that he is completely a contented person in his profession and family life and thanked everyone for their support and cooperation.
Larsen Edward D'Souza, the would be Principal of St. Lawrence PU College anchored the programme and Mrs. Sunitha Kamath proposed the vote of thanks.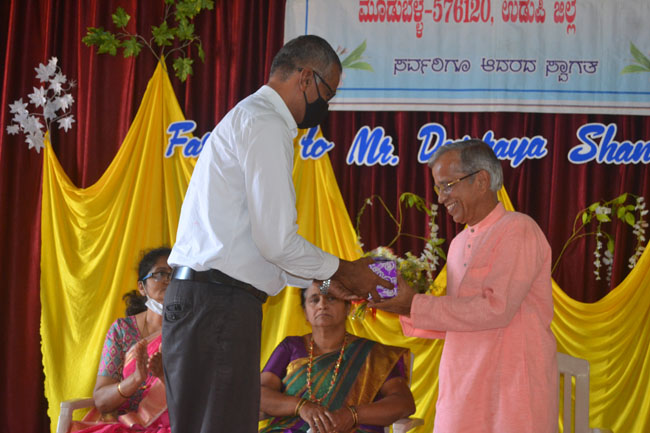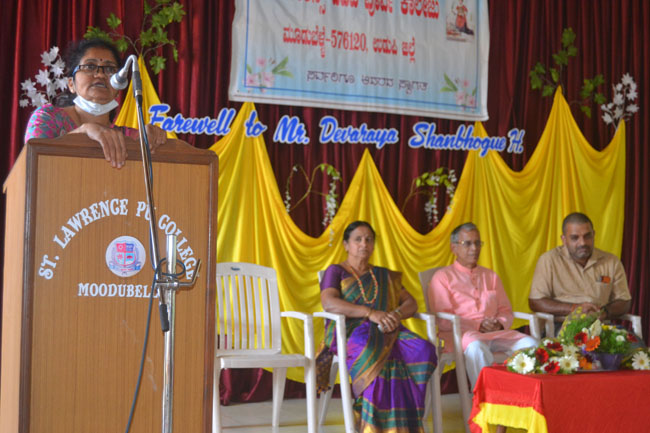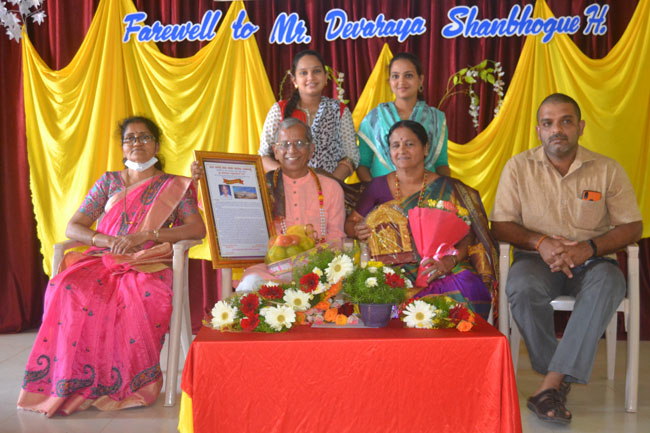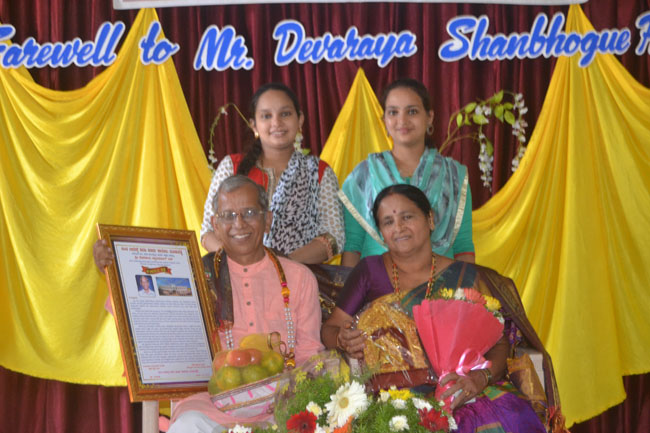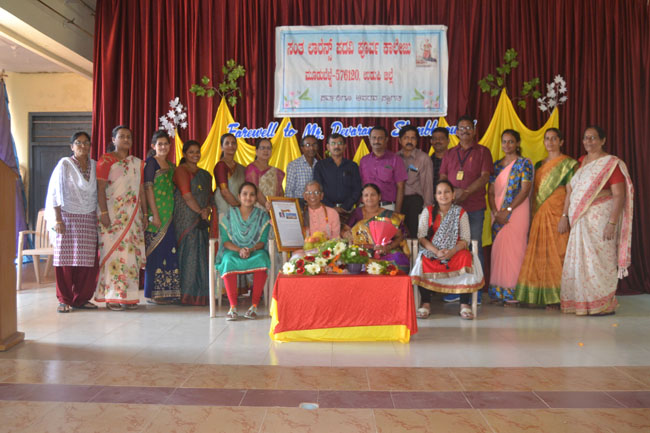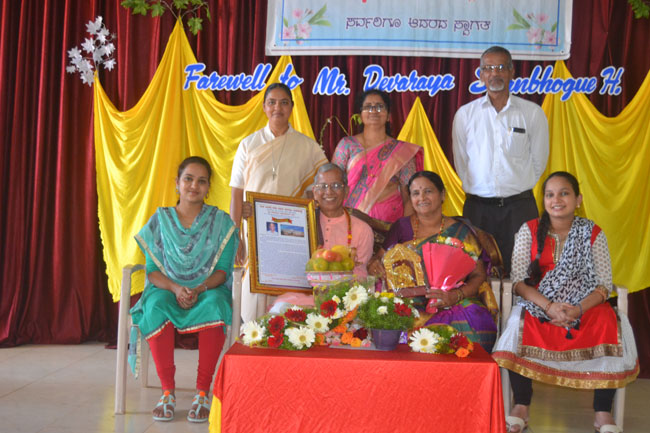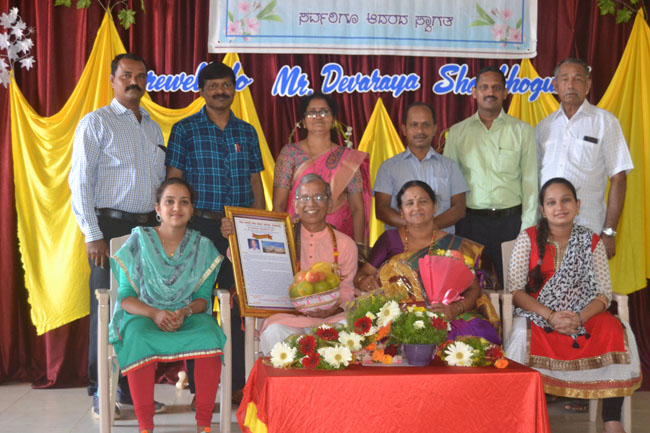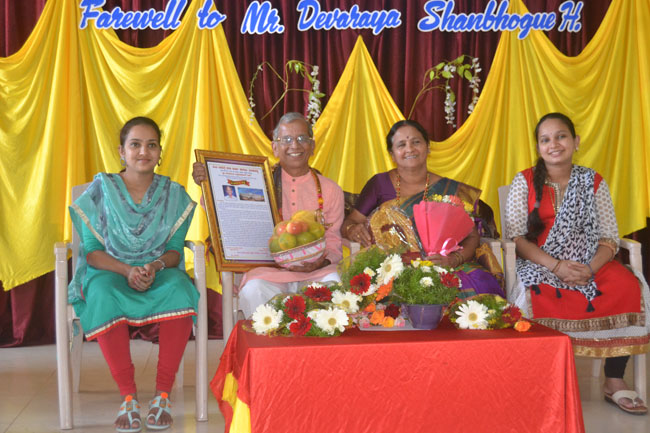 Devaraya Shanbhogue was born in 1960 as the sixth among 8 children of H. Gopalakrishna Shanbagh and Mrs. Raddha Pai of Kota. He had his primary education at Shree Sambhavi Higher Primary School at Giliyaru, Kota and high school and PU education at Viveka Pre University College. He completed college education with B.Sc. degree from Bhandarkar's College, Kundapura. He acquired M.Sc. degree in Mathematics from the Mangalore University.
Principal Devaraya Shanbhogue joined St. Lawrence PU College as a lecturer in 1984 and served the college in various capacities till to this day. He was the Secretary of St. Lawrence PU College Silver Jubilee Celebration Committee, Secretary of Government Aided PU College Teachers Association, member of Karnataka State Level Syllabus Formation Committee, member of State Level Question Papers Drafting and Evaluation Committee, Resource Person in Mathematics, etc. His interests include sports, literature, cultural activities including Yakshagana, environment protection, etc.