DK chief judge launches Mobile Campaign on Covid-19; appeals to follow MOH guidelines
Bellevision Media Network


Mangaluru, 15 Oct 2020: In order to curb Novel Coronavirus spreading, everyone got to wear face mask and follow social distancing, urged Muralidar Pai B, chief district munsif and session court judge and chairman of district Legal Services Authority.
Pai was speaking after launching Auto rickshaw awareness campaign on Covid-19 at district court premises, here on Wednesday October 14. It was organized by Karnataka state Legal Services Authority.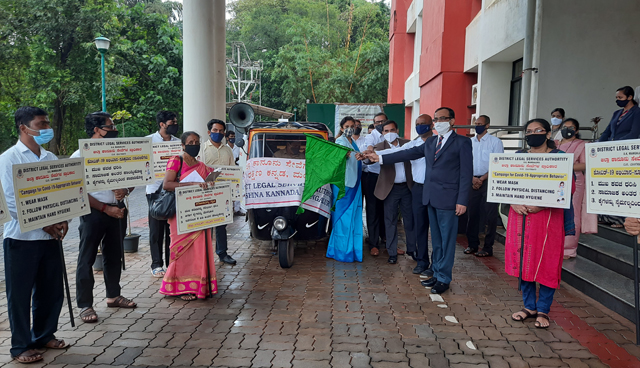 He also said, 'The union government has already issued Covid-19 guidelines such as to wear face masks, follow social distancing, wash hands frequently and other precautions; to curb Covid-19 from community transmission.'
He further advised not to take heed to fake news on Covid-19 in social media, instead check the facts with both union and state ministry of health and family welfare.
He administered oath on Covid-19 guidelines to the gathering of judges, court staff, general public and advocates.
Mangaluru Bar Association office bearers and volunteers distributed free masks to general public.
The senior civil judge and district Legal Services Authority secretary Shilpa A G, Bar Association president Narasimha Hegde and legal fraternity, court staff was present.