First ever chartered Kuwait-Mangaluru flight arranged by KCWA lands at Mangaluru Airport
Mangaluru, 29 Aug 2020: Kuwait Canara Welfare Association (KCWA) is the foremost and leading Mangalurean association in Kuwait, primarily engaged in funding the poor children's educational needs and allied purposes, regardless of religion, caste and creed back home in India and Kuwait for the past 32 years. KCWA's charity will soon cross Rs 5 crore. During the current pandemic COVID-19 situation throughout, many people are stranded in Kuwait with a hope to soon travel to their hometown. With this thought in mind, KCWA took an initiative to support its fellow brethren to reach their homes safely. KCWA successfully organized its first ever chartered flight in coordination with Al Rashed International Travel, Kuwait.
Though it was quite a challenging project, KCWA managed to successfully complete all the required procedures.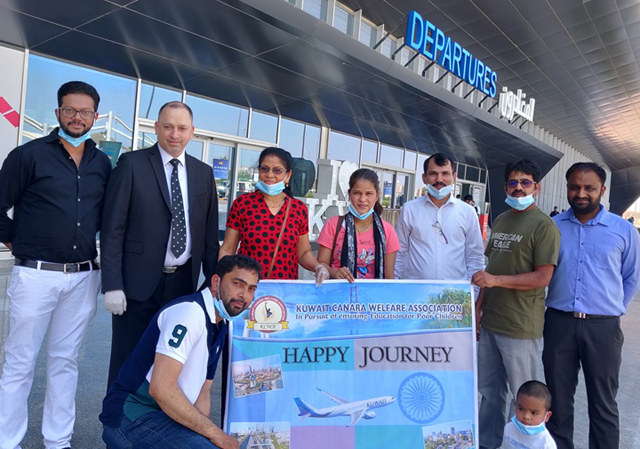 The Kuwait national carrier Kuwait Airways Flight # KU 1739 departed Kuwait on Friday August 28 with 108 adults, 6 children and 4 infant passengers on board at 2.00 pm. The passengers were accorded a safe departure at the Kuwait International Airport by Michael Pinto, vice president, KCWA, along with the committee members and Wilfred D'Cunha, representative, Al Rashed International Travel-Kuwait, who is also a committed member of KCWA.
The historic flight touched the ground of Mangaluru International Airport - tabletop runway on Friday August 28 at 9.10 pm. KCWA president Maria Rinna D'Souza along with her team wished all the passengers a warm welcome to the homeland and happy healthy stay with their loved ones. The participatory charter flight project has received immense support from the people, Kuwait Airways and Al Rashed International Travel.
KCWA managing committee thanked its members, communities, and individuals who supported this cause. They also thanked their web administrator Allan D Souza for efficiently coordinating and timely updating the progress of the project on KCWA social media handles and website. In a very special way they thanked KCWA member Wilfred D'Cunha who is the team member of Al Rashed International Travel Kuwait.
KCWA extended its sincere gratitude to the Indian Embassy Kuwait, DGCA Kuwait, DGCA India, Karnataka state government nodal officer Meena Nagaraj, Mangalore International Airport authorities and Manish, nodal officer, who took an additional step to arrange taxi services for the passengers to reach home safely in the night.