Chitradurga: Selected for Olympics - Government aid eludes blind athlete
Agencies


Chitradurga, 31 Jul 2020: Radha Venkatesh is blind but driven by determination. She has not lagged behind in recording excellent performances. Her achievements have also come in for appreciation of Prime Minister Narendra Modi. But it is regrettable that her achievements have not been recognised in her own home district. Radha, whose full potential is yet to be explored, dreams of making Karnataka proud. She needs government support to make this dream a reality.
Radha works hard every day with the aim of reaching her goal. Radha Venkatesh is a resident of Bommasamudra village in Challakere taluk here. She is a student of first-year BA degree course. She is born blind. Since 2017, she has been registering excellent performances in athletics. She has taken part in state and national level athletics and has won several awards.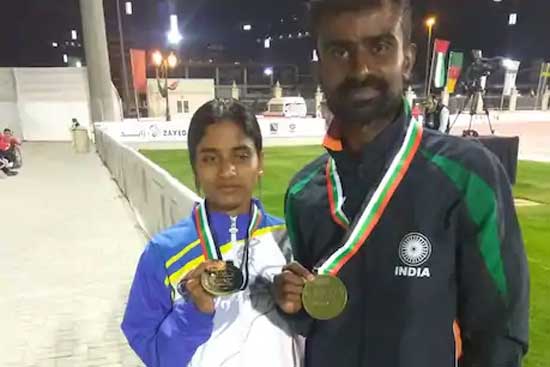 Radha has taken part in sports meets at junior as well as senior Asian Games organized at Delhi, Indonesia, Jakarta, Switzerland etc. She has won several medals. In the Asian Para Games held at Dubai, she won two silver medals. The Prime Minister had hailed her performance, invited her to his office, and felicitated her.
But after returning to the state, Radha had disappointment in store. The state government has overlooked her so far. Strangely, so far the state government has not extended even a small help to her. Radha, a differently-abled athlete with international achievements, has been selected for the 2020 Olympics being held in July 2021 at Tokyo.
Radha is desirous of winning the gold medal at the Olympics but she lacks good training arrangement. Therefore, she has been training in her tiny house. She resides in her old house belonging to her poor family and has not been given a house by the government. Her parents are happy at what she has done. The trainers believe that Radha will again come out successful at the Olympics. But the spirits of the family of Radha Venkatesh have been dampened because of the total negligence on the part of the district administration and state government.
Radha, who is born blind, has achieved what even people with eyes could not. Even though she has been recognized by the country, the state government has not shown any interest in supporting her talent. It is hoped that the sports minister and government will at least turn their attention to her and give her the much-needed support and encouragement.