Bantwal: Mescom meter readers protest over unpaid wages & floating new contract
Bellevision Media Network


Bantwal, 11 Jul 2020: The electricity meter readers of Bantwal and Beltangady taluks staged protest in front of Mangalore Electricity Supply Company (MESCOM) building, B C Road, here on Thursday July 9, alleging that Mescom is planning to award contract of outsourcing meter reading staff at a lowest rate that would compel the staff to work on lesser wages.
Addressing the protesters, DK district president of Dalit Seva Samiti (DSS) president B K Sesappa Bedrakadu said that the peoples' representatives including minister offered assurances of fulfilling the demands of meter readers during general/assembly elections. Meanwhile, Mescom is in the process of issuing the new contract that would affect the wages of meter readers. Mesom also withheld 3 months wages of meter readers, alleged Sesappa.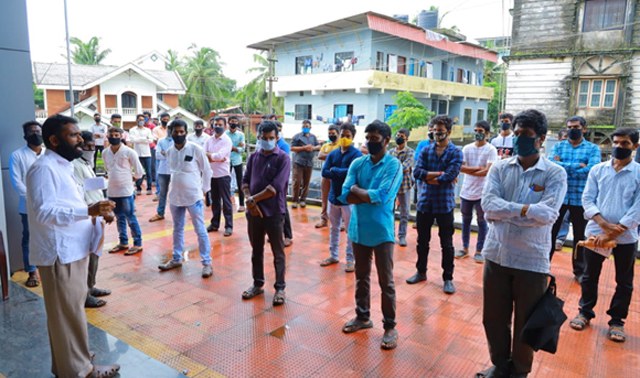 The protesters cautioned the authorities that they would not return the meter reading machines till their demands are met and also stage aggravated protest if any delay in this regard.
The protesters then submitted a charter of their demands to Mescom executive engineer.
The protest leaders Gopal Neralakatte, Jayaram Bantwal, Gopalakrishna Bantwal, Sadashiv Bantwal, Monappa Beltangady, Ramesh Beltangady, Uday Kumar and others were present.