SVS High School student Kaushik writes SSLC exams using his foot; Kar minister commends
Bellevision Media Network


Bantwal, 26 Jun 2020: Karnataka education minister Suresh Kumar in his twitter message, appreciated Kaushik, Class X student of SVS High School, here who wrote SSLC exams using fingers of his foot. His determination has been widely commended across the state.
Kaushik is the second child in the family of Rajesh and Jalajakshi Acharya, resident at Kanchikarapete, here. He was born without hands. Despite his physical deficiency, he grew to be a talented student at par with able-bodies.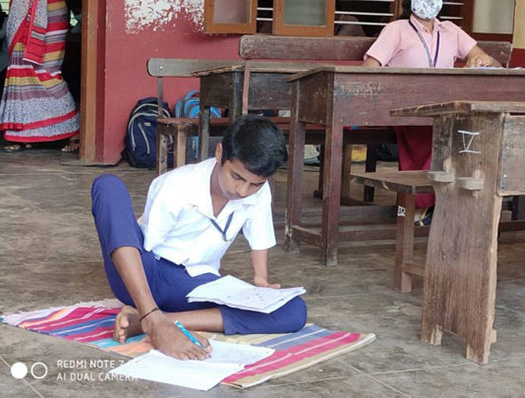 He is the Kannada medium student of SVS High School always taking part in extra curricular activities.
He began using his foot to write since Class I and continued through out to do so.
He could have taken the help of others to write SSLC exams began on Thursday, June 25. However, he was determined to write the exam by his feet.
He is good in dance, drawing, swimming and cricket and secured many prizes also.
The twitter message of minister Suresh Kumar further strengthened his resolve in writing all exams similar way.
Minister Suresh Kumar tweeted, 'I commend Kaushik who appeared for exam at SVS High School, Bantwal by using his feet and not seeking anybody's help. Your act proves a lesson that one has to live worthy life that the humanity has to emulate.'