Srinivas University introduces B Tech (Honours) programme in Robotics, AI & IoT
Bellevision Media Network


Mangaluru, 26 Jun 2020: Srinivas University College of Engineering and Technology, Mukka in association with HoloSuit, Singapore is offering 3 super speciality B Tech (Honours) courses for 12th pass science students.
B Tech (Honours) in Robotics, Artificial Intelligence and Machine Learning, B Tech (Honours) in Artificial Intelligence and Virtual Reality and B Tech (Honours) in IoT, Robotics and Artificial Intelligence.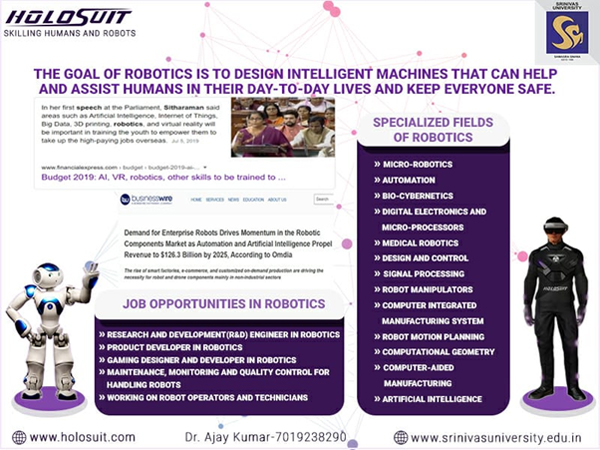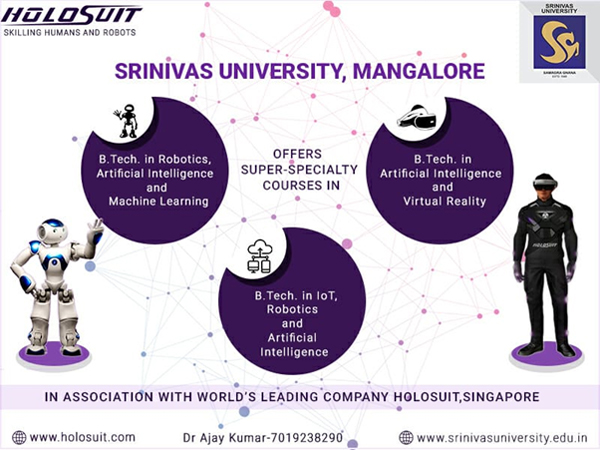 Robotics in India is making it space in various sectors. Initially these are used in the Automatic Industrial Sectors, and there are the demands for robotics in all industries including aerospace, agriculture, retail, healthcare and defence sectors.
The students are also eligible to work as on the job training in different sectors of Research and development in Engineering Robotics, Product Developer in Robotics, Gaming Designer and Developer in Robotics, Maintenance, Monitoring and Quality control for Handling Robots, Working on Robot Operators and Technicians.
The students will get an opportunity to carry out their internship during last semester in top industries anywhere in the world along with patenting their inventions.
The expected job profiles and placement opportunities with attractive salary offering is guaranteed. The University arranges bank education loan from the Campus and provides college bus facility from Taluk centres of Dakshina Kannada and Udupi Districts.