Adv. Clement Lobo from Moodubelle an Eminent Lawyer in Mumbai HC Passes Away
By Dr. Eugene DSouza

Bellevision Media Network


Mumbai, 23 Jun 2020: Advocate Clement Lobo, son of late Ligory Lobo and Angeline Lobo, husband of Mrs. Rita Lobo and father of Allen Lobo, Audrey Lobo/Michael Kiermaier and grandfather of Zoe originally from Kattingeri-Moodubelle and residing at J.B. Nagar, Andheri East, Mumbai passed away on Monday, 22 June 2020.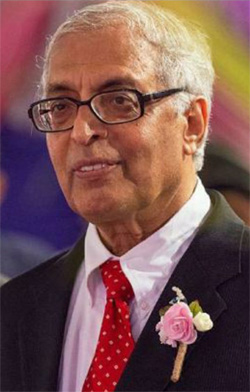 Clement was born on February 8, 1946 as the third among six children, five sons and one daughter of late Angeline and late Ligory Lobo of Kattingeri. He had his primary and high school education in the Church Aided Higher Primary and St. Lawrence High School, Moodubelle completing SSLC in 1965.
Coming from an agricultural family, Clement had to help his parents and elder bothers in various activities associated with cultivation and domestic work before going and after coming back from school.
Having completed SSLC, Clement, like many of the village boys at that time made his way to Mumbai and stayed at St. Lawrence Association at Byculla where his elder brother, Valerian Lobo was a member.
Before entering the challenging legal profession, Clement worked in different offices such as Qwality Ice-cream and Burma Shell less than one year each, Mumbai Municipal Corporation for two and a half years and Franco-Indian Pharmaceuticals for the longest period of thirteen years.
Realizing the importance of further education and training to improve his career prospects, Clement completed the Diploma in Personal Management and acquired BA degree from Pune University as an external student. Clement's quest for knowledge and education did not stop with being a graduate. Being attracted to legal profession, Clement got admission in Jeetendra Chauhan Law College (Mithibai College) at Vile Parle and successfully completed the legal studies and acquired the LL. B. degree.
Armed with the legal degree, Clement began practicing law in different courts in and around Mumbai. Clement said that in the initial years of his practice he associated himself with some of the leading senior lawyers of Mumbai including some retired judges practicing as lawyers after their retirement. The aim of assisting these senior lawyers was not for money but to gain experience, knowledge and to learn what he termed as the 'tricks of the trade'.
Clement practiced law in various courts depending on the nature of litigation that he had to handle. Thus, he had to represent his clients in Labour Courts, Cooperative Courts, City Civil Court, Small Causes Court, Charity Commissioner, Customs and Gold Control Tribunal and eventually Mumbai High Court. Meanwhile, Clement completed LL.M. Degree from the Mumbai University with specialization in laws related to property.
For further details please refer to the profile of Adv. Clement Lobo posted in Bellevision.com on 25 April 2012 titled "Advocate Clement Lobo: Amazing journey from simple beginning to a successful legal profession".
Also Read
Advocate Clement Lobo: Amazing journey from simple beginning to a successful legal profession