Udupi: Ration Kits distributed to needy villagers in St. Lawrence Church, Moodubelle
By Dr. Eugene DSouza

Bellevision Media Network


Udupi/M'Belle, 7 May 2020: As the crisis of Covid 19 continues with lockdown and lack of wage earning opportunities a number of economically disadvantaged villagers have been facing a number of difficulties. In order to ease their difficulties around 175 ration kits were distributed to needy villagers by St. Lawrence Parish, Moodubelle on Thursday, 7 May 2020 in a brief programme in the church premises.
The brief function of distribution of the ration kits to the needy villagers was presided over by Fr. Clement Mascarenhas, Parish Priest of St. Lawrence Church. Other guests included Mrs. Ranjani Hegde-President of Belle Grama Panchayat, PSI Shree Shailam,Dr. Ravindra Borkar-Head of Primary Health Centre, Pernankila, Dayanand Bennur-Panchayat Development Officer (PDO), Pradeep Kumar-Village Accountant, Gerald Fernandes-Vice President of Parish Pastoral Council and Fr. Jithesh Castelino-Assistant Parish Priest of Moodubelle.
In his welcome address, Gerald Fernandes explained the reason for the distribution of the ration kits to the needy people of the village. The needy people were identified by the Gurkars of 23 wards as well as Panchayat Office.
In his address, PSI Shree Shailam appreciated the efforts of Fr. Clement Mascarenhas in arranging for the distribution of ration kits to the needy people of the village. He further said that people have to cooperate with the administration in fighting Covid 19. People should avoid venturing out of their homes without any valid reason. They should maintain proper physical distance so as to safeguard themselves and others from spreading the virus.
Speaking on this occasion, Dr. Ravindra Borkar said that Udupi District has been fortunate to have had only three Covid 19 cases. However, people have to be vigilant and should not take it easy. They should report to the Panchayat office, Asha Workers or the police about anyone who comes from other districts or abroad so that they can be properly quarantined.
Fr. Clement Mascarenahs honoured the 'Corona Warriors' including Dr. Ravindra Borkar, PSI Sree Shailam, Dayanand Bennur, Pradeep Kumar, Asha Workers and the Panchayat workers for their service to the village in preventing the spread of Covid 19.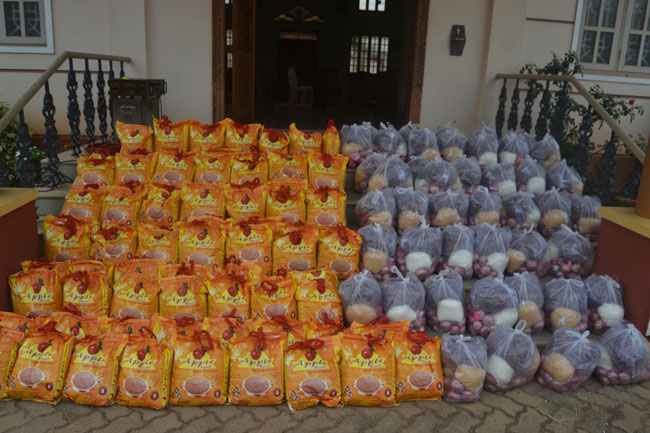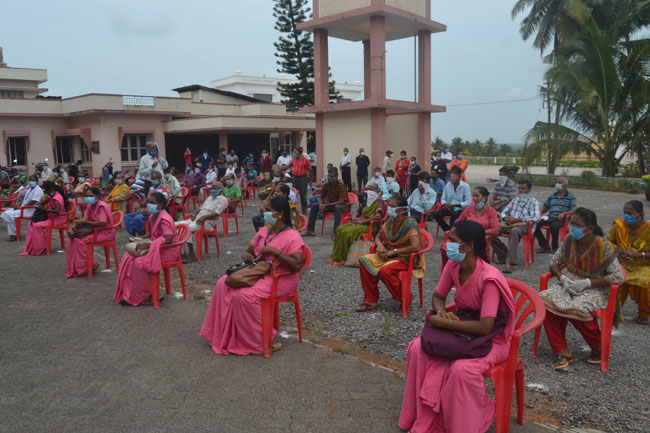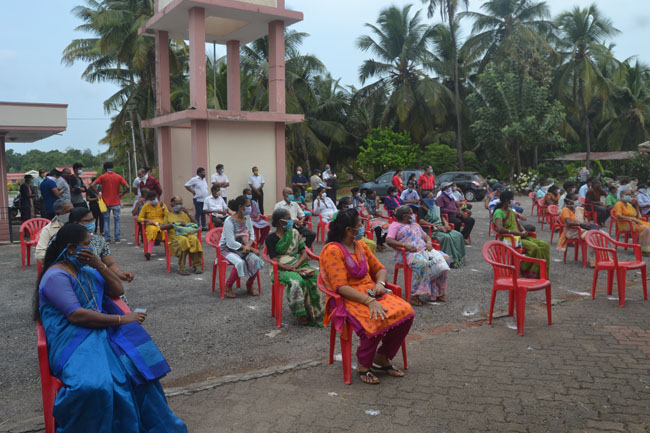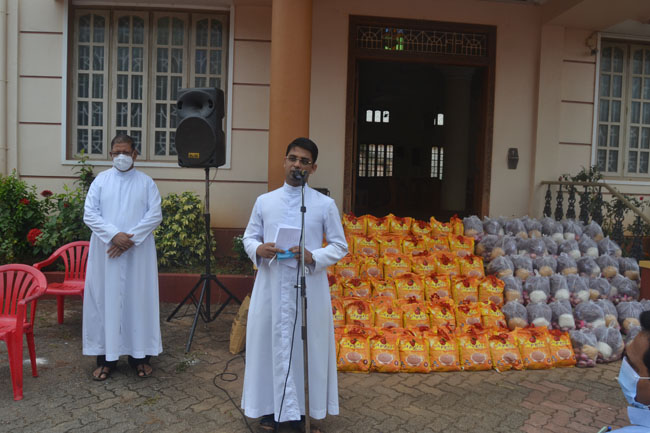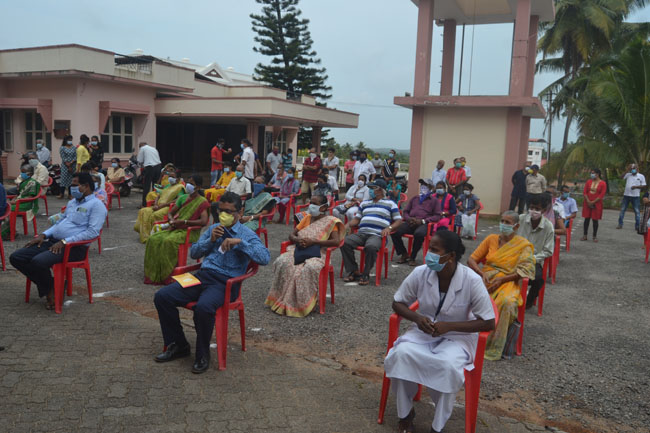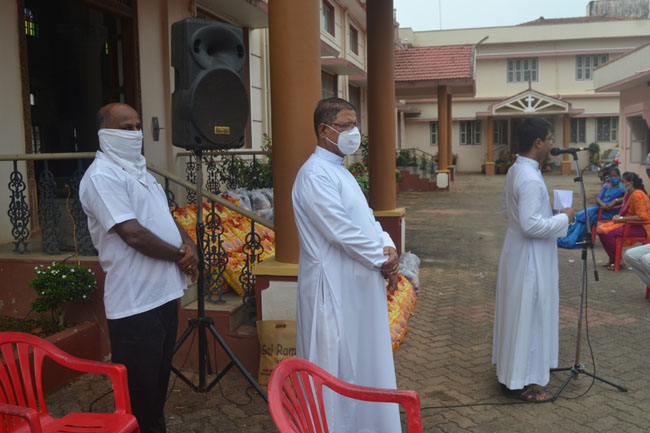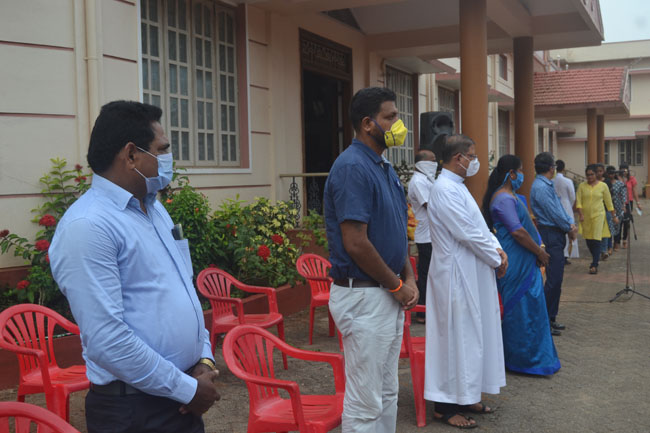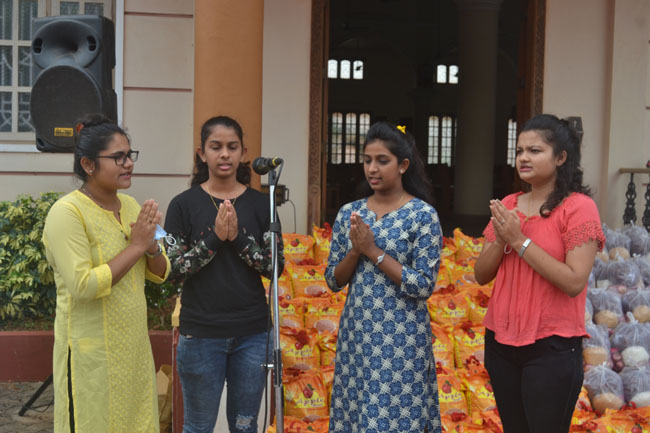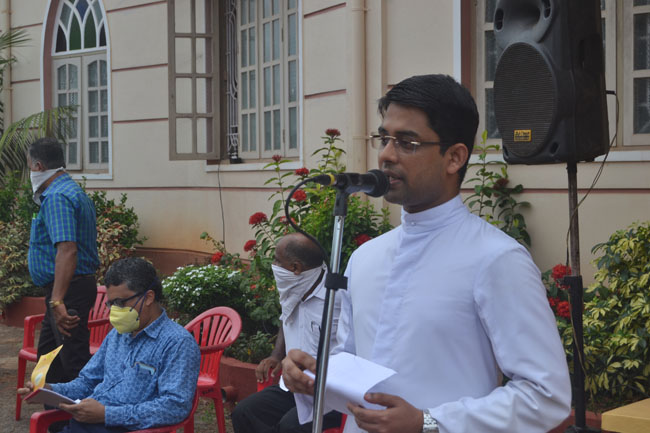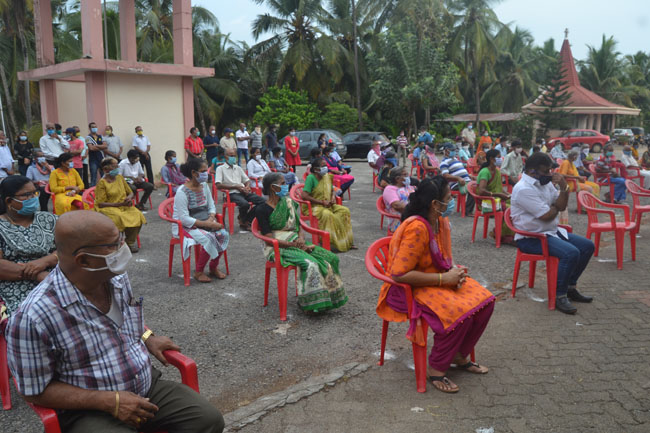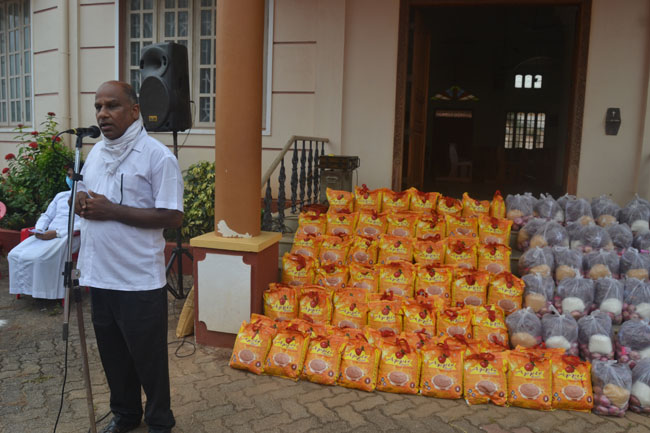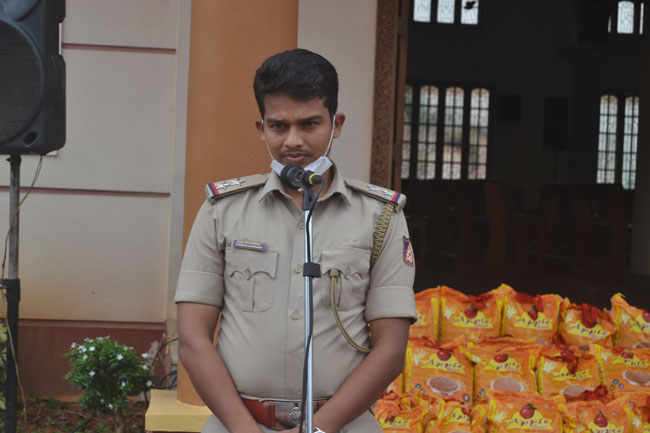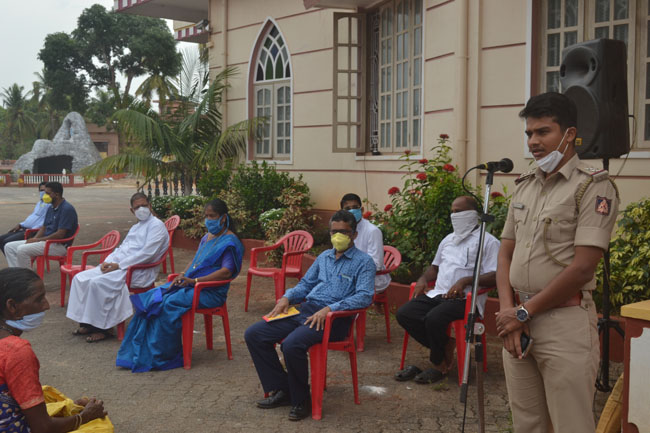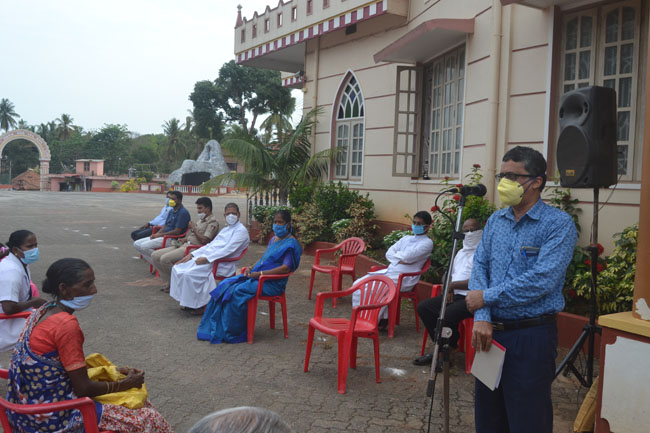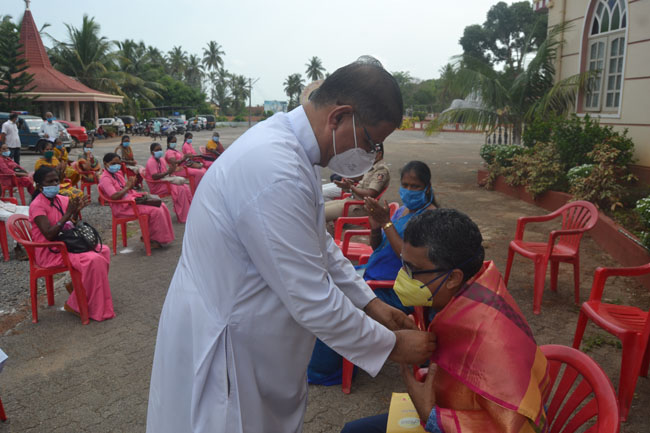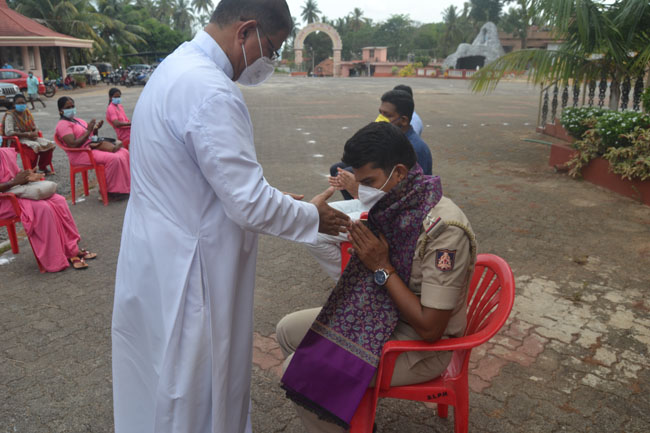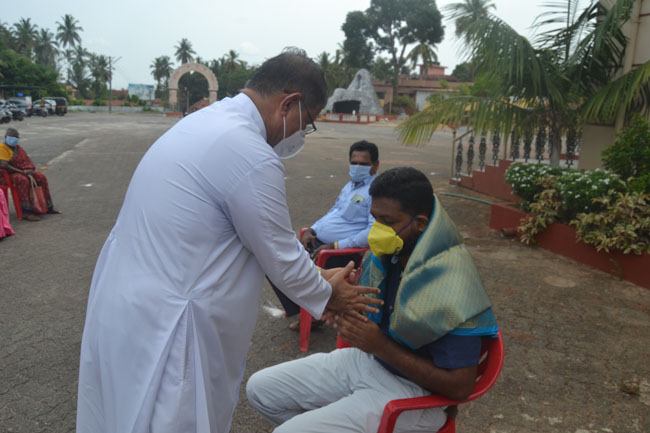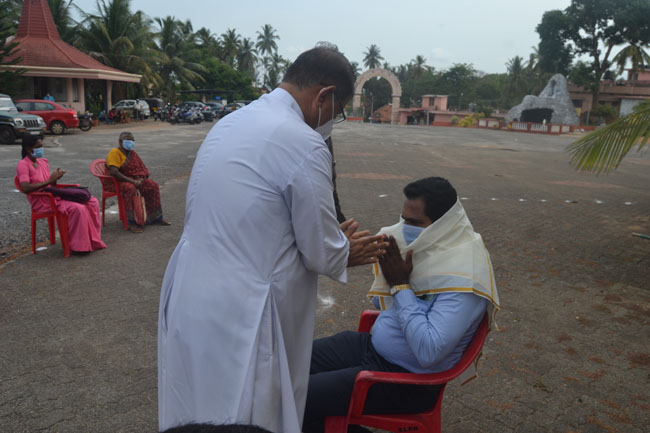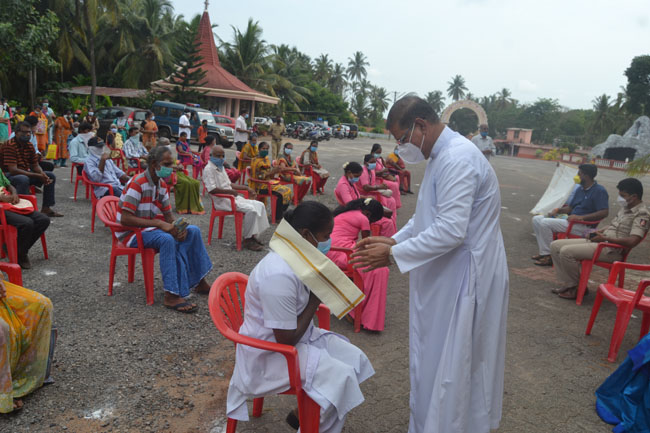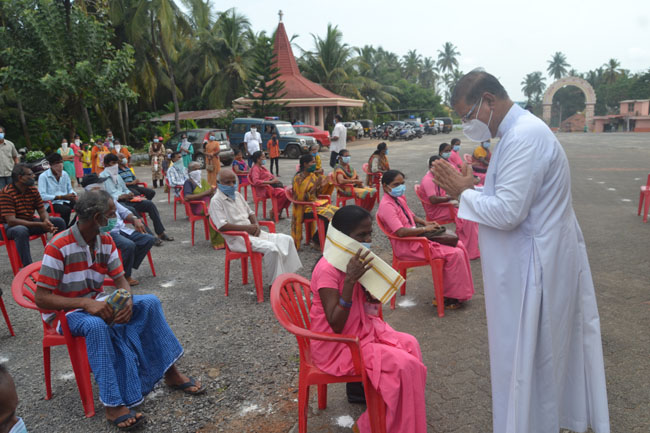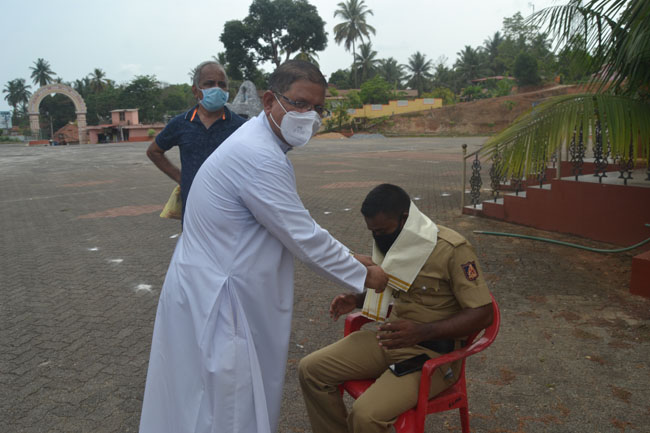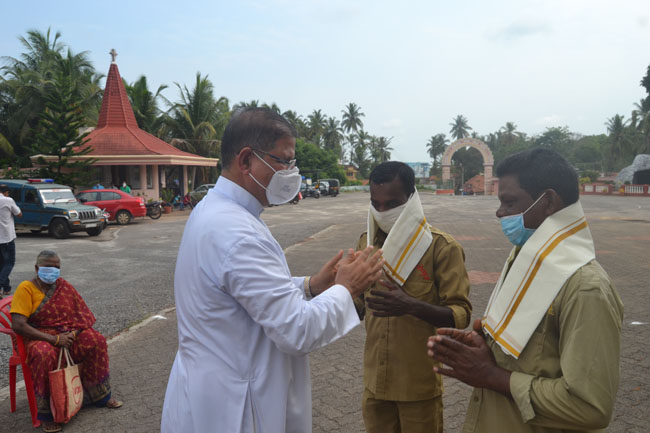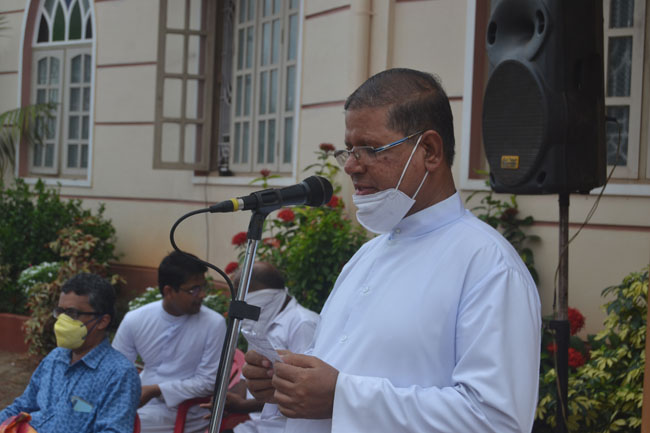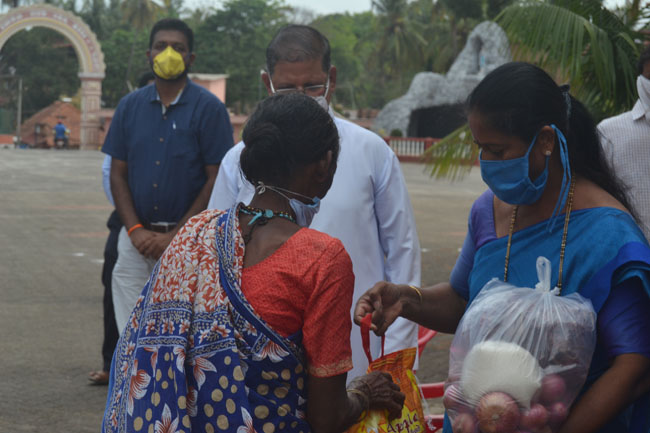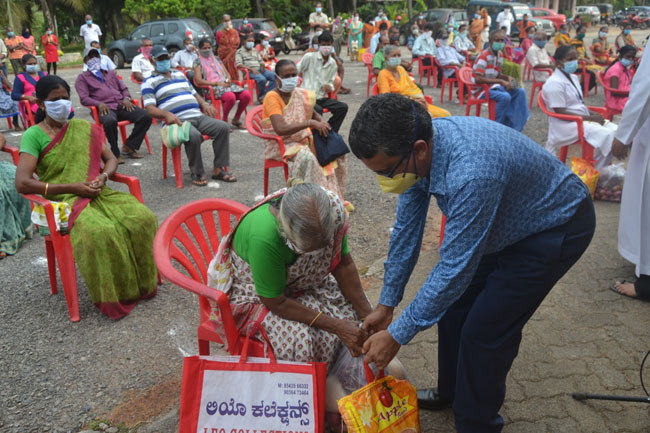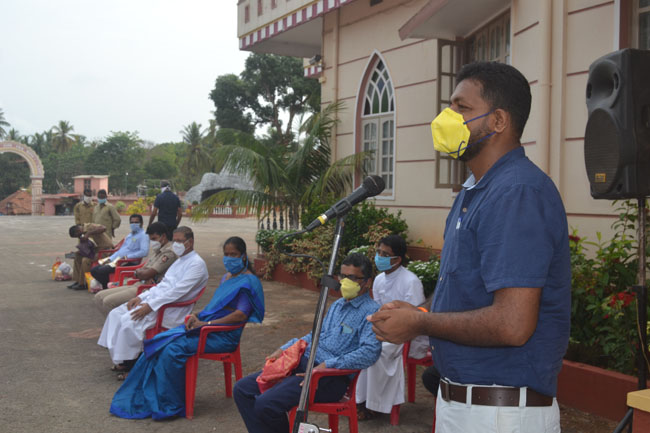 In his presidential message, Fr. Clement Mascarenhas lauded the service of the 'Corona Warriors' for keeping the village safe from Covid 19 scourge. He said that the programme of distributing the ration kits was arranged to the initiative taken by Gerald Fernandes, Fr. Jithesh Castelino, Vincent Fernandes-Former Vice President of Parish Pastoral Council and Henry Fernandes. Fr. Clememnt further said that the generous contribution from five parishioners made it possible to distribute around 175 ration kits each costing around Rs.600/- He also thanked the Gurkars of 23 Wards for providing the list of needy persons from their respective wards.
Out of 175 ration kits, 115 were distributed to the parishioners and reamining 60 to those needy persons whose list was provided by the Belle Grama Panchayat.
While delivering the vote of thanks, Dayanand Bennur said that Fr. Clement Mascarenhas was generous in suggesting that in case of any need St. Lawrence English Medium High School building could be used for quarantine facility.
Mrs. Sujatha Suvarna-member of Udupi Talik Panchayat, Rajendra Shetty and Shivaji Suvarna-former Presidents of Belle Grama Panchayat, A.G. D'Souza-memebr of Belle Grama Panchyat were present for the programme.
With the help of the ICYM members, the dignitaries symbolically distributed ration kits to those who were present in the programme.
Fr. Jithesh Castelino compeered the programme.