Unsuspecting Mangaluru man finds he's heir to a convicted spy's property in Delhi
Yahoo News


Mangaluru, 26 Sep: For decades, Edwin D'Souza lived an ordinary life in suburban Mangaluru, three kilometres away from NH66 (Nanthoor Junction). Things would have continued that way for the 76-year old real estate agent, if not for a phone call from Delhi police in December 2018.
After verifying that Edwin was the son of Gerty Walder alias Geeta Narain, Shiv Dev, an SI with the Delhi police, turned up at Edwin's home at Bikarnakatte. Edwin learnt that he was the stepson of the late Coomer Narain, convicted in 2002 in a high profile case of espionage for leaking classified information to foreign agents between 1977 and 1985.
As if this wasn't shocking enough, Shiv told Edwin that he stood to legally inherit Rs 10 crore worth property from Coomer Narain and his mother, Gerty.
"I knew that my mother had remarried and settled elsewhere, but I didn't know my stepfather's name, didn't know who he was. I also did not know that my mother, whom we called Gerty, had changed her name to Geeta Narain," Edwin told TNM.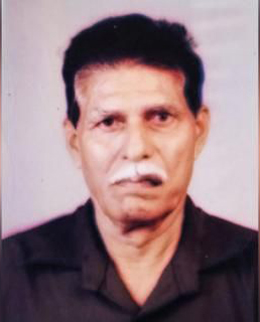 What the policeman told Edwin
Edwin's son Prakash was, until a few years ago, employed as a cab driver in Dubai. "With the irregular job of a real estate agent, our father has struggled to raise and educate us three siblings," he told TNM. "We are a hardworking middle-class family. Beyond the Lotto lottery in Dubai showering people with fortunes, we had neither heard of nor seen such a big amount in our life."
Prakash said that in the course of his investigation, SI Shiv Dev found that Edwin was Gerty's son with her first husband, a man named Gilbert. Gerty Walder left Edwin at her mother Juliana Walder's home in Mangaluru and went to Mumbai. "The investigator said that grandmother Gerty sought employment in SLM Maneklal Industries Ltd (SLMMIL), and it was there that she met Coomer. They eventually got married and moved to Delhi," Prakash said.
A few years later, Gerty changed her name to Geeta Narain. All this while, she maintained contact with her mother Juliana, and regularly transferred funds for Edwin. In fact, when he was around 15 years old, he even went to live with his mother in Delhi. "But I didn't like it much over there, and returned to Mangaluru. But during my stay at Delhi, I never met Coomer," Edwin recollected.
Who was Coomer Narain?
In the mid-1980s, when espionage was relatively unheard of in the mainstream, it was Coomer Narain who became the face of it with his arrest on January 17, 1985.
A native of Kerala, Coomer's original name was Chitter Venkat Narayan. After completing his education, Coomer joined government services and subsequently ended up in the Department of Economic Affairs. During his stint there, he developed a network across the business, bureaucracy and political domains.
Eventually, Coomer left the job and joined as a regional representative manager for SLM Maneklal Industries Ltd (SLMMIL). It was here that Coomer apparently used his former 'high profile' contacts for soliciting 'classified' information on Indian business, economic and government policies.
During the period between 1977 and 1985, a series of 'high-value' information related to defence, nuclear power, the business was accessed by Coomer through his contacts to reportedly be passed on to intelligence communities and those with vested interests in Western countries, including France. One of the accused in the spy-ring was the senior personal assistant to the late Dr PC Alexander, who was then the Principal Secretary to former Prime Minister Rajiv Gandhi.
In 2002, a Delhi court convicted 14 accused in what then was popularly known as the Coomer spy ring, under Section 120B of Indian Penal Code and under various provisions of the Official Secrets Act. The Managing Director of SLMMIL Yogesh T Maneklal was awarded 14 years rigorous imprisonment, and others were awarded 10 years rigorous imprisonment.
However, Coomer had already passed away by then in March 2000 at E-152/A, Sainik Farms in Delhi, which he and Gerty had purchased in 1995. In 2002, Gerty was found strangulated to death in the same house, and the case saw no convictions.
In October that year, while Edwin learnt of his mother's death, the family did not see a point in going to Delhi – while he shares a son-like relationship with his grandmother Juliana, he did not have much of an emotional connect with Gerty. "It was not until last December when the SI told us that I learnt she was murdered," Edwin said.