Krishnastami celebrations under way with pomp & gaiety
Bellevision Media Network


Udupi, 24 Aug: Sri Krishnastami celebrations are under way in Udupi today. The hundreds and thousands of devotees are flocking to Sri Krishna mutt, here since morning. The mutt is being decorated extensively with flowers and decorations. The devotees arrive here in great numbers offer special puja. Swamis offered puja to Lord Krishna here on Friday morning. The 'Hulivesha' adorned-youth are dancing to traditional drum beats across Udupi to convey the festive spirit. It's a treat to eyes indeed!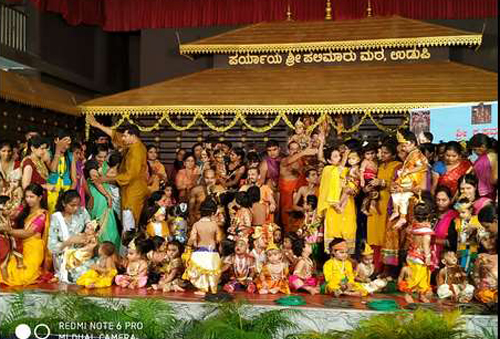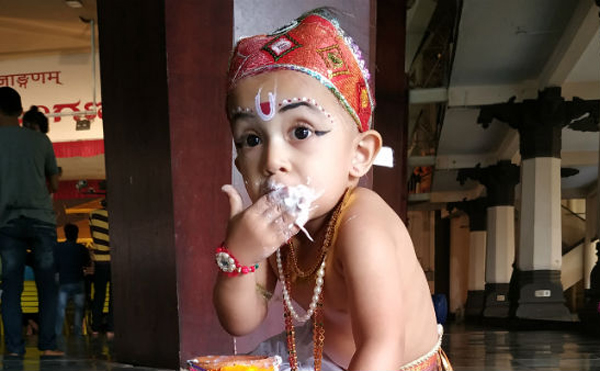 The touring of Hulivesha adorened-youth begins traditionally on Krishnastami across Udupi district. At this backdrop, they are found in several groups since morning. The groups begin their touring season after paying obeisance to Lord Krishna. The groups dancing to the drum-beats is a treat for the onlookers who gather in large numbers donate money, while some of them offer garlands of Indian currency notes to the dancers.
The devotees are thronging the Car Street leading to Sri Krishna mutt since morning. The flower shops located nearby mutt are making brisk business as the devotees buy them to offer to temple deity. Little children participated in Muddu Krishna and Muddu Radhe competitions creating a record of a sort this year.
Special ceremonies are being held on Friday night. 'Vittlapindi' vedic rites will be held here on Saturday that will further enhance the festivities. The 'Ratotsav' that will be held on Saturday night likely to be witnessed by several thousands of devotees. The idols of Sri Krishna will be placed in golden chariot and taken in procession along Car Street, while Swami shower 'chakkulis' on the congregation. There has been more rush at the mutt, since schools and colleges were closed for festivities.