Karkala: Students plant rice saplings to get farming experience
By Walter Monteiro

Bellevision Media Network


Karkala, 14 Aug: Durgaparameshwari Friends Club, Nandalike-Abbanadka, in collaboration with union ministry of youth service and sports, Nehru Yuva Kenda-Udupi, Kalya Government High School, under Swacch Bharat Summer Internship programme, organized rice sampling planting at the field of Netravati Shetty, located near Shivanetra Printers, near here on Monday, August 11. It was organized to demonstrate paddy farming among the new generations of students.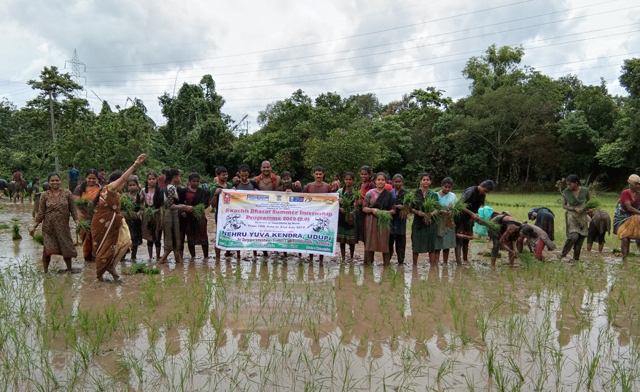 Kalya Government High School head teacher inaugurated the programme by planting the sampling.
The Club president Rajesh Kotian, convener Abbanadka Sandeep V Poojary, founder president Vittal Moolya, Abbanadka Satish Poojary, vice president Harish Poojary, secretary Prashant Poojary, treasurer Hariprasad Acharya, Anand Poojary, Dinesh Poojary Beerottu, Suresh Poojary Kasrabailu, Dhananjay Kulal, Balakrishna Madivala, Sandhya Shetty, Lalita Acharya, Harini Poojary, Veena Poojary, Harinakshi Poojary, Sunil Kulal, Sunita Pinto, Ashwini, Arati and others were present.
The event was organized to educate the students about farming and joys of shaping their lives around it.