Abu Dhabi: KCO to present Konkani comedy drama 'Futulli Modki' on Jun 13
- Media Release


Abu Dhabi, 21 May: If there is one play that has seen nearly a hundred shows around the world, and created riots of laughter among thousands of people, it is 'Mhataro Chorbela'. Here comes once again on stage, a 'young' man of 75 years, an artiste with the great ability of taking up the entire weight of the play on his shoulders playing the lead role and thus holding the audience attention for more than two-and-a-half hours. Francis Fernandes Cascia, the artiste par excellence, is now back with his 33rd play 'Futulli Modki', a comedy-centric drama with a strong story of a family.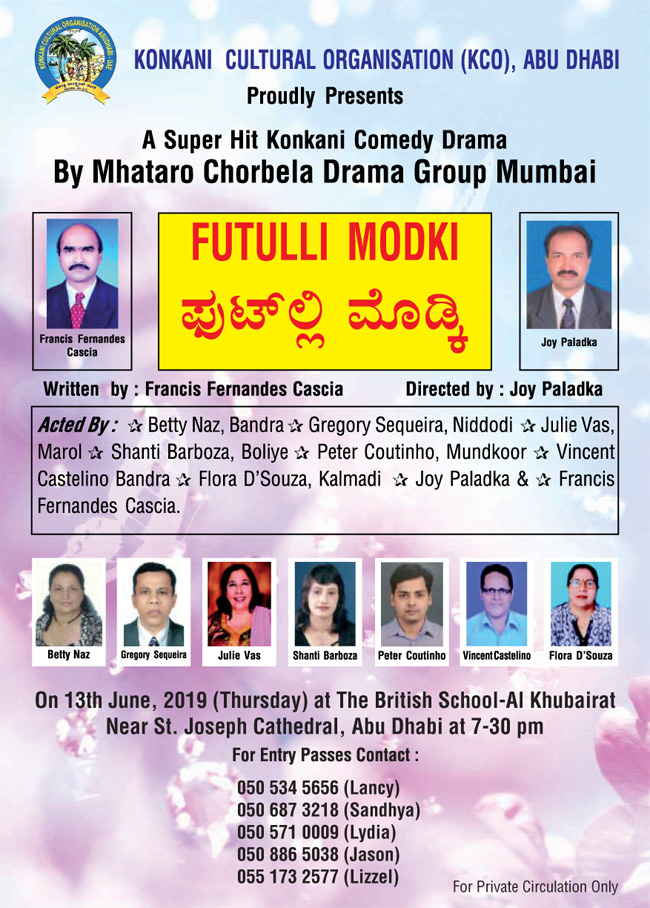 The 'Mhataro Chorbela' team is now ready in Abu Dhabi with 'Futulli Modki' after a few shows in Mumbai and some other places. The famous Konkani organisation in Abu Dhabi - KCO (Konkani Cultural Organisation) - has come forward to sponsor the same on June 13 at The British School-Al Khubairat, near St Joseph Cathedral, Abu Dhabi at 7.30 pm.
The director of the play Joy Paladka is an experienced artiste. He looks after the administration of the entire team.
Some of the female artistes in the cast are Betty Naz, a veteran artiste from Goa and Mumbai; Julie Vas Marol, an artiste who has filled life into characters in many plays; Flora D'Souza Kalmadi-Jerimeri, a person who is able to set aside some time for theatre in spite of being busy in politics, social work, compering, and parish commitments; and Shanthi Dsouza Boliye, who adorns any given role with undivided enthusiasm.
Francis Fernandes Cascia has once again proved himself, being the USP of the play which revolves around the family of rich audacious lady Janet. There is no wonder that his naughtiness, dialogues, acting skills keep the people on the edge of their seats and erupting in splits of laughter.
The actors have made justice to their characters under the effective direction of Joy Paladka. Sweet music as per the need and the lightings beautify the play.
Francis Fernandes Cascia, who is going to complete 75 years next July, brings life to the stage with his perfect comic timing and dialogue delivery. One of the reasons for the Konkani theatre to bloom and flourish today is his service to it for more than 60 years. There is no doubt that Konkani theatre will stay strong and grow further because of his contribution to the stage.
About Konkani Cultural Organization (KCO)
Konkani Cultural Organization (KCO) is well-known in the UAE, GCC and India for its benevolent work in helping the needy and deserving students. KCO has initiated several scholarships through Samanvaya of Mangaluru and also been helping scores of people suffering from critical illnesses.
KCO has been recognizing and supporting many NGOs back home, who are working with distressed, downtrodden and the needy in and around Udupi and Dakshina Kannada districts. KCO has been growing in popularity year after year and has become a household name not only in Abu Dhabi, but in the entire UAE.
For the past 23 years, KCO has been involved in various social, cultural and religious activities in Abu Dhabi. White Doves, Snehasadan, Jeevadhaan, Samanvaya, Saanidhya- Ganesh Seva Trust, Shanti Kiran Technical and Sneha Charitable Trust are a few of the NGOs through which the KCO has provided socio-medical help to the needy in the past.
The KCO has also been sponsoring community marriages for the underprivileged for the past few years. With help from sponsors and benefactors, the KCO has managed to carry out their noble mission within UAE and India. It has also transformed itself as a mirror reflecting the culture, tradition and upholding the values of our great ancestors and has turned out to be a focal point for the Konkani community in Abu Dhabi.