Udupi: Moodubelle Parishioners bid emotional farewell to Fr. Lawrence Cutinha
By Dr. Eugene DSouza

Bellevision Media Network


Udupi/M'Belle, 19 May: Fr. Lawrence Cutinha, Assistant Parish Priest of St. Lawrence Church, Moodubelle was given emotional farewell by Fr. Clement Mascarenhas, Parish Priest and parishioners soon after the 7.30 am mass concelebrated by Fr. Lawrence Cutinha as the chief celebrant on Sunday, 19 May 2019. As Fr. Lawrence Cutinha belongs to Mangalore Diocese, he is being transferred to Kulshekar Parish in Mangalore.
Soon after 7.30 am mass, Fr. Clement Mascarenhas briefly recalled the service rendered by Fr. Lawrence Cutinha to St. Lawrence Parish, Moodubelle for the past three and half years, first as Deacon for six months and later after his ordination for three years. Highlighting the finer qualities of Fr. Lawrence, Fr. Clement said that Fr. Lawrence has been a simple, humble, affectionate and spiritual priest. He endeared to all the sections of the parishioners, elderly, youth and children. He personally used to visit the elderly and sick in the parish and administer Holy Communion to them. As the Director of the Youth Organizations, ICYM and YCS he became quite popular among them. He was especially affectionate towards the Altar Servers. He also rendered his service to various parish associations. Fr. Clement further said that Fr. Lawrence was of great help in raising funds while the Parish Community Hall was under construction.
Mrs. Latha D'Mello, Secretary of the Parish pastoral Council read the citation in honour of Fr. Lawrence Cutinha on behalf of the entire parish.
Vincent Fernandes, Vice President of the Parish pastoral Council offered flower bouquet to Fr. Lawrence on behalf of the parish. Mrs. Latha D'Mello handed over the citation to him and Fr. Clement Mascarenhas handed over a chalice on behalf of the parishioners and flower bouquet.
In his reply to the send off, Fr. Lawrence Cutinha said that the last three years in Moodubelle parish was a journey of experience and learning. He paid glowing tribute to Fr. Clement Mascarenhas for his love and affection, guidance and trust in him. He also thanked Vincent Fernandes and Mrs. Latha D'Mello, Vice President and Secretary of the Parish pastoral Council, the Finance Committee and Parish Pastoral Council members for their support. He also thanked the parish associations, office and church staff for their cooperation. He expressed special gratitude to the members and animators of ICYM and YCS and their animators and made a special mention of the Altar Servers.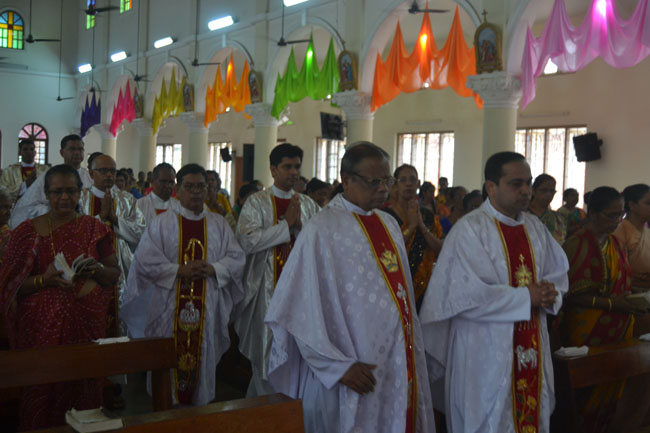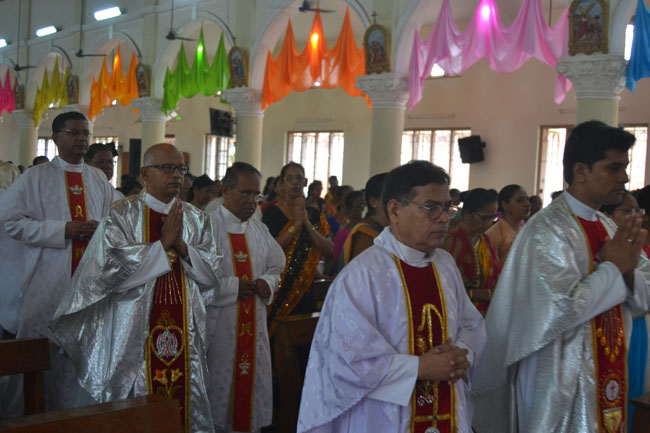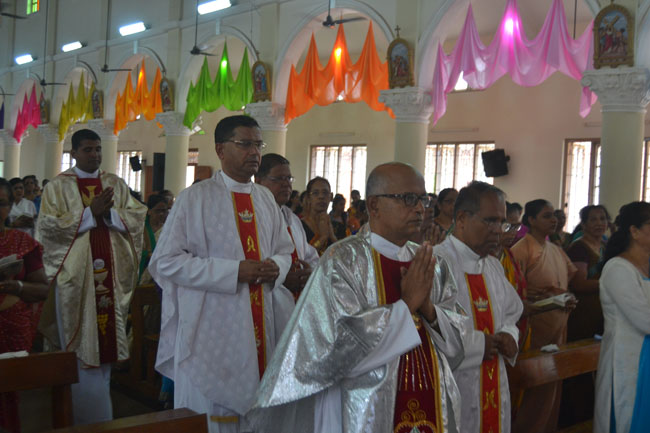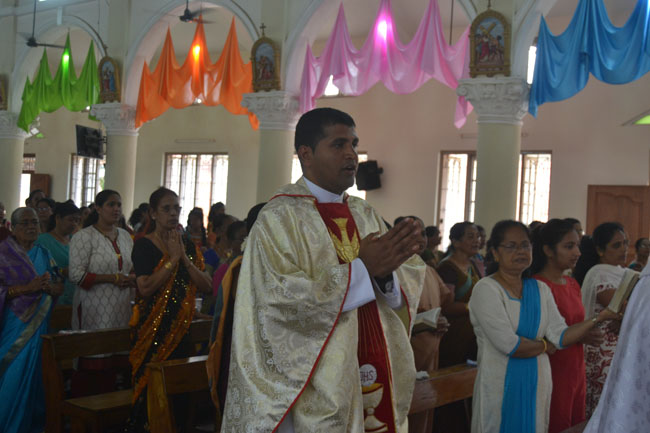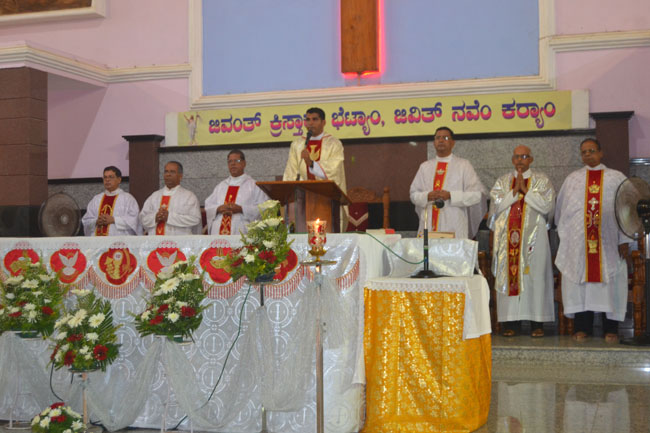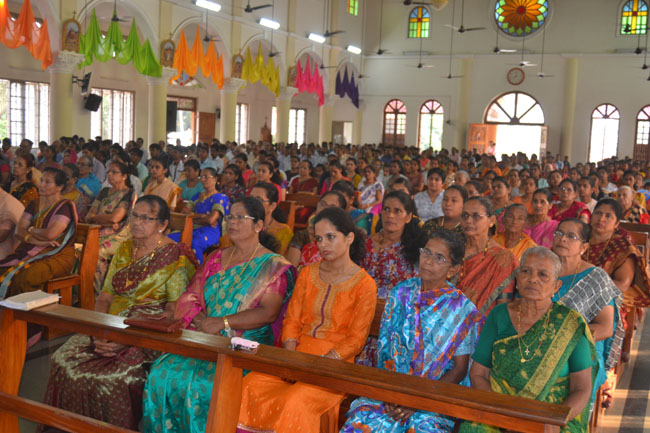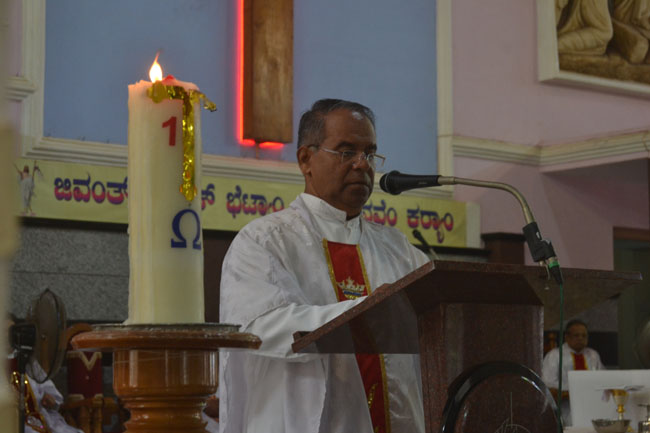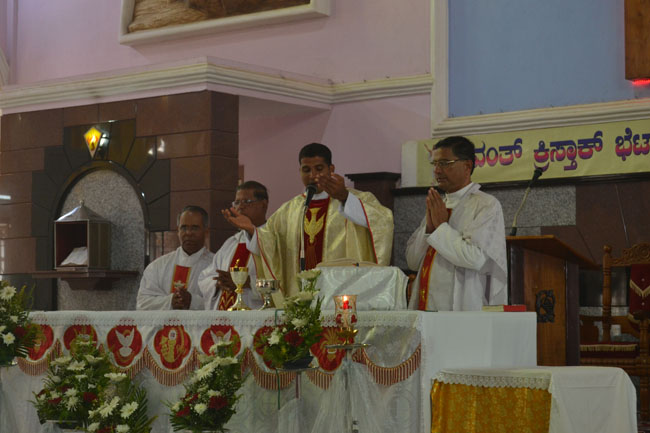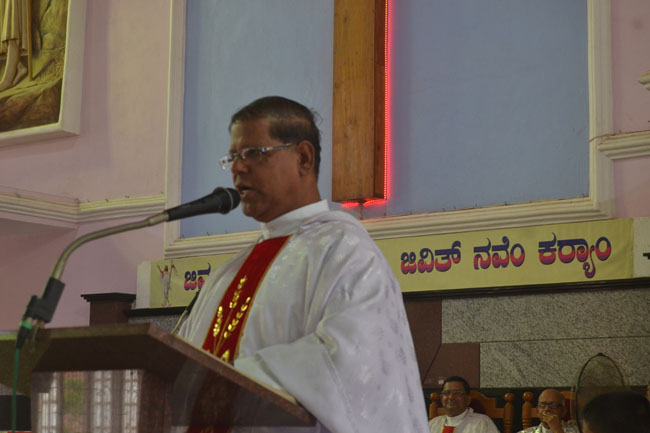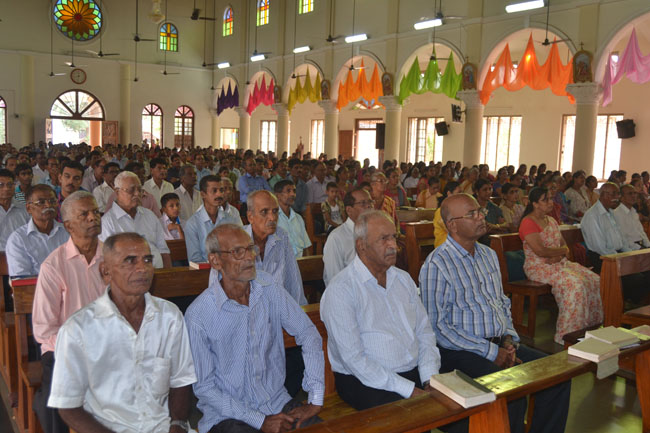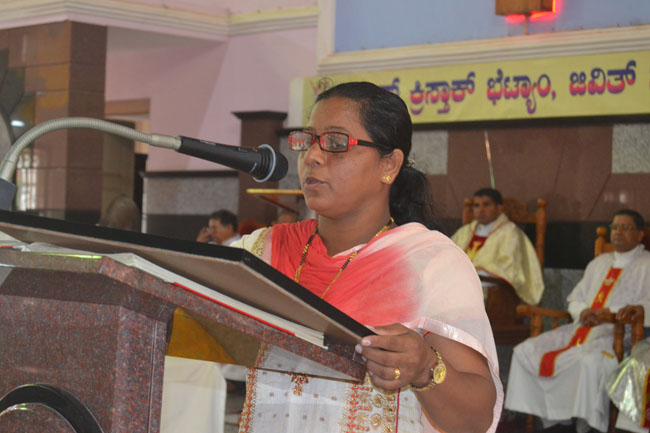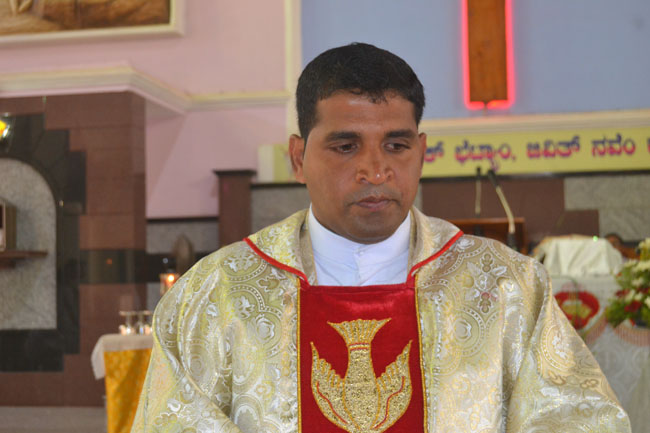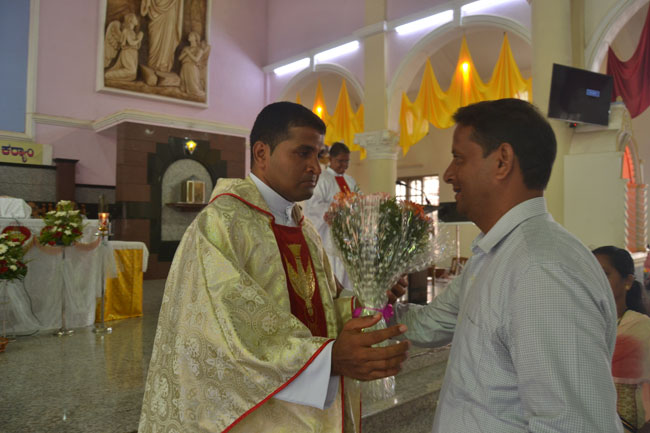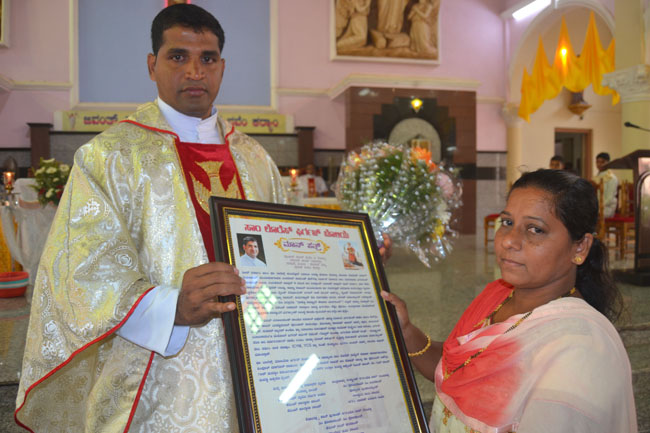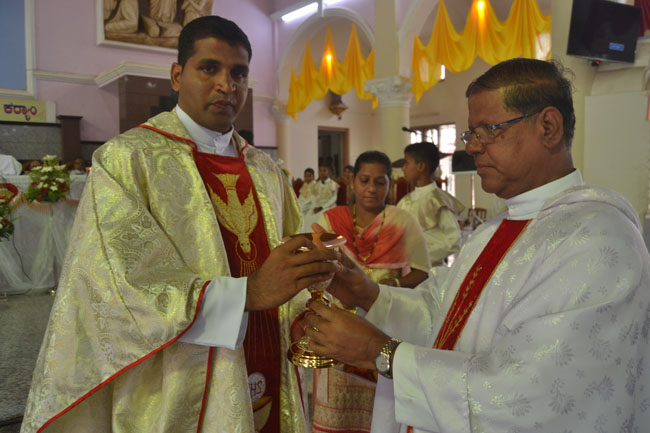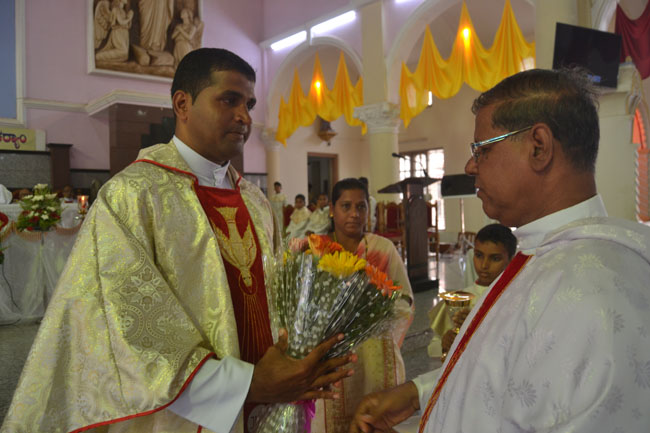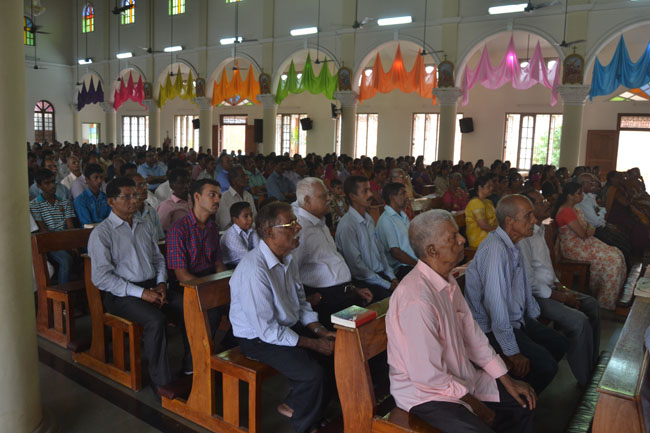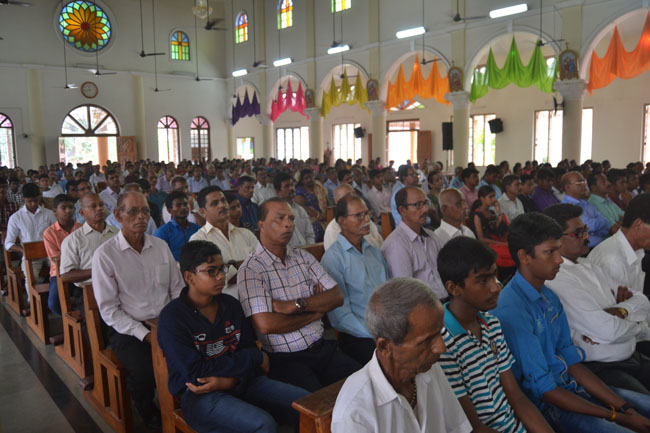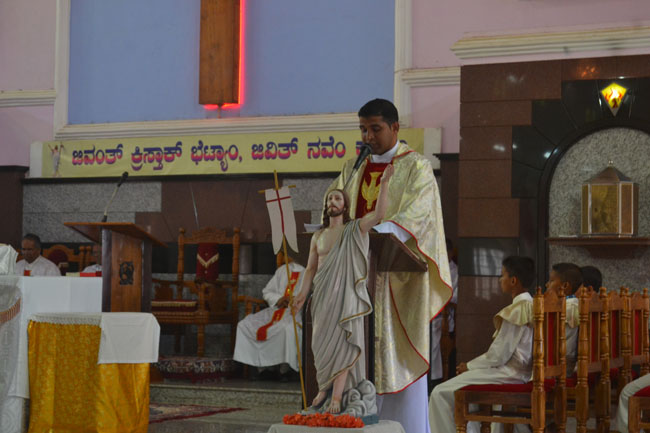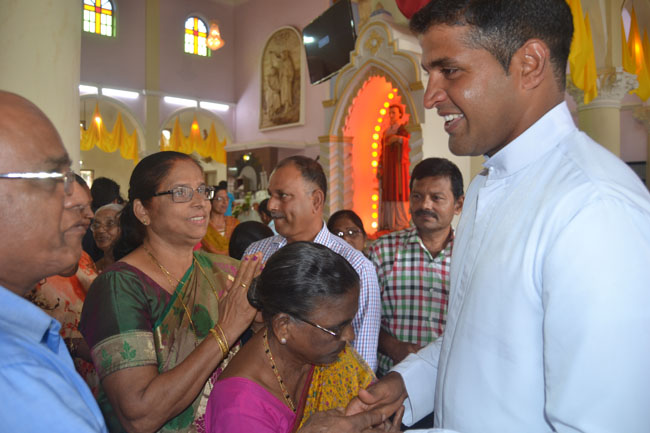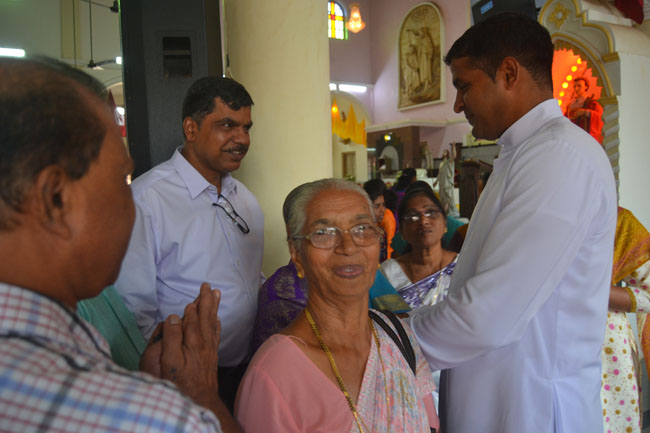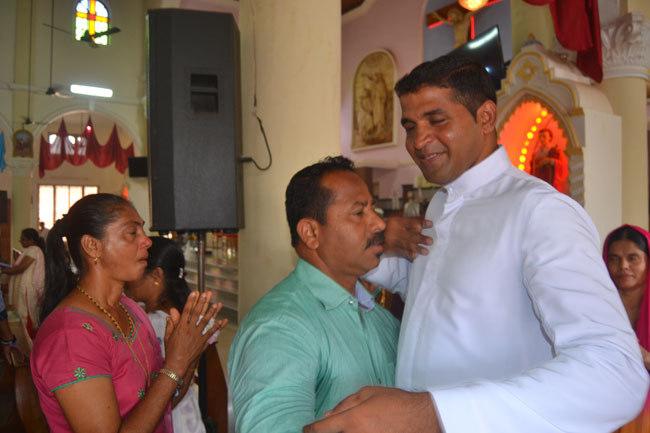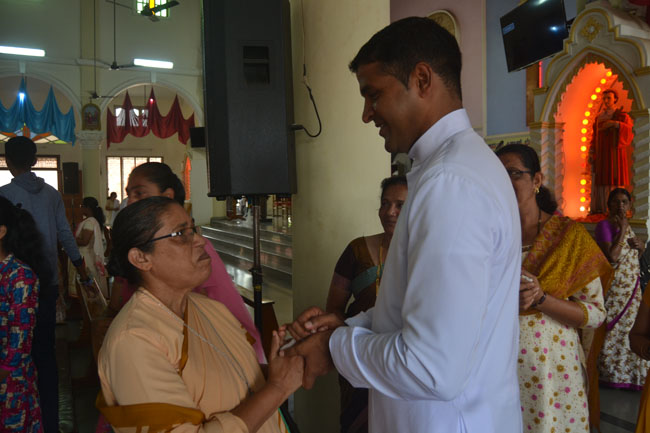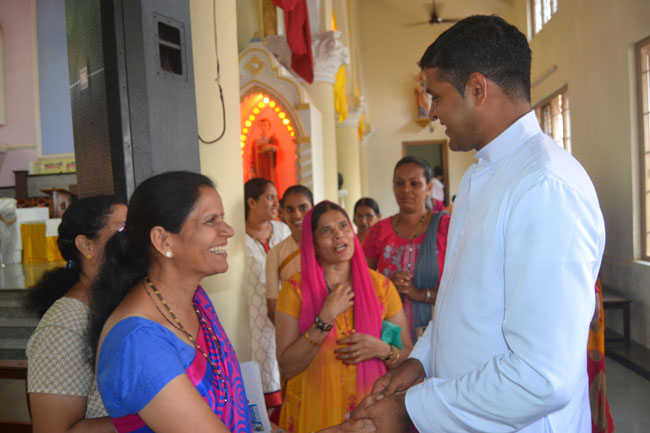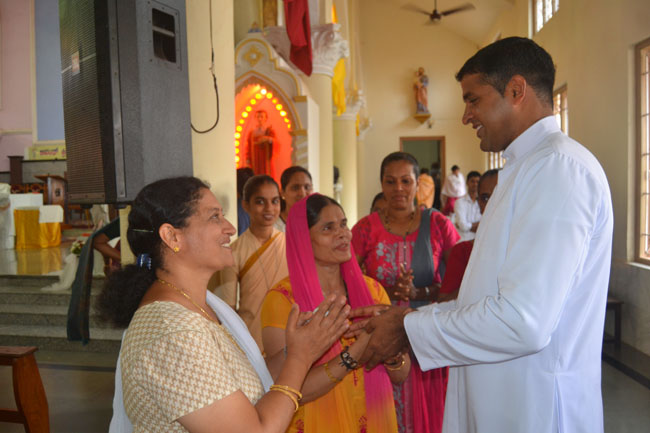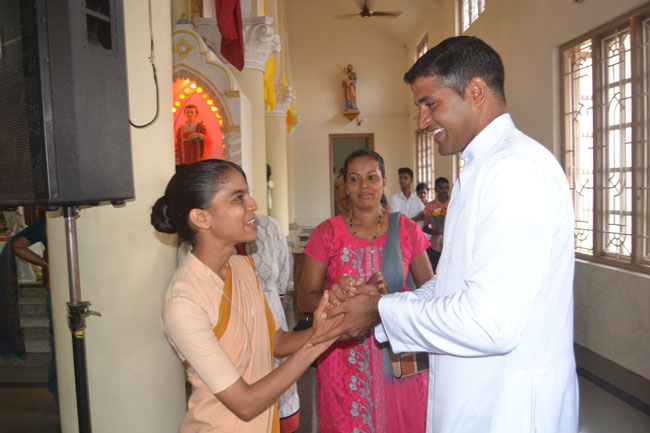 Fr. Lawrence Cutinha has left a lasting mark and great impression on the parishioners of Moodubelle. Friendly, affectionate and readily available, Fr. Lawrence became quite popular among the people. Besides being the Director of ICYM, YCS, Altar Servers, Editor of Parish Magazine 'Suvaad' and In-charge of Sunday Catechism Classes and 18 Commissions, he was the Director of ICYM of Udupi Deanery from 2017-19. During his tenure as the Assistant Parish Priest Fr. Lawrence visited each and every household at least four to five times in connection with annual house-blessing, fund raising for the community hall, administering Holy Communion to the elderly and sick and on good-will visit.
With an attempt to support the parish community hall project, Fr. Lawrence was instrumental in organizing Tulu play, State Level Volleyball Tournament and Commemoration volume of 'Suvaad'. He also manifested his love for performing art when he directed the Konkani play 'Jivithachi Saanz' written by Dr. Eugene D'Souza that was staged on Sunday, 21 April 2019.
Fr. Lawrence Cutinha is greatly appreciative of the ICYM and YCS members and feels that they have great potentiality in leadership qualities. His affection for the Altar Servers has been great.
The brief send off of Fr. Lawrence Cutinha was quite emotional. A number of parishioners personally met Fr. Lawrence and wished him well in his future ministry.
Fr. Lawrence Cutinha will proceed to Kulshekar, Mangalore on Tuesday, 21 May to take charge as the Assistant Parish Priest of that parish.