Goan Top Stalwarts, Prince Jacob and John D'Silva, The Emperor of Konkani Stage to Perform in Qatar
- Media Release


Doha, 16 May: Prince Jacob, one of the undisputed stars of Konkani musical theatre and well-known comedian John D'Silva, The Emperor of Konkani Stage will be one of the major attractions in the mega show 'Phalyan Poleyan' on May 31, at the Our Lady of Arabia Hall from 4.00 pm onwards. In the company of some selected comedians, Prince Jacob and John D'silva, the 'Emperor' is expected to make the Arabia Hall in Qatar a sea of 'crazy' laughter by their presence in 'PHALYAN POLEYAN' with their rib-tickling laughter and entertainment.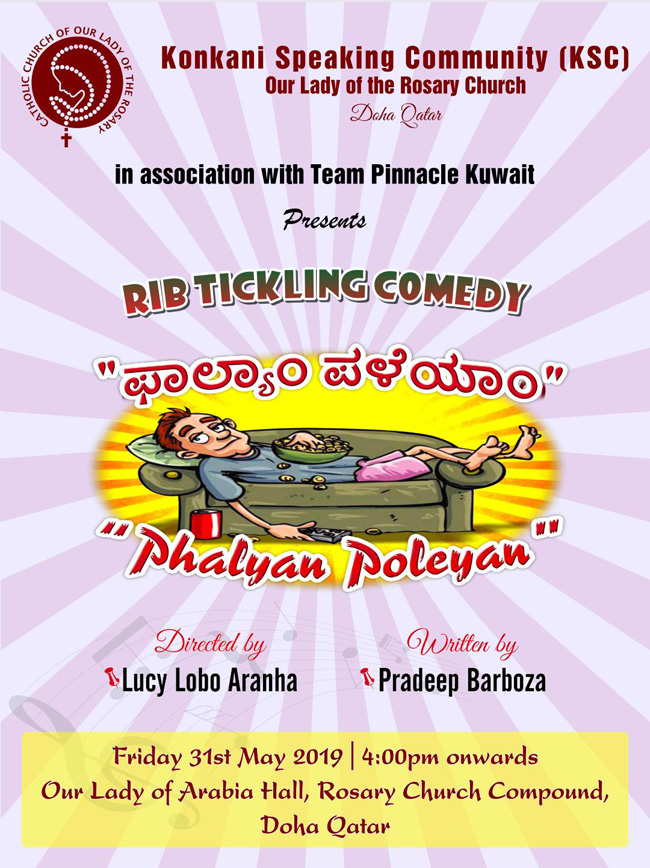 Phalyan Poleyan, Konkani play is written by Pradeep Barboza Paladka (Dubai) and directed by Lucy Lobo Aranha Gurpur (Kuwait). Rajesh Fernandes, Avil Fernandes, Blen D'Souza, Cynthia Pinto, Helen D'Souza, Lionel Mascarenhas, Sathish Saldanha, Sunny Menezes, Wilson D'Souza, Anil Menezes, Johnson D'Almeida will play various characters of the drama. Music and lights will be managed by Suneeth Noronha, Purandar Manchi and Movin Nazareth. Gulf Voice of Mangalore–Season 6 winner, Golden Voice of Qatar, Clement Fernandes and Sarah Lobo from Kuwait will entertain the audience with Konkani numbers.
It is not necessary for John D'Silva to make faces to look comic, nor does he need catchy dialogues to tickle that funny bone. Even his silence extracts peals of laughter from the audience.
John D'Silva, is popularly known in Goa and abroad as "The Emperor of Konkani Stage" and "Super Star of Konkani Cinema". He has shown his Tiatrs in Delhi, Mumbai, Thane, Pune, Sawantwadi, Kudal, Malwan, Vengurla, Hubli, Dandeli, Haliyal, Sirsi, Halga, Yellapur, Sadashivgad, Karwar, Kumta, Honavar and also in the Middle East countries like Kuwait, Qatar, Bahrain, Muscat and Dubai. He has performed in America, (London) UK, Canada, Germany, Paris and Cayman Islands. He is the first Goan Dramatist to enter in the "Limca Book of Records 2010" for Acting, Writing, Directing and Producing 25 Tiatrs with their Titles having a double Alphabet in it, till now he has Acted, Written, Directed and Produced 46 Tiatrs. He has acted in Konkani films, Padri, O Maria, Suring, Uzvadd, Nachom-ia Kumpasar, Home Sweet Home 1 & 2, Nirmonn, Rakhondar, Martin, K Sera Sera, Action, Planning Devachem, Connection, O La La, Amizade and Mangalorean Konkani film Ek Aslyar Ek Na". He has recently acted in Hindi Popular TV Serial "BHABIJI GHAR PE HAI?" in the Goa Special Episode. He is the first one to receive the First Yuva Srujan Puraskar Award by Art and Culture Ministry, Government of Goa for his immense contribution in the field of Tiatr. He received the Best Actor Award in the Konkani film Home Sweet Home 1 during the 8th Goa State Film Festival. He was awarded Best Comedian Award for his Comedy role in his Tiatr Munne during the 7th Popular Tiatr Festival organized by Tiatr Academy of Goa. John D' Silva is an household name among Konkani Speaking Community throughout the world and is the most respected celebrity of Goa.
In a short span of years John D'Silva has achieved a tremendous landmark and fan-following in the Tiatr field. He has always been in the limelight as a Tiatrist ever since he made his foray on the Konkani stage, but he made the whole country to sit up and take notice of him when he made it to the Limca Book of Records in 2010 for the unique feat of writing, directing and producing over 25 Konkani Tiatrs with their titles having a double alphabet in it. In the rich century old history of the Konkani stage, John D'Silva is incidentally the first tiatrist to enter the Limca Book of Records. It took him 12 years to create this unique record. For achieving this great feat, he was even congratulated by the Goa Legislative Assembly. He is credited with taking tiatr to greater heights and popularising it throughout the world.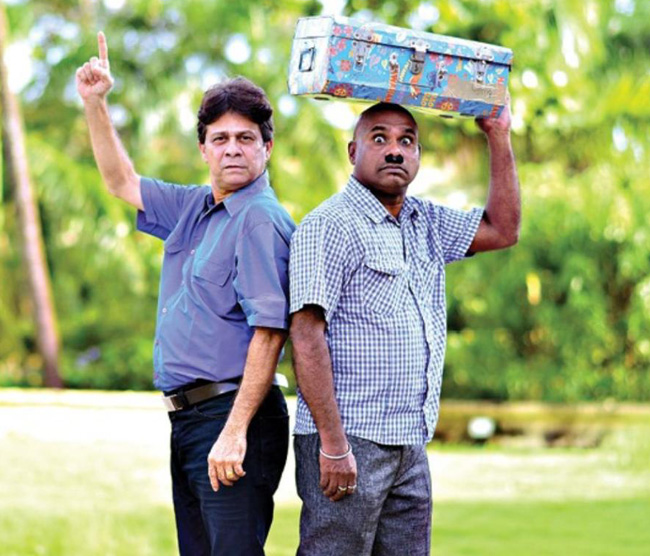 Prince Jacob, is one of the undisputed stars of tiatr and has legions of fans in Goa and abroad who swear by him for infusing new life into Konkani musical theatre. Besides being a successful director and a comedian Prince Jacob is also known for experimenting and introducing novelties and innovations on the tiatr stage. For e.g., to make certain scenes very effective, he introduced magic or illusion for Tiatrs such as 'Pidda' and 'Raja Rani'. In his tiatr 'Panvnnek' a living dog as part of the story, this unique move created sensation among the tiatr audience. In another tiatr 'Pavlam' he introduced a real handicapped person.
Besides being a director, writer and actor, Prince Jacob is also a good lyricist and a singer and has produced many Konkani Albums. Prince Jacob is not only an excellent artist, but an excellent human being too. He is a social worker with a difference. A patriot who is proud to be an Indian. He uses certain percentage of his earnings for human causes. Prince Jacob believes that to excel in any field one needs to work hard and any work produced due to hard work will never lose its importance. Sincere effort will pay you back. Prince Jacob is a living example of success through hard work.
Prince got his first role in the Konkani movie "Alisha" produced and directed by renowned producer and director of Goa, Rajendra Talak. "It was the small role in that movie but I don't look into the length of role but I see the depth of it. Even my role in Nachom-ia Kumpasar was very small but it was striking. When they send the clips for the competition they send mine for sure," he said.
According to Prince, the theatre is far better than the films. He feels that as an artist, one has to be educated in theatre and films as well. To learn you need to watch and learn from it. I suggest that newcomers and aspirants should attend workshops related to acting. I myself still attend workshops. People ask me 'Prince you are so talented why you need the workshop?' and always tell that I am still in learning process and it is never ending," he narrated.
Prince is the most humble and talented personality Goa has seen and he is one of the personalities who left their deep marks in the Tiatr industry of Goa. Whenever the history of the Tiatr would be written it cannot complete without the major regard to Prince Jacob. He acted in many films; Padri, Roddonaka, MMS, Alisha, A Rainy Day (Marathi), No Entry – Phude Dhoka Ahai (Marathi), Home Sweet Home 1 & 2, Nachom-ia Kumpasar, Ghadia Apla Gaum Bhara (Marathi), Noxibacho Khell (Mangalorean), Rakhondar, K Sera Sera, 500 Note, Connection, Zavoi Number 1, Sophia, Mahdav (Hindi), 7 Days, Bandkar, Miranda House, Cynthia, O La La and Planning Devachem.
It's a presentation of Konkani Community Committee of Our Lady of the Rosary Church, Doha-Qatar in association with Team Pinnacle Kuwait.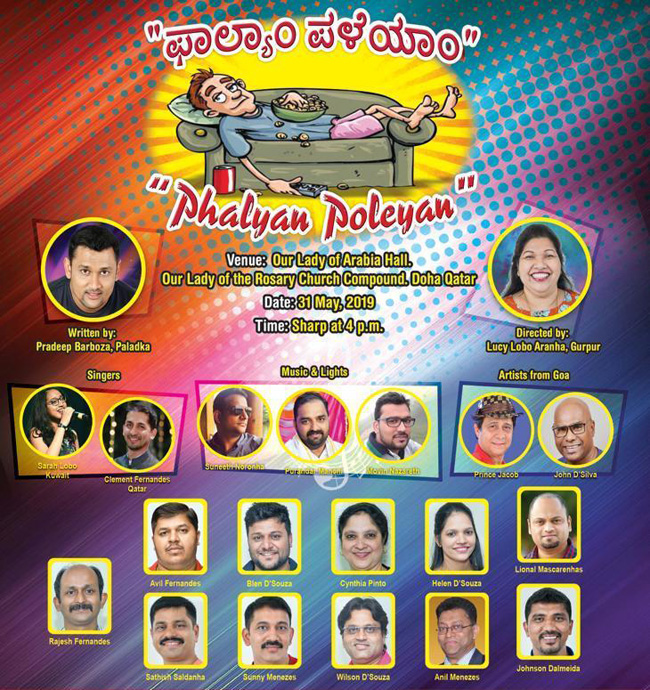 Pinnacle Kuwait is an energetic team of talented artistes under the leadership of Lucy Lobo Aranha who have already staged the play 'Phalyan Poleyan' in Kuwait in February 2019 and won the hearts of Konkani drama lovers in Kuwait. The drama intends to give a strong message to the society about the true values of a family and importance of forgiveness.
Konkani Community Committee appeals to the Konkani community in Qatar to come and witness this play and be a part of this entertaining evening from Pinnacle Kuwait and Goan top comedian stalwarts.
Entry passes can be obtained by contacting the organizing committee of the event. Telephones: Aloysius – 33618230 and Simon – 55550491.