Mangaluru: Int'l symposium on Crossing borders of nations under way at St Agnes College
By Roshan Madtha

Bellevision Media Network


Mangaluru, 30 Jan: The postgraduate department of English, St Agnes College (Autonomous) organized an International Symposium on Crossing the Borders of Nations and Self: Migration and Migrant Literature in Theory and Practise from January 29 to January 30. It was inaugurated during the function held at Sophia Hall in their college campus, on January 29. The theme of the symposium was 'Crossing the Borders of Nations and Self: Migration and Migrant Literature in Theory and Practise.'
The programme began with an inaugural address by the chief guest Prof Vishanz Pinto. He is the head of the department of history at St Aloysius College. Prof Vishanz Pinto has been awarded PhD for his study on the Catholic of South Canara (modern period) titled, Migration of the Catholics of South Canara and it's Socio-Economic Dimensions (1900-1980.)
Addressing the gathering, Dr Pinto pointed out that there are mainly two types of migration that he observed in the Mangalore Catholic Community. One is local migration from Mangalore to Metro cities like Mumbai and Chennai this was due to Catholics who were basically agriculturist who did not have any land in their own name, these people were cultivating the land from the land lord under the agreement of Chalgeni where the farmers didn't have any control over the revenue generated from the land hence these people were waiting for the opportunity to go in search of greener pastures. When they witnessed the Industrial revolution that happened in Mumbai many of them migrated to Mumbai and settled there. The Second category is due to Basil mission and Church, many institutes have started their colleges in Mangalore which boosted the educational field, due to this educated people migrated to Canada and America in search of better opportunities. It helped Mangalore churches to develop economically.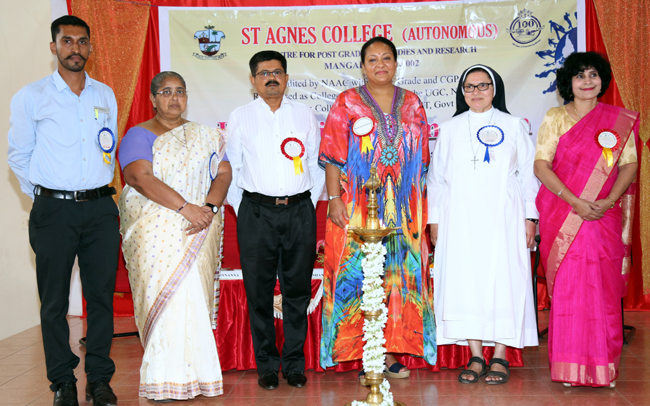 The address of the keynote speaker was followed by the address by the Principal Sr Dr Jeswina AC and Dr Jeswina further elaborated on the topic of migration and accurately pointed out St Agnes contributed lot in the field of education. The institute helped in the upliftment of the women rights and dedicated itself to women empowerment and how the College helped women attain the position they deserve in society.
Then the gathering dispersed for a short break and reassembled for a lecture by our keynote speaker Dr Juanita Cox Westmaas, she is an Associate Fellow of the London Metropolitan University, where she lectured for three years in Caribbean Studies and Black British History, a migrant herself, Dr Juanita was able to give us an in depth analysis on critical biography of Edgar Mittelhozer.
PG co-ordinator Dr Noeline Pinto and Student convenor Mr Ponnanna C.P were present on the dais.
Deepika Appaya compered the program and concluded with the vote of thanks.