Udupi: Kaup journos celebrate Deepavali among different community
By Anil Belle

Bellevision Media Network


Udupi, 09 Nov: The folk art, traditional practices and cultural hierarchy of Tuluvas of erstwhile Tulunad is worthy to be emulated by the society, said Tulu folklore scholar Bannanje Babu Amin.
Babu was speaking during Deepavali celebration that was organized by Kaup taluk working journalists Association at Press Club, here, on Tuesday, November 6.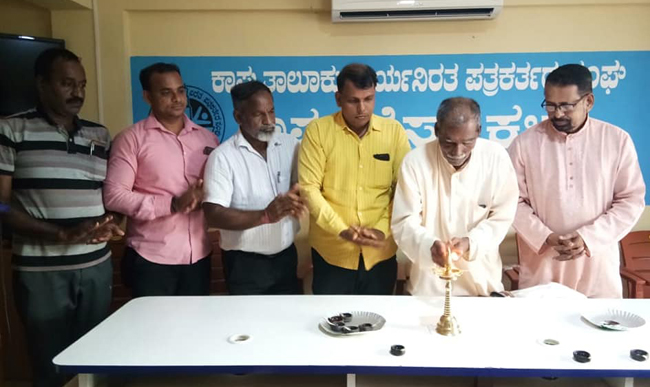 Deepavali is a significant festival in Tulunad that is primarily based on agrarian society. The festival of light is being celebrated by our veterans since ancient times, said Babu.
Sridar Senava, managing director of Bharat Canning Company (BICCO) Kaup, lauded the Deepavali celebration that was organized by the Association to foster bond with differenti communities of society.
Dendoor Dayanand Shetty, president of Rotary Club – Shirva conveyed best wishes.
The Association president Prakash Suvarna Katpady presided the programme.
The veteran journalist Pundalika Marate welcomed the gathering. Harish Hejamady compered the programme. The treasurer Santosh Kaup proposed the vote of thanks.