Udupi: Adani Foundation to develop 2 roads in Palimar GP @f Rs 35 lac
By B Pundalika Marate

Bellevision Media Network


Udupi, 09 Nov: Udupi Power Corporation Limited (UPCL) in hands with Adani Foundation today flagged-off the development of 2 roads in the limits of Palimar gram panchayat. Nandikoor-Berandikatte road measuring 600 meters length and Shambhavi Nagar road measuring 125 meters would be developed at a cost of Rs 35 lac under the CSR programme of Adani UPCL.
Bhoomi puja was performed by Kishore Alva, joint president of Adani and Jitendra Futrado, president of Palimar gram panchayat.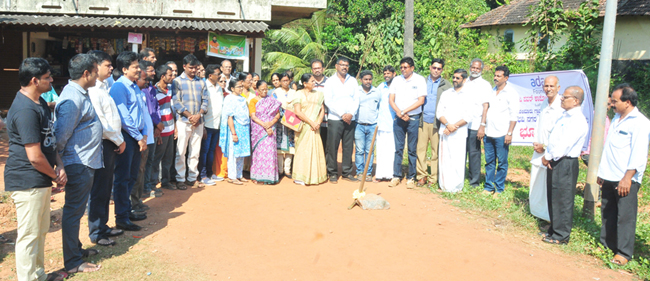 Speaking on the occasion, Alva informed that Adani has earmarked a special CSR grant for the development of Rural Infrastructure Developments and is implementing the village development programmes in phased manner for a period of 3 years in addition to the on-going CSR programmes in the field of education, health, and sustainable livelihood development in the surrounding villages. Palimar GP has been earmarked with a grant of Rs 3 crore and Adani UPCL is executing the development works as per the Action plan of the panchayat. Till date, in Palimar GP, UPCL has completed development works worth Rs 42 lac and the works worth Rs 30 lac are in progress in addition to the today's 2 roads, Alva added.
During the occasion, Alva informed that Adani Gas Limited, has successfully won the Bid for City Gas Distribution (CGD) Project from Petroleum and Natural Gas Regulatory Board (PNGRB) in the 9th CGD Bidding round for providing Piped Natural Gas (PNG) and Compressed Natural Gas (CNG) connections for Udupi Geographical Area. The inauguration of Geographical Areas awarded in this 9th CGD Bidding round will be on 22.11.2018 by Prime Minister at Vigyan Bhavan, New Delhi, Alva added.
Jitendra Futrado, on behalf of Palimar panchayat and the residents, thanked Adani Foundation for bringing Palimar panchayat under the umbrella of Adani CSR. He applauded the village development works and social development programmes implemented by Adani Foundation for the benefit of villagers.
R Satish, Panchayat Development Officer (PDO), Madhuakar Suvarna, Naveenchandra Suvarna, former presidents of Palimar panchayat, Dinesh Kotian, taluk panchayat member, Gayatri Prabhu, Shivarama Poojary, Vasudeva, Satish Devadiga, member of panchayat, Girish Navada, AGM and Ravi R Jere, senior manager of UPCL, Vineet Anchan, Sukesh Suvarna and Anudeep Poojary from Adani Foundation, were present on the occasion.