Udupi: Human Rights activist Dr R Shanbagh cautions Gulf-job seekers about unscrupulous agents
By Dr. Gerald Pinto

Bellevision Media Network


Udupi, Oct 18: Catholic Sabha Udupi Pradesh® organized an info workshop on the issues that affect the gulf job seekers and assistance at their office, here, on Sunday, October 14.
The city-based Human Rights Protection Foundation president Dr Ravindra Shanbagh was the resource person.
He said, 'The illiterate laborers and women who find jobs in gulf through unscrupulous agents are likely to be duped because they are not recognized by Ministry of External Affairs. MEA cannot help such immigrants who go to gulf by illegal means and remain in that country without valid visas. There are none of gulf recruiting agencies listered with MEA in DK and Udupi districts. The bonafide agencies in Mumbai and New Delhi seek the help of local agents to publish their job requirements who get their share of commission. The job seekers will be sent to Mumbai and from there to Nepal, finally reach Dubai where they would be auctioned off. They will be looked after well till their 3-month visa expires and treated like slaves. They cannot complain the police fearing arrest because they have no valid visa. There are countless such cases, while in a recent case of Jacinta Mendonca from Shirva, who reached Qatar to help her children to study, since her husband passed away recently. She was promised a housemaid's job in a Hindu family; while her agent there sold to a Qatari for Indian Rs 4.5 lac. Therefore, the different communities in society should help gulf job seekers about their recruiting agents, labor agreements, life insurance etc,' said Dr Ravindra.
He also said, 'If the gulf job seekers avail the services of unscrupulous agents and he/she die there, disappear or killed; their dead bodies will not be repatriated or their kith and kin get any compensation.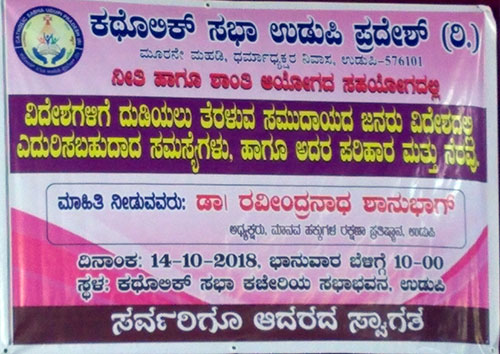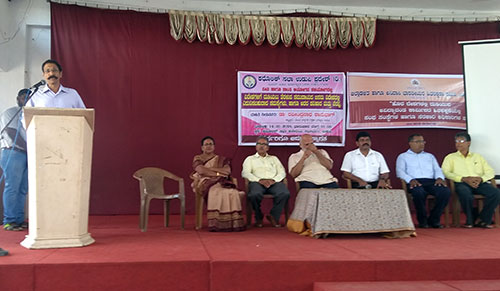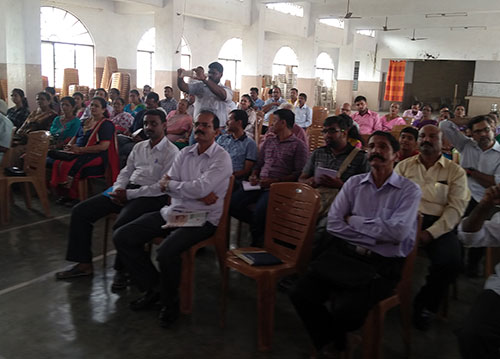 Catholic Sabha Udupi Pradesh® president Alwyn Quadros presided the programme.
Alphonse D'Costa introduced Dr Ravindra. The secretary Maxim D'Souza proposed vote of thanks. Flyvon D'Souza compered the programme.