Udupi/M'Belle: Wilfred Menezes celebrates golden birthday in a unique way
By Dr. Eugene DSouza

Bellevision Media Network


Udupi/M'Belle, 29 Jul 2018: Birthdays are usually celebrated by individuals with themselves as the centre of attraction and attention. However, Wilfred Menezes of Moodubelle, an entrepreneur dealing with Security Solutions in Dubai and other Gulf countries and branches in India and a generous philanthropist celebrated his fiftieth Golden Birthday in a unique way that could be considered as a trend setter and desirable at a time when people tend to be self-centered and exclusive. However, Wilfred Menezes celebrated his birthday along with 16 of his friends who were born in 1968 and shared their birthday with him being born in the same year. The celebration was held at Lions Seva Bhavan, Moodubelle on Saturday, 28 July 2018 at 8 pm.
The uniqueness of the celebration was that Wilfred could convince his friends- classmates and batch mates right from the school days to Engineering College days at Manipal and even those whom he met later to be part of the joint celebration. The theme of the event was appropriately chosen as "Vintage Made in 1968". In order to drive the point of vintage, four 'vintage' cars belonging to Ronald Saby D'Souza, an avid lover of vintage cars were strategically placed at the entrance of the Lions Seva Bhavan.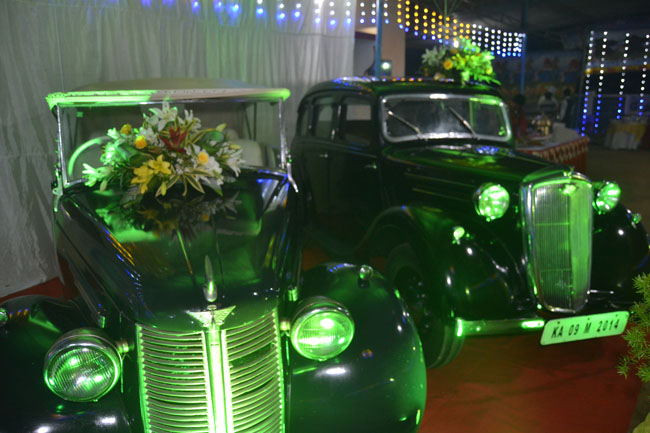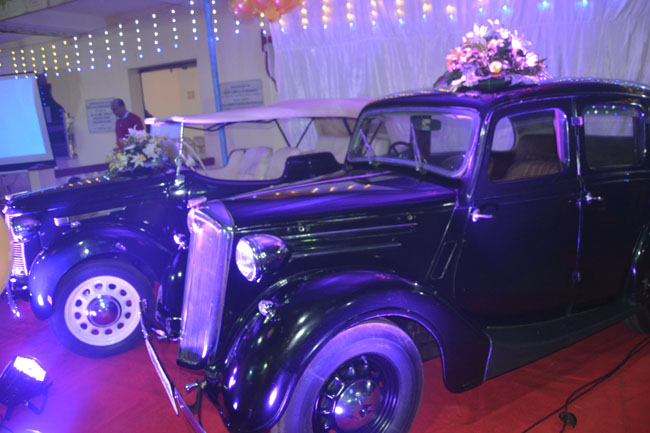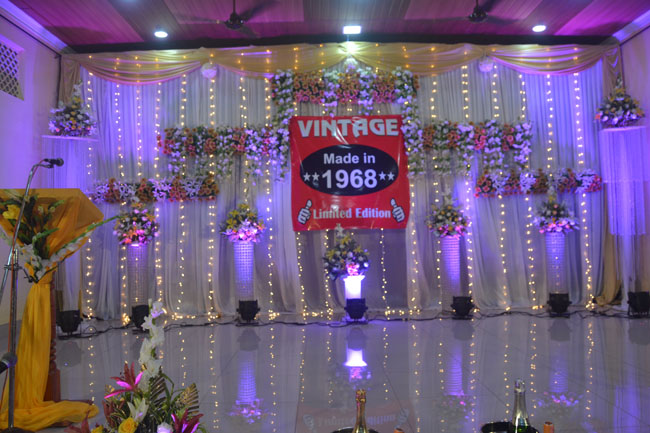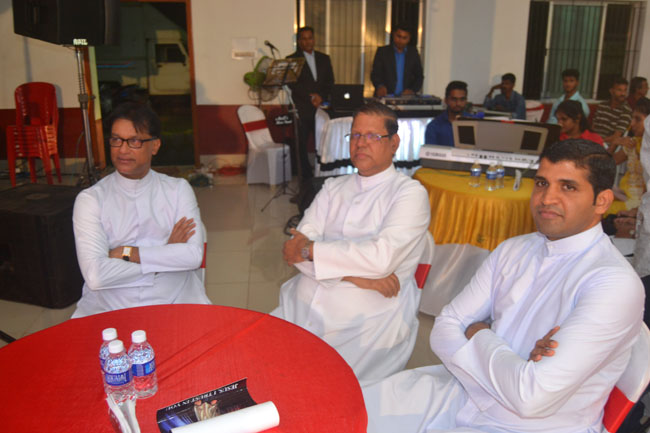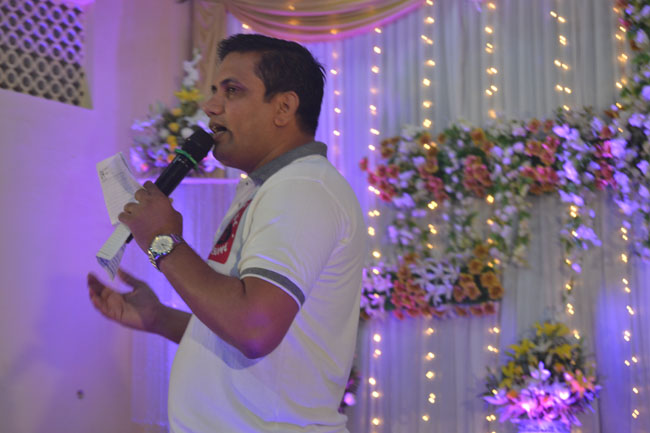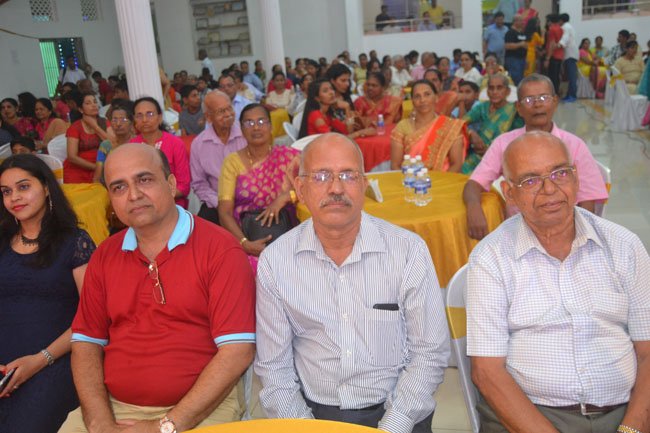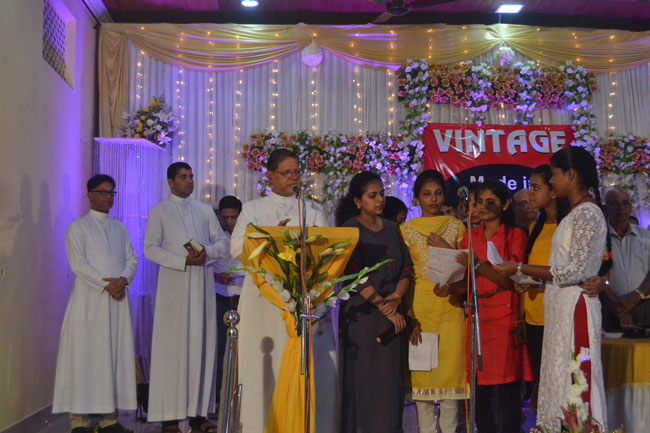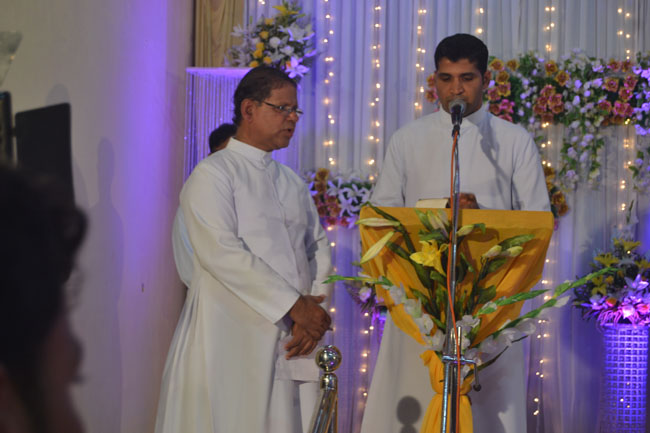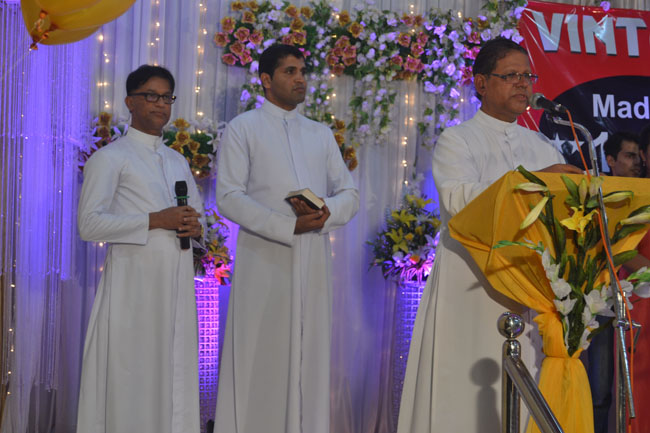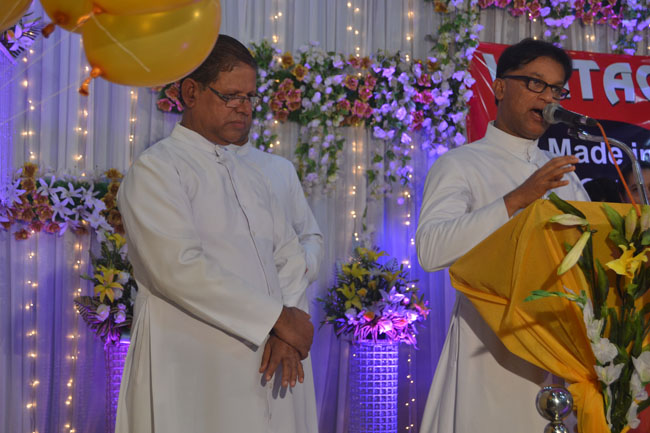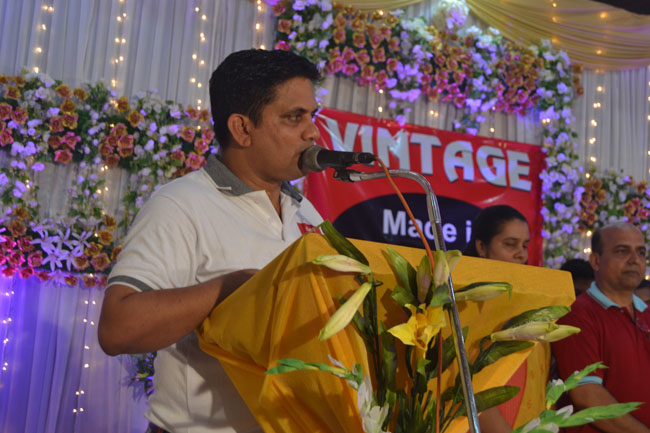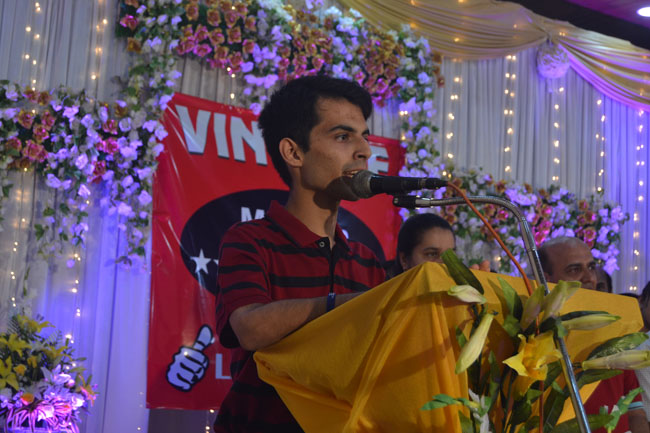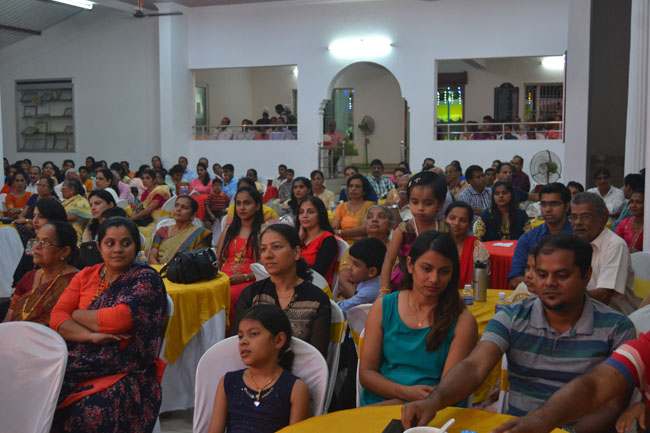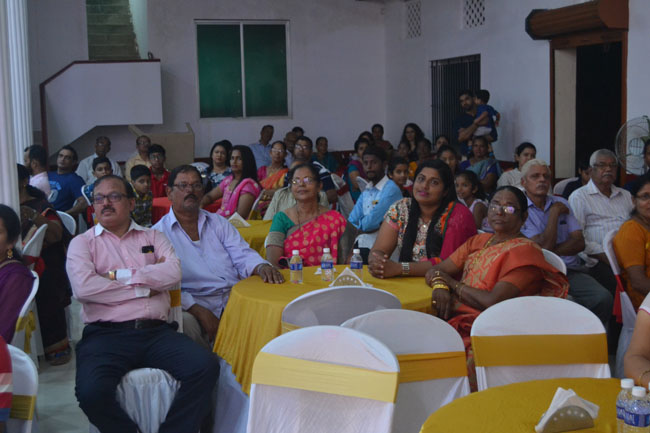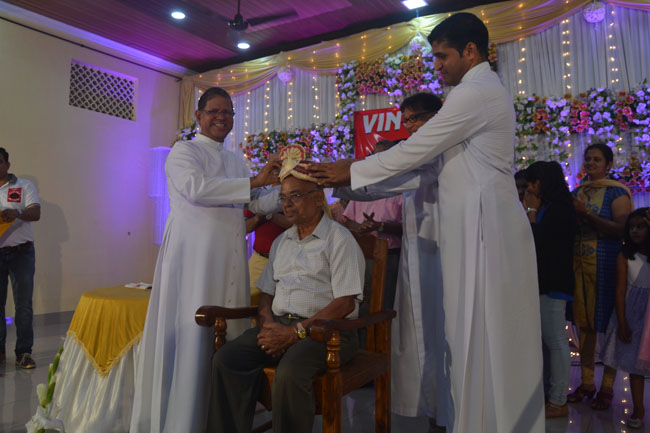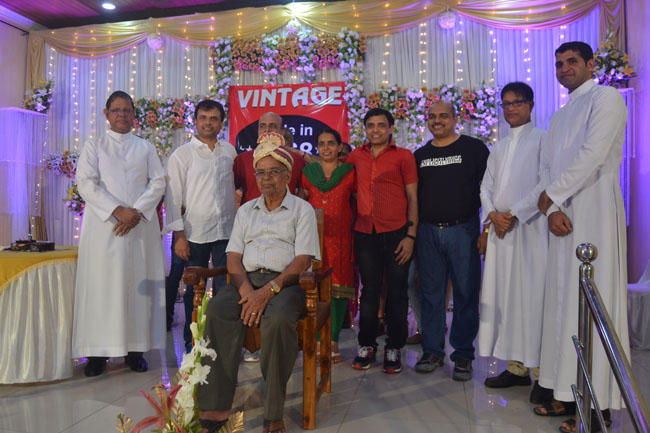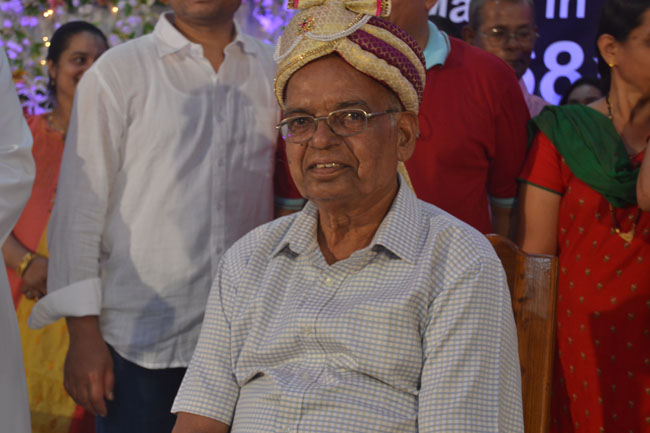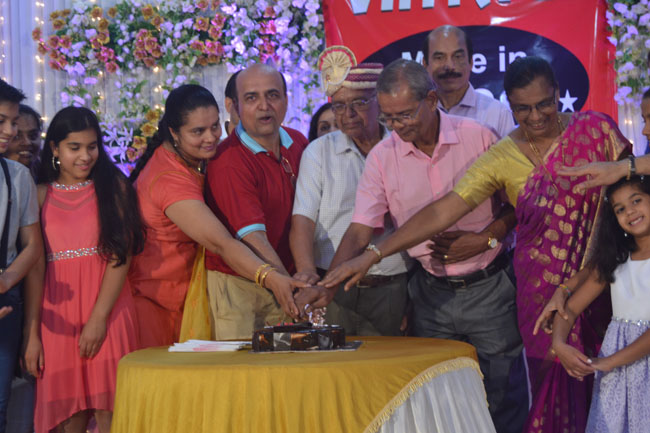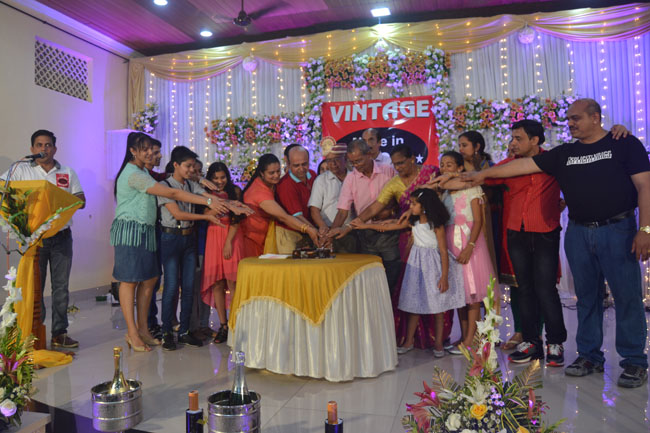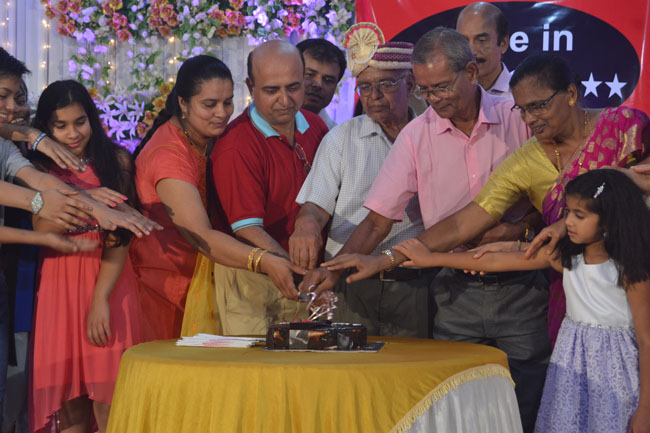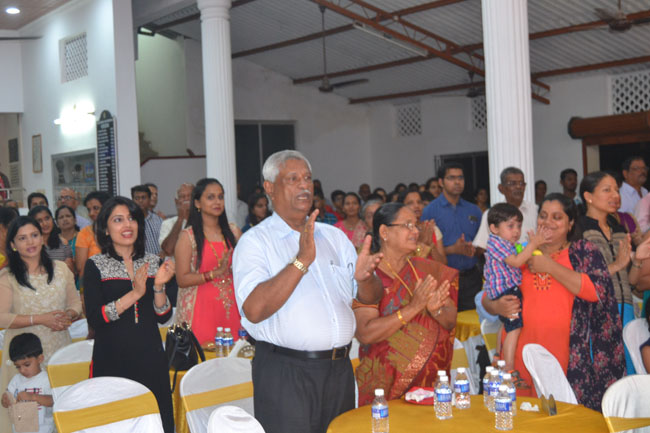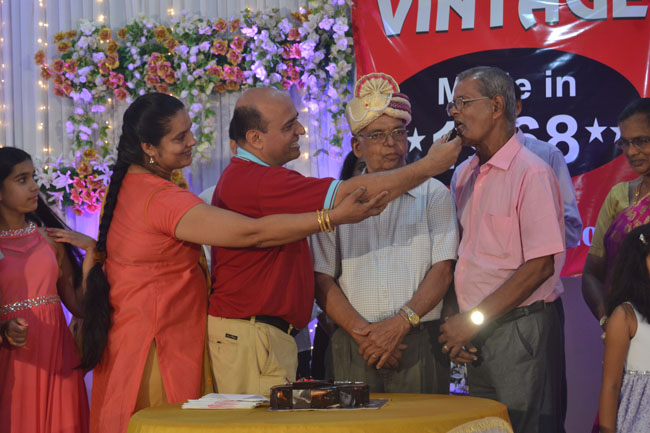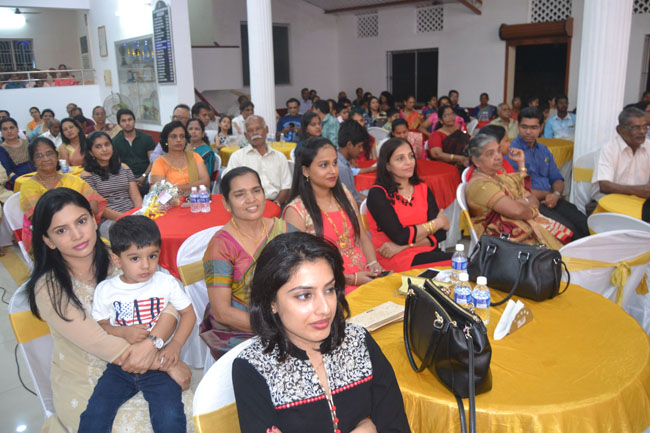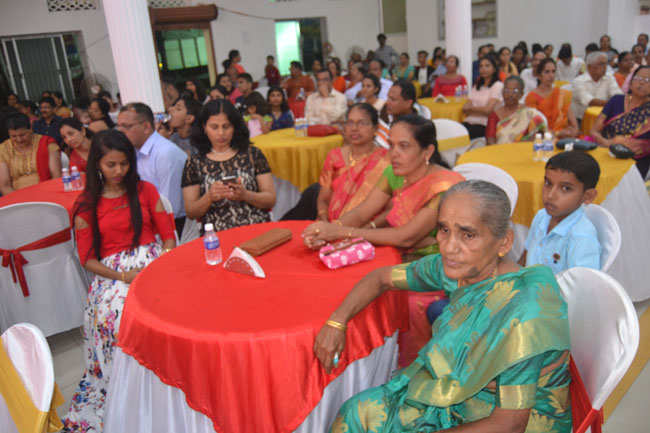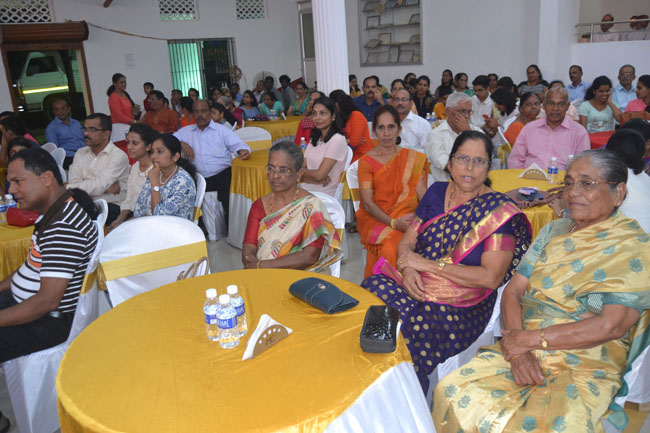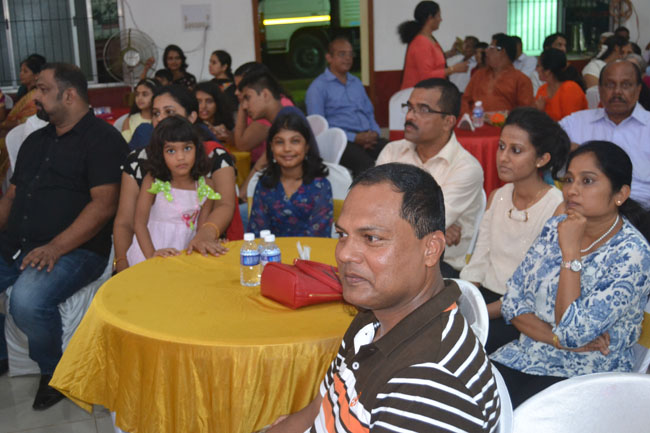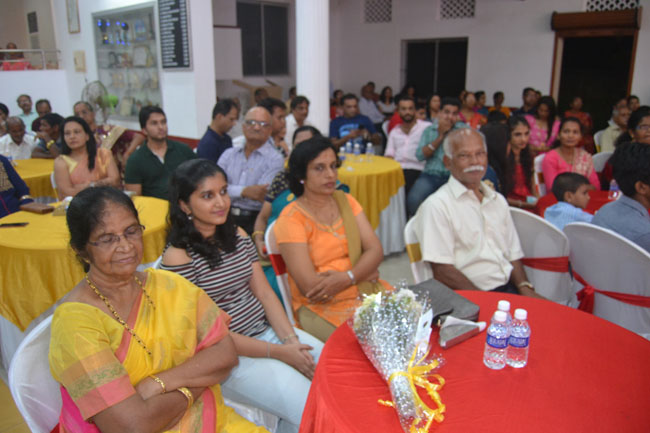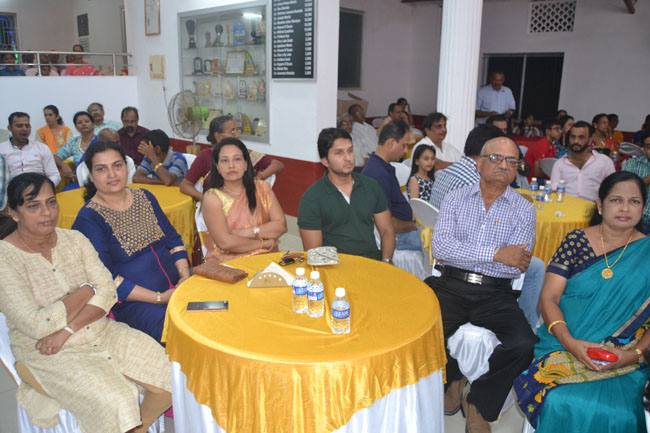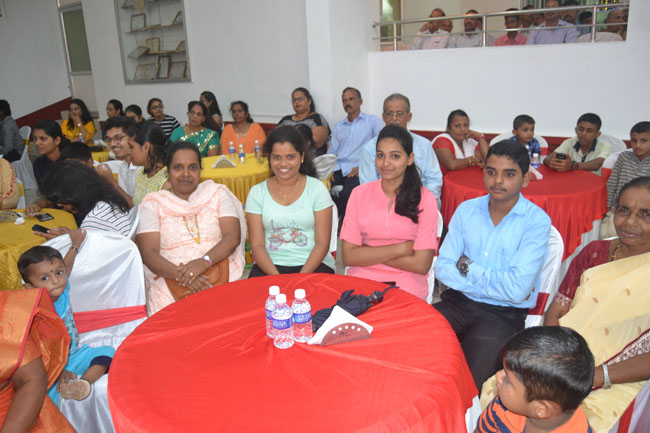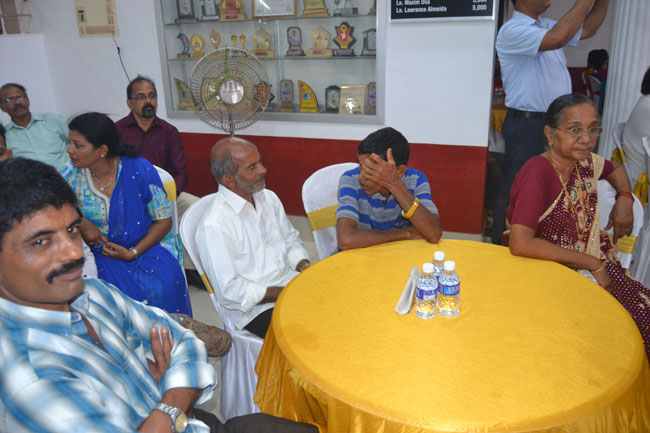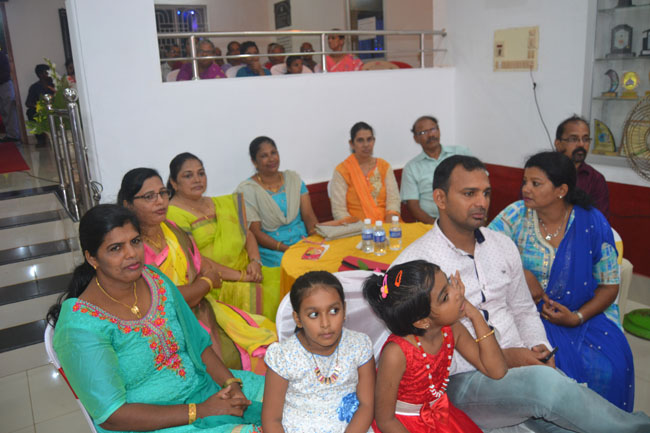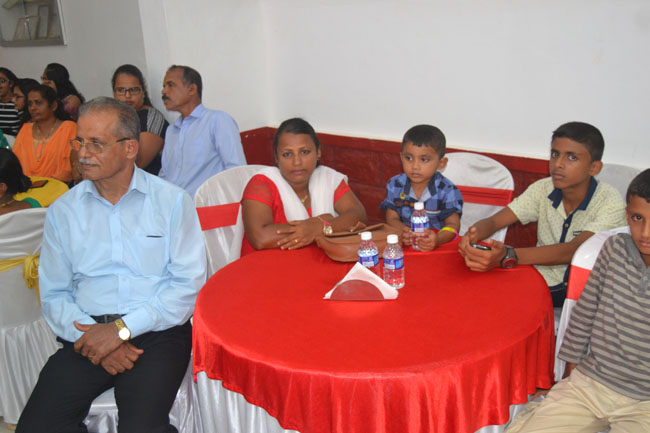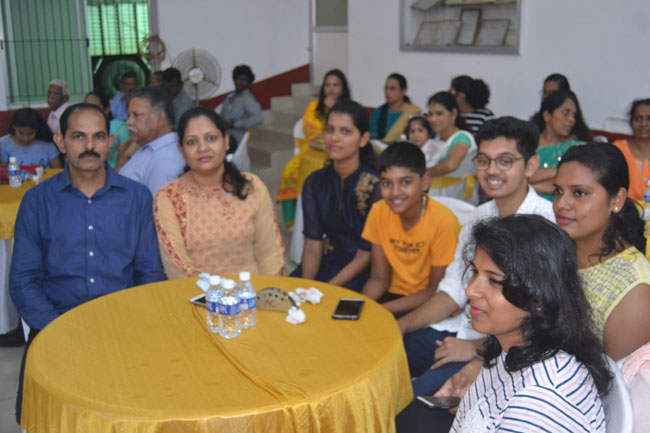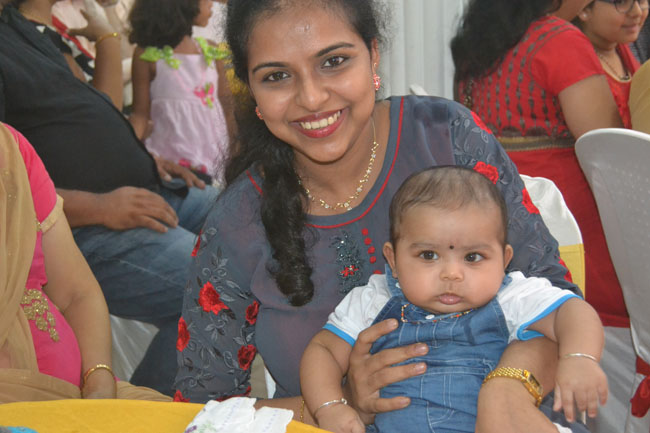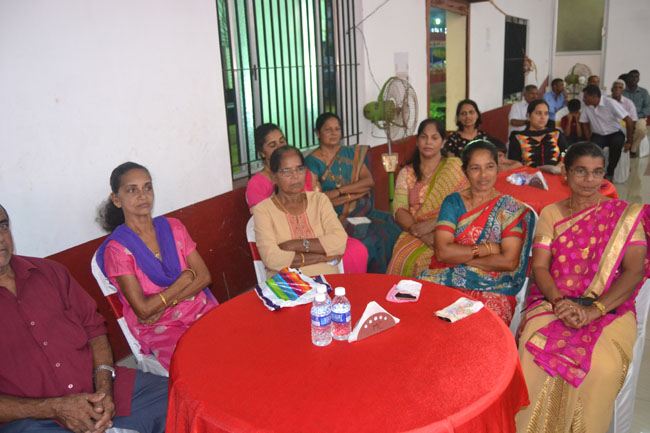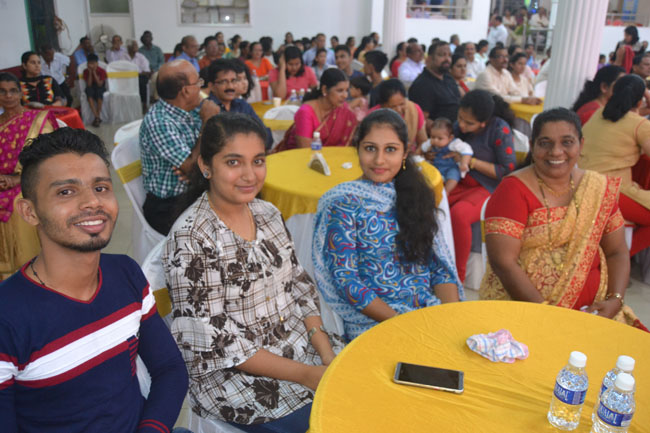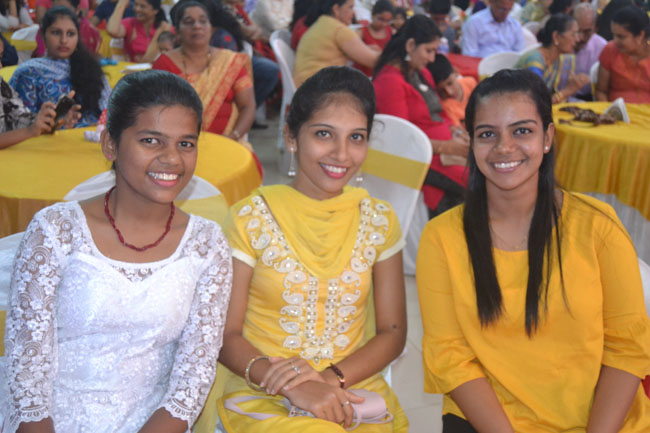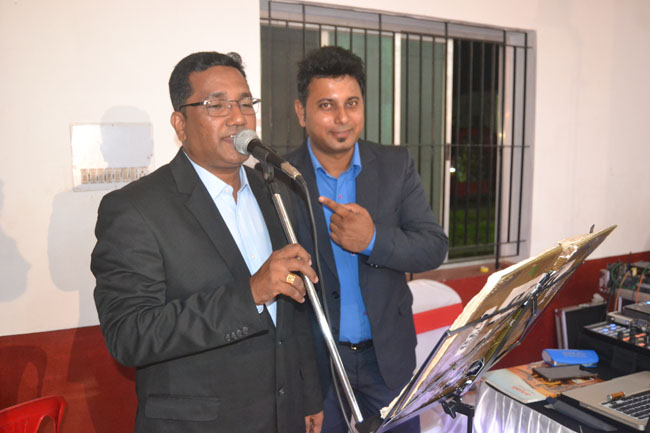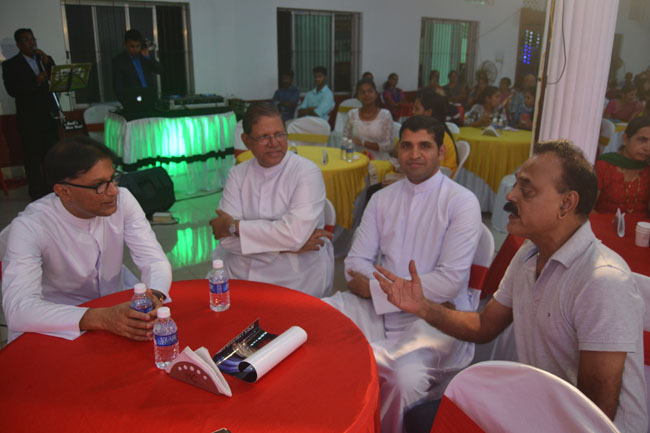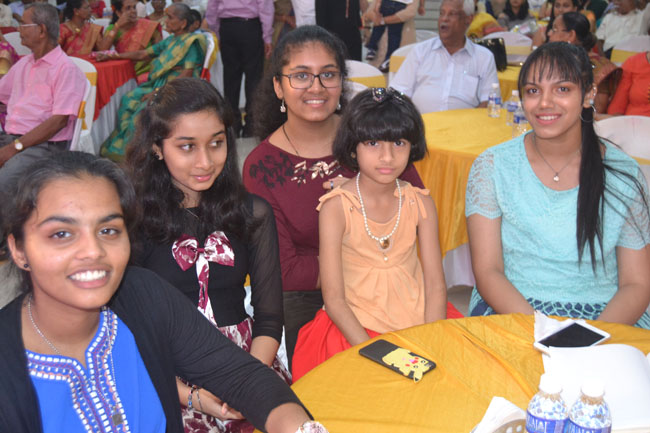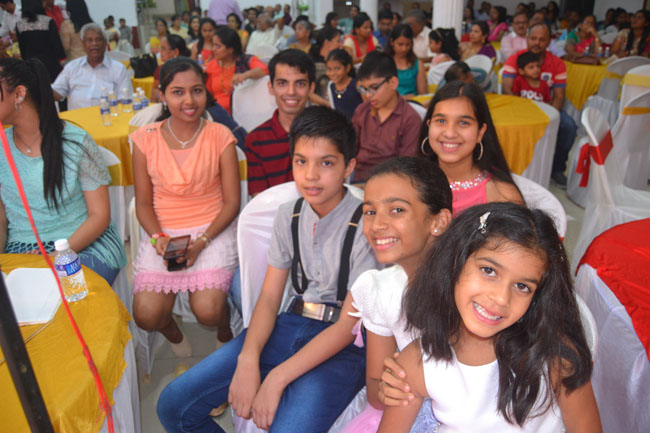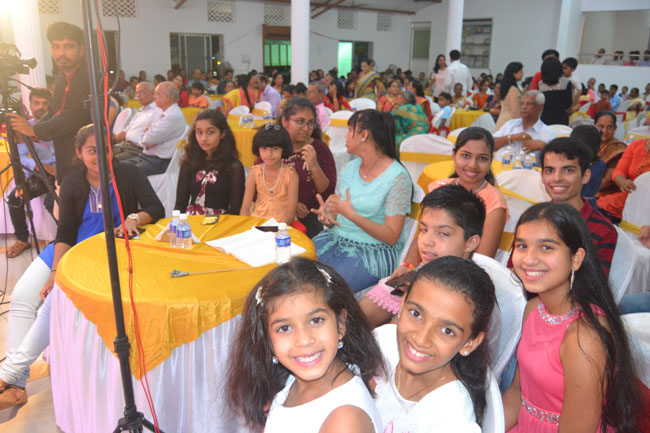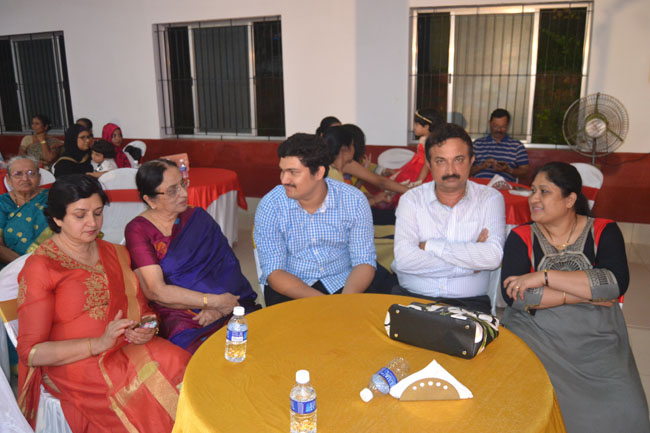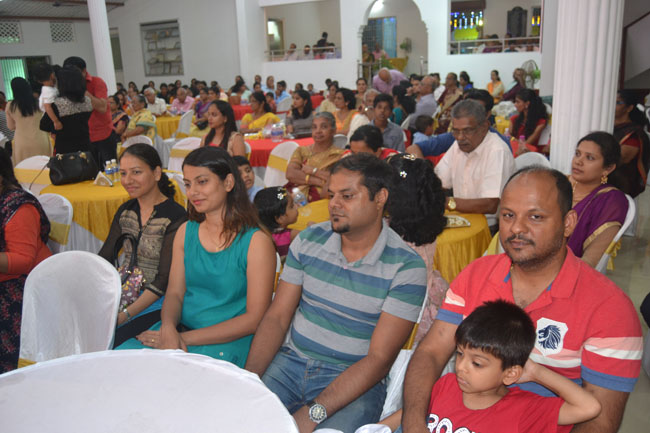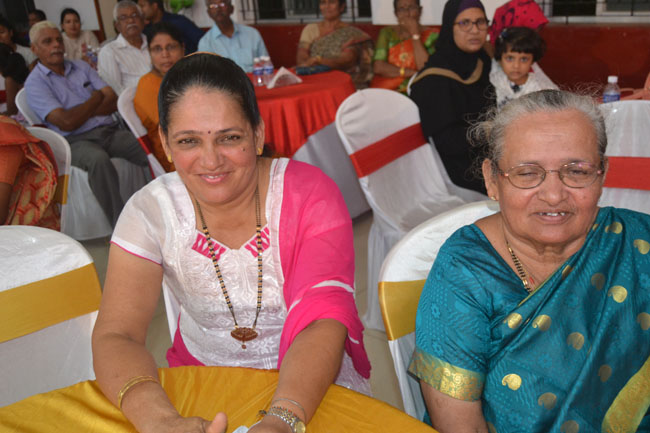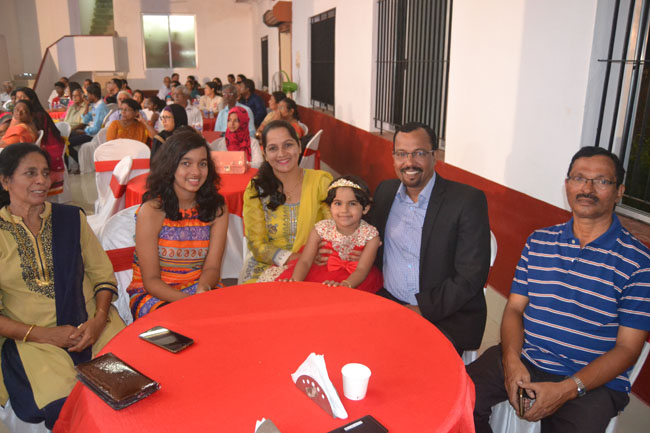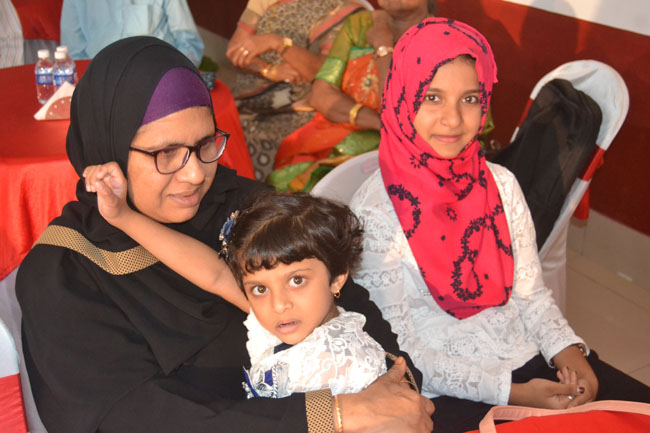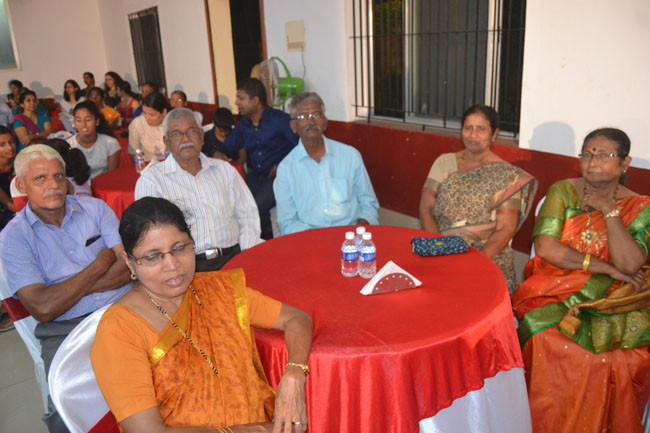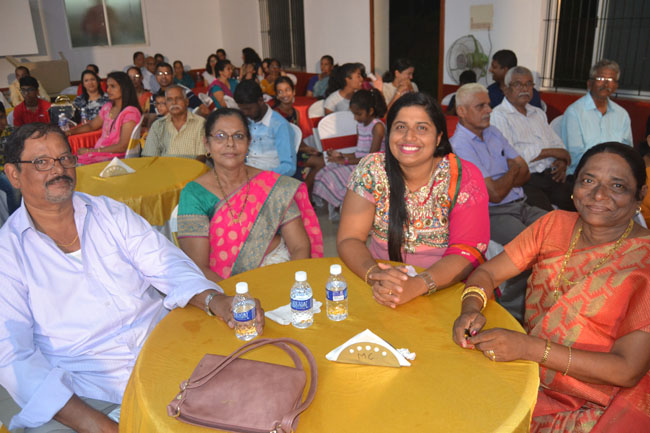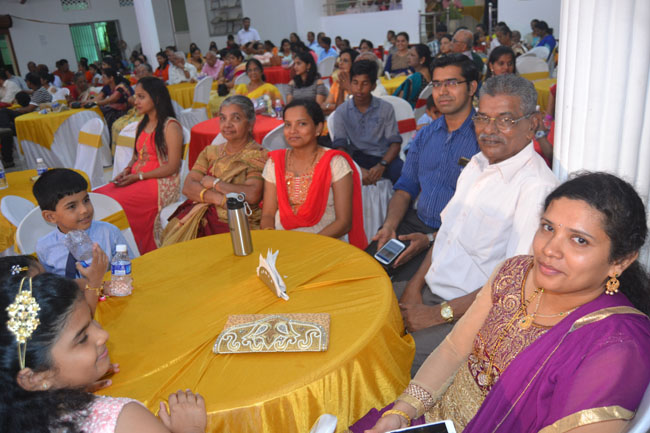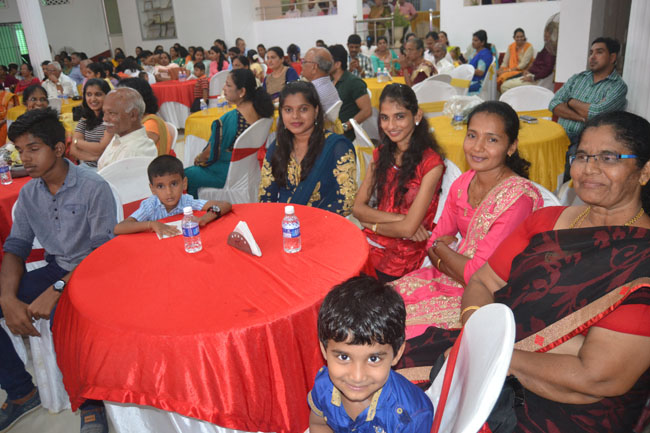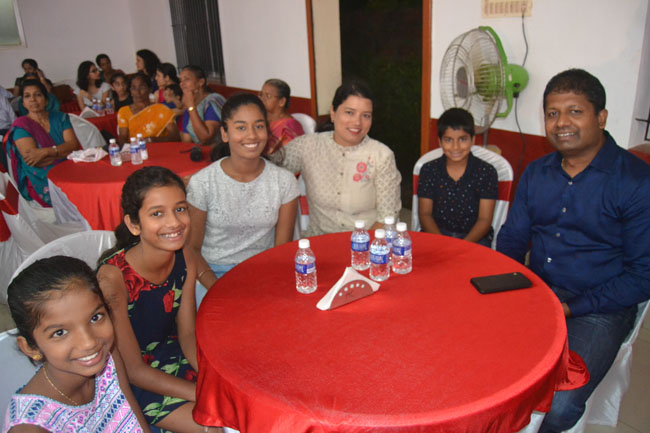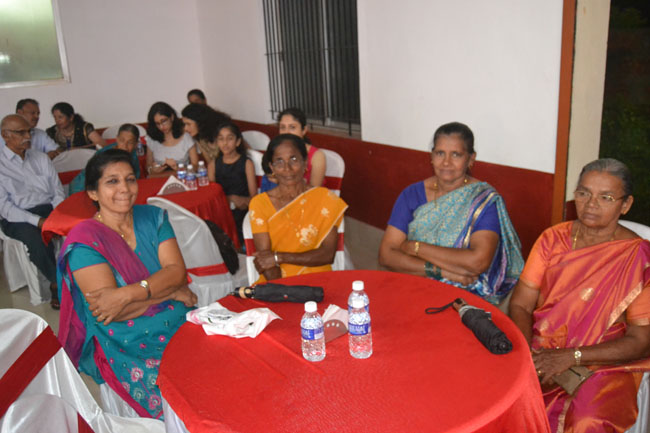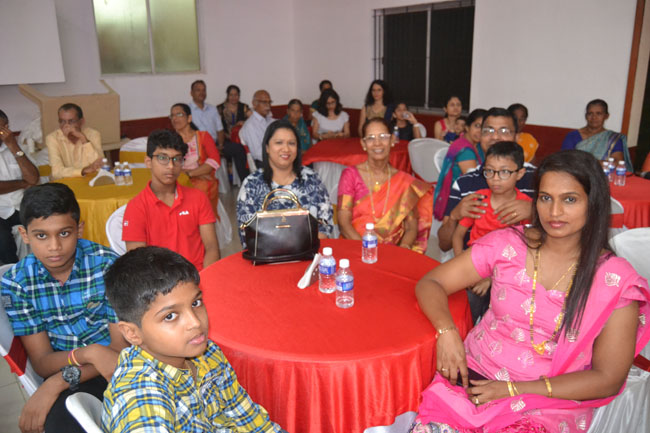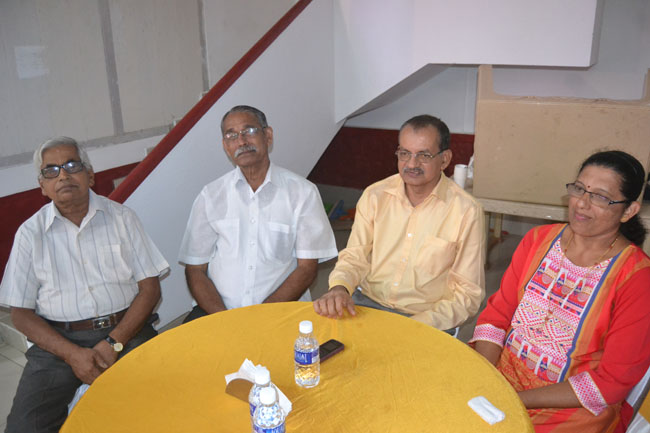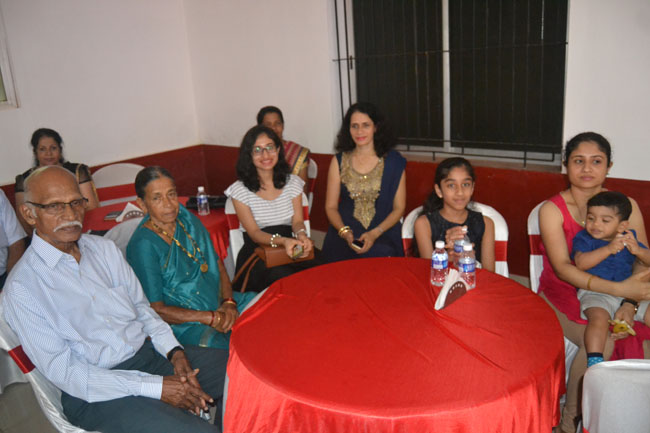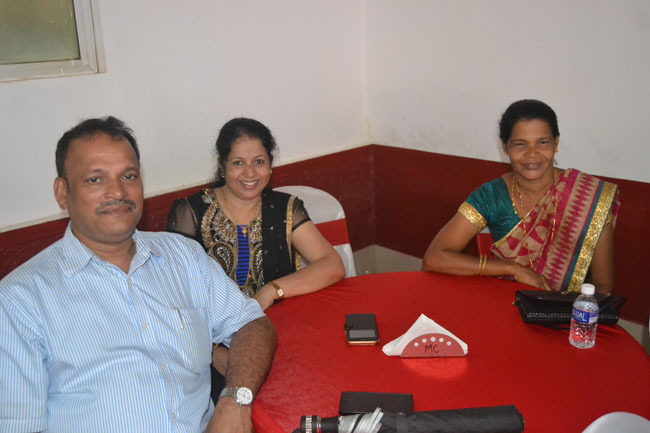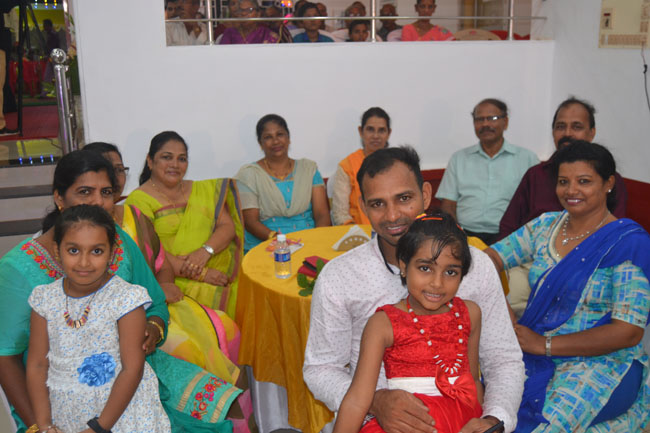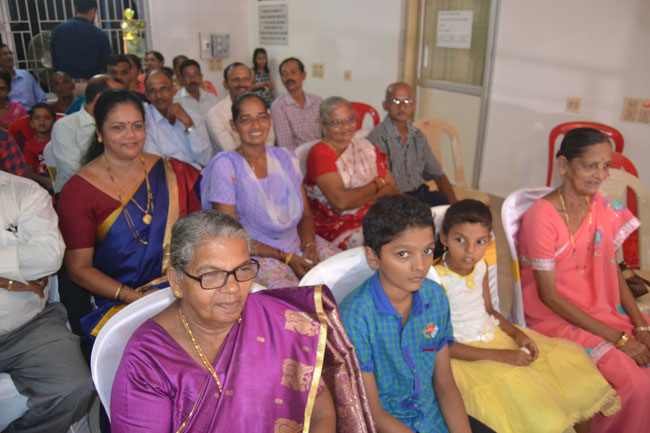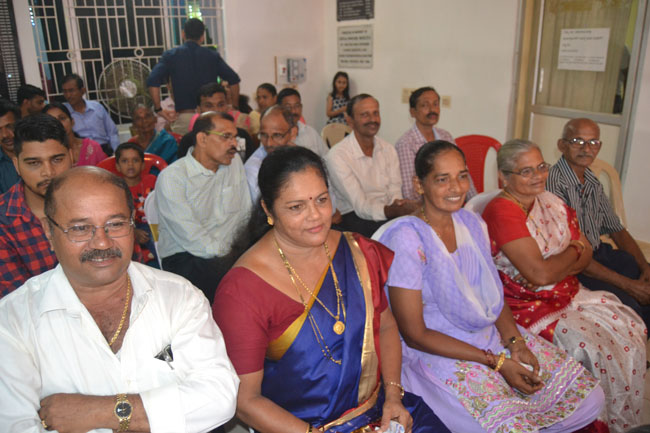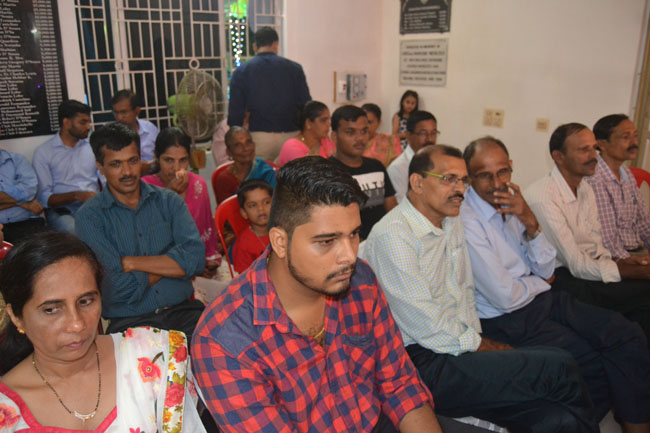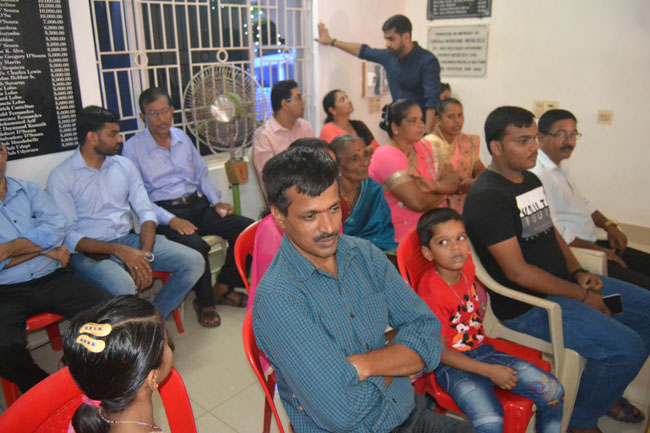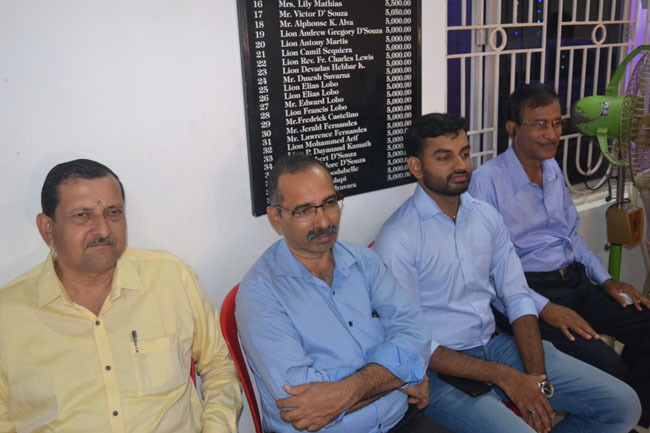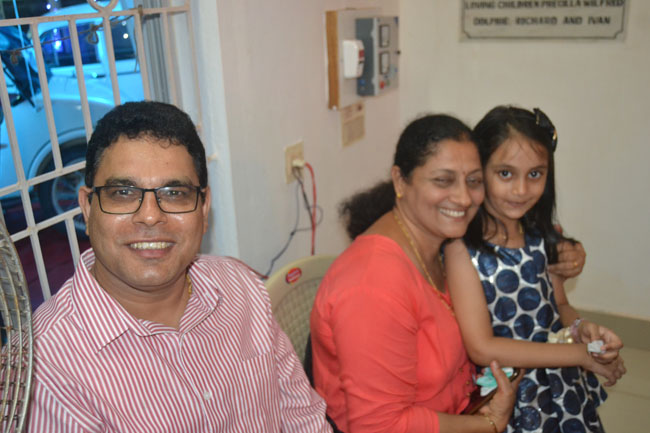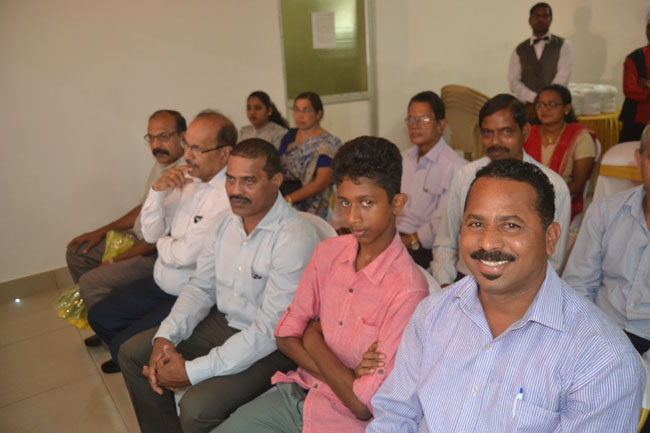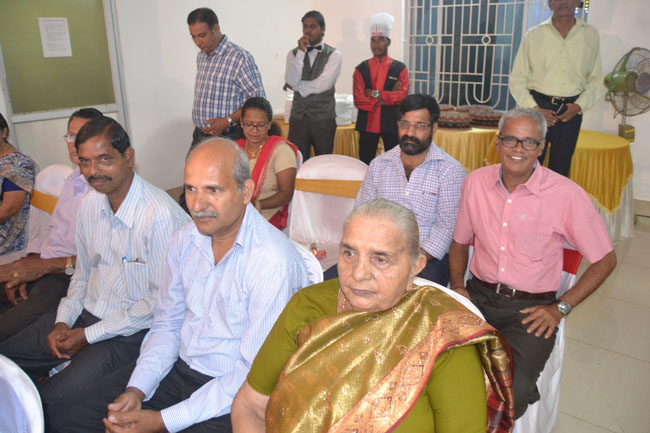 The day saw multiple celebrations. Earlier, the Menezes family offered thanksgiving mass at 4 pm commemorating 83rd birthday of Wilfred's father, Casmir Fernandes; fiftieth Golden birthday of Wilfred, twentieth wedding anniversary of Wilfred and Reena and 75th birthday of Reena's father Gilbert Machado.
The function in the Lions Seva Bhavan commenced at 7.45 pm wonderfully anchored by Godwin D'Souza. The entire Menezes family was on the stage. Fr. Clement Mascarenhas-Parish Priest of Moodubelle, Fr. Lawrence Cutinha-Assistant Parish Priest and Fr. Denis D'Sa-Parish preist of Shirva conducted the prayer service along with the members of the church choir who sang the introductory hymn.
Wilfred's eldest son Renwil welcomed the gathering. Thereafter, the three priests honoured Casmir Memezes by placing the 'peta ' turban on the his head. This was followed by cutting and sharing of the cake by the entire Menezes family.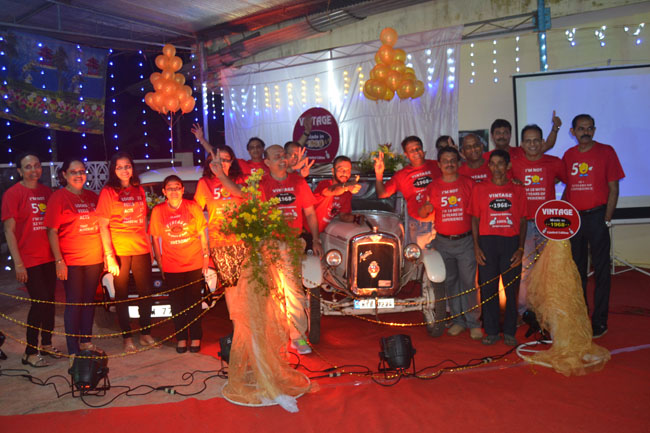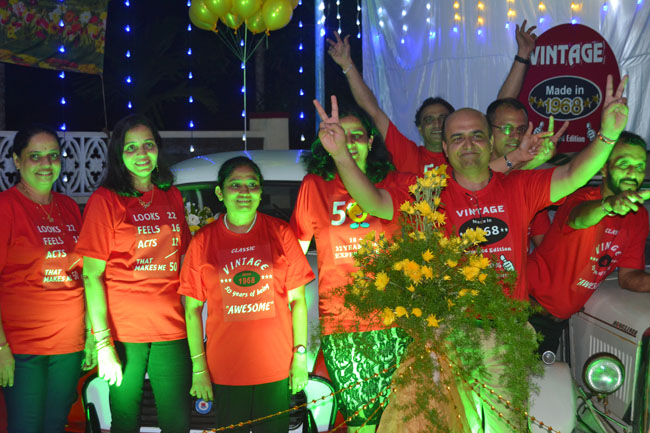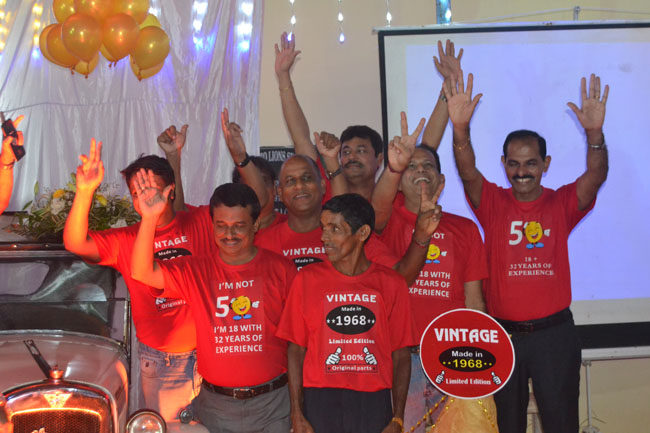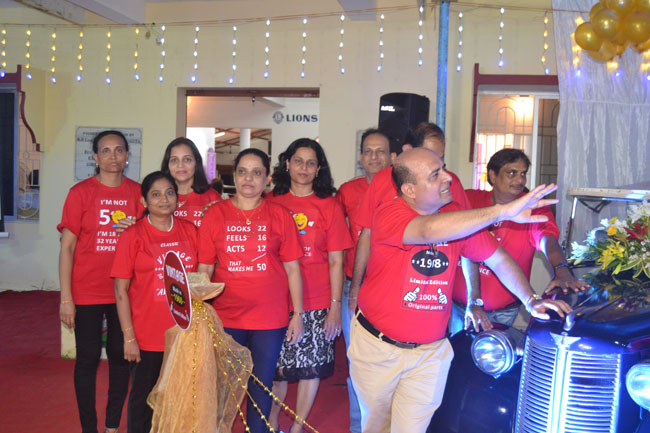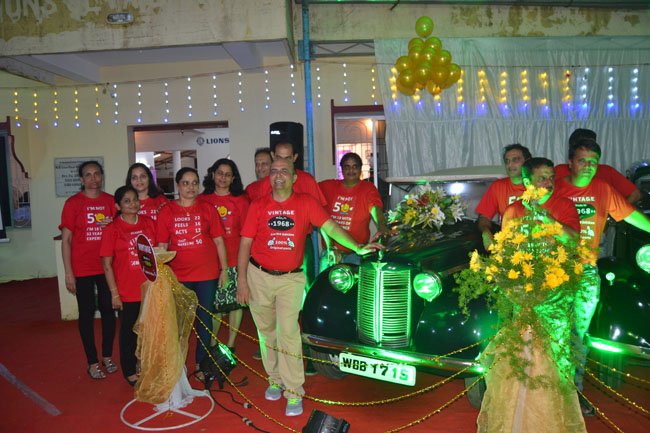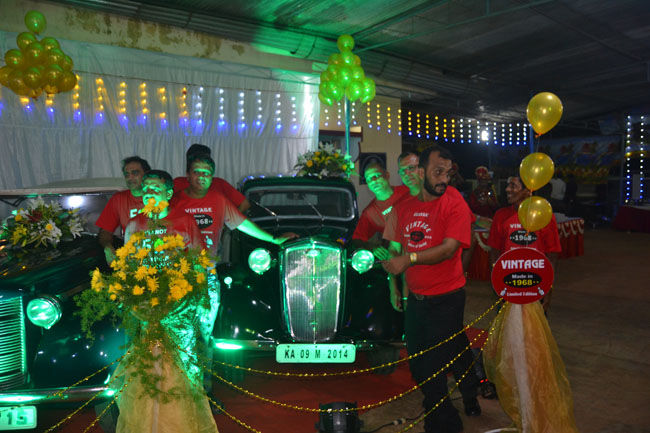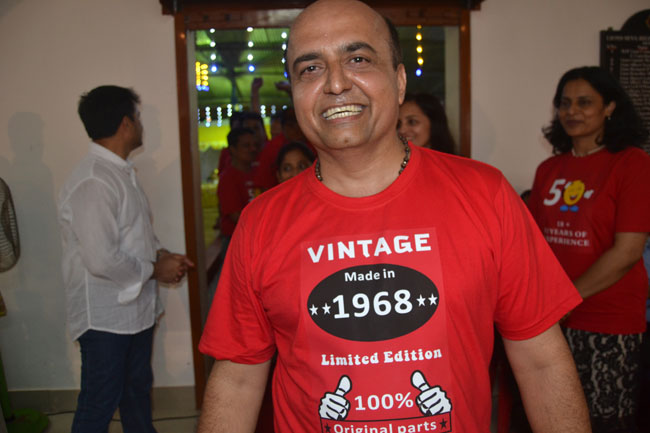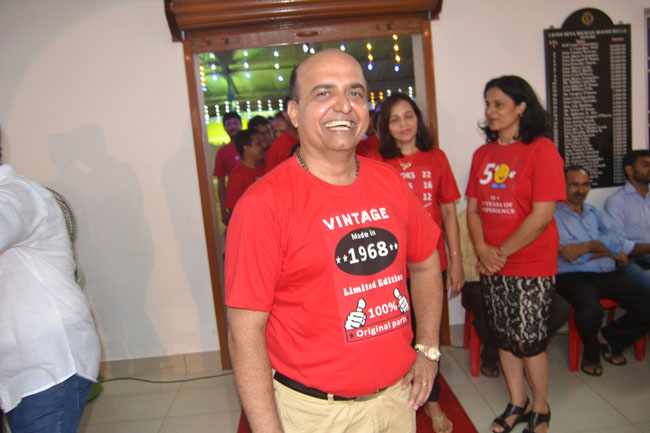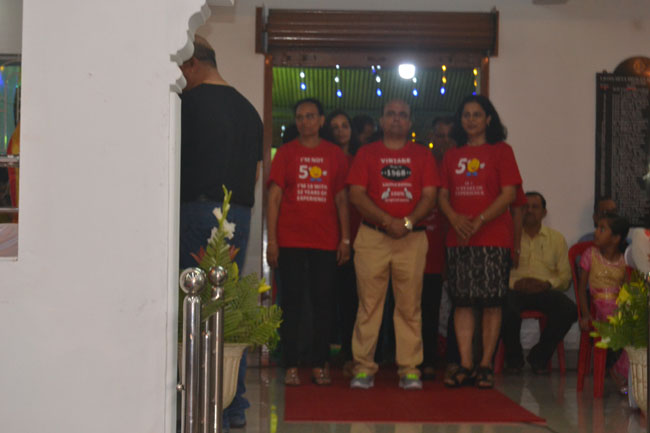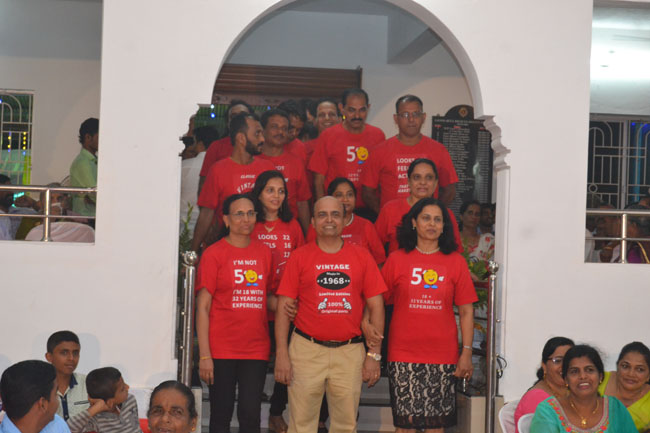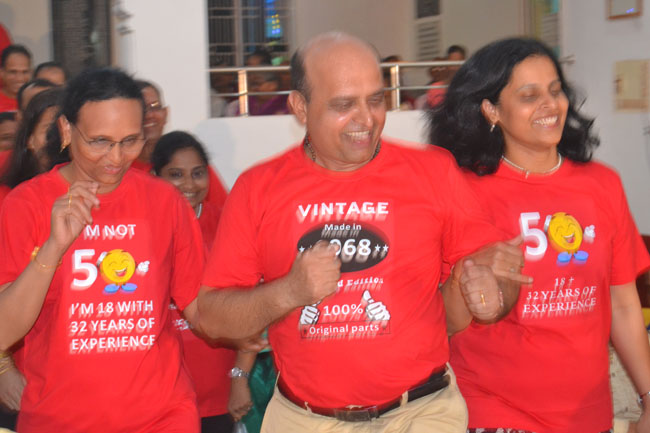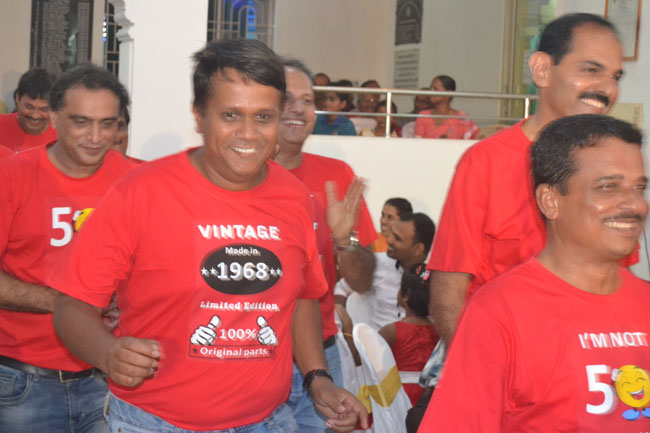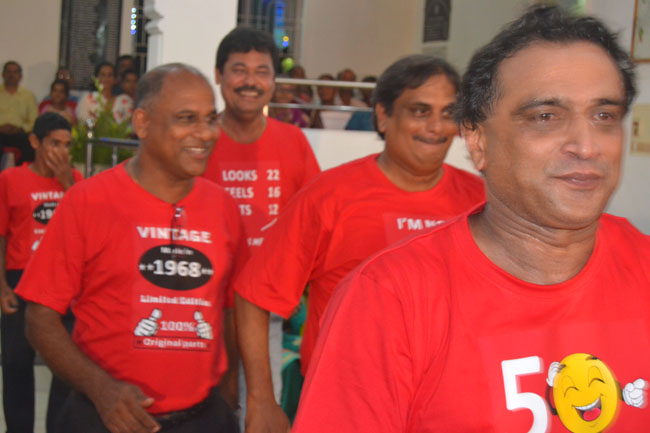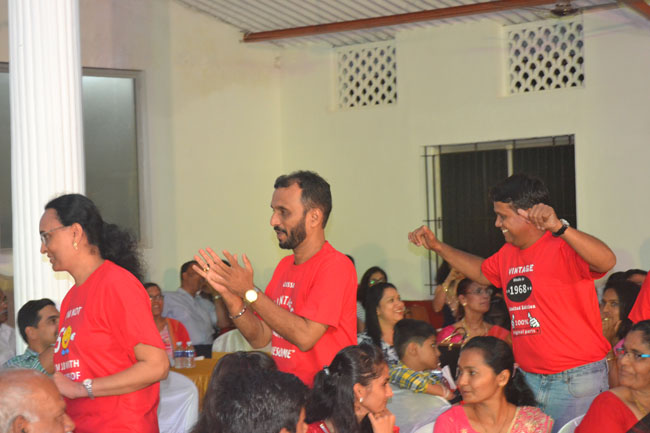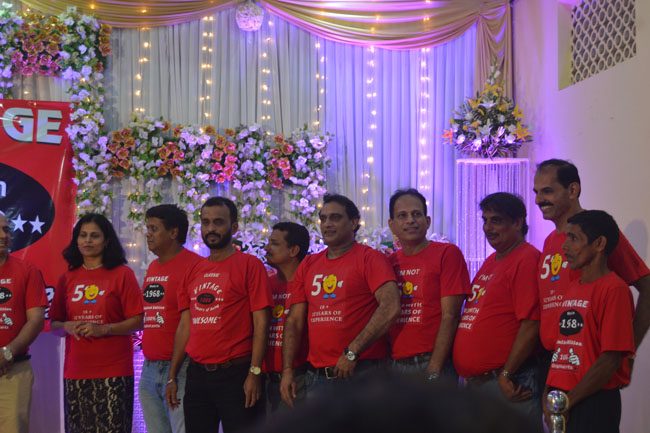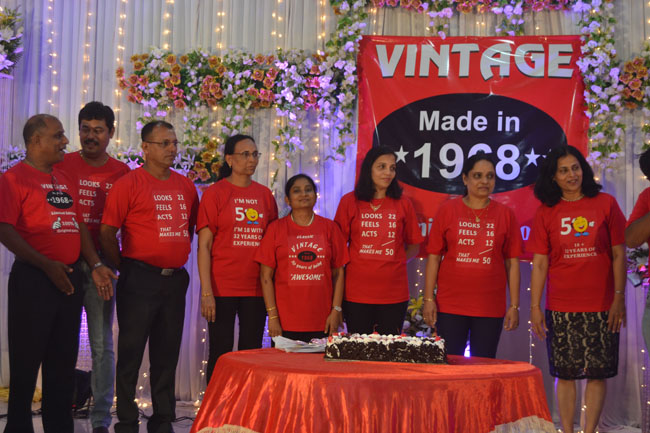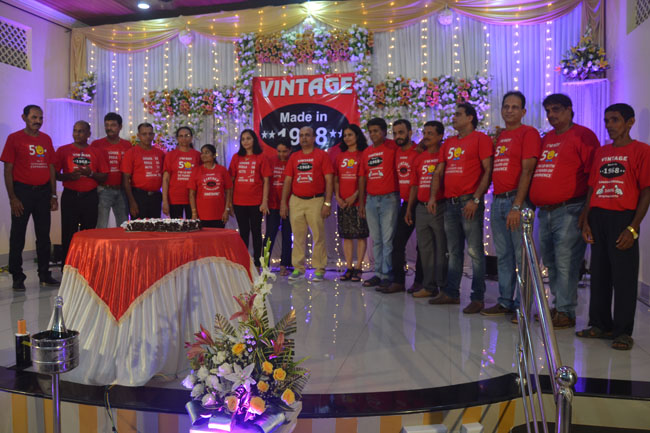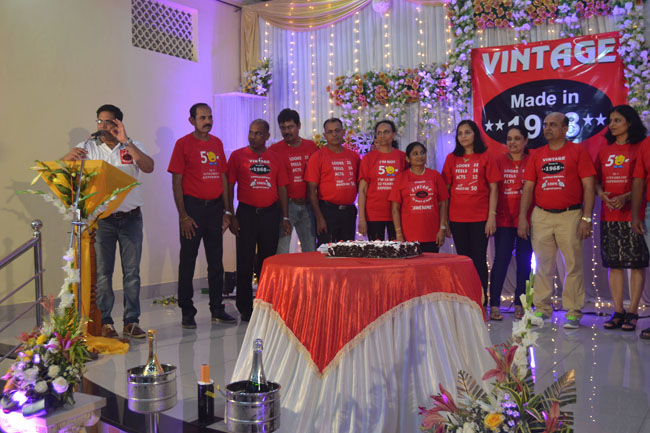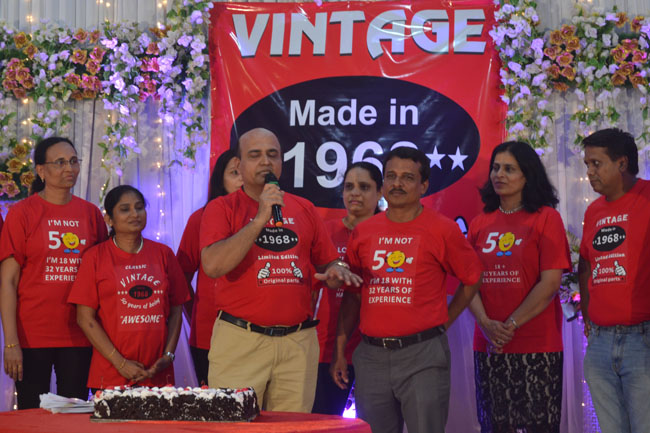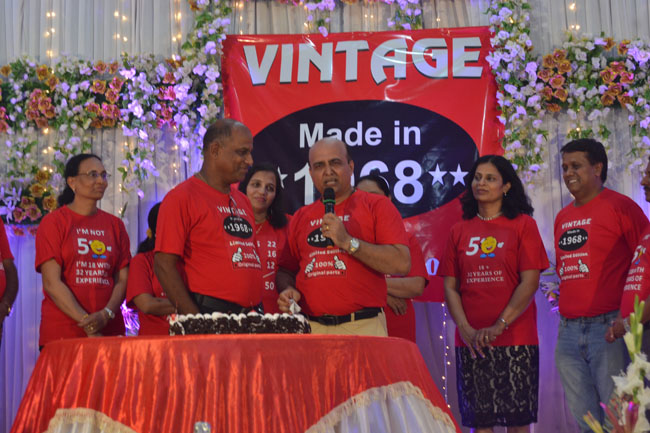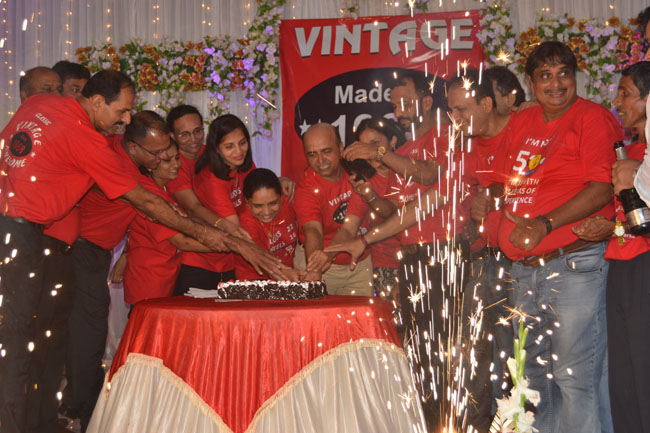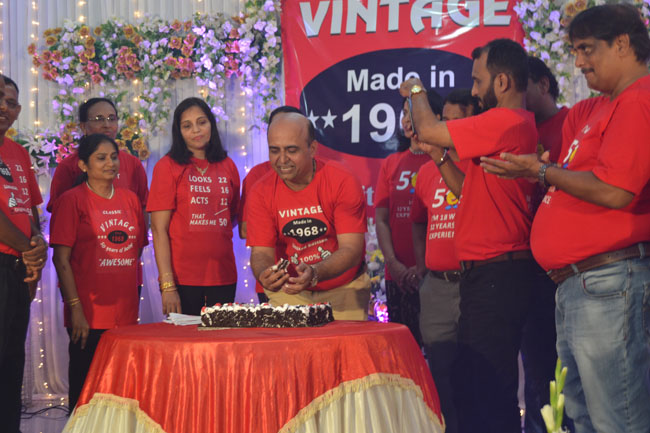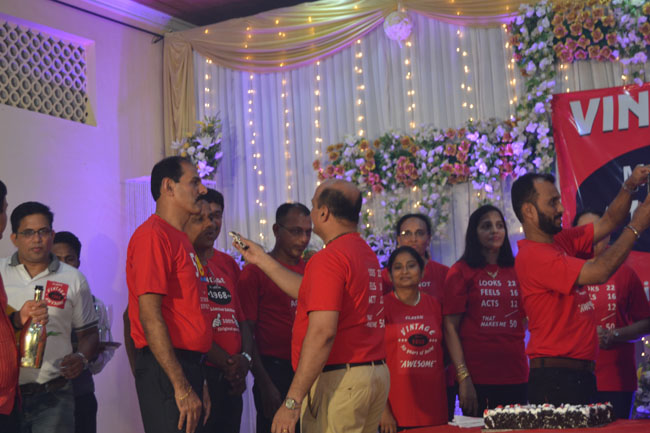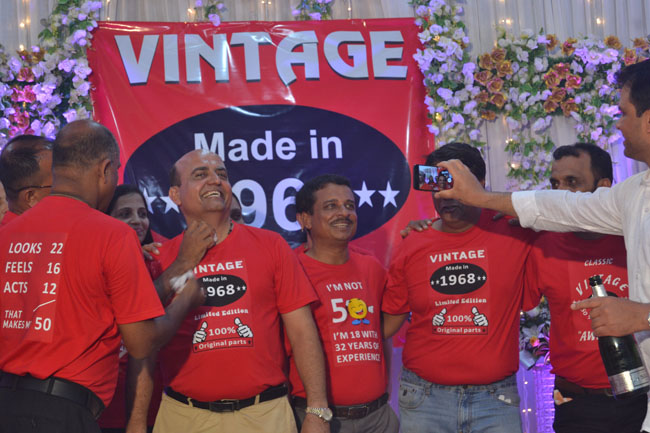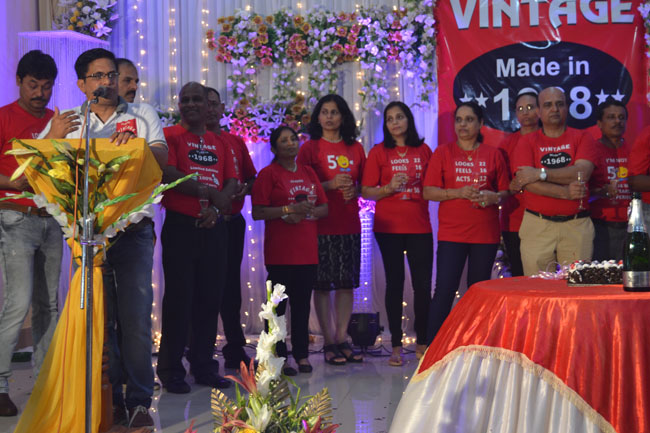 The chief attraction of the evening was that Wilfred Menezes along with is 16 friends and colleagues who shared the year of their birth with him wearing identical red T-shirts with different captions such as 'Vintage Made in 1968' and "I am not 50, I am 18 with 32 years of Experience' posed for pictures in front of the Vintage Cars and later entered the auditorium dancing to the music and mustering on the stage.
Being on the stage, Wilfred introduced each and every friend of his and narrated briefly his relationship with each one of them while the anchor, Godwin D'Souza briefly mentioned about their families. Quit a number of the family members were present for the unique occasion.
Besides Wilfred, the other sixteen Golden Birthday celebrities were: Ayub Khan, Belle Rajesh Rao, Charles Machado, Arshad Ali, Cynthia Mathais, Janet Saldanha, Gerald Fernandes, Kutty Bhandari, Louis Alva, Merlin D'Souza, Poornanad Bhat, Umesh Narayanan, Violet Lobo, Yasmin D'Souza, Gurudutt Shenoy and Vinay Salian.
After the introduction of each and every golden birthday celebrities, the huge cake was cut and Wilfred symbolically shared the cake with his co-golden birthday celebrities.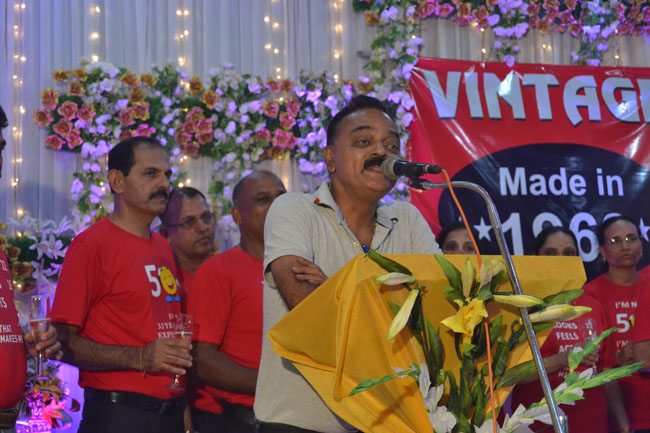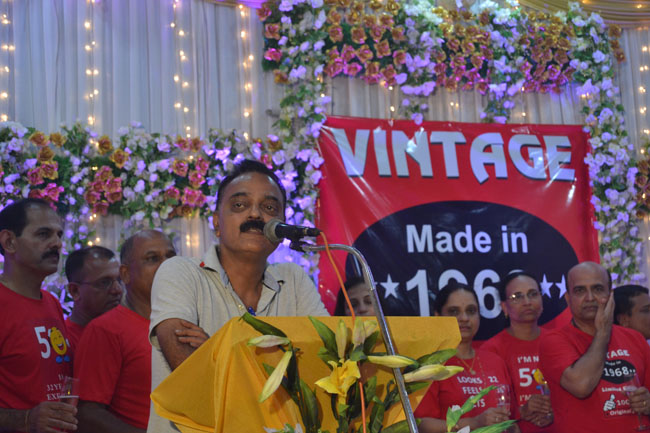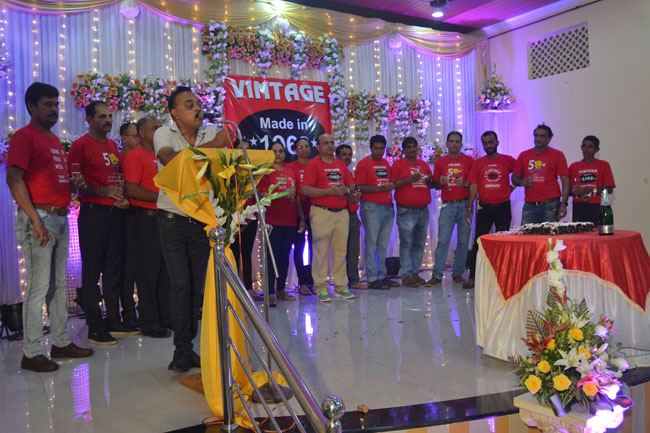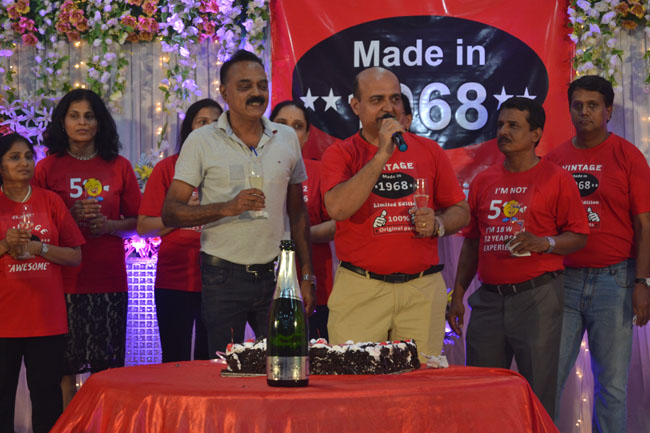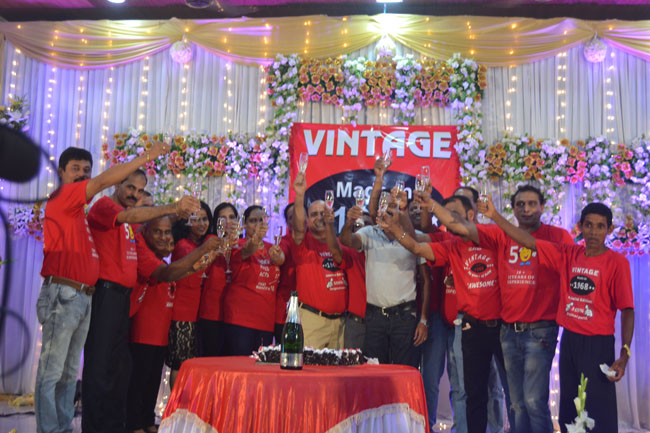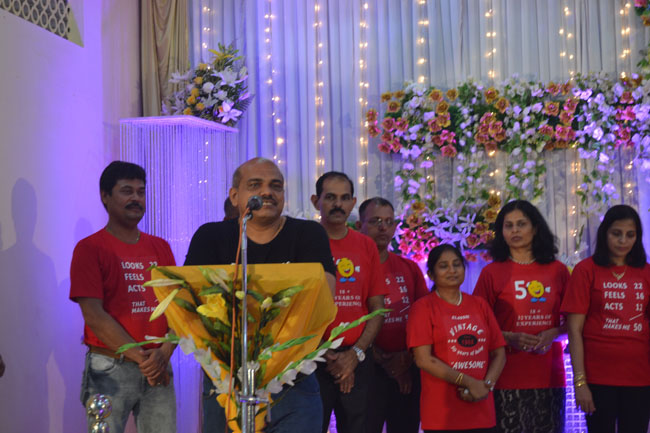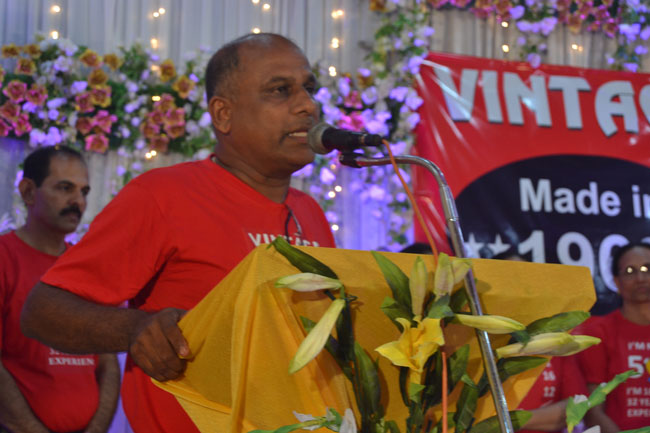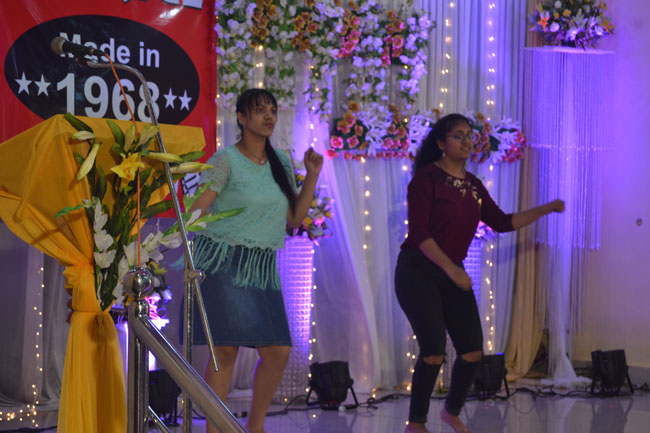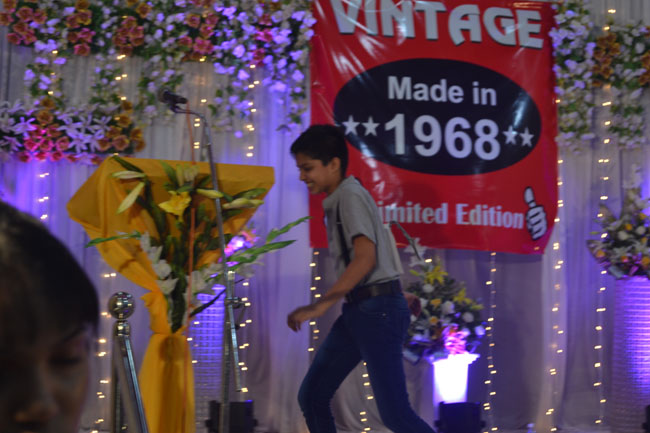 The toast was raised by Ronald Saby D'Souza, a close friend of Wilfred who had specially flown in from Dubai for this occasion.
Ronald Saby, in his inimitable style said that he was witnessing a unique celebration of Golden birthday that was being shared by close friends and complimented Wilfred for his thoughtfulness and unique way of celebration with his friends which would send a positive signal to the society. He said that Golden birthday was being celebrated by people with golden heart. Ronald Saby narrated briefly the struggle and achievements of Wilfred who established his own company Security Systems which gradually grew to be a prominent company not only in the Gulf countries but also has six branches in India.
Speaking about the organizational skills of Wilfred, Ronald Saby said that he was instrumental in organizing people from Belle residing and working in UAE under the umbrella of 'Bellevision UAE'. He also mentioned about the starting of the website 'Bellevision.com' for which Wilfred along with Ronald Saby, Elias D'Souza and Sigfred D'Souza had to toil practically for the whole night to upload content as the technology fifteen years ago was quite slow.
Ronald Saby, in his toast highlighted the finer qualities of Wilfred Menezes. He said that Wilfred has been a good philanthropist and had given financial help while the new church was built in the early part of 2000s and the renovation of the cemetery. He further said that Wilfred has been a jovial person and any gathering would become lively once Wilfred entered the scene. He has been a positive thinker and inspirer to many others. Besides, he has been a family man and has been instrumental in maintaining the family unity and bond. Ronald Saby wished Wilfred and all his friends happy Golden birthday.
Anil D'Sa and Godwin D'Souza entertained the gathering with their melodious singing.
Dolphy Menezes, younger brother of Wilfred proposed the vote of thanks.