Beltangady: Sri Lankan delegation arrives to on study tour of SHGs sponsored by SKRDP
By Sunil Bekal

Bellevision Media Network


Beltangady, 21 Jul 2018: The delegation of Sanasa Co-operative Society, Sri Lanka arrived at Sri Kshetra Dharmasthala on a study tour of Pragatibandu Self-Help-Groups that are promoted by Sri Kshetra Dharmasthala Rural Development Project (SKDRDP), here, on Friday, July 20. The tour was organized by NABARD, Mangaluru.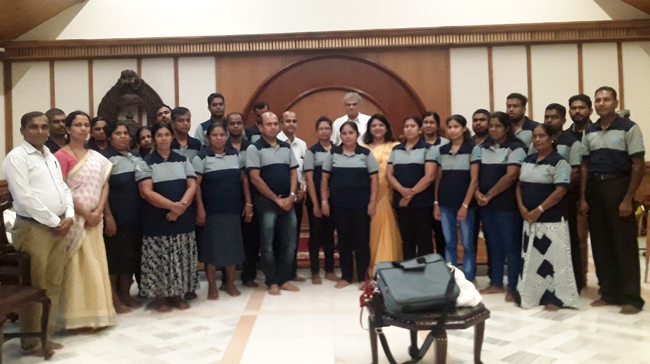 The delegation gathered first hand info by attending weekly meeting of Swarna SHG and Pragatibandu SHGs and learnt about their success stories of women empowerment how it has changed the standard of living of rural women.
The delegation also met D Veerendra Heggade, the Dharmadhikari of Sri Kshetra Dharmasthala and visionary of SKDRDP.
SKDRDP human resources and development director Mamata Rao, rural excellence Center lecturer Balakrishna, NABARD Mangaluru DGM Sripati Kalkaru, Saraswati and others were present.