Udupi: Moslems welcome Holy Month of Ramadan with all earnestness – Sirajuddin Zaini
By B Pundalika Marate

Bellevision Media Network


Udupi, 11 Jun 2018: Moslems welcome the Holy month of Ramadan with all earnestness, by maintaining cleanliness in their homes and locality, contributing voluntary offerings. One gets eternal reward for sharing Iftar with fellowmen, said Sirajuddin Zaini of Sunni Jamia masjid, Shirva, near here.
Zaini was speaking during Iftar Meet that was organized by Rotary Club of Shirva at Shirva gram panchayat hall, here, on Friday, June 8.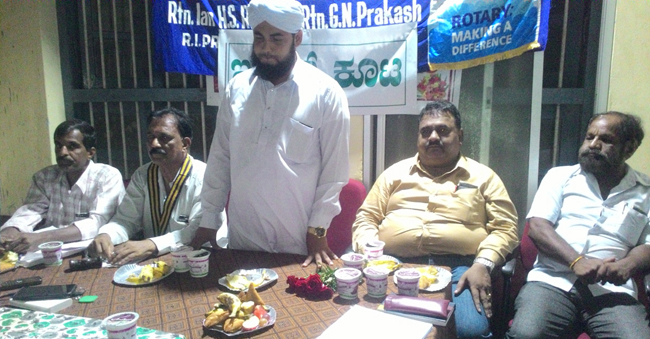 ZP member Wilson Rodrigues was the chief guest conveyed best wishes.
Rotary Club president Hassanabba Shaikh welcomed the gathering and presided the programme.
The designated Rotary president Dayanand Shetty Dendoor, secretary Honnayya Shettigar, Rehmatulla Abdul Khader, Ummer Ismail, Padoor Rotary community unit former president Abdul Rehman, P M Ibrahim, Arfaz H S, Shaeel Ummer Ismail and others were present.
Rotary secretary Vishnumurti Saralaya proposed vote of thanks.
The event concluded with sharing Iftar with all.