Adani Foundation distributes Scholarship worth Rs. 76 lakhs to meritorious students
By Pundalika Marathe

Bellevision Media Network


Shirva, 15 Apr 2018: UPCL, owned by Adani Group, in hands with its CSR wing Adani Foundation, today distributed scholarship worth Rs. 76 lakhs to the meritorious students residing in the plant vicinity.
The Scholarships were distributed to 2158 students in the stage programme organized at the premises of St. Francis Xavier School Ground in Mudarangadi. The programme was kick-started by lighting a lamp by Rev. Father Francis Lewis, Parish Priest of St. Francis Xavier Church, Mudarangadi, Kishore Alva, Joint President of Adani UPCL, Pundalik Marathe, Journalist, Jesinta Mendonsa, Head Mistress of St. Francis Xavier School, Mudarangadi and Girish Navada, AGM, UPCL.
Inaugurating the programme, Rev. Fr. Francis Lewis informed that Adani Group is contributing more in the field of education. With today's scholarship, company is facilitating students to take-up higher education, he told. Father advised all the students to utilize the scholarship amount in a proper way and should aim for better prospects in the life and contribute to the development of society. Father applauded the efforts of Kishore Alva in making the CSR benefits available to the villagers and vision on overall development of the villages.
Kishore Alva spoke on the occasion and informed that UPCL in association with Adani Foundation is executing CSR works in the field of Education, Health, Rural Infrastructure Development, Sports and Cultural activities. Today under Educational Initiatives, UPCL is distributing scholarship to 2158 meritorious students worth Rs. 76 lakhs.
Alva told that the students who have secured 80% and above in their academics during the year 2016-17 in SSLC, ITI, PUC, Diploma, Graduation, Post-Graduation, Engineering and Medical courses, identified through respective Grama Panchayats, have been honoured with the scholarships. Similarly the students studying in Class 5 to Class 9 in nearly 70 Government / Government Aided Schools located in the plant vicinity who have secured 1st & 2nd Rank have been honoured. He further told that quantum of scholarship is Rs. 2,750/- for the students of 5th to 9th, Rs. 4,000/- for SSLC students, Rs. 4,250/- for PUC and ITI students, Rs. 4,500/- for Diploma Students, Rs. 4,750/- for Graduate students, Rs.5,000/- for Post-Graduation students, Rs. 8,000/- for Engineering students and Rs.10,000/- for Medical students.
Alva further informed that honouring the meritorious students with scholarship motivates them to pursue higher studies and will impart thinking of competition among other students. He reiterated that Education is like a weapon and education can bring changes in the Nation and contributes for the overall development.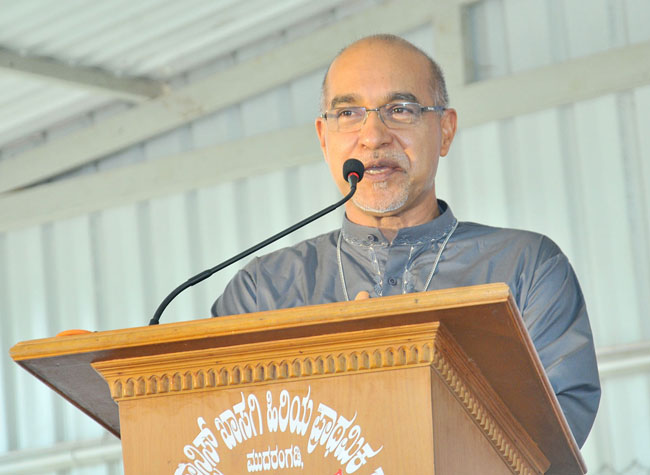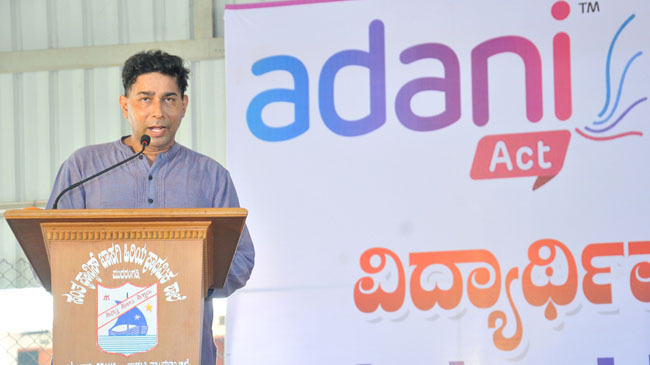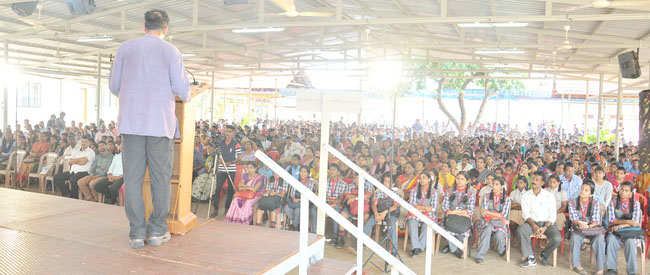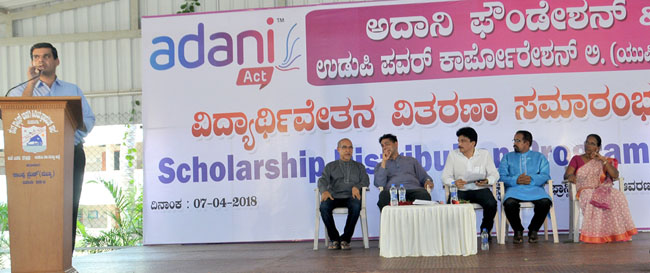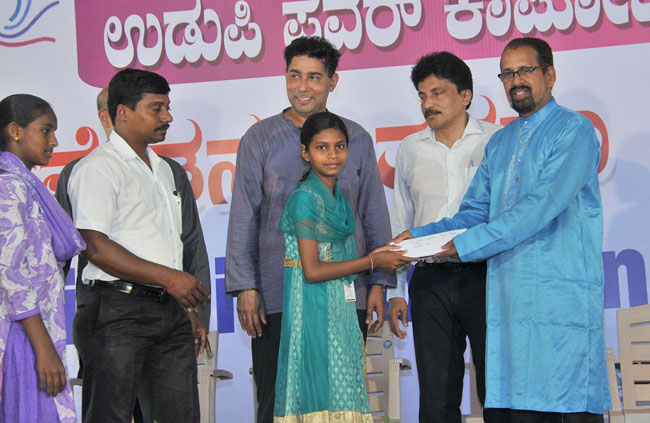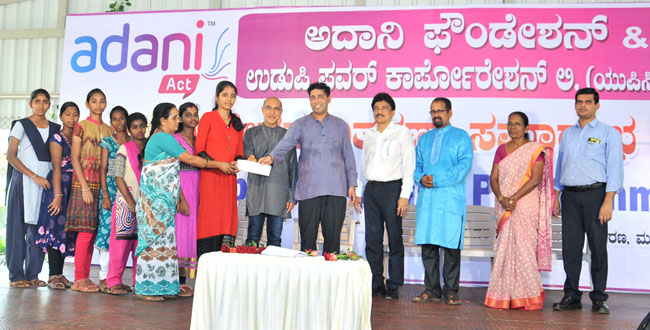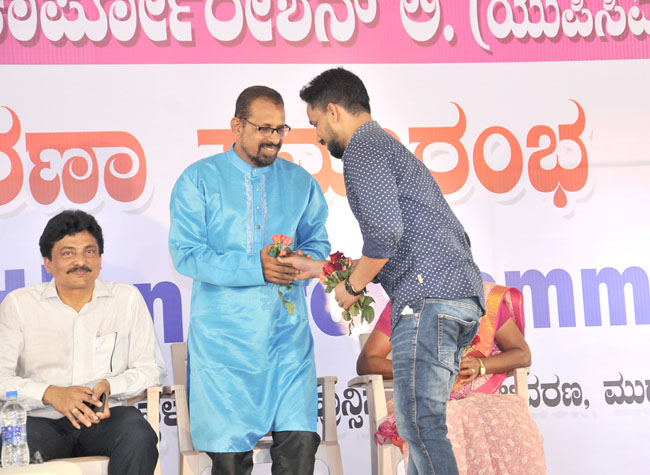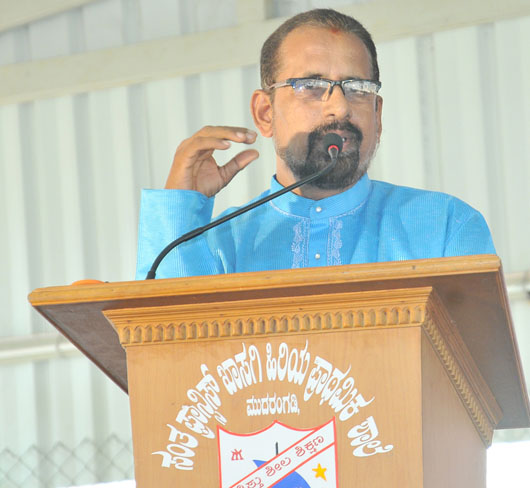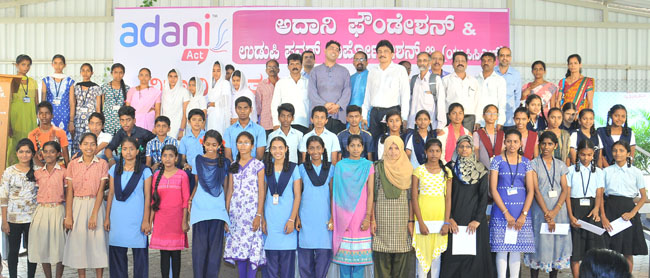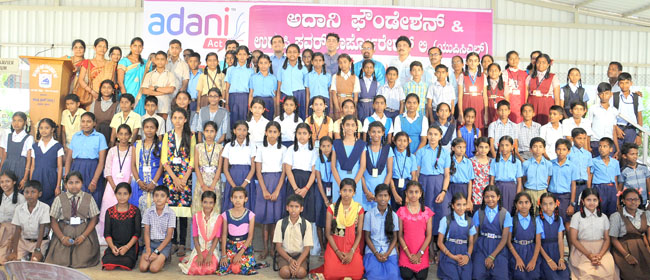 In the field of Education, Adani UPCL, under its CSR activities, is distributing scholarships worth Rs. 75 lakhs every year and is providing education kit to nearly 7000 students studying in Government schools. As a part of school development to promote the education, Adani is also providing Computers enabling students to get exposed to the computers and IT world. To safeguard the interest of girl students, Adani UPCL has also installed CCTV cameras in various schools. As a part of Green Nurturing Programme, company has provided separate toilet facilities for girl students, Alva added.
Continuing his talk, Alva informed about the UDAAN programme launched by Adani Foundation under Education Initiative of CSR, where in school / college students would be invited to the power plant and make them understand the process of power plant operation.
In addition to the regular CSR activities in the field of Education, Health, Social Afforestation, Adani UPCL has declared special CSR grant of Rs. 22.73 crores for village development works in 7 Grama Panchayats and it is executing the works as identified by respective Panchayats and advice of District Administration.
Adani UPCL is also committed to maintain the green environment both inside the plant and also in its vicinity. As a part of social forestry, Adani UPCL has planted more than 4 lakhs saplings inside the plant premises and distributed 2 fruit bearing tree saplings to all the students studying in 80 Government / Government aided schools in and around the plant. The saplings have been distributed to the villagers also involving Grama Panchayats. Every year Adani UPCL is distributing nearly 25000 fruit bearing saplings to the students and panchayat members, he added.
Pundalika Marathe spoke on the occasion and informed that Education is a Wealth and with the Education, we can build our Nation. He further told that Education plays a vital role in all the corners of the world and Adani UPCL Scholarship is like an extending a hand to the students to take-up higher studies.
Girish Navada, UPCL's AGM, detailed the Adani UPCL scholarship.
Ravi R. Jere, Sr. Manager of Adani UPCL welcomed the Guests and delivered vote of thanks. Chandrahasa Prabhu, Teacher of St. Francis Xavier School compered the programme.