Mangaluru: ZP CEO Dr Ravi appeals voters to cast votes for better governance
Bellevision Media Network


Mangaluru, 13 Mar 2018: 'We are educated and bound by social responsibility. The future of nation lies in elections, while instead of blaming the prevailing situation in the country, we got to franchise our votes for nation building instead to give away the votes as charity,' said DK district SWEEP Committee chairman and ZP CEO Dr M R Ravi.
Dr Ravi was speaking during training workshop for campus ambassadors that were organized by DK district SWEEP Committee at ZP Netravati auditorium, here, on Monday, March 12.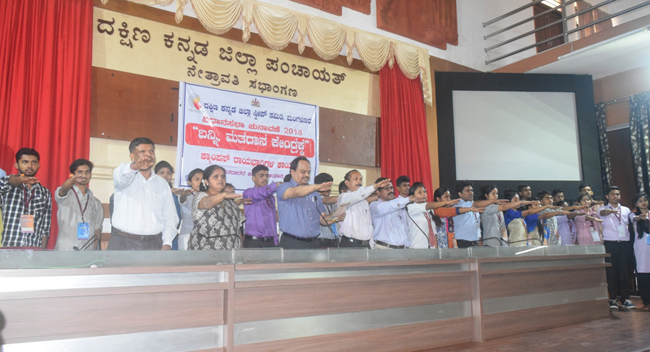 He further said, SWEEP Committee has been aimed at holding elections with total responsibility since the past 10 years. It was themed, 'Come to polling centers' this year to prepare the voters ahead of announcing elections. Seventy-two campus ambassadors are being appointed in different colleges across DK district in this regard.'
SWEEP Committee secretary Sudhakar appealed the education institutions to sensitize students and voters in exercising their franchisee.
NSS co-ordinator Vinuta Rai conducted election training to campus ambassadors.
Over 150 people of 72 education institutions including lecturers and campus ambassadors participated in the programme.
Public instructions deputy director Y Shivaramayya, Collegiate education special officer Sridar Maniyani, district SWEEP Committee member Radhakrishnan, collegiage education officer Srinivasayya and others were present.