Fr. Franklin DSouza is appointed as the Director of Family Counselling Centre for the Diocese of Shi
By Ancy DSouza Paladka

Bellevision Media Network


Shimoga, 12 Jun 2017: Fr. Franklin Philiph D'Souza, a well known Catholic Charismatic Preacher is appointed by His Excellency Most Rev. Dr. Francis Serrao Sj Bishop of Diocese of Shimoga as the Director for the Family Counselling Centre for the Diocese of Shimoga. Few months back when I met him he shared his visioname and special call in preaching mission and strengthening the families in the Love of God.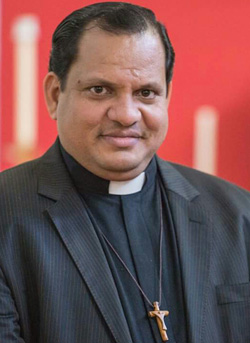 Fr. Franklin D'Souza was born on October 22,1973 at Murkoth Palke village near Moodbidre. After his Primary studies at Guddeyangady, he completed his High School at Jain High School Moodbidre. He did his P.U.C. at Milagres College Mangalore. He perused his B.A from Bangalore University and M. A. in History from Mysore University. As for his priestly studies he did his Minor Seminary at St. Mary's Seminary, Mysore. He did his Bachelor of Philosophy, Bachelor of Theology and Masters in Theology at St. Peter's Pontifical Seminary as well as institute Bangalore. He was ordained by then Bishop of Diocese of Belgaum Most Rev. Bernard Moras at St. Ignatius Loyola Church, Paladka on 10th May 1999.
In 1999 he was appointed as Assistant Preist at Chitradurga's substation Infant Jesus Church, Challakere. He served there till 2001. As he says here he underwent a life changing Christ experience. Ever since he started preaching his divine experience based on Word of God. In the year 2000 he met Bro. T. K. George who motivated him to proclaim good news in charismatic way.
From 2001 to 2003 he was appointed as Parish Priest of Our Lady of Victories Church at Nagar (Hosanagar Taluk), mean time he served as Diocesan Youth Director. In 2003 he was appointed as staff member for St. Peter's Pontifical Seminary. Here he again discovered his mission to preach the Word of God. In 2005 he was appointed as Diocesan Youth Director as well as Catholic Charismatic Director for the Diocese of Shimoga, same time he was the joint secretary for the Karnataka Regional Youth Commission. In 2008 Karnataka Regional Bishops Conference appointed him as Secretary for the Karnataka Regional Youth Commission as well as Karnataka Regional Youth Director. He travelled and motivated youth all over Karnataka.
Recognising his special charism in motivating youth as well as helping them to have Christ experience in 2011 he was appointed by the Catholic Bishops Conference of India as the Secretary for the CBCI Youth Council as well as the National Youth Director. After completing his term in August 15th, 2015, he took 8 months sabbatical leave.
On the month of May 2016 he returned back to the Diocese of Shimoga. He was appointed as the Rector as well Parish Priest at Shrine of Our Lady of Health, Harihar. Within a year he brought spiritual revival among the parishioners as well as pilgrims. Here he spend much time in personal prayer and contemplation. After contemplating and listening to his inner voice inspired by the Holy Spirit he decided to commit full time in preaching and healing mission. Uderstanding his special Charism, mission and call his bishop has given him new responsibility.
As I know Fr. Franklin D'Souza from childhood, he comes from a very devout family. He is a genuine preacher. He has motivated thousands of people. Specifically youth and teenagers. He has traveled almost 27 nations and through out India. He has preached More than 2000 retreats in his last 18 years of priestly ministry. He also gives talks in various TV channels. He is the author of "Be healed" which is also in Konkani "Nitol za" and in Kannada "Shuddhanagu". He has enacted in number of biblical songs. His peeachings and Healing Holy Eucharists available on YouTube. His zeal and love for the gospel and the Church can't be measured. He together with Bro. T. K. George and their musician Bro. William D'Souza brought transformation in many lives. He has also preached at Sainagar grounds at Vasai three major Revival Retreats. I wish him every success and God's abundance blessings in his new mission.
You can contact him for prayers and counseling at:
Fr. Franklin Philiph D'Souza
Director : Family Counselling Centre, Alkola Circle, Sagar Road
Shivamogga 577205
Mobile: +919845256538, +919013905078
Email: franklinphillip@gmail.com
website: www.frfranklin.org